Get Started with Quip
After completing this module, you'll be able to:
Explain what Quip is.
Explain what makes Quip different from other common productivity and collaboration tools.
Quip is a smarter cloud-based collaboration platform. How? Teams create, discuss, and get work done faster from any device with content and communication combined in a new way. Spend less time on meetings and email, and more time getting things done. It has everything you need, so your company can ditch all the other apps you use (and the related costs).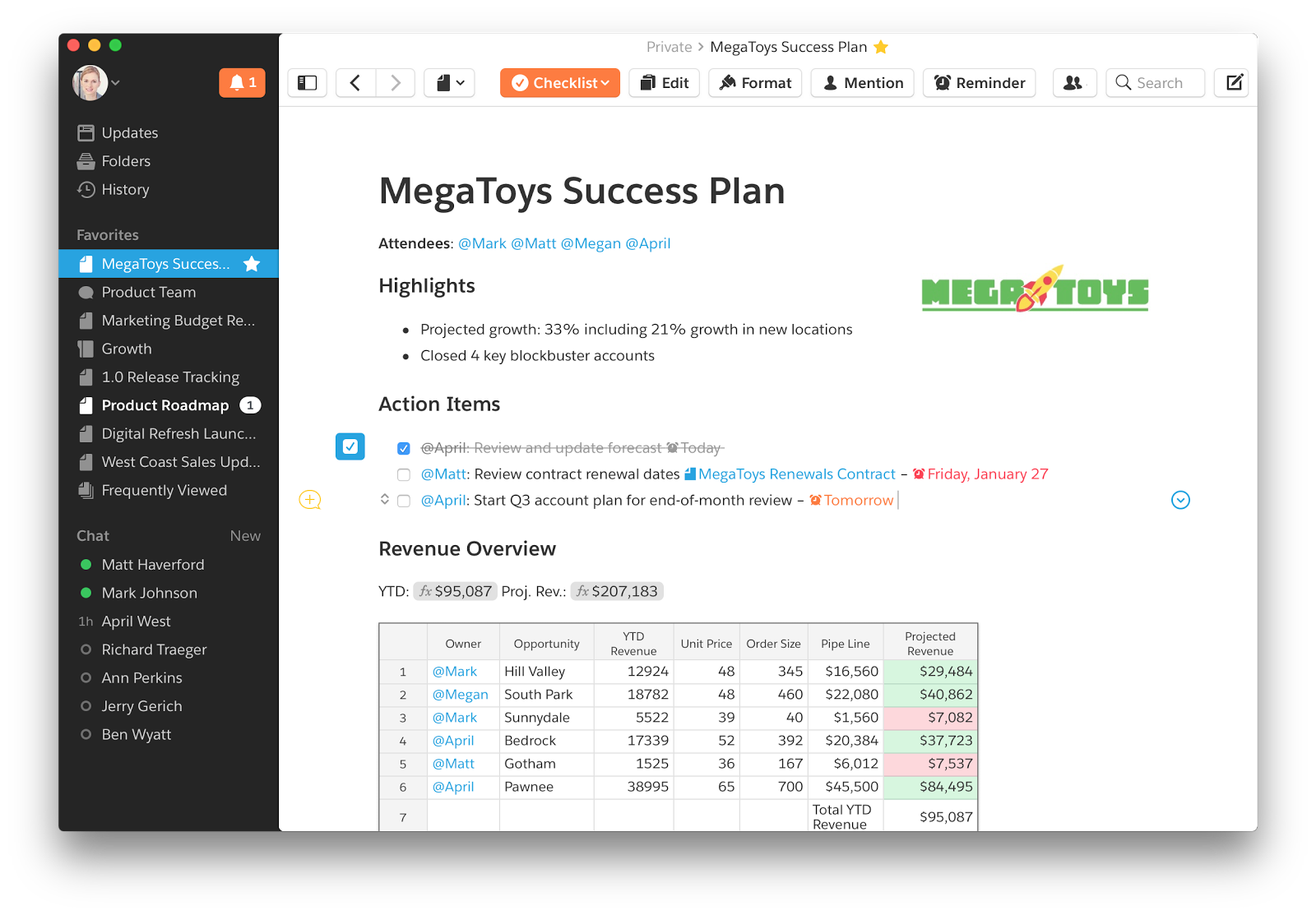 Perhaps you're thinking: "I already have software for documents and spreadsheets." But there are a handful of things that make Quip different from other tools you're currently using. Here's a snapshot.
Everything is in one place—With other tools, you get work done in one place, then you have to move to another place, such as email, to discuss and collaborate with your team. Also, you have to use multiple programs to create and share documents, spreadsheets, chat, tasks. With Quip, you can do all of those things in a single piece of software.
It's in the cloud—There are no files to save to your computer. Documents, spreadsheets, conversations—everything you work on in Quip—syncs to the Internet, and you can pick up where you left off on another device later.
Live, simultaneous editing—Several people can access and work on a Quip document or spreadsheet at the same time.
No need to keep up with multiple versions of the same document—Quip documents and spreadsheets are always 100% up to date, so there's no Project Plan v3 and Project Plan Final FINAL—there's just a Project Plan.
It works great on mobile—The Quip mobile app is packed with features, but it's super easy to use. You can get real work done, in a simple fashion, from your phone or tablet.
Open and flexible platform—Quip is a Salesforce product, which means it has deep native integrations with Salesforce. Quip lets you bring rich mentions of live data, straight from Salesforce, into your documents. The Quip API allows users to automate processes and integrate—allowing for your team to get the most out of Quip.
So now you know that Quip documents are cloud-based, easy to access from multiple devices, and let your whole team live edit. Now let's dive a little deeper and take a look at Quip features.
Quip documents aren't just a place where you create copy and press send. Think of a Quip doc as your blank canvas where you can bring your work to life, with images, checklists, colorful highlights, mentions of your teammates or other Quip docs, and embed spreadsheets inside your document.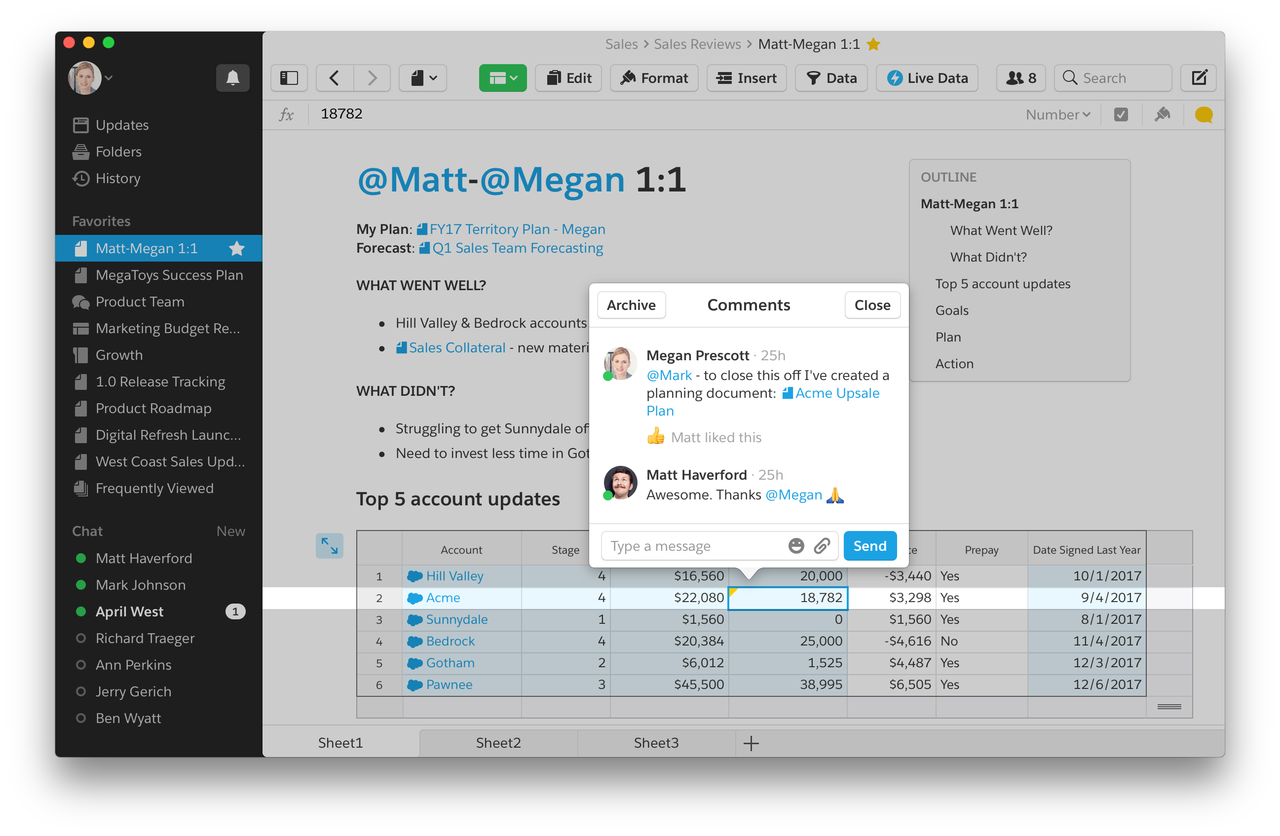 Quip documents encourage collaboration and communication. You can share your documents with other people on your team who are using Quip. Once you share, you can collaborate on them in real time. People can edit at the same time, add comments, highlights, and have chat conversations right inside the document.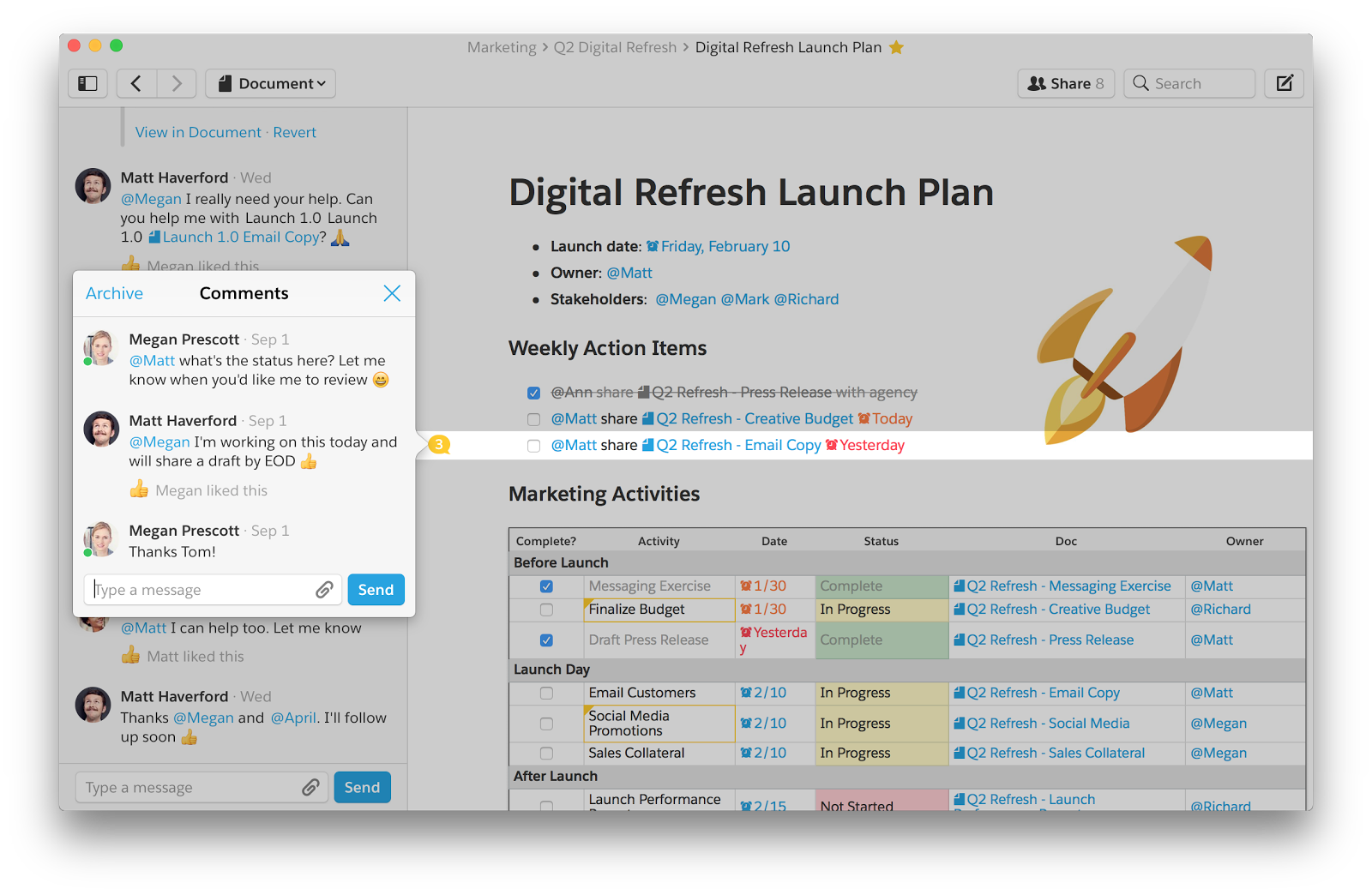 Share your Quip document externally. It's easy to share Quip documents and spreadsheets with people who aren't a part of your Quip site. You can grab a quick shareable link to any Quip doc, and send it to anyone you choose. You can even set different levels of permissions.
Now that you've gotten a high-level introduction to Quip, let's take a tour through Quip and show you where to find your work, how to work with Quip documents and menus, and how to optimize your daily workflow.