Use Salesforce Anywhere Actions in Process Builder and Flow Builder
Learning Objectives
After completing this unit, you'll be able to:
Understand how to use Process Builder and Flow Builder to create organized workflows and automatically share documents and information.
Explain how to use standard Salesforce Anywhere actions to add Salesforce Anywhere documents, spreadsheets, slides, chatrooms, and notifications into Salesforce instances.
You've already learned about the power of Salesforce Anywhere for Customer 360 to integrate Salesforce Anywhere in Salesforce. Now let's look at how Salesforce Anywhere Actions can open up new ways to combine the shared accessibility of Salesforce Anywhere with the power of Salesforce. 
Salesforce Anywhere Actions
Process Builder and Flow Builder now include standard Salesforce Anywhere actions, so you can easily automate your workflows. 
What can you do with Salesforce Anywhere actions? Consider these possibilities: 
Embed real-time document information inside Salesforce, so your teams can easily create, discuss, and execute on Account Plans, Opportunity Notes, and more.
Deploy Salesforce Anywhere templates based on specific actions taken in their connected Salesforce records.
Use embedded Salesforce Anywhere docs with live Salesforce data and embedded chats and conversation.
Stop copy/pasting data or making decisions based on stale data.
Flow Builder includes 16 Salesforce Anywhere-related actions that you can add to your flows.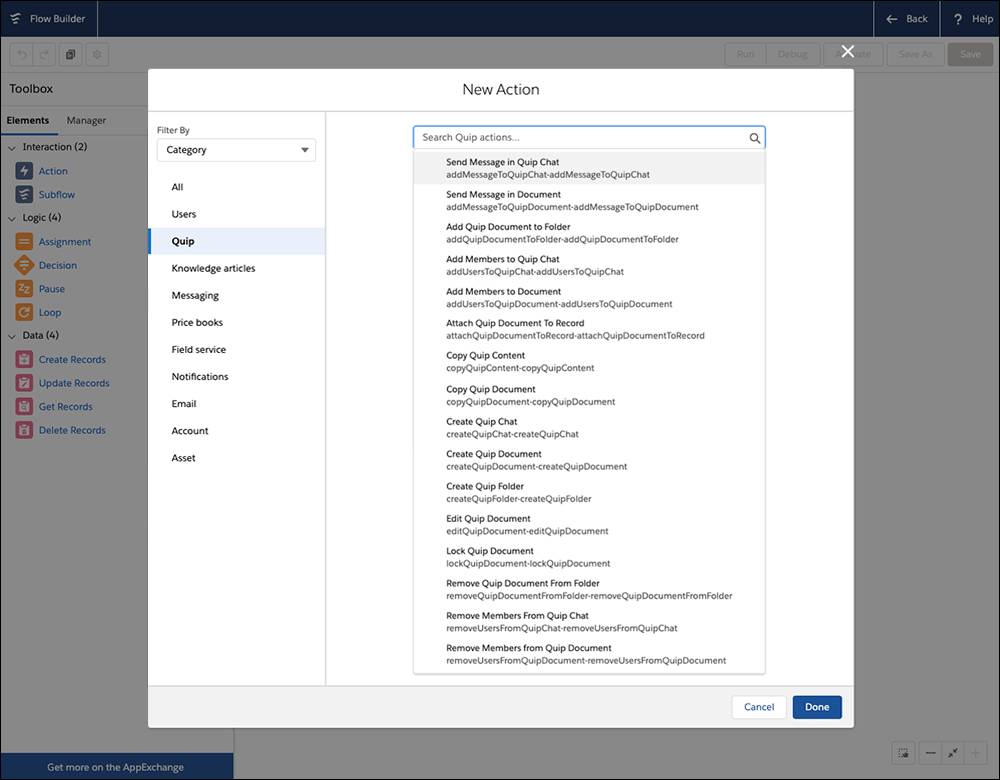 If you prefer to use Process Builder, no problem. These are the new Salesforce Anywhere actions that you can use there, too.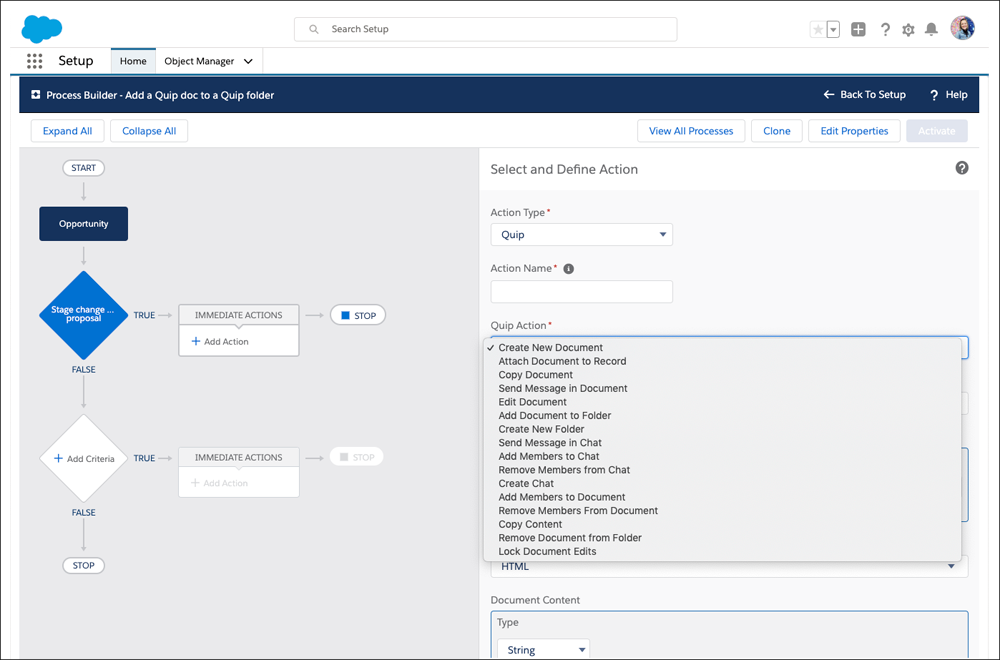 While the Salesforce Anywhere actions are the same, the capabilities of Process and Flow Builder are different. And the actions they can create in Salesforce are different. 
Process Builder enables admins to set up several complex rules that are evaluated, and the corresponding action is executed based on the type of change in record. Typically, these are business processes that can be simplified to if/then statements or are event-triggered. 
Flow Builder can create rules that determine whether a particular action should be taken or not. With Flow Builder, you can build screen flows and more complex flows, but triggering actions such as creating a template at an opportunity stage change requires Process Builder. 
Keeping these things in mind helps when deciding whether a process, a flow, or a combination of them will work best to create your custom automation. Think of process and flow as building blocks that can be placed together to meet your team's unique needs. 
For help getting started with Process Builder and Flow Builder we recommend this Trailhead content:
Automation Use Cases
Setting up automated processes helps you empower your team, giving them access to targeted, need-to-know information that enables them to take the necessary actions for their roles. And the best part is that you just create it, then forget it. Let's look at a couple of examples of how Choco Chocolate Company uses Flow Builder and Process Builder for automation. 
Use case 1: Automatically move a document to a folder when it's created
Automation tool: Process Builder
Salesforce Anywhere action: Add document to folder
Things are moving along for Emma Rivera and her fair trade chocolate company, Choco Chocolate. Since she's sending her new AE to meet with the Clean Supermarket team, she decided that this is a great time to get her entire team focused on closing the deal—and automation will help.
Her Account Plan template is populated, and in no time, her entire account team knows who the meeting is with and the initial goals for the relationship. And they have an instant communication channel. 
Instead of manually sending the Account Plan to everyone on her team, Emma uses Process Builder to automatically move the Salesforce Anywhere Document Component into the corresponding folder every time an Account Plan template is used. Now the entire account team is aligned, and the newly created document is automatically moved into its corresponding parent folder, creating an organized and streamlined workflow.
In this case, the IF is "when an Account record is created or updated," and THEN is "Move the Salesforce Anywhere Document Component to a folder." This uses the Salesforce Anywhere Action: Add Document to Folder. By having this process in place, Emma's Account Plan is automatically shared with the relevant people on the account. This makes for a streamlined workflow and greater document organization within Salesforce Anywhere.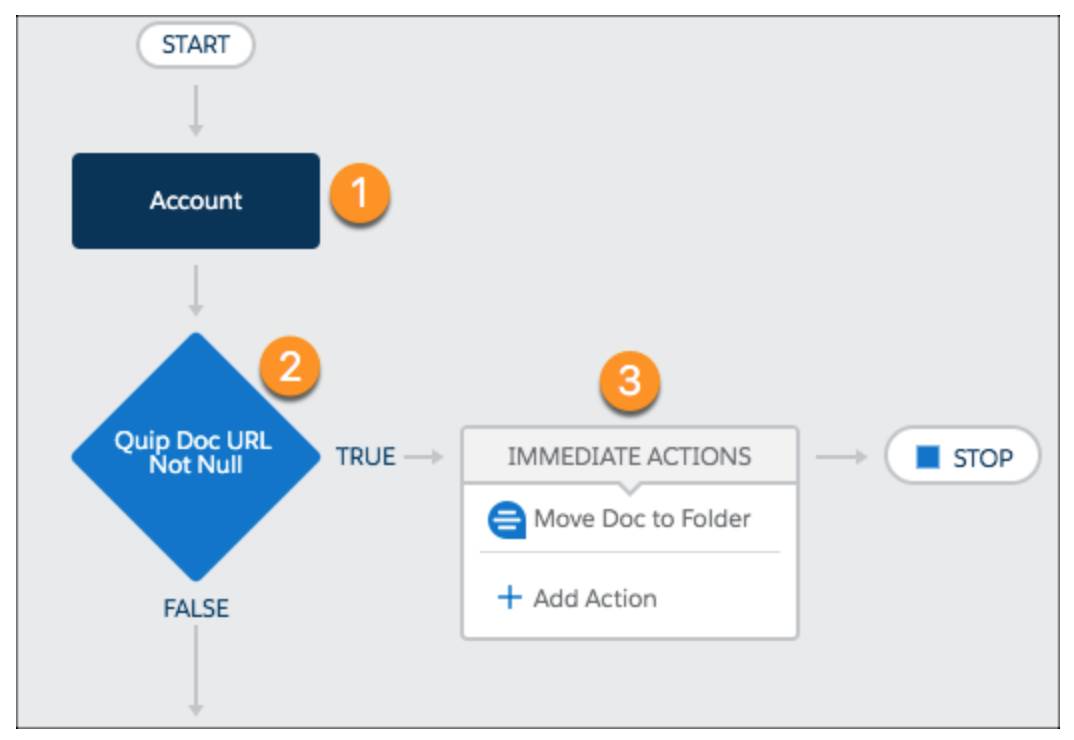 OK, ready for another example?
Use case 2: Trigger template creation with a stage change
Automation tools: Process Builder and Flow Builder
Salesforce Anywhere actions: Create a Salesforce Anywhere document; add Salesforce Anywhere document to a folder; send message in document
Emma Rivera's Choco Chocolate team is working hard to score a big Clean Supermarket deal, but she needs to close the deal fast. Emma wants a Mutual Close Plan to be created when an opportunity stage changes to Proposal/Quote. Her admin uses Flow Builder to create a Mutual Close Plan, automatically add it to the appropriate parent folder, and @mention everyone so they can start to take action right away. Her admin then uses Process Builder to launch the Flow whenever an Opportunity Stage changes to Proposal/Quote.
This saves Emma and her team time, and ensures everyone is in agreement when key stage changes happen on an opportunity, helping close deals faster.
This diagram shows how this automation works.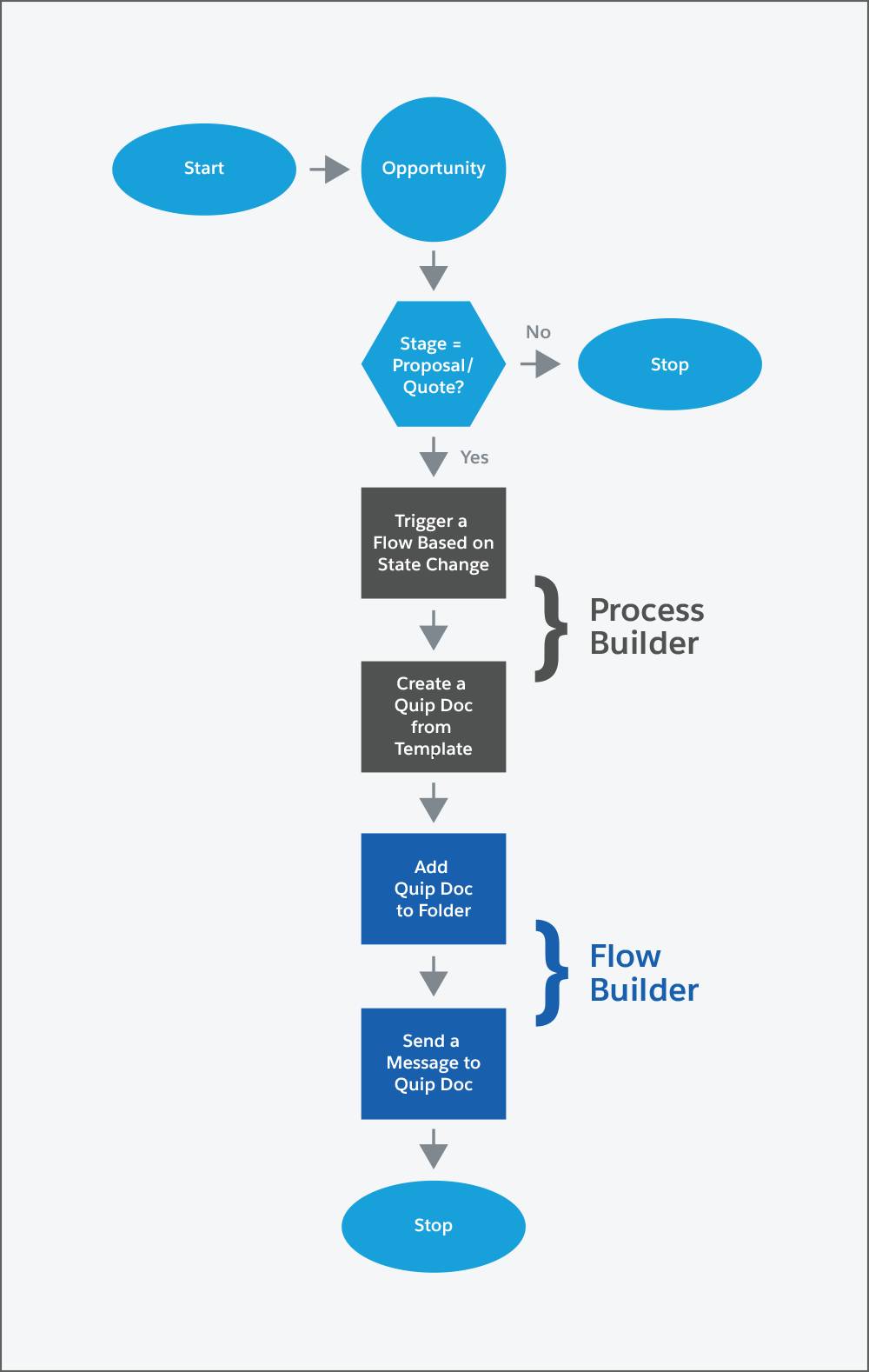 And because Salesforce Anywhere templates have mail merge fields that automatically bring data from the associated Salesforce fields into the Mutual Plan, Emma's team is always up to date. It might take some time to create this multistep process, but it saves time in the long run and helps eliminate user error.
Tying It All Together: The Art of Automation
There's a saying in business that goes: "If they can dream it, we can build it." But Process Builder and Flow Builder empower you to rethink that old adage, and instead say: "If we can dream it, we can build it." 
You've seen a few specific examples of how automation can be used to streamline workflows in Salesforce Anywhere. But there are almost infinite possibilities for Salesforce Anywhere automation that can be customized to your use cases. Before Salesforce Anywhere, your data (and related processes) lived outside Salesforce. With Salesforce Anywhere for Customer 360, you can move all that data right into your Salesforce instance for streamlined processes and easier collaboration.
Salesforce Anywhere for Customer 360, in combination with automation tools, is designed to synchronize and organize data from different work environments so teams can work together seamlessly. It's designed to build out business solutions modularly. And it's designed to be nimble enough to solve current and future challenges. 
But we get it; this isn't paint by numbers. Automation is an art. There's no one right way to begin, and there's no singular path to keep growing from there. What works for one team may not work for another. 
Our advice: Start simple but think big. Meet with your team and learn their pain points. Only together can you find and develop the right solutions. Have pro end-users try your automation flows and templates and incorporate their feedback. And, like we said, start simple and keep building from there. Actions are building blocks, and you can keep adding; you don't have to start with a finished product. 
Pro tip: There are many scenarios where automation tools can help. This article can help if you're not sure what to use. Which Automation Tool Do I Use?
Now that you have an understanding of what can be done, go forth and conquer automation. 
Resources