Preview, Test, and Validate Your Journey
Learning Objectives
After completing this unit, you'll be able to:
Preview and test your message.
Validate your journey to prevent errors.
Take a Look
You probably already know that reviewing your content is a necessary step before you send. Plenty of marketers have learned that lesson the hard way by sending an email that wasn't quite ready to enter the world. No judgment here. We just want to make sure you have the tools and know-how you need to make sure your message goes out exactly right. 
There are two key ways to review your message: using the Preview and Test screen, and validating your message. Click the Preview and Test tab to review any personalization options you added and see how your message appears to a recipient.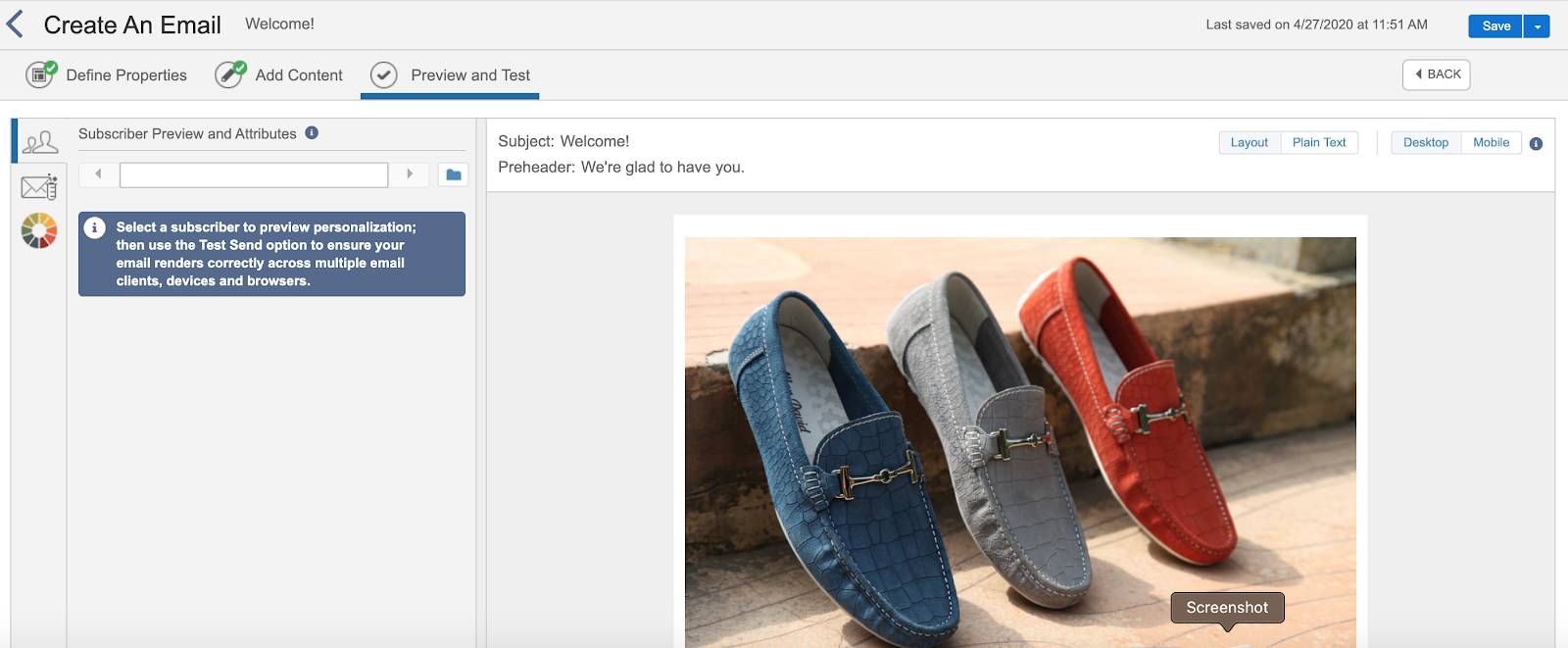 From there, you can use validation to make sure your journey does what you intend it to do. Most often, validation errors occur because the journey is missing some information, such as a subject line. Make sure you complete all the fields in your journey and use only complete messages in your activities. Let's use the Trailhead Simulator to see how validation works. 
Launch the Trailhead Simulator.
Select Exercise 3: Send the Email Message.
Click Begin.
Click Schedule, then click Done.
Click Validate to review the journey and make sure everything is configured correctly.

Click Return to Draft.
Click Send, then click Send again.
Your journey is underway! Click Return to Journey.
Your journey is now active, and your message is traveling to its intended recipients. When creating your own journeys, you can send your message immediately or schedule the send for some point in the future. Whatever works best for you.
Do Even More with Single Send Journeys
This single-send journey may be over, but you'll use the knowledge gained here to launch many other journeys. Those other journeys don't have to be exactly like this one, either. For example, if you use Marketing Cloud to send push messages via your mobile app, single-send journeys can handle those activities as well. Those journeys follow many of the same steps you just took in this module—simply specify the app, message, and audience to use in your send.
And that's it! The single-send journey is a simple tool that offers a great deal of flexibility and power for sending your one-time messages.
Resources