Work with One Record Using Activities, Files, and Notes
Learning Objectives
After completing this unit, you'll be able to:
View and filter activity history in the activity timeline.
Create and update tasks.
View and customize calendars.
Send email in Lightning Experience.
Meet the Activity Timeline
One of the best tools to manage your day-to-day work is the Activity timeline, which by default you will find on the right of a Contact record. The options you can access in this panel vary depending on how your admin has configured your org. You may have the option to:
Write an email.
Log a call.
Create a task.
Create an event.
Let's follow our friends at the fictional nonprofit No More Homelessness (NMH) to see how they use the features in the Activity panel to work with donor and client records.
Log A Call
The development team at NMH is keen on tracking all of their donor cultivation efforts. Sofia Rivera, a Development Associate, just reached out to a long-time donor to see why she recently stopped giving. They end up having a wonderful phone call, and Sofia wants to log the call and document her notes from it.
Prior to Salesforce, Sofia would have taken notes on pen and paper—and the notes would have lived there until she remembered to tell her colleagues. Not very efficient at all!
In NPSP, Sofia has a way to log and share her notes. Let's follow along while she logs her call with the donor:
Find the donor's contact record in Salesforce through global search. 
Look for the Activity panel (1) and click Log a Call (2).
Jot down some notes from the call in the Comments box (3). 
The donor's contact is automatically associated with this record in the Name section (4), and you have the ability to relate additional contacts and accounts in the Related To field (5). For example, if the donor had mentioned another donor or organization to talk to next, this would be a great way to link these notes to those records.
Click Save. The call appears on the activity timeline.
There are a couple of key outcomes of logging a call:
Tracking engagements: Now, whenever any of Sofia's colleagues look at the donor's record they'll see a list of the engagements that NMH staff have had with the donor. Much better than pen and paper, right?
Following up: Sofia can create follow-up tasks and assign them to herself or others in her organization either from the call record or right from the activity timeline by clicking the down arrow next to the record () and selecting Create Follow-Up Task.
There is one more important point to mention about managing activities. As time goes by and more calls and tasks are logged, the Activity timeline gets packed! That's where filtering comes in. You can find what you need in the timeline by clicking the filter icon (
). For example, depending on what she is looking for, Sofia chooses filters by date, activity type, or activities owned by her or someone else at NMH.
Create a New Task or Event
Another key part of the activity timeline is the ability to schedule tasks and events. Similarly to the Call feature, Tasks and Events can be related to any contact or account, and assigned to anyone in your organization. 
To get started, just click New Task in the activity panel, enter your details, and click Save. That's how Sofia creates a reminder for herself to invite the donor to the fall gala. 
It's so easy that Sofia gets excited about the feature and spends most of the day assigning tasks to herself on different records. Now where should she go to see all of these tasks? Let's follow along.
Click on the App Launcher (
) and find and select Tasks.
Clicking into Tasks, you'll see a list of recently viewed tasks on the left, and details of the selected task on the right. By using the drop down arrow you can select also different views of your tasks, including all of your open and overdue tasks. 
Sofia looks to all of her open tasks—the list is getting quite long!
This is pretty cool, but an even cooler way to see her upcoming tasks would be on a calendar. Let's see how Sofia does this.
Start by clicking on the App Launcher (
) and search for and select Calendar.
The Salesforce calendar works in some ways like any other calendar tool: You can schedule events for yourself, share your calendar with your colleagues, and see your colleagues' calendars, too—if they agree to share it with you, of course. (For more information on sharing calendars, check out the Lightning Experience Productivity module in the Resources section.)
But one of the coolest things about Salesforce calendars is the ability for you to see your Salesforce data as events on a calendar.
Start by clicking on the gear icon (
) next to My Calendars and then click New Calendar.
Now you're able to create a calendar from any Salesforce standard or custom object. Sofia selects Task. 
You can name your calendar anything you'd like, set the fields for start and end dates and times, filter your results, and select which field to display on the calendar. Sofia enters a Calendar Name of "Tasks", selects Due Date Only (Date) as the field for start, and selects Subject as the field name to be displayed. 
Ta-da! All of the tasks Sofia assigned to herself are now showing up as events on her Tasks calendar. Now she can keep up with all the activities she's involved with!
Sofia's mind is buzzing with what else she can do with calendars. Maybe she'll create one for her foodbank shifts, too. She gives an air high five to her computer. Productivity for the win!
Easy Access to Calendars
As Sofia reminded us, both Events and Tasks are standard objects in Salesforce. This means you can access them via the App Launcher (you'll find Events on the Calendar tab) and pin them to your navigation bar for easy access. But Sofia is so task oriented that she wants them front and center on her homepage
Enter your Salesforce admin!
Sofia talks to Gorav, the Admin at NMH, about creating a custom homepage for her that shows just four things: her calendar front and center, a list of her day's tasks on the right side (because she loves checking off her to-do list!), a list of her gift opportunities, and a Chatter feed to let her keep up on new messages (more on that in unit 5).
Gorav works his Salesforce magic, and in no time at all he has what Sofia has requested: her perfect homepage!
A Quick Note About Email
There are a few other productivity tools that Sofia will be using to expedite her work. The first is email. 
You can access email via the Activity Composer on a record. When you send an email from a record, it even fills in the To address for you if the person has an email address stored on their record. Like calls, events, and tasks, you can relate the email to another record, and once the email is sent, this history is saved in the activity timeline as well.
You can add attachments, insert merge fields, insert or create a template, preview your email before you send it, and do so much more with this tool. Check out our module on Constituent Email Management with NPSP (linked in the Resources section below) for more information about email templates, campaigns, automation, and more.
Files and Notes
Sofia thinks that most of her daily activities can be managed in the activity timeline, but what about attaching files to contact records? Sometimes she has external documents that she needs saved for a particular contact, like gift agreements. 
There's an important concept about files that you need to know: Files aren't actually stored in the activity timeline. You access them from the Related tab on a contact record.
Sofia uploads a file and notices a Notes section in the related list, too! Notes are a great productivity feature that has lots of neat functionality, too. 
When you create a new note, it is automatically saved as you type. You can format text, add bullets and numbers, embed pictures and images, and keep track of changes with a built-in versioning history. 
You can relate any record to the notes. Visibility of the note is set by the record itself and you can also set individual notes to be viewable only by you. Sofia uses the notes feature during development team meetings when they're talking about a cultivation plan for a particular donor.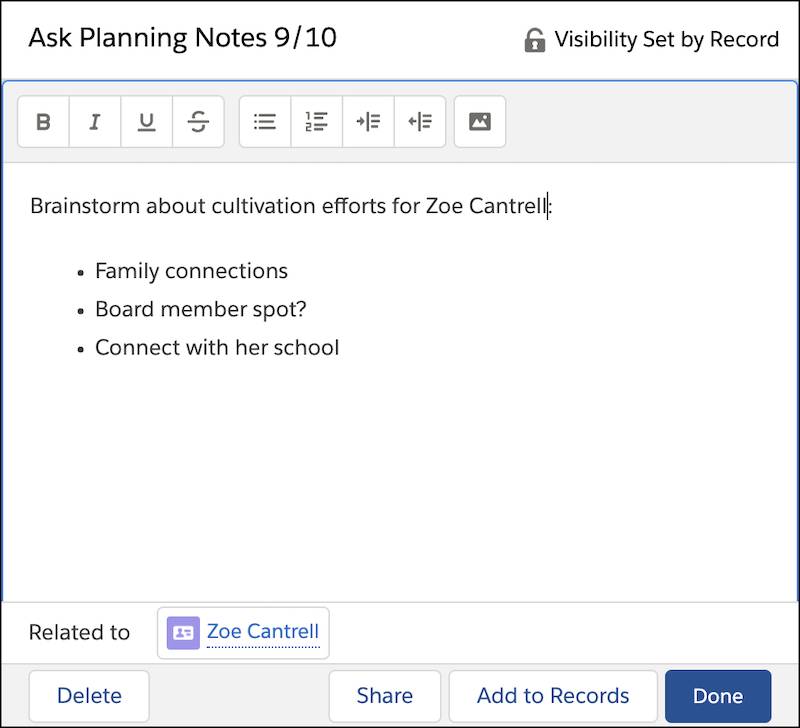 For more information about working with notes and files check out the Lightning Experience Productivity module in the Resources section.
But what if you want to work with many records at the same time, or if you want to see all of your contacts, opportunities, or other objects? Stick around for the next unit to learn more.
Resources