Speak the Process Mapping Language
Learning Objectives
After completing this unit, you'll be able to:
Identify the common approach for creating process maps.
Identify other types of process-related diagrams.
Business Process Mapping Notation
An easily understood business process map can replace 1,000s of words. Which is why there are a number of different ways that business processes have been documented; business process map, flow diagrams, flowcharting, UML diagrams, value stream maps and SIPOC. 
There is a simpler and more engaging diagramming notation that has been designed to be easily understood by all the stakeholders and viewed online. It is proven over the last 20 years in major, highly regulated industries right down to innovative startups and small nonprofits. It is called UPN (Universal Process Notation) and it's not proprietary to any company and doesn't require any specialized software.
A process map is a hierarchy of diagrams, meaning you are able to drill down to give more detail. This enables each diagram to be kept to 8–10 boxes, while being able to describe a broad scope or complex processes. There is no limit to the number of levels you can go down.
Process maps are version controlled, at a diagram level. The process map is the operational definition of the business and it will constantly evolve - but at different cadences. Lower level diagrams typically change more frequently driven by grass roots improvements and major innovation is driven top down.
Before beginning to build a process map, it's important to look at the subtle, but critical, aspects of UPN that are important to understand before leveraging it for business mapping. 
5 Principles of UPN
No more than 8-10 activity boxes on a screen
Drill down from an activity box to a lower level to describe the detail
Attach supporting information to an activity box
View and edit controlled by access rights
Version control and history of changes at a diagram level
Other Process Diagrams
You will come across other types of diagrams which may be useful to understand the processes at a high level. These can be used alongside UPN. The UPN process maps will enable you to drill into enough detail to understand the process so that you can streamline it, drive out waste, and identify business requirements. Remember - "the devil is in the detail"
Capability Model
Capability models or industry blueprints list out the high level process areas. These are useful for scoping out the specific area that you are mapping and to show the context within the overall business.  
Detailed Process Map
A detailed process map is a flowchart that shows a drill-down version of a process that contains all the details of each step of the process and any subsequent steps along the way. This map is perfect for giving all the details to a process step and documenting all the decision points within a process.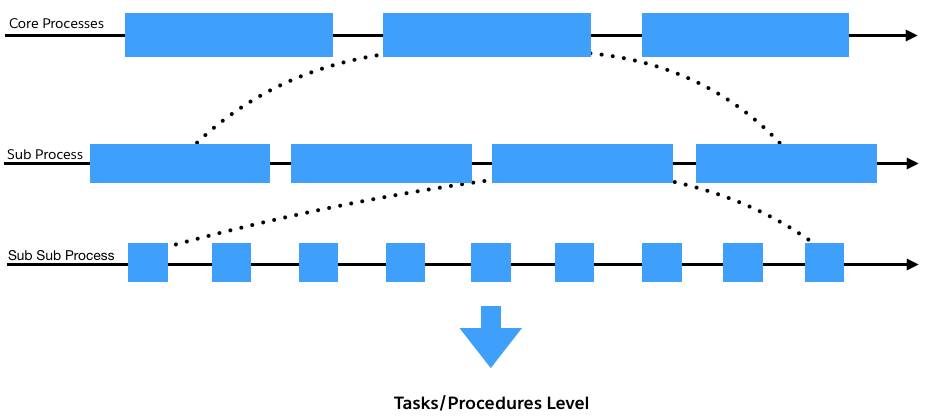 SIPOC
A SIPOC map shows the key elements of a process such as Suppliers, Inputs, Process, Outputs, and Customers. This map is ideal when you want to identify the key points in a process as a way to prepare for a more detailed process map. It is also great when you need to define the scope of a complex process.
Value Stream Map
A value stream map is used to visualize the flow of material and information that is needed to bring a product to the customer. Ideally, you want to use this type of map to record measurements of the inputs and outputs of process steps or to identify waste within and between processes. You can also use this type of map to document, analyze, and improve the flow of information and material to gain insight into decision making and process flows. 
Now that you know how to speak the language of process mapping, let's create a process map.
Resources