Plan and Prepare
Learning Objectives
After completing this unit, you'll be able to:
Organize your Pardot account to prepare for Engagement Studio.
Personalize your content strategy.
Introduction
When you're ready to develop your lead nurturing strategy, your preparations should include a few housekeeping items that will simplify the process of building your engagement programs.


Establish account-wide naming conventions.
Update and review your Pardot data for accurate segmentation.
Set default mail merge values for fields.
Get Organized
It's important to set aside time to organize your Pardot account if you haven't already. You'll be reusing content and referencing existing lists and assets, so you need to make sure your content is both clear and easy to find. Trust us, your future self will thank you. 
Use naming conventions to keep your account organized and simplify the process of adding assets to your programs. With naming conventions, you establish a structure and provide consistency across your account. You can base your naming convention around an item like topic, asset type, date, channel, program name, and so on.
Although we recommend that you adopt a naming convention for all the assets you create in Pardot, lists are the most important assets to focus on. Lists are groups of prospects you send emails to or you nurture using engagement programs.
Here are some examples of naming conventions by asset type.


Asset Type
Naming Convention
Example
Email Template

Topic/Offering_Audience_Date

WebinarInvite_Customers_22Mar18

Image File

ImageName_Size

Linkedin_Icon_30x30

List

Type of
Prospects_Purpose_Use_Date
Content



Landing Page

Topic/Offering_Date

SalesforceDreamin_FY18Q3

Once you've selected a naming convention, update all your existing assets in Pardot. Be sure to communicate this change to all admin and marketing users who create assets in Pardot, because they'll need to use the convention moving forward, and will also need to easily find your new assets.
Personalize the Experience
Your sales emails can finally achieve that 1:1 marketing ideal, even at scale, when you add personalization. Not only does personalization appeal to your prospects and customers, but it can increase efficiency for your B2B company. Here are some tips.
Use rich-text emails instead of HTML so emails look like they've been written by a sales rep.
Include a personalized signature from a sales rep.
Take advantage of variable tags to insert the right details.
Send content based on prospects' actions or interests.
Use the following checklist for personalization planning. 
Your Personalization Checklist: 

✅

Ensure your fields are mapped with fields in Salesforce, if desired.

✅

Import in any data you want to fill in for segmentation or personalization.

✅

Set default mail merge values for fields you intend to use in nurture emails.

✅

Determine the basic personalization information you want to add, such as first name in the greeting or company name in the body of your message. Import data into these fields if they are empty.

Setting up default mail merge values is a quick way to ensure that your emails still display relevant information even if there's no value available for that field on the prospect record. More important, default mail merge values help you avoid embarrassing mishaps like sending an email addressed to [Your Name]. 
Go ahead and take a minute to set up default mail merge values in your account. Here's how. 
Navigate to Pardot Settings | Object and Field Configuration | Prospect Fields.
You'll be presented with a custom fields table and below that, a default fields table.
Find the field you want to work with in the table, and click Edit. (In the example below, we create a "your company" default for records that don't have a company name.)
Select Set a default mail merge value to be used when this field doesn't have a value.
In Default Mail Merge Value, enter your default value.
Click Save default field.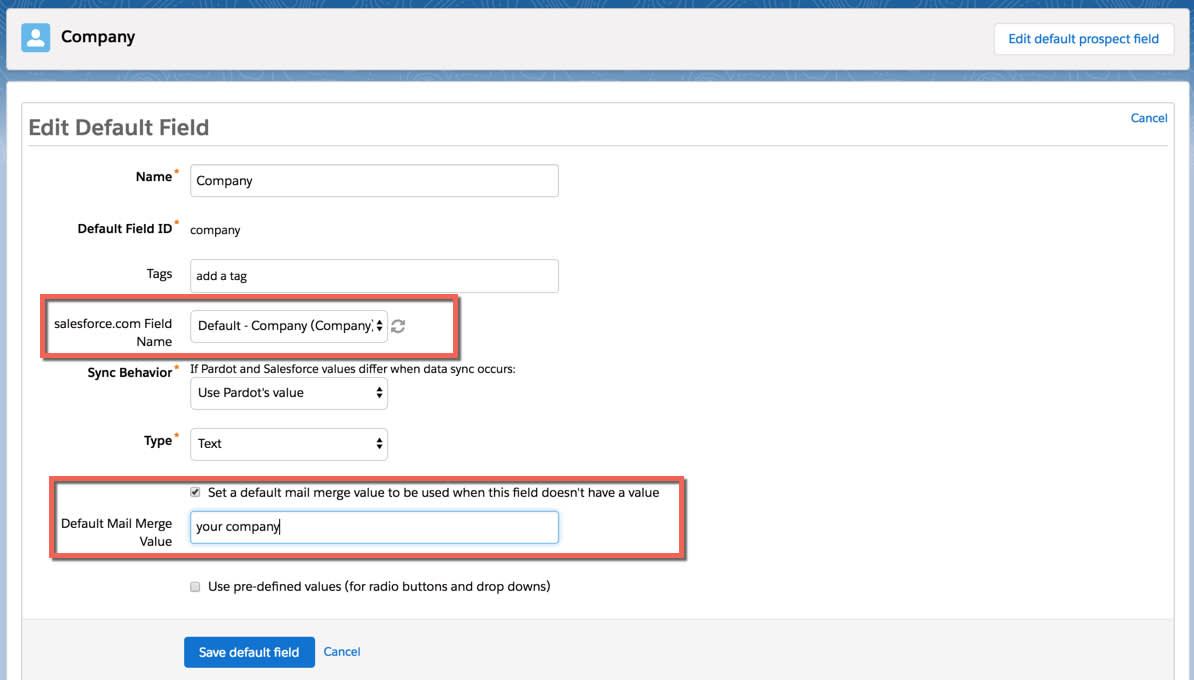 Resources: