Learn How to Navigate Pardot Lightning App
After completing this unit, you'll be able to:
List the main sections of the Pardot dashboard.
Find your way around Pardot.
Now that you've got an idea of what Pardot is and that it's the right tool for your company or group, it's time to get into the fun stuff. We're going to take a look around Pardot and show you where to find all the tools you'll fall in love with. In this unit, we assume you are a Pardot administrator as well as an end user. 
The Pardot dashboard is the first thing you'll see after you log into Pardot. It's your home base, your command central. It gives you a macro view of your account notifications and active prospect records. It also gives easy access to other data that we'll talk about next. 
Your Navigation bar (1) contains eight main menu items: Prospects, Campaigns, Automations, Pardot Email, Content, Pardot Reports, Reports, and access to the Admin interface through the Pardot Settings.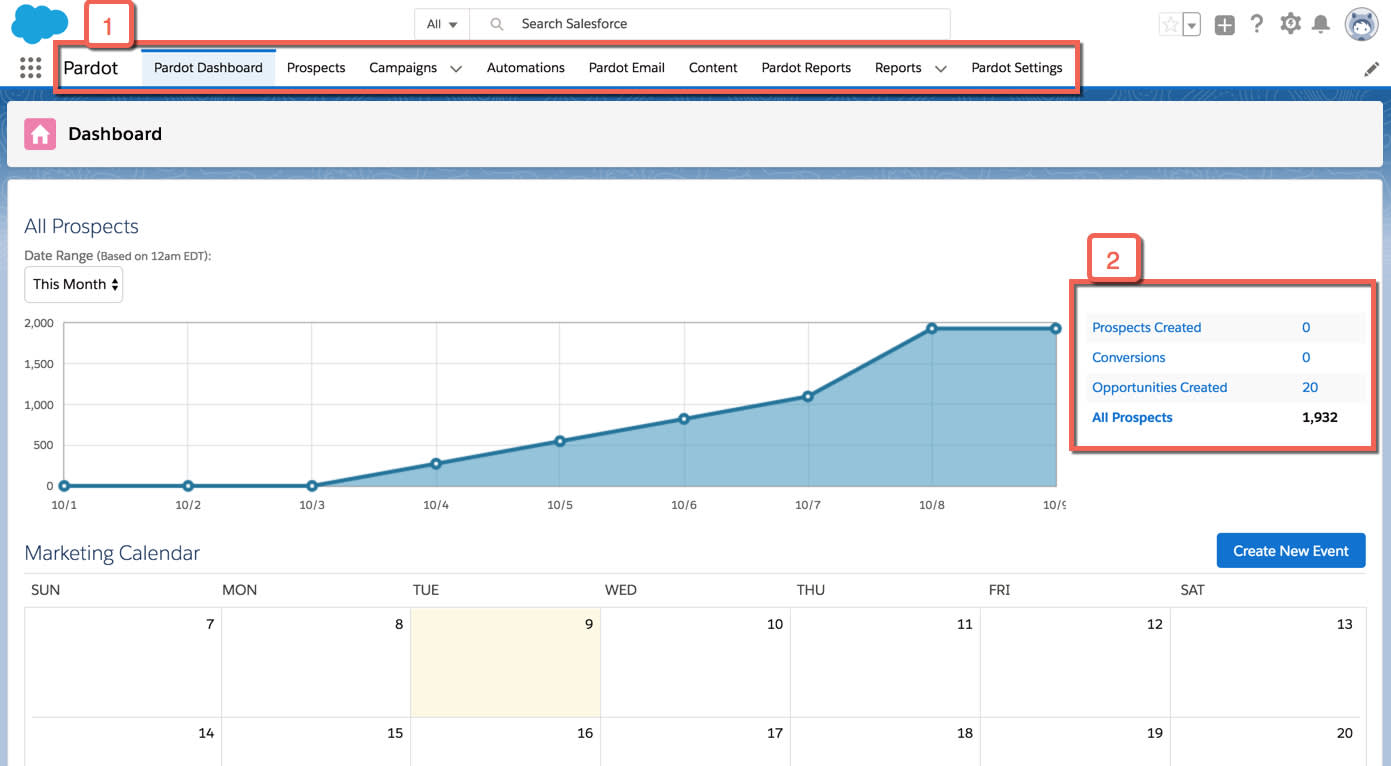 The Prospects Created (2) chart displays the number of prospects created in your account over time. It reports on all visitor to prospect conversions, including prospects that you import or manually create.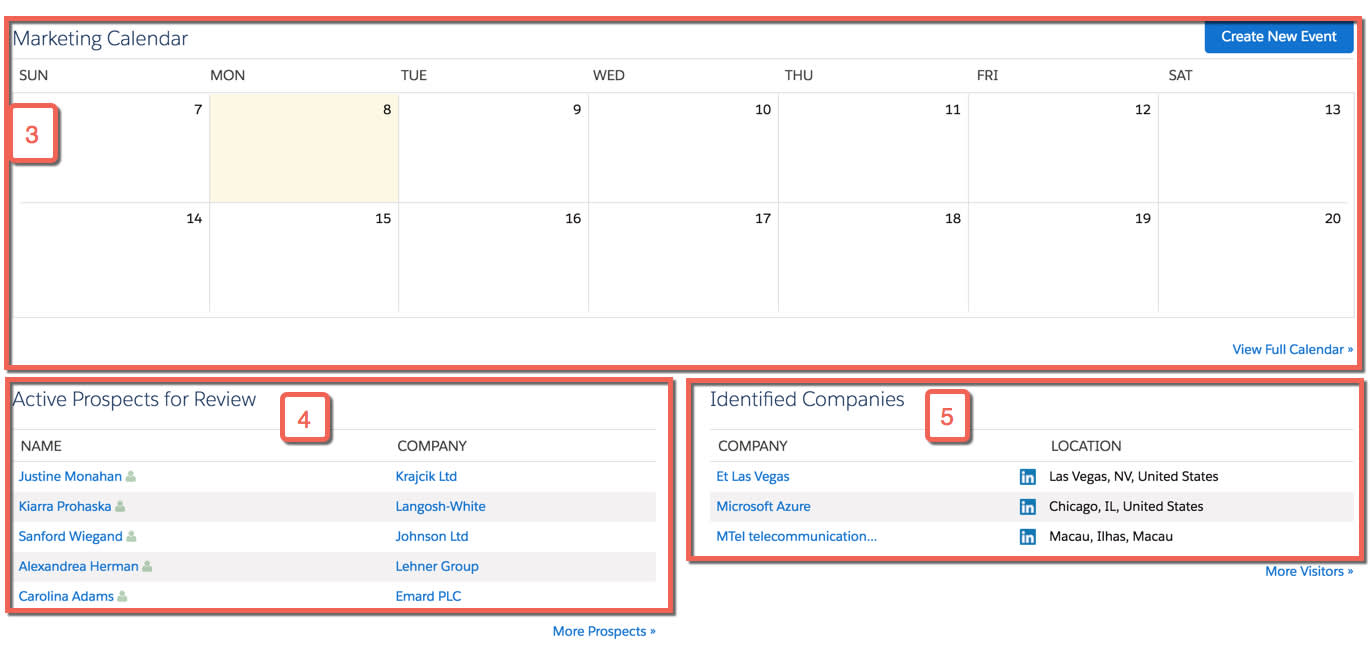 Your Marketing Calendar (3) automatically displays all scheduled email campaigns and social posts, so you can see your upcoming planned content and make adjustments to the schedule if necessary. You can also add additional events and other markers to keep your team on track. 
The Active Prospects For Review (4) list displays up to five of the most recent prospects who've performed an activity, such as submitting a form, visiting a page, or clicking a link. 
The Identified Companies (5) list displays up to five of the most recent visitors whose companies could be identified. Click More Visitors to see all Identified Companies.
Similar to the Lightning Experience navigation bar in Sales Cloud, the Pardot main menu navigation is easy to use and gives you a consistent way to navigate in Pardot. As a Pardot admin or user, you'll become familiar with the dashboard, and you'll navigate in Pardot using the menu navigation bar. It's where you customize and configure your account, build automation tools and programs, add users, and more.
Pardot navigation is divided into eight main sections: Pardot Dashboard, Prospects, Campaigns, Automations, Pardot Email, Content, Pardot Reports, Reports, and Pardot Settings. 
Let's take each in turn: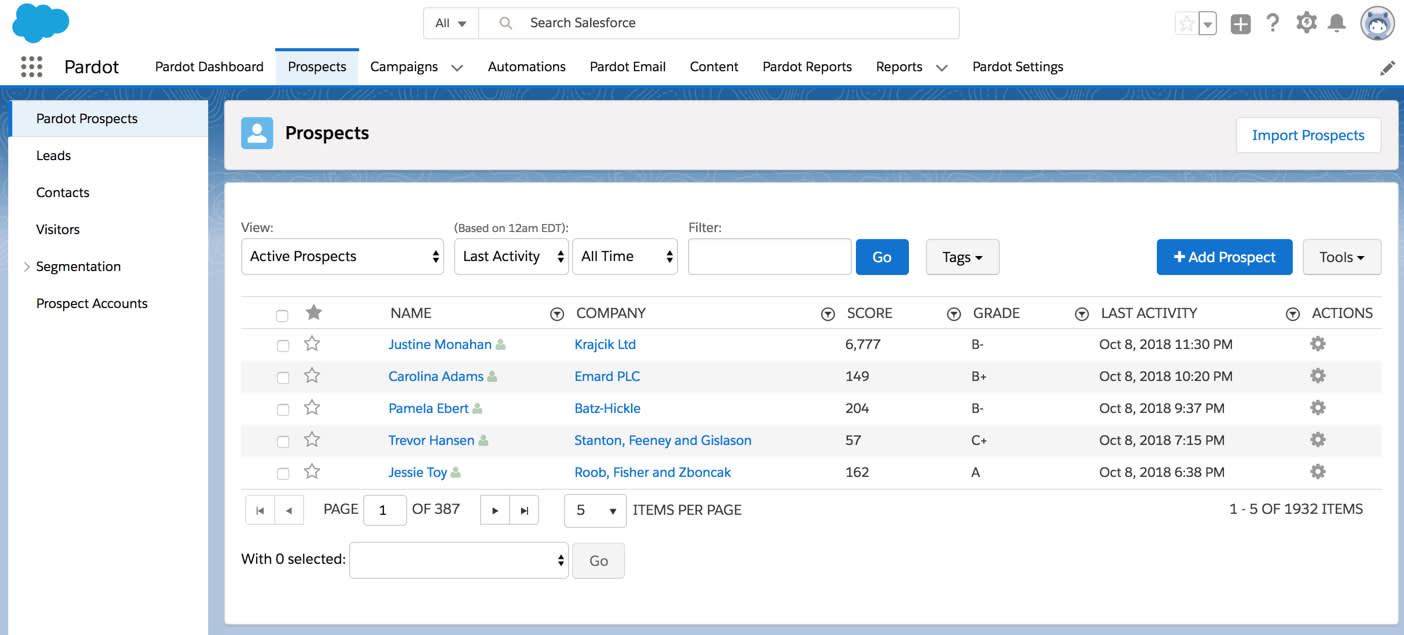 The Prospects tab is where you access records for the prospects in your account. Your Prospect List contains every prospect in your account. You can also group prospects into accounts under Prospect Accounts. Under One-to-One Emails, you can send an individual email to a single prospect. Finally, you can monitor your website's page views and individual visits under Visitors.

The Campaigns tab is where you can track all of your campaigns. You can sort and filter these campaigns by date or type. You can also drill into any of the campaigns to track any data associated with each individual campaign.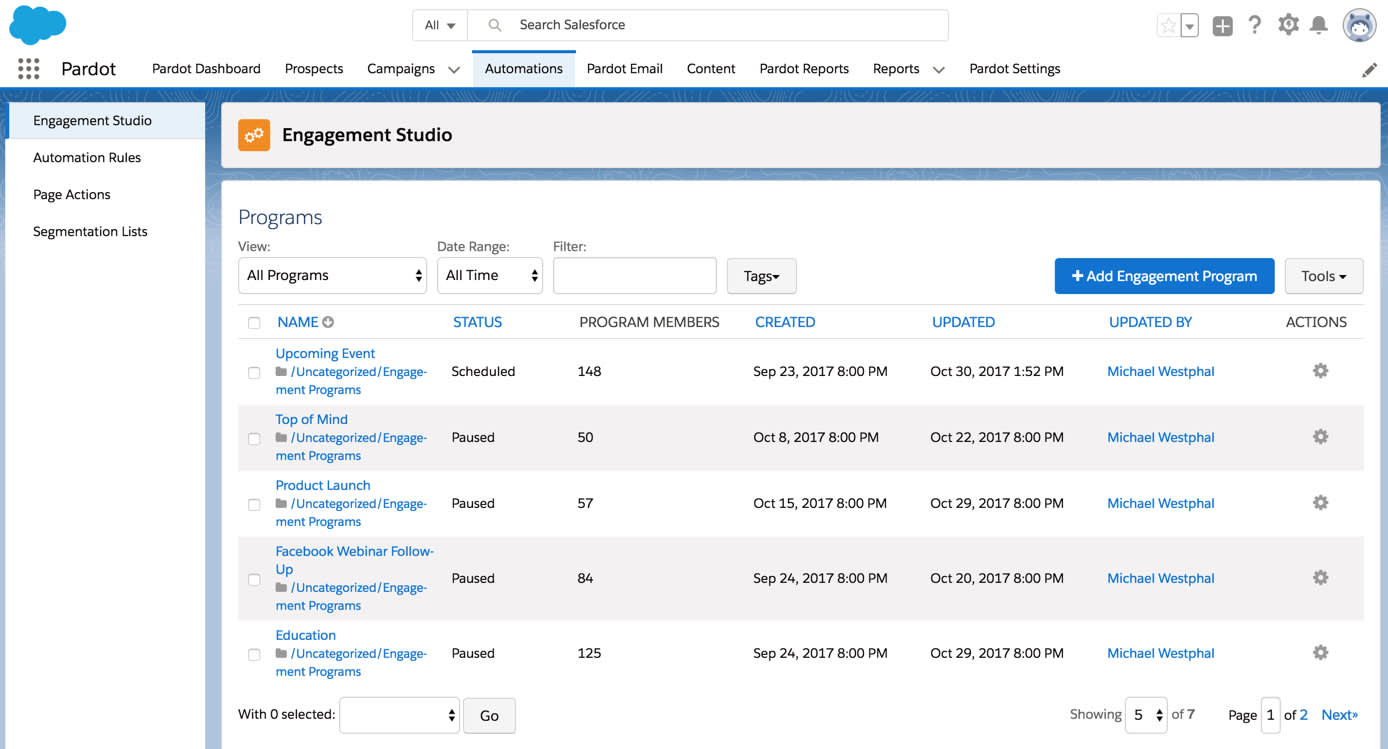 The Automations tab is where you can use automation tools to segment your prospects via automation rules, page actions, and Segmentation Lists. From here you also create and build Engagement Studio programs to nurture your prospects.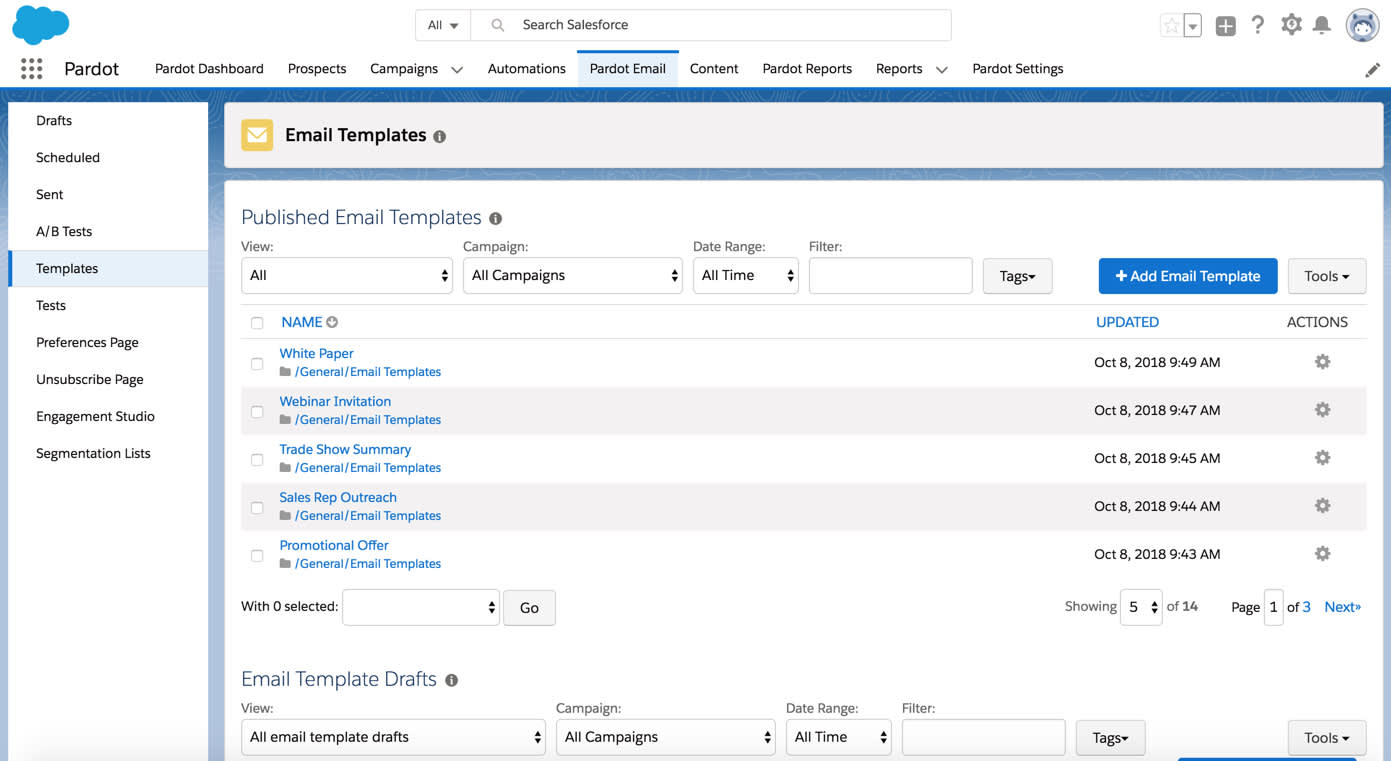 The Pardot Email tab is where you will find all Pardot Email related content. From here you can access all the email drafts, scheduled emails, and sent emails. You are also able to find your A/B Test results as well as other emails tests. All Pardot email templates are found here also. You can also access your preference page information as well as the unsubscribe page information. Engagement Studio programs and Segmentation lists associated with your Pardot emails can be accessed from the sidebar navigation menu. 
The Content tab is probably where you will spend most of your time. This is where you can access all your trackable content including forms, form handlers, layout templates, landing pages, multivaritate tests, custom redirects, dynamic content, files, folders, tags, and social connectors.  From here you are also able to search through your content within campaigns, your websites, and paid search ads. This is the one stop shop for your content that you want to track.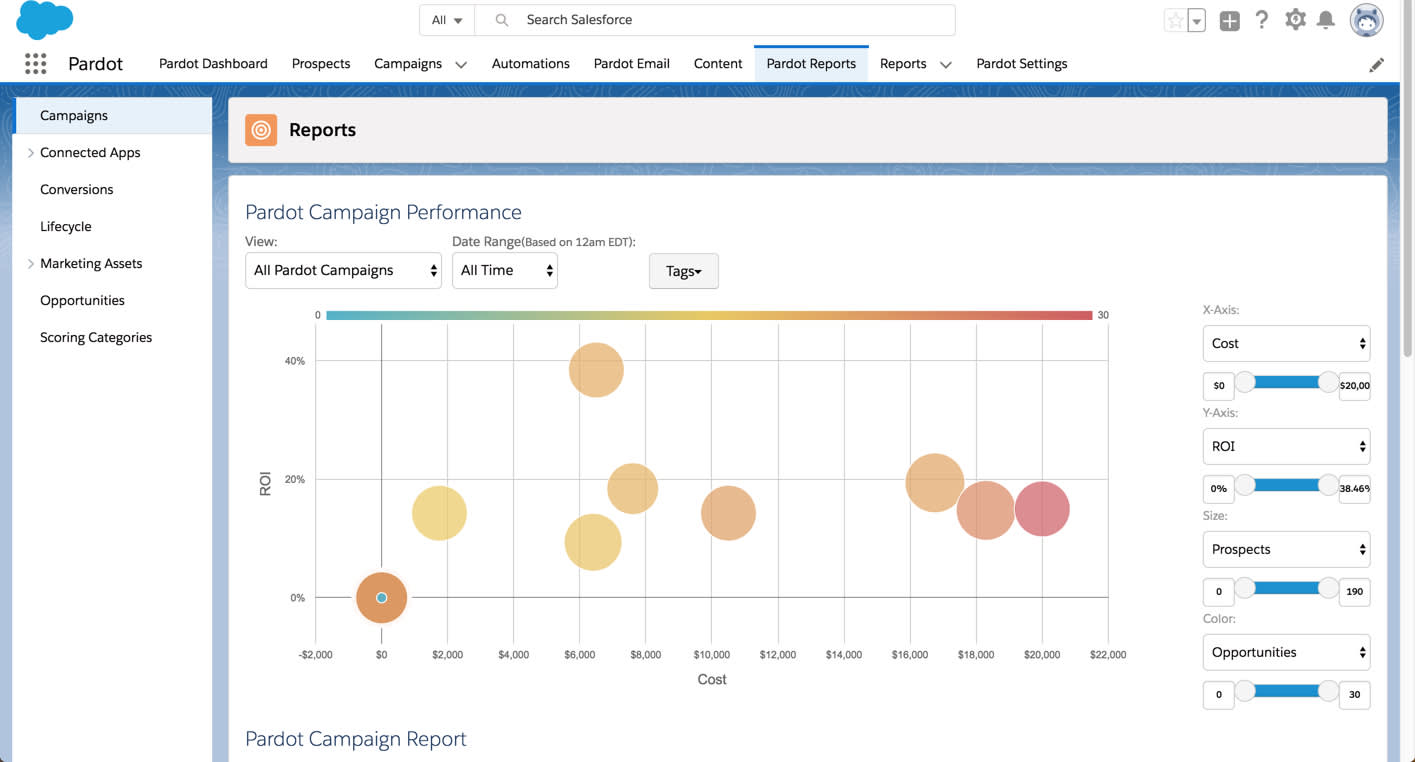 The Pardot Reports tab gives you access to all the reports Pardot offers, including campaigns, conversion rates, any apps you've connected, the prospect lifecycle funnel, and your marketing assets' performance. Use this tab to monitor the progress and health of your Pardot account. 
The Reports tab is where you will find all the reports created by you, by others, and any public or private reports. You are also able to access your folders and favorites from the tab.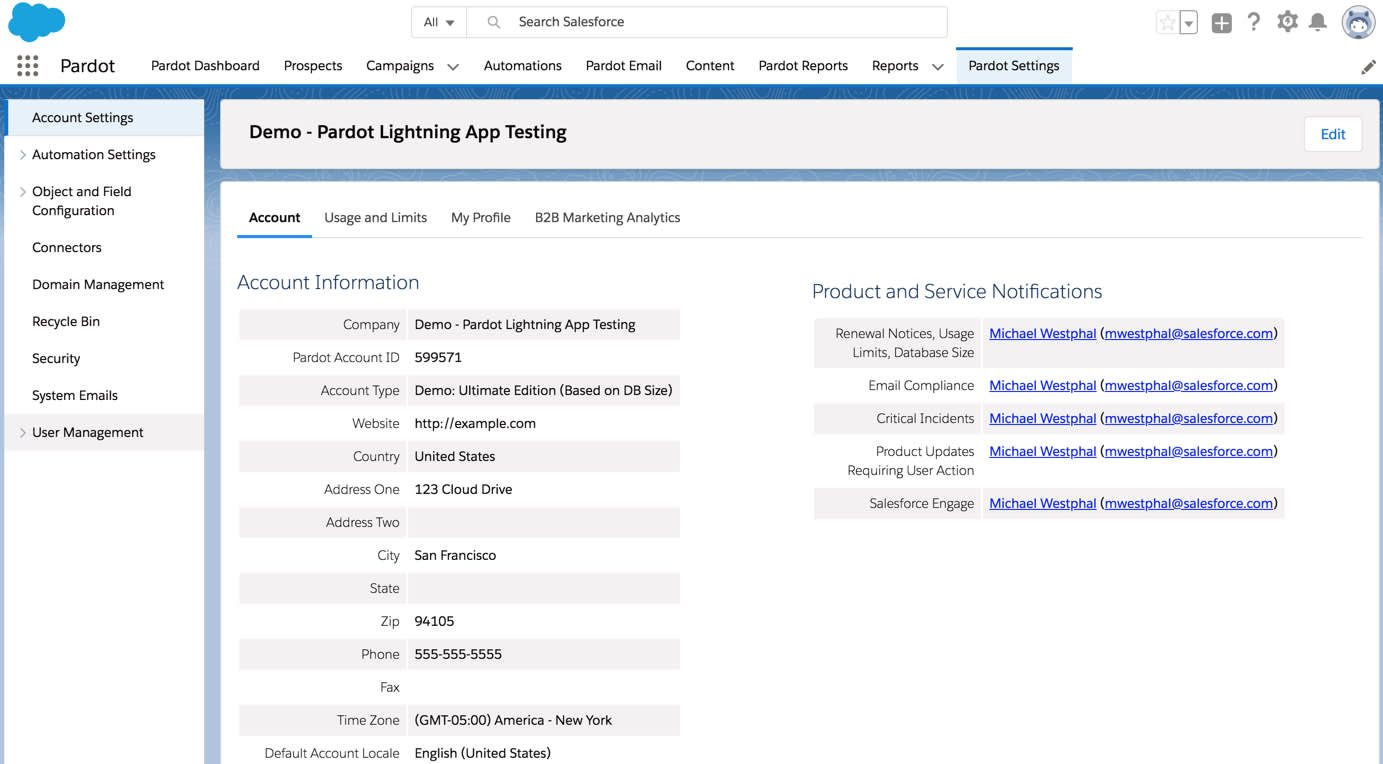 The Pardot Settings tab is the final tab, and as a Pardot administrator, you'll use this tab frequently. Here you'll control your field settings, create and sync custom objects, set up your email authentication protocols, import users and maintain your account security. 
Now that you're familiar with Pardot navigation, in the next unit, we'll look at how to effectively administer it. We'll look at how to manage users, create custom fields, and connect third-party applications to Pardot.