Contribute to the Salesforce.org Open Source Community
Learning Objectives
After completing this unit, you'll be able to:
Describe how NPSP operates as open source software.
Consider contributing to the Salesforce.org open source community.
What is "Open Source," Anyway?
Nonprofit Success Pack (NPSP) is distributed as open source software, part of an ethos that encourages exchange, collaboration, and transparency. That means that you can freely view and export every single line of code to understand exactly how it works. You don't have to, of course, but if you want to peek under the hood, you're more than welcome to do so.
You can even make a copy of the code to modify. It's all in the Salesforce.org GitHub repository. Go ahead and poke around if you wish by following the link listed in the Resources section of this unit.
NPSP goes beyond just being open source software—we're an open source community, too. The majority of our most active contributors are administrators or consultants who have deep experience with NPSP and a desire to enrich the community of nonprofits meeting their missions with Salesforce.
In this unit, we'll review ways you can contribute to the Salesforce nonprofit community in ways both big and small.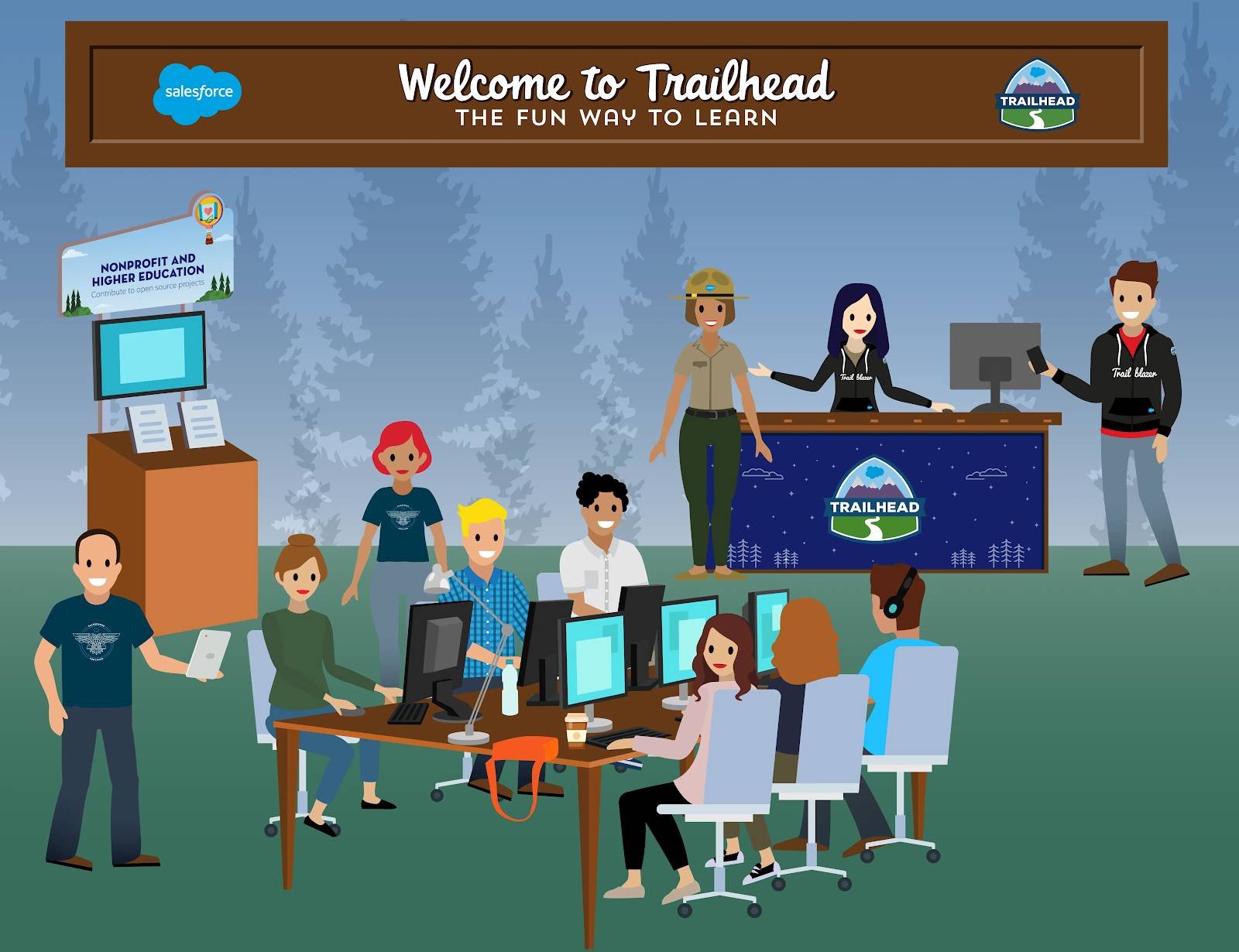 Report a Bug
Bugs happen, and telling us about ones you find is one of the best—and easiest—ways to contribute to NPSP. 
Share a detailed report, complete with screenshots, once you've discovered a bug. This allows us to identify the origin of a bug or unexpected behavior, since your Salesforce instance consists of many different pieces of functionality from the Salesforce platform, NPSP, and other applications.
Check out Create a Technical Support Case with Salesforce Support in Resources for instructions on what to do when you spot a bug.
Share an Idea for a Change or New Feature
Is there one feature that would change how your team works every day? Something that could help everyone in similar situations? We'd love to hear about it.
Submit or vote for ideas you're passionate about in the IdeaExchange in the Trailblazer Community, especially in the Nonprofit category. The popularity of an idea—measured through your feedback—helps us understand which ideas are important to you.
Our product teams use this as one of many inputs to determine their development roadmap. A feature you think up today could surface in a future release!
Answer a Question
Answer a question or share your experience in the Trailblazer Community, our online community for Salesforce Admins and users. It's a great place to contribute to the overall success of all nonprofits using Salesforce. Don't be shy! Your experience is valuable, and sharing how you solved an issue can be incredibly helpful to someone else.
Start by joining the Salesforce.org Customer Hub, Nonprofit Hub, and Nonprofit Success Pack groups in the Trailblazer Community, then find other, more specific groups to join and share your expertise.
Contribute Documentation
If you browse NPSP documentation (or knowledge articles), you can see that not everything has been written by the team at Salesforce.org—many articles have been submitted by community members like you. 
You can suggest an area of Salesforce functionality that should be added to the body of NPSP knowledge articles or note how existing documentation could be improved. We keep a running list of areas we'd like to document or improve but haven't had a chance to address yet. Maybe you can help! We'll even provide writing guidelines to help you get started. 
For details on how to add suggestions, check out the SFDO Open Source Contributors group in the Trailblazer Community.
Join the Open Source Commons
Looking for other ways to get involved?
Attend a community sprint or contribute to a community project through the Salesforce.org Open Source Commons (OSC) program, which brings together mission-driven individuals like you to address the unique needs of the nonprofit, education, and philanthropic communities as they tackle the world's biggest problems. The OSC provides you with the collaboration spaces, tools, training, and peer experience you need to make an impact. Through OSC, you'll be empowered to contribute trusted, innovative, open-source solutions that serve the community at large. 
How does OSC accomplish this? Through the program's three main focus areas: Community Sprint Events, ongoing community project teamwork, and skills training.
Community Sprints are the in-person and virtual meet-up portion of the OSC. What began as small, NPSP developer-focused meetups in the mid-2000s have transformed into inclusive, worldwide community gatherings where attendees work together on a variety of projects. Sprints are the heart of the OSC and our community is incredibly engaged!
Over the course of a one- or two-day event, you decide what to work on and collaborate with small groups to make it happen. It could be contributing code, documentation, reports, videos, or even recording best practices and guidelines for other nonprofit admins and users. It's a great way to meet fellow community members, learn something new, and come away energized by the power of the community. 
Salesforce.org hosts three two-day Community Sprint events a year and up to two one-day, project-specific Mini-Sprints each month. With so much going on, it can be hard to keep up. Stay in the loop by following the Open Source Commons & Community Sprints group in the Trailblazer Community. 
And what about those community projects? The nonprofit Salesforce community is incredibly collaborative and has been building and sharing open source solutions for more than ten years. You can get involved in active community-driven projects that are looking for folks to test, help develop, provide use cases, and more. 
Many ongoing projects have their own Trailblazer Community collaboration groups for discussion and sharing. Search for the groups in the Trailblazer Community beginning with Community Project.
Adding It All Up
If you've made your way to this point through the Administrator Nonprofit Success Pack (NPSP) trail, you have absorbed an incredible amount of information, from big picture best practices to the most specific NPSP settings.
As you continue on, remember you can return to this trail whenever you need to—the how-to's and resources will be here for you! And don't forget about the Trailblazer Community, which is available 24/7.
Good luck and have fun! 
Resources