Navigate Nonprofit Success Pack (NPSP)
Learning Objectives
After completing this unit, you'll be able to:
Log in to Salesforce.
Find learning resources from within NPSP.
Locate and identify common navigation tools.
Welcome to Your New Workspace!
Nonprofit Success Pack (NPSP) is an app that sits on top of Salesforce's Enterprise platform. It's designed to help nonprofits with common use cases such as constituent management, fundraising, marketing and communications, and program management. Let's jump in and take a look at how you can navigate NPSP by turning to our friends at our fictional nonprofit organization No More Homelessness (NMH). 
Today is Michael Aviran's first day as a new member of the communications and advocacy team at NMH. Michael recently completed a degree  in public policy, so he's really excited to be joining a nonprofit with such a clear mission and organized and thoughtful leadership. He's full of energy and great ideas for community engagement, but before he can get new outreach and advocacy efforts off the ground, Michael needs to be well-versed with the technology NMH uses. After an initial welcome and a tour of the office, Michael sits down at his new work space and begins to familiarize himself with Salesforce and NPSP.
But hold up: Michael is about to jump right in and start learning how he'll interact with Salesforce in his daily life. If you're reading this, we assume that your organization already has Salesforce set up (or is deep into the set up process), you know who the Salesforce admin is at your organization, and that you're new (or new-ish) to the technology but ready to dig in. If you need some time before you start or would like some more background and context on Salesforce and NPSP, we suggest you review Salesforce.org Nonprofit Cloud Basics first and then pick back up here. 
Now...here we go! 
Log In to Salesforce
Gorav Patel, the awesome Salesforce admin at NMH, is on top of his game. Last week, Gorav set up a Salesforce user account for Michael. Now all Michael (or you) needs to do to log in to Salesforce for the very first time is follow these instructions: 
Sign in to your email account.
Open and read the welcome email from Salesforce. If you don't have this email or aren't sure if you've received it, check with your Salesforce admin and confirm that you have an active user account.
Click Verify Account.
Follow the instructions to set the password and security question.
Click Save.
With the account set up, on subsequent visits you (or Michael) will follow these steps: 
Go to login.salesforce.com (or your organization's custom URL, if there is one).
Enter your username and password.
Click Log In.
You might also need to follow additional authentication steps, if your admin set anything up for your organization. If you encounter something unexpected, unfamiliar, or that feels a little phishy, check with your admin. It's always better to be more cautious than not.
Getting Started
After logging in and verifying his account, Michael sees the Getting Started page in NPSP.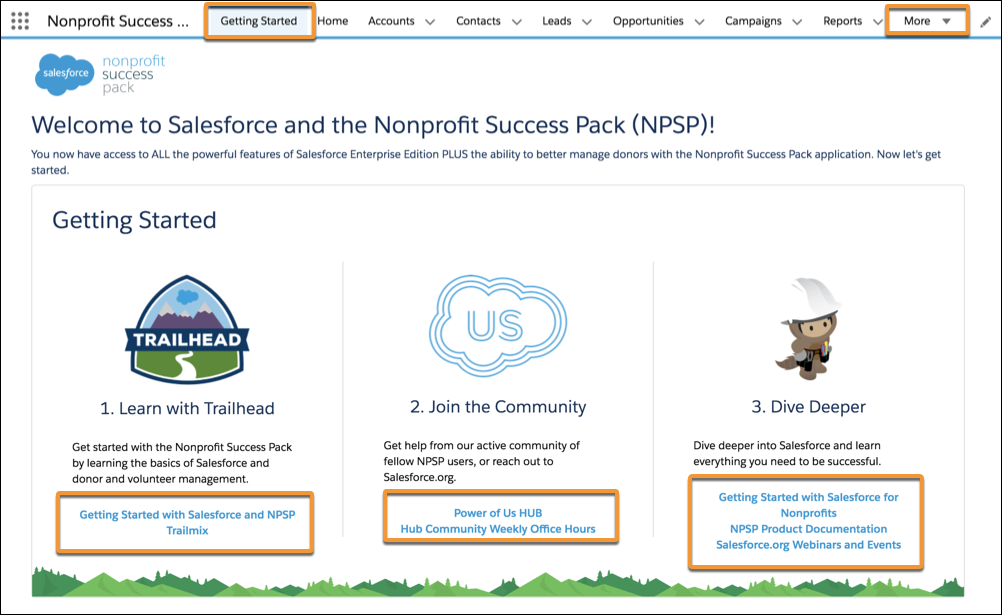 If the title didn't give it away, the Getting Started page is there to help you get started and take your first learning steps. We suggest you take a look at all three of these getting started resources to get acquainted with Salesforce and NPSP, and in this particular order (you're off to a great start by using Trailhead right now), but it's not required. You can always come back to the Getting Started tab to find the links again. We also suggest you take a look at the Trailhead resource for Nonprofit Cloud Basics (see the link in the Resources section below) for more in-depth information about all the learning resources you can access (for free, anytime).
Gorav, the NMH admin, set up Salesforce so Getting Started is the first thing new users like Michael see, but your admin might have your account set up differently. Not to worry, you can find it yourself by clicking the App Launcher and searching there (...which will tell you how to do in just a moment).
Time to Go Home
After exploring a few of the Getting Started links, Michael is ready to go Home. To the Salesforce Home page, that is. 
Just like an actual home in the real world, you can think of your Salesforce Home as the place to go to feel grounded. It's designed to help you manage your day and keep you focused on what's important. After you log in to Salesforce, you can click the Home tab on the navigation bar anytime you need to center yourself. 
The Home page is a highly customizable Salesforce element, so yours will look different than Michael's and any other example. Even users at the same organization can have different Home pages (if the admin set it up that way).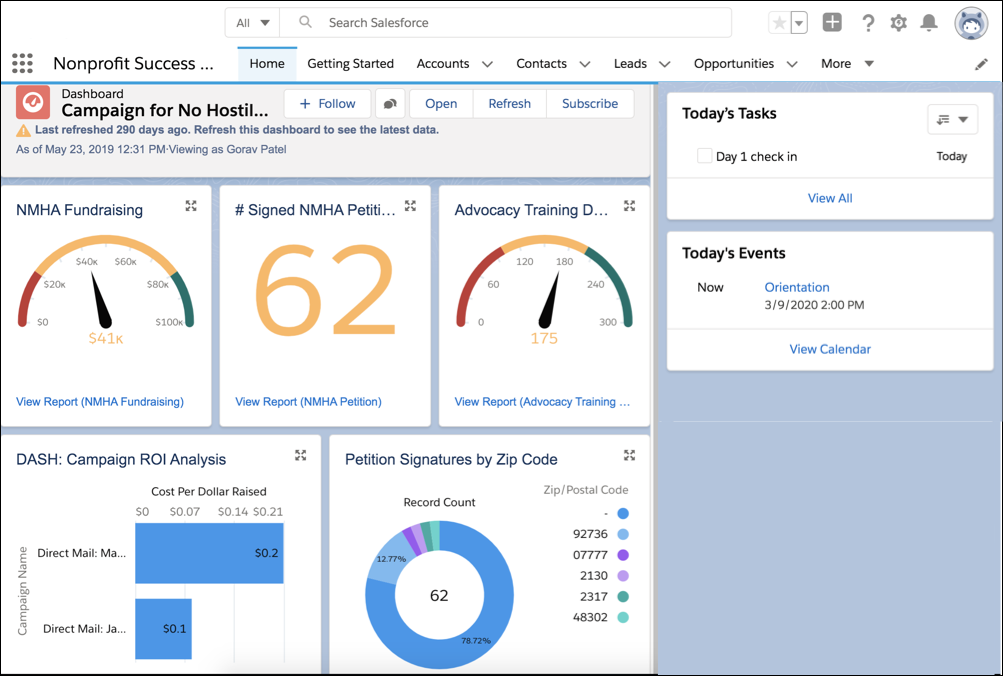 Michael is surprised that his Home page is already full of information. That's because the team has been eagerly awaiting Michael's arrival and has already assigned him a task, invited him to an event, added him to groups, and given him access to key dashboards (advocacy waits for no one!). 
Get Around with Ease
Although your Home page is unique, many important navigation tools you see across the top of the page are universal. You'll see many of the same tools and options no matter what page you're on. Let's take a closer look at some of the most important ones: 

GlobalSearch (1)

The easiest way to find anything—people, events, files, and everything else you have in your records.

App
Launcher (2)

Search for specific apps and switch from one app to another. The name or logo of the app you're in appears next to the App Launcher, making it easy to identify at a glance what app you're currently using.

Navigation
Bar (3)

The set of tabs and functionality that belong to the app. Items in the navigation bar change depending on the app you're using.

Favorites (4)

Your personal bookmarks or shortcuts. To create a favorite, go to a page you want to save and click the star. Click Edit Favorites at the bottom of the list to remove, reorder, or rename your favorites.

Global
Actions (5) 

Create an event or task, jot down notes, log call details, and more without switching away from work in progress. Click to open and the global action editing window stays with you until you close it, even if you navigate to another page in your main window. A multitasker's dream come true.

Help (6)

Context-specific help and links to more training resources, including walkthroughs, video tutorials, and Trailhead. The help you see when you click this icon is specific to the area you're in; you'll see different help in the campaigns object than when you're in the accounts object.

Setup (7)

Access to administrative, platform, and general account setup settings. Depending on your permissions, many of the options will be read-only or unavailable.

Notifications (8)

Notable updates and changes in your account, including task reminders and approval requests. A red circle appears on the icon when there are new notifications. Click on the icon to see a list of changes and jump to an item.

Personal
Settings (9)

The user icon hides the personal and administrative information and settings, where you can customize your name, address, and other information.

Sometimes the first step is the hardest one, but you have already taken it. Logging in to Salesforce and locating some of the most important navigation tools is a great start. Now continue on for information about how data is organized in Salesforce. It'll be more reading, less exploring, but we promise we'll get you back inside the technology before long. 
Resources