Customize Your Settings in NPSP
Learning Objectives
After completing this unit, you'll be able to:
Update your personal settings.
Set up your email signature.
Adjust activity reminder notifications and preferences.
Customize your profile.
Add to and organize the navigation bar.
You've Got Options
If you've read through the previous units, your brain is probably full of big picture information, and it might feel good to change perspective. Which is exactly what we're going to do now: get up close and personal with Salesforce and Nonprofit Success Pack (NPSP) and customize a few options to suit your individual preferences. 
It's All About You
Really, it is. At least as you update your personal settings. 
Changing your Settings isn't just about adding a great profile pic that shows off your mad selfie skillz (but it's for that, too). Settings are where you control your personal information and Salesforce preferences: name, address, email notifications, display language, and more. 
To change your personal settings:
Click the Astro user icon in the navigation bar.
Click Settings to see your personal information.



Review (and change if necessary) your Personal Information, including your name and address.
Click Save.
From the menu options, select and change other personal preferences, like Language & Time Zone. (And remember to click Save, if you do make other changes.)
Click Save.
Poke around in the menu to see all the possible options you have to make Salesforce your own.
Set up an Email Signature
You may have already found this, with all your adventuring around the menu, but in case you haven't, you can add an email signature in the Settings options. 
This does not affect your email or email signature that you might have set up in another service. This is only for email you send directly from NPSP or another Salesforce app. (We know that we haven't yet shared how to draft and send messages, but we'll cover that elsewhere in Trailhead, promise.)
To customize your email options and add a signature, click Email and then My Email Settings from within the Settings menu. Make any changes you'd like, and then click Save.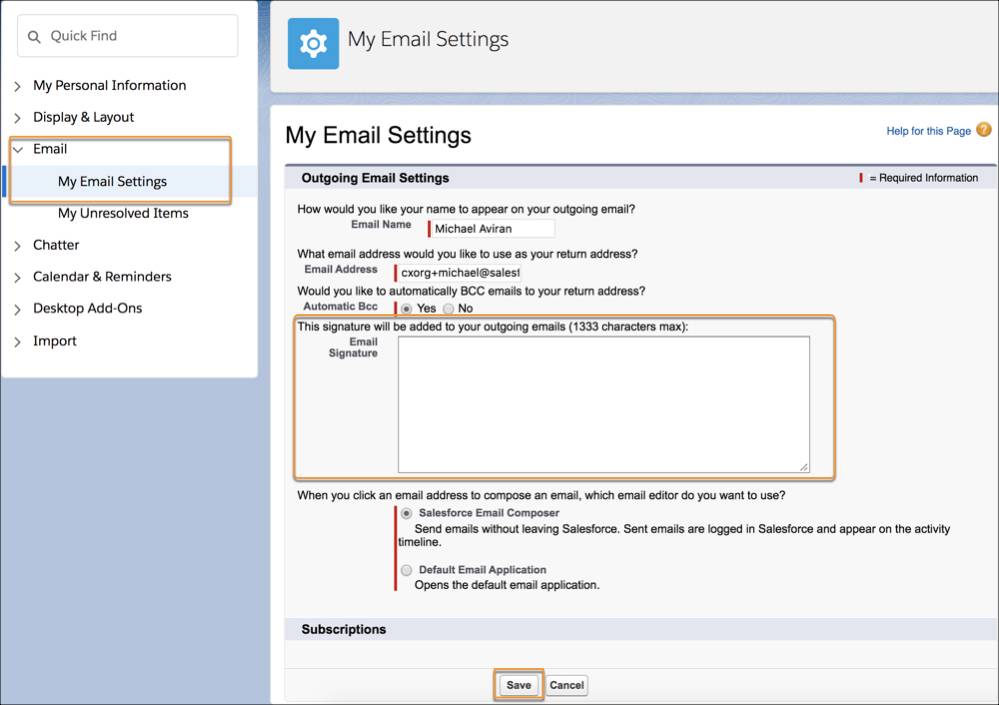 Adjust Activity Reminders
Think waaaaaay back to when we first showed Michael's Home page (or just click over to the Home tab in NPSP to see your own). When there's something new that needs your attention, you'll know because a little red bubble appears on the bell icon. (Think of it like a visual ringing.) The number on the circle indicates how many new items you have.

There are many different things that can trigger a new notification, including upcoming calendar events and tasks assigned to you. Every organization can also customize what type of activity triggers a notification. Talk to the awesome Salesforce admin at your organization if you think you're getting too many automated and unnecessary notifications or if you think you may be missing important ones. 
But it's not all up to your admin. You can manage some of your notifications yourself in the Settings menu. To see and adjust your options, click Calendar & Reminders and then Activity Reminders.  
We know we haven't yet covered what exactly tasks and events are in Salesforce, but hopefully those names are transparent enough. We cover those topics elsewhere (and you can find a link in the Resources below), but for now, focus on notifications. How often and when do you want reminders? Answer that question (silently, to yourself) and then either keep the boxes checked or uncheck them to suit your preferences.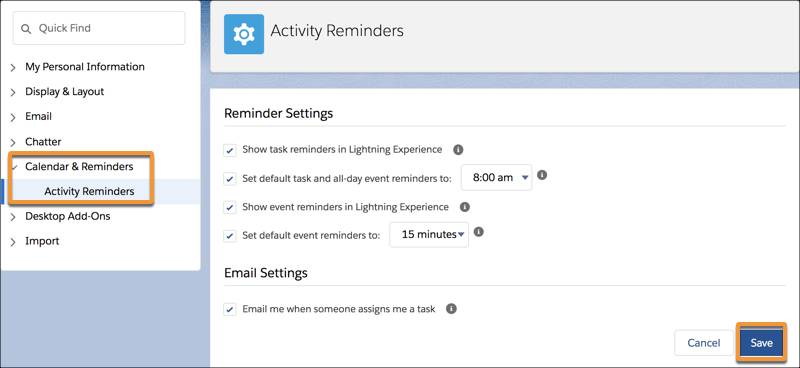 Pay special attention to the Email Settings. Are you the kind of person that uses your email like a to-do list? If so, you might want to make sure the box for Email me when someone assigns me a task is selected. 
And if you make any changes, remember to click Save before you navigate away, and on to our next exciting topic.  
Putting a Face to a Name
Now, the most important personalization: Changing your profile. To add a picture and personal description:
Click the Astro user icon above the navigation bar.
Click your name to go to your profile page.
Click the large Astro user icon to change your personal picture.
Click the pencil icon near your profile photo to add to the About Me section.
Click the camera icon in the upper corner to add a custom banner photo.

Remember to click Save at each step if you made any changes. Here's what Michael's profile looks like: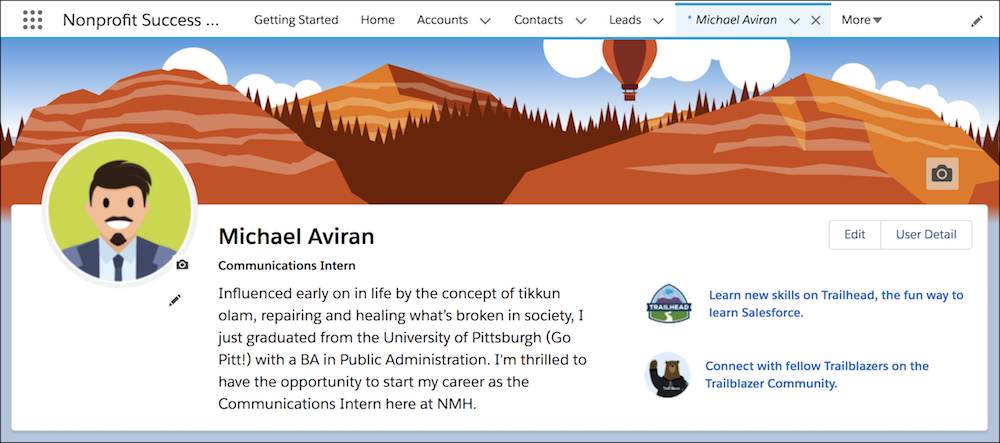 Now that Michael has his profile the way he wants it (for now), it's time for him to dig into some of the functions he'll be using every day. Or at least that we hope he'll use every day. Every work day, that is. NMH has a great culture and encourages a healthy work-life balance, and does not want anyone logging in on the weekends!
Organize the Navigation Bar
This next customization doesn't happen within your Settings, but it's in the same neighborhood. The navigation bar is a series of tabs at the top of the page, just below your profile icon. Each tab is a shortcut to that item. To make life easier (and to work faster), you can customize which objects appear as tabs in the navigation bar. 
To add and remove tabs from the navigation bar:
Click the pencil icon.
 


Click Add More Items.
Click All.
From the list, click the + next to an item you want to add to your navigation bar.
Click Add Nav Items.
Click Save.
To remove an item, click the x in the row, but be aware that you can't remove all items. Some are there to stay. To arrange the tabs, click the horizontal bars near the item icon and drag and drop the rows into your preferred order.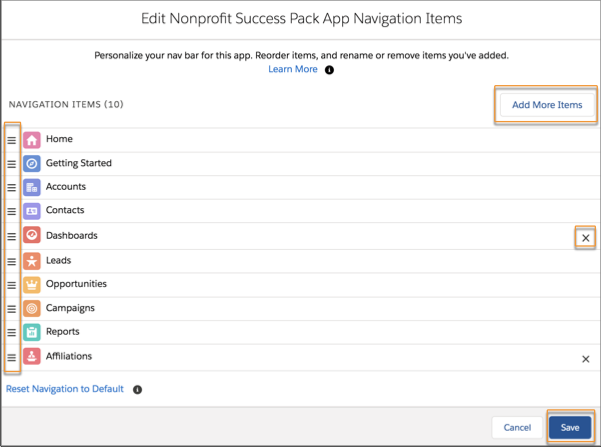 If you followed along and made all the changes Michael did, you're now ready to tackle the next step. And what's that? Well, it depends on what you'd like to learn! Maybe it's time you learn how to track donations in NPSP or send emails from Salesforce. Or maybe you're curious about what's under the Salesforce hood and want to know more about admin responsibilities. Or perhaps you'd just like to learn how to use Salesforce effectively and boost your productivity.
Whatever your fancy, look for more information about Salesforce and NPSP right here on Trailhead after you finish the quiz below. You'll have a greater impact in the world when you use technology to further your mission. 
Resources