Synthesize Core Learnings
Learning Objectives
After completing this unit, you'll be able to:
Describe how to construct a project vision using stakeholder interview data.
Relate the vision statements of the fictional No More Homelessness nonprofit to your own organization.
Synthesize Your Results
After your interviews with key stakeholders, you'll want to synthesize the results to articulate your project vision.
To help you imagine how this might work for your organization, let's take a look at how a (fictional) social change nonprofit working to end homelessness might approach this critical step.
No More Homelessness: Connected Care for the Homeless
No More Homelessness (NMH) was founded initially by a group of volunteers focused on providing critical support to homeless and low-income families during extreme weather emergencies. It grew rapidly into a fully staffed organization with services including a food pantry and a transitional housing program. As part of this growth, they are considering a move from spreadsheets to Nonprofit Cloud to help them scale their impact.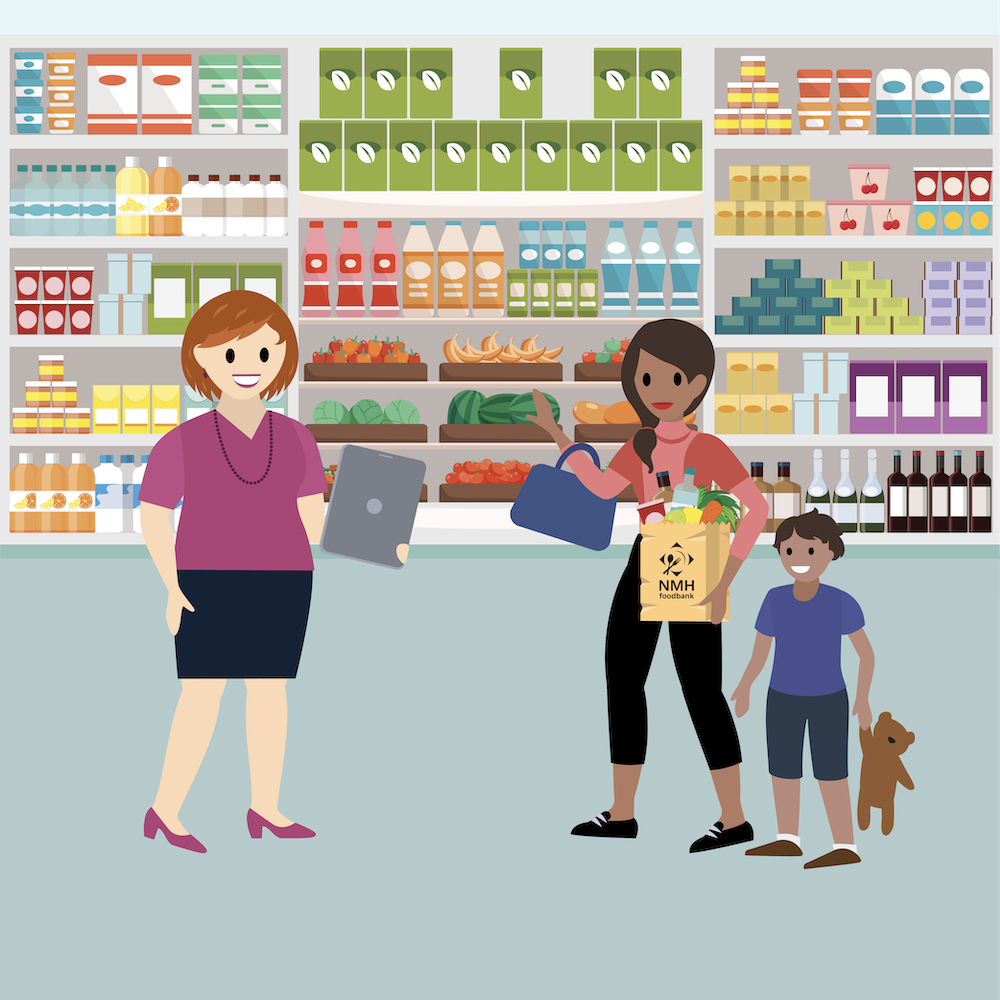 Articulating the Vision
Allyson Harris, NMH's Director of Technology, is taking on the planning phase of their Salesforce implementation project. She has completed her interview of key stakeholders and is starting to vet possible consulting partners. Among the common themes in Allyson's interviews was how disconnected their programs are from one another and from service providers. What's becoming apparent is that as NMH grew organically and expanded offerings and agency relationships, the experience for their constituents has become increasingly fragmented and a lack of visibility into client services has limited their impact. In sum, creating a more holistic experience for both clients and staff is their top priority.
Allyson sets about articulating this larger project vision using a core set of questions.
What are you trying to accomplish by implementing Salesforce? What problems will it help you solve?
NMH will use Nonprofit Cloud as the single source of truth for all client, volunteer, and donor data so that our staff will be empowered to more effectively serve clients, manage volunteers, and report on the impact of our programs to funders and the community. 
What specific processes do you want to improve for the benefit of staff? 
Program Management is currently done via spreadsheets, paper forms, and a basic contact management app. The data is siloed, and staff must find, analyze, and act across various systems. This causes frustration, limits our ability to surround clients with the care they need, and makes reporting on our impact nearly impossible. We've had significant staff attrition this past year in large part due to frustration over the extra work involved in managing our programs. Our staff need a simple way to view a single view of the client and the related activities so we can spend more time on programs and less time on administration.
What specific processes do you want to improve to benefit your constituents?
Volunteer intake, training, and shift scheduling is mostly a manual process managed by staff. We want to empower volunteers through self-service where possible so that staff and volunteers can spend more time effectively serving clients.
We want to have a single intake process for all our programs and services that clients can access quickly from wherever they are, and one that recognizes a client's history and activity with our organization. 
What pain points prevent you from achieving your goals currently?
NMH currently uses spreadsheets to manage program activities and outside referrals. Staff has to search and analyze data across multiple spreadsheets to get a full picture of what's next for a client. The inefficiency in finding, analyzing, and reporting on our data is incredibly limiting.
Similarly, our fundraising team has to retrieve and summarize data from various sources to tell the story of our impact and raise more funds. Much of the work is administrative and bespoke rather than strategic and repeatable.
What outcomes will show that you've been successful in making improvements for both staff and constituents?
NMH will view this project as successful if we see improvements in the following key performance indicators (or what are commonly called KPIs):
Number of clients served annually
Number of food items / resource kits distributed monthly
Number of volunteer hours completed annually
Cost-to-serve a client annually
Average donation / grant size annually
Staff, client, and volunteer retention
What areas of your business are you not planning to tackle?
While NMH currently manages a transitional housing program, we're not planning to tackle any processes related to that program with this implementation. We want to create a solid foundation for our other programs before diving into a process that is evolving with changing state and federal reporting requirements.
Beyond Salesforce, what are your organization's overall goals over the next 6 months? A year? A few years out? What other major initiatives are currently underway? 
We're in the middle of a capital campaign to purchase a building in our community. We want to have a permanent home for our programs in the next year. We want Nonprofit Cloud to be a permanent home for our programs, one that can grow with us. 
What opportunities are available to you at this moment that align with this project?
NMH recently received a grant from a local community foundation to improve our ability to report publicly on outcomes at the city and state level. Some of those funds can be used to implement the technical infrastructure needed.
Self-reflection: How does your organization adapt to change? 
NMH is a small organization that was built around dedicated program staff and volunteers. Our founders are wary of moving away from something they see as already working and our staff are most comfortable with familiar processes and tools. We'll need help to successfully transition our staff and volunteers to a new mindset and technology.
Now NMH has a guiding document that articulates the why and defines the general scope of their Salesforce and Nonprofit Cloud project. While the world around the project might change (staff or board transitions, for example), NMH can always return to this doc to help guide their scope and direction.
Resources