Use Service Cloud for Nonprofit Hotlines and Helpline
Learning Objectives
After completing this unit, you'll be able to: 
Describe how Service Cloud helps you resolve helpline, call center, and short-term support issues faster.
Identify Service Cloud features ideal for nonprofit hotline and helpline management.
NMH Hotline Help
Lucy Sadeghin is a new volunteer at our fictional nonprofit, No More Homelessness (NMH), who has recently received training on managing hotline intake calls for NMH's transitional housing program. NMH clients often need real-time support as they navigate the transitional housing process, and Lucy, newly trained, is there at the ready. Today, one of the calls she receives is from a client who needs help learning more about the transitional housing application process and options in the area. When she takes the call, she uses a set of step-by-step instructions to create a new case record and to make sure she's asking the right questions. 
Wow, how is Lucy doing all of this, and how is she doing it so quickly? Service Cloud. Service Cloud is a Salesforce offering that helps nonprofits more effectively manage helplines and hotlines. By allowing organizations to quickly open cases to respond to and track issues in real-time, Service Cloud can help you resolve a client's need or situation that requires immediate resolution. Great, so Lucy can quickly respond to client calls using Service Cloud features. But before we rejoin Lucy to see how she handles the rest of her call (go, Lucy!), let's take a step back to learn more about an important key term that we just mentioned — a "case."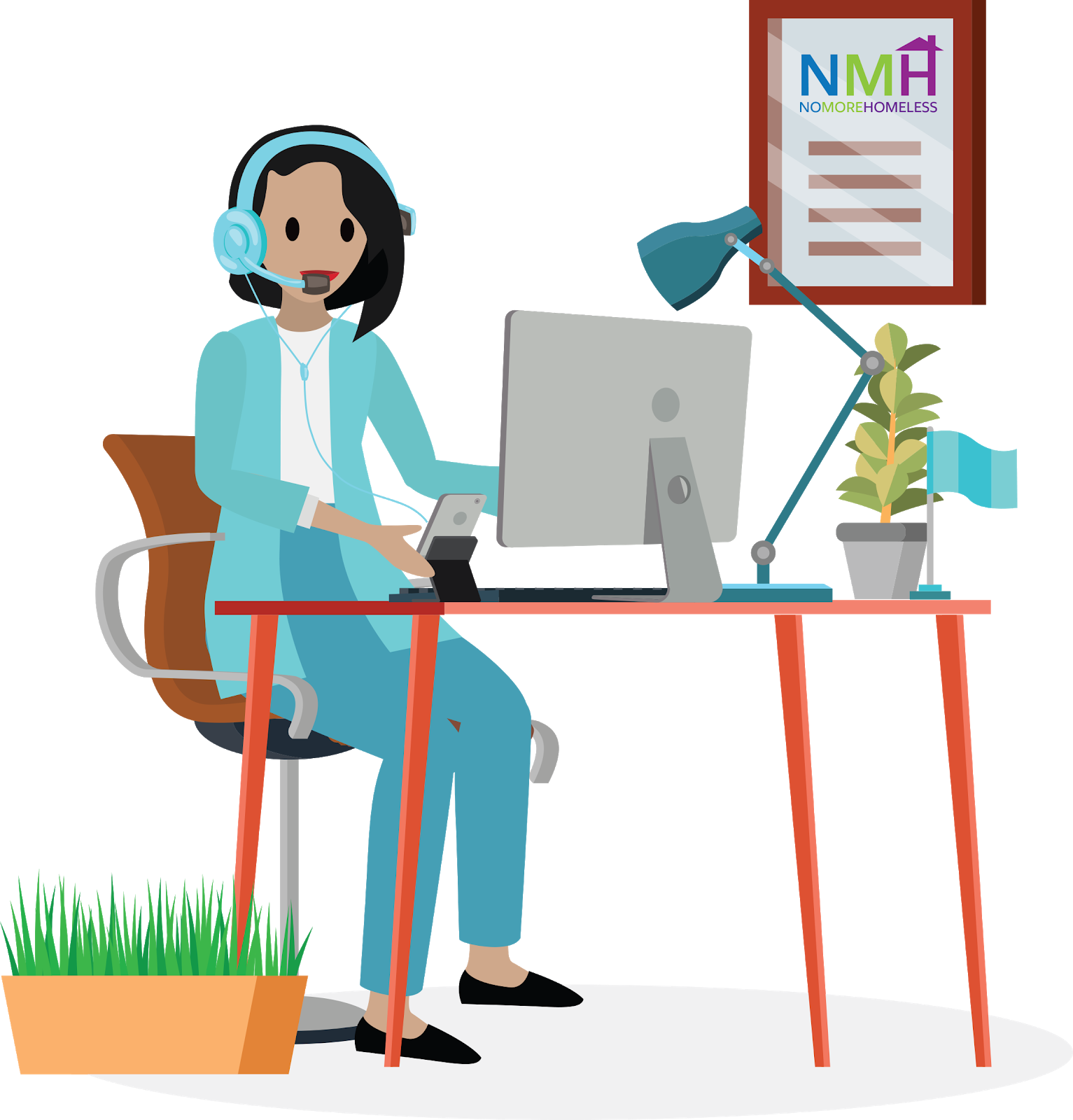 A Case is a Case, Right?
Well, not quite. Salesforce, the customer relationship management (CRM) technology that includes Nonprofit Cloud, offers two separate sets of tools for "case" management. In Lucy's case (pun fun!), you can use Service Cloud tools to help you quickly resolve an immediate issue promptly (using the standard object called "case"). And then, in the context of social services, there's "case management," where you work with a person over a prolonged period, on a variety of issues, and the "case" represents the person (and does not necessarily require immediate closure). 
So, with Service Cloud, and throughout this module, the case we refer to is an industry-standard term in the hotline/helpline world (think "opening & closing a case"). To learn more about the second type of case management, for when we work with someone over a longer amount of time, check out the Case Management documentation in the Resources section of this module. Now, let's rejoin Lucy as she uses Service Cloud to quickly help her hotline caller find the right answers. 
Service Cloud in Action: Hotline Management
After Lucy uses a set of step-by-step instructions (also known as guided actions) to create the new case record and to make sure she's asking the right questions, she also consults a knowledge article to help provide the right answers for her caller's questions about NMH's transitional housing program. Then, once Lucy is off the phone, she reviews the information and saves the new case — a job well done. 
But wait, there's more! If Lucy's new case needs further review or requires any follow-up steps, she can indicate that in the case record, and the case will be automatically enrolled in a workflow that notifies the appropriate NMH team member that further action is needed (and we can thank Gorav, NMH's trusty admin, for setting up this rockin workflow). To learn more about Service Cloud's functionalities with helpline and hotline management, let's explore how this workflow would play out. 
Lucy flags the new case record as "needs further review."
Anthony Hall, NMH's program manager, receives an email, notifying him that a new case is waiting for review and next steps.
Anthony opens the case that Lucy created and sees that there are a few things he can resolve right away.
Using quick text, he inserts directions to the emergency shelter intake center in a message to the client and, with a macro, sends an email with the client profile information to the shelter intake.
Anthony then updates the new case status, so the whole team knows that the client is receiving the appropriate services.
Sounds like magic, right? No! Standardizing data collection (collecting and keeping data in one, secure place) and automatic assignments are exactly Service Cloud is for. Now let's take a closer look at a few more of Service Cloud's capabilities and features. 
Get to Know Service Cloud (By Name)
Nonprofit Cloud and Service Cloud integrate seamlessly, so you might not even notice the difference, but there are two important reasons to introduce you to Service Cloud by name.
The first reason is administrative. Every Salesforce.org customer has access to 10 free Service Cloud licenses and its tools (which sound pretty great so far, right?). Each license is equal to one user account, which means your admin can grant 10 different users at your organization access to Service Cloud. As a service provider, you want to make sure you're on that short list of Service Cloud users, so tomorrow might be a good day to bring in some baked goods with your admin's name on them.
The second reason is for the love of hotline and helpline management. Client support is an art, not a science; processes are different for every hotline or helpline, and at every nonprofit. Because the range of possibilities varies widely, Service Cloud provides a suite of tools that work together to organize your organization's unique workflow.
Organize Workflow
Here are a few Service Cloud features you can use to organize your hotline or helpline workflow and get the job done (whatever that job may be):
Cases
As we've learned, cases (also known as the case object) are the central component of Service Cloud. Cases allow your organization to track any discrete service activity with a defined process that moves from open to closed. You can use cases to track service requests, client issues, help desk support for staff, and so much more. A case brings together all the relevant information about a client and puts it in one place. You can see information from the account, contact, notes, and interaction history all on a case, so anyone on your organization's team can see the status, progress, and current needs of a client's issue.
Multi-channel engagement 
Cases can be opened in many different ways: from a phone call, automatically from an email or webpage, or manually and in person (the old fashioned way). You can even open a case while in the field, working from a mobile device. In Salesforce lingo, each way of interacting or engaging with a client is called a channel, so multiple touchpoints with clients (like a phone call, an email, or in-person interactions) means multiple channels. Multi-channel engagement means meeting your clients where they (and you) are. Your Salesforce admin can customize which channels you use for opening and managing cases to meet the specific needs of your clients and organization.
Automatic workflows 
After a case is created (no matter the channel), it can be automatically assessed and routed to a team member based on custom criteria set up by your admin. Automatic workflows can keep your team on track by ensuring every case is always assigned to the right person or team. Escalation rules can be added to help eliminate the possibility of missing any critical steps in the service delivery process; if a case sits unresolved for too long, it can be reassigned or escalated to a manager.
Macros 
Macros help you save time and add consistency to your work by automating a set of actions that you would otherwise have to do manually (and who wants to do that anymore?). With a macro, you can set up a sequence of actions, like selecting an email template, sending a message to a client, and updating the case status, all in a single click. Your admin can create macros for your team or give you permission to create your own. 
Quick text
Quick text lets you save phrases or messages and insert them where you need them with a keyboard shortcut or from a button. It's like copy and pasting without the copy and pasting. You can insert quick text in emails, chats, events, tasks, and pretty much any place you can insert text. (For the really quick-fingered, see the list of keyboard shortcuts linked in the Resources section below.)
Guided actions
Guided actions literally guide you through complex processes, like reading a script while on a call or in a chat interaction. Your admin can create a flow and customize your interface so that when you open a record, like a case, you can step through a predetermined process with a client and save relevant data to the record along the way.
Knowledge
Knowledge is like your very own online information repository. With the right licenses, you can create and publish articles on any subject and share them with different sets of people, like your team, volunteers, or clients. You can also allow a group to create and share their own knowledge articles. This can speed up service by letting staff and clients find answers quickly and on their own. Even better: Lightning Knowledge often suggests the article most relevant to a case so users don't even need to search for it. 
Additional customizations
Like nearly everything in Salesforce, cases (and other Service Cloud features) can be customized to meet the specific needs of your organization. In fact, your admin has probably already customized cases or created automatic processes for your team to use.  Your organization's Service Cloud setup could include an integrated phone system, a live chat system, text messaging capabilities, or even predictive responses based on case details.
These features are the Salesforce special sauce for good hotline or helpline management, but because of their customizable nature, what we share here might not look exactly like what you see at your organization. We hope, though, that you learn a few simple yet powerful ways you might be able to use these features in your organization and that we inspire you to do more than what we can show here.
Continue to the next unit for an introduction to Service Console, where you can access the tools you need to keep track of moving pieces as your hotline staff manages calls and cases 
Resources