Make and Track Calls with Sales Dialer
Learning Objectives
After completing this module, you'll be able to:
Describe Sales Dialer features.
Create a call list.
Use Sales Dialer voicemail drop.
As No More Homelessness (NMH) invests resources in its transitional housing program, more and more participants have been able to move into stable, permanent housing. Despite the growing success, the team knows that there's always more work to do and that continuing support from NMH is crucial for the long term security of many of their clients.
With this in mind, the team at NMH began to look for a reliable way to stay connected with clients who have progressed through NMH's transitional housing program. Gorav, the NMH Salesforce admin, already configured cases and Service Console to help the program team track issues, activities, and program participation. What they needed now was a method for managing regular outreach and wellness calls while also offering a way for graduates to be in touch with the NMH team when they needed it. After looking into the options, Gorav suggested the team try Sales Dialer. 
Introducing Sales Dialer
Sales Dialer isn't exclusive to Service Cloud (and it requires separate licenses, only available in some countries), but it is an incredibly useful integration, so we'll introduce it here. 
Sales Dialer gives organizations using computer telephony integration (CTI) the ability to make and track calls from within their program management app. Instead of making calls by manually working through a stack of case folders or a spreadsheet, Anthony, the NMH Program Manager, can use Sales Dialer to find and dial a telephone number and take notes directly within Salesforce, so all the information is easily connected to the relevant contact and case.
Gorav worked with Salesforce to purchase the necessary additional licenses and enable Sales Dialer for NMH. He then customized the Salesforce settings and worked with a consulting firm to configure the NMH network. Now, when Anthony logs into Salesforce, he notices that all phone number fields appear as clickable links—and takes it as a sign that his life is about to get easier.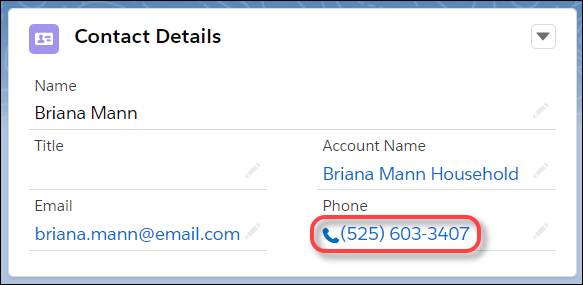 Make Calls In a Flash
Now that it looks like the technology is up and running, Anthony's ready to make some calls! After he customizes his Dialer settings, that is.
When he logs into Salesforce for the first time after Sales Dialer is enabled and set up, Anthony see the banner about Sales Dialer and clicks Find Now to go to his settings page.

In the Sales Dialer Settings, you can set either a main business line or your existing phone number as the caller ID. Add and verify a custom caller ID from the Dialer Settings page.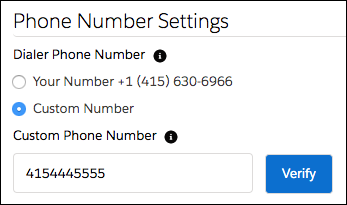 Now he's set up, Anthony can click any (valid) phone number he sees in Salesforce and place a call. And because Gorav is a particularly thoughtful admin (the baked goods the team brings him help), he added the Dialer as a shortcut on the utility bar in the NMH Service Console app. 
To open the Dialer, Anthony can click Phone from the bottom of the browser window to dial directly, access call history, or see a call list from the call panel (please hold, and we'll be with you in a moment to share more information about call lists).

While on a call with Briana, Anthony can mute (1) himself so he can type away and capture notes in real time. And after receiving explicit permission from Briana, he records (2) a portion of the call for reference later. Once they're finished with their conversation and Anthony clicks End Call (3), his notes and the call duration are automatically transferred to the call log details and the recording is saved as a file in Salesforce that he can associate with any record. Once that call log is saved, it's visible in the activity timeline.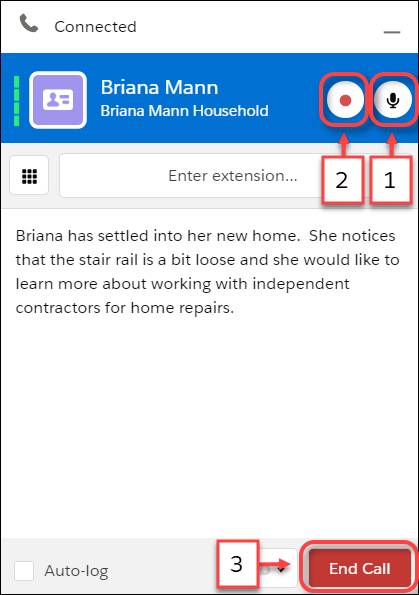 Anthony's definitely happy with Sales Dialer after his first call of the morning. As he's about to move on to the next client, he sees an email from Gordon, the NMH Program Director, confirming next month's homeowner maintenance workshop. In the call panel, Anthony clicks Call History, finds Briana's number, and calls her back.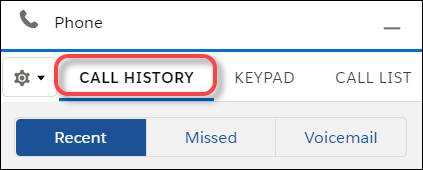 Anthony also selects the Auto-log box at the bottom of the call panel and Salesforce logs all the call details automatically without opening a call log popup. Briana is grateful for the heads up and confirms she'll attend. 

Anthony completed his monthly follow up with Briana in record time (yay!). But what about the rest of his clients? Should he return to the stack of folders on his desk? No way. Instead, he's going to make use of Sales Dialer Call Lists.
Create a Call List
NMH has a list view of all their transitional housing program graduates. (Remember list views? We covered them in the module called Nonprofit Program Management with Salesforce.) Anthony's now going to use that list view to build his call list. A call list is a list of contacts queued in the Dialer. Preparing a list makes calling each person almost automatic. 
From within Service Console, this is how Anthony makes a call list: 
1. Use the dropdown menu in the navigation bar to select Contacts. Click the Contacts tab.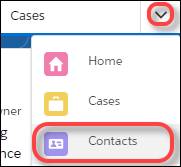 2. Select a list from the list view menu. Anthony chooses the Transitional Housing Graduates list view.
3. Use the checkboxes to select and add the client to the call list.
4. From the dropdown menu, click Add to Call List.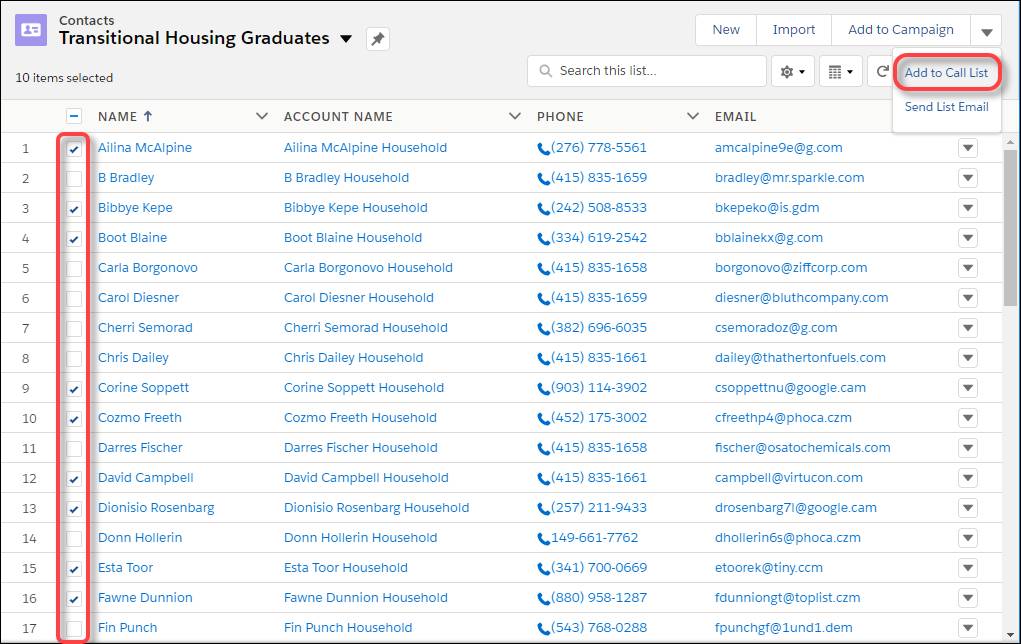 This new list is now available from the call panel. If he needs to, Anthony can also add more people to the call list directly from individual contact records.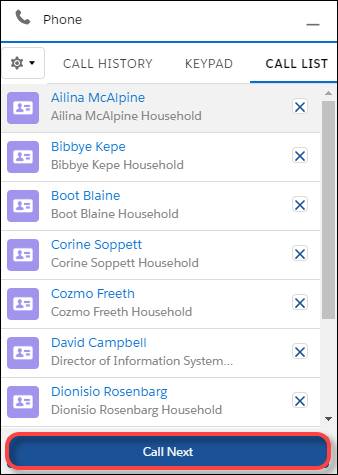 Make a Call Using the Call List
Now that the list is all set up, it's time to make some calls. The list automatically focuses on the first contact, so all Anthony has to do is click Call Next. When that call is complete, he can save the call log and the call list updates automatically, moving through the queue. No need for a stack of papers or multiple windows to keep track of who's already been contacted! 
Anthony works his way down the list, notifying each client about the upcoming workshop. By the third or fourth call, his voice is getting a little hoarse and a few times he's forgotten to include the workshop location address in his voice mail message. Enter the Salesforce Herbal Tea Cloud, offering solutions for a sore throat and memory lapse? Maybe one day. But for now, Anthony asks Gorav if there's a way the technology can help him make sure he shares all critical information with every client. 
Of course there is, and Gorav's already enabled it for the NMH team: Sales Dialer Voicemail Drop. 
Pre-recorded Voicemail Drops
After a much needed break, Anthony clicks the gear in the Call Panel to open Sales Dialer Settings. He then clicks Dialer > Voicemail Settings.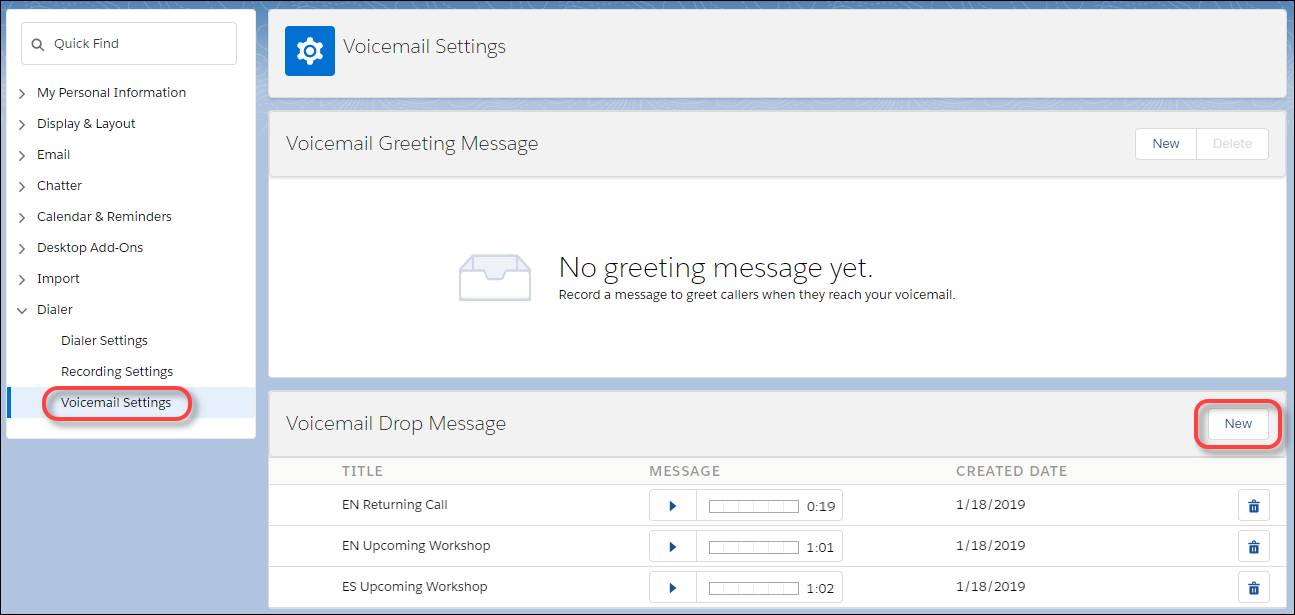 From here, Anthony can record a voicemail greeting and create up to 20 personal voicemail drop messages. Clearing his throat, Anthony records and saves a message that includes the title, topic, date, time, and location of the next workshop.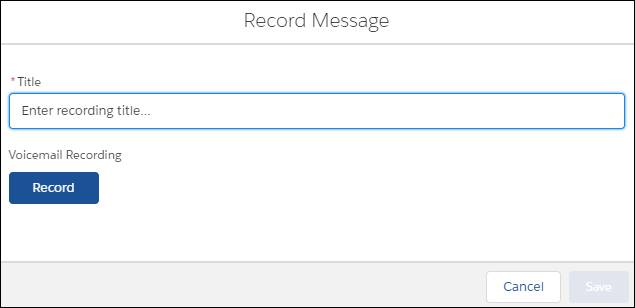 Now back to the call panel to finish the queue. When the next call goes to voicemail, Anthony can select his pre-recorded message from a list, making sure that everyone gets the same details about the workshop. This is a particularly useful feature when Anthony needs to leave a message in another language. His teammate, Sofia Rivera, recorded the message in her native Spanish for their Hispanic constituents.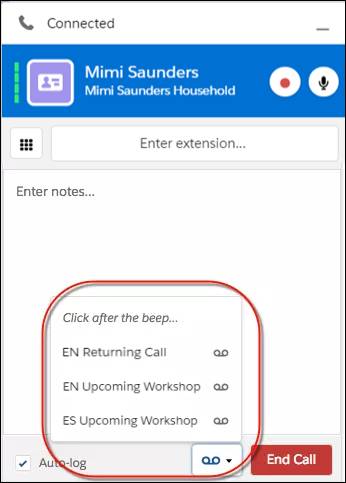 Progress, Thy Name Is Salesforce
All of the Sales Dialer features have Anthony excited about his follow up calls. It's easier for him to create and keep track of where he is in a call list, make notes during conversations, and make sure he's included important details in all his voicemails. At the end of the week, he can even run a report to see the total amount of time he spent on calls and the average call length, helping him plan how much time he needs for follow up calls for next week. Gordon, the Program Director at NMH, also appreciates Sales Dialer. Calls are now less time consuming and burdensome for Anthony. 
But it's not just Sales Dialer that has Anthony, Gordon, and the whole team at NMH excited. All Service Console features have increased the efficiency and improved the effectiveness of NMH's hotline and helpline management and service delivery. And they can prove it—Service Cloud comes out of the box with reports and dashboards that summarize key case resolution metrics.
Resources