Get Started with myTrailhead
After completing this unit, you'll be able to:
Describe the differences between myTrailhead and Salesforce Trailhead.
Explain how different users interact with myTrailhead.
The Pure Aloe company produces a popular line of moisturizers and creams made from aloe vera. The products are selling well, and the company is growing quickly as it develops new ones. Pure Aloe wants to help its employees acquire and hone the skills they need as the company grows. So Pure Aloe signed up for myTrailhead. 
What's myTrailhead? In this case, it's Pure Aloe's content and brand on Trailhead. And what's Trailhead? It's an interactive—and, most important, fun—learning platform that teaches users the skills they need to succeed and grow in their jobs. For a deep dive into the Trailhead structure, see the Trailhead Basics module.
With myTrailhead, Pure Aloe can create and publish modules and trails just like this one, just for its employees. Take a peek at this short video to get an overview of myTrailhead.
myTrailhead at Pure Aloe
Pure Aloe staffers are excited about the possibilities. The human resources department plans to use myTrailhead to welcome new hires and tell them about the company's policies and benefits. The sales department plans to use it to align reps on the company's sales strategies. The IT department wants to use it to teach everyone how to file tickets with the help desk and follow company guidelines for computer security. 
How can Pure Aloe create and publish all this content? myTrailhead comes with Trailmaker, an easy-to-use platform for creating, managing, and publishing modules and trails. And once all that content is published, users at Pure Aloe can build trailmixes—learning paths that focus on specific topics or goals. 
Trailmix builders can even combine Pure Aloe's custom content with Salesforce Trailhead content and resources outside myTrailhead, such as online videos and in-person activities. For Pure Aloe, myTrailhead is the springboard to a world of learning opportunities.
Trailhead and myTrailhead are two peas in a pod. 
Every myTrailhead user is a Trailhead user. When users create a myTrailhead account, they get a Trailhead account at the same time.
Just like Salesforce Trailhead, myTrailhead has modules—self-contained bites of content that focus on a particular topic or skill in a series of units. Each unit ends with a quiz, and completing a module earns users points, a badge, and a cascade of digital confetti.
myTrailhead can have trails—guided learning paths made up of modules on related topics—just like Trailhead has.
myTrailhead offers the same opportunities for continuous learning. myTrailhead customers can publish modules and trails whenever they like, so new content is always available—just like on Trailhead.
myTrailhead users can create trailmixes—just like Salesforce Trailhead users can.
Even the user profiles are the same. Trailblazers can collect their myTrailhead and Salesforce Trailhead badges and points on one profile.
But there are a few differences.
myTrailhead users can create modules and trails, but not projects or superbadges.
myTrailhead users can create multiple-choice quizzes, but not hands-on challenges.
myTrailhead users can log in to myTrailhead only with their Salesforce org credentials, not with social media or private email.
Salesforce Trailhead content is public—anyone in the world can access it and earn Trailhead badges and points. myTrailhead content is private—only myTrailhead users can access it and earn myTrailhead badges and points.
And of course, myTrailhead and Trailhead are on separate websites. That's how Pure Aloe can publish its own content just for its own employees. myTrailhead users have access to both websites: public Trailhead, and private myTrailhead. 
myTrailhead is about creating a culture of engagement and fun with content that teaches users new skills and inspires them to acquire more. A whole cast of characters pitches in to create that content and make it available. Here's a rundown of some key roles.
Admins set up their company's myTrailhead subdomain and configure myTrailhead permissions. They also upload their company's branding imagery—the logo, color, and home page banner.
Learning and enablement professionals create content plans to map out the modules and trails that the company needs. They build and assign trailmixes, too.
Writers, editors, and subject matter experts collaborate to create the content and keep it fresh. Subject matter experts give writers the details about how a process or feature works. They can be managers, experienced colleagues—anybody with deep knowledge of the topic that the writer is writing about.
Release managers oversee the publishing process. They create and troubleshoot content releases, keep everyone on schedule, and publish the content when it's ready for prime time.
Department managers assign content to their teams, to make sure that everyone is well trained and comfortable with the company's tools and processes.
Trailblazers are the people who earn badges and points on myTrailhead. In other words, everyone! Trailblazers can create trailmixes, too, for their own personal learning goals or to share with colleagues.
Pure Aloe has offices in the United States, Mexico, and Brazil, and many staffers are bilingual. The company wants to give its employees the opportunity to read myTrailhead content in whichever language they're most comfortable. So Pure Aloe has hired a localization manager, who can build a team or work with a vendor to translate the company's myTrailhead content into Mexican Spanish and Brazilian Portuguese.
Most myTrailhead users are introduced to the site when they receive an email with a link to myTrailhead content. For example, when Hemanth, a sales rep, joins the company, the HR manager sends him an email with a link to the Welcome to Pure Aloe trailmix. When Hemanth clicks the link, he gets a prompt to create a myTrailhead account. He sets up his account, and then he lands right on the Welcome to Pure Aloe trailmix on myTrailhead.
The trailmix contains links to myTrailhead content, such as the trail Navigate Your Pure Aloe Career, and to some online videos in the series Aloe Vera: A Medicinal Wonder.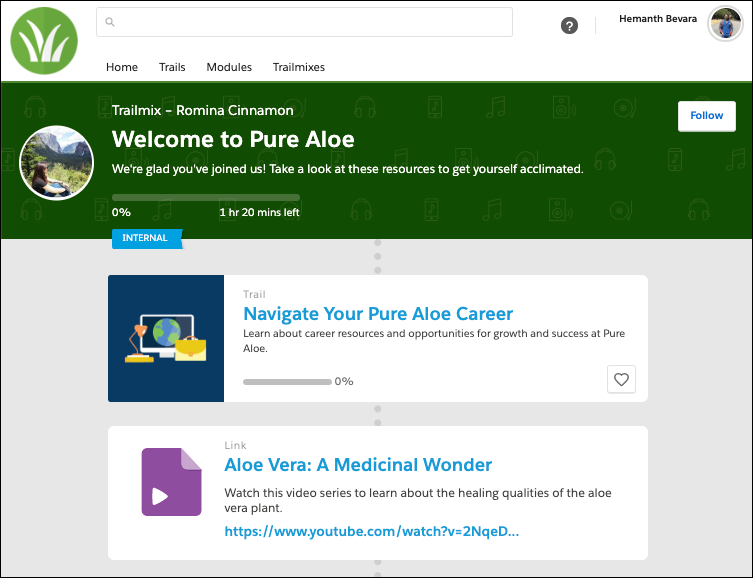 Hemanth clicks the trail title, then dives in to the first module in the trail, Career Development at Pure Aloe. He reads each unit in the module, takes the quizzes, and the celebratory digital confetti tells him that he's earned his very first myTrailhead badge. Hemanth is on his way!