Learn About the myTrailhead Components and User Profiles
After completing this unit, you'll be able to:
Describe the components that make up myTrailhead.
Explain the differences between public Trailhead and private myTrailhead content.
Describe how your user profile is shared between Trailhead and myTrailhead.
Explain what you see when you log in to Trailhead with your Salesforce credentials or your personal email or social account.
A real team effort goes into creating and publishing myTrailhead content. Contributors in different roles, with different talents and expertise, use different tools to make the magic happen. The process is a lot like publishing a magazine: There's the magazine publisher, the magazine itself, each issue of the magazine, and the content within each issue. myTrailhead follows the same idea.
Subdomain and Namespace
When Pure Aloe signed up for myTrailhead, Joseph, the Pure Aloe admin, set up the company's myTrailhead website, or subdomain. Think of the subdomain as the publisher behind the magazine. 
The subdomain contains the Pure Aloe namespace, which Joseph also created. Think of the namespace as Pure Aloe's magazine. It's where Pure Aloe creates and publishes its content. Within the namespace, the Pure Aloe release manager, Marisol, creates and manages the company's myTrailhead releases.
Releases
Think of a release as an issue of Pure Aloe's magazine. A release contains a list of content to be published, just like an issue of a magazine contains a distinct set of articles and columns.
A magazine has its current issue on newsstands and the future issues it's planning. Similarly, Pure Aloe publishes one myTrailhead release at a time, and it plans for future releases. 
Every month, the Pure Aloe team publishes a new release. Marisol makes sure that each module and trail that the team plans to publish that month is listed in the release.
The Trailmaker Apps: Trailmaker Content, Trailmaker Release, and Branding
How can Marisol create releases in the Pure Aloe namespace? How can Cindy, the myTrailhead writer, create and update the content for those releases? Using Trailmaker, a publishing platform with three powerful apps.
Trailmaker Content is the app that Cindy uses to convert the final drafts of her content into myTrailhead modules and trails. She also uses Trailmaker Content to upload modules and trails to a release.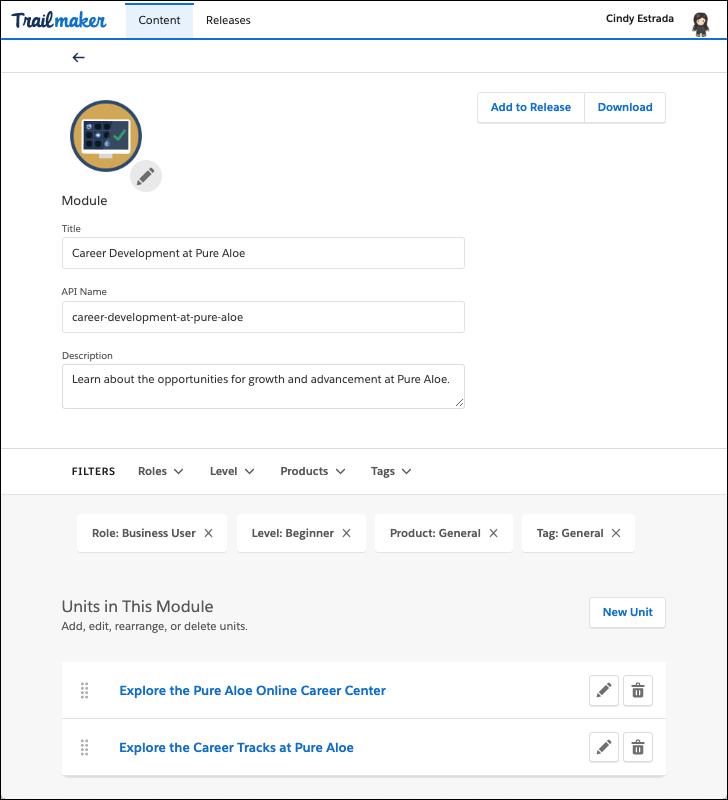 Trailmaker Release is the app that Marisol uses to create, manage, and publish Pure Aloe's releases.
Branding is the app that Joseph uses to customize Pure Aloe's myTrailhead subdomain with the company's logo, brand color, and home page banner.
Preview Mode
Nobody would publish a magazine without proofreading it first. For proofing, a magazine publisher uses galleys—rough layouts of a magazine issue. With myTrailhead, there's preview mode. 
Cindy and Marisol can review the modules and trails for a release in preview mode on myTrailhead. They can even invite other people at Pure Aloe to preview the content—for example, Cindy's subject matter experts. The content looks just like it will when it's published. But because it's in preview mode, it's not yet visible to everyone. That's how the team can proofread the content, test the quizzes, and correct errors before publication. 
An eye icon marks each module or trail in preview mode that's new or revised. When users hover over the eye icon on the content tile, they can see the date and time when the content was last updated.
myTrailhead in Production
When Marisol publishes a release, the content is available to everyone at Pure Aloe—it's in what's called production. ("Production" is short for "production environment"—in comparison to the preview environment.) Trailblazers can read the content and earn the badges and points. Managers can assign relevant content to their teams. And anyone at Pure Aloe can include the content in a trailmix.
Trailmixes
Trailmixes are key to organizing content into focused learning journeys. Anyone can create a trailmix, anytime they want. Users can create trailmixes for themselves, to map out skills and knowledge that they want to learn and refine. And users can share their trailmixes with colleagues, to motivate one another to keep the learning going.
Romina, the Pure Aloe learning and enablement professional, wants to build a trailmix to guide Pure Aloe staffers through the company's security policies. So she puts together a trailmix called Stay Secure. In the trailmix, she can combine content from Pure Aloe's myTrailhead site with content from Salesforce Trailhead—just like any Trailblazer can. 
Romina can do some extra things, too. She can add external videos or activities to the trailmix. And then she can assign the trailmix to all Trailblazers at Pure Aloe.  
Content on Salesforce Trailhead is public. Anyone in the world can see it and earn the badges and points. Searches on Salesforce Trailhead return only public Trailhead content.
Content on myTrailhead is private. Only users with access to a myTrailhead site can see it and earn the badges and points. Searches on myTrailhead return only private myTrailhead content.
Of course, a trailmix can combine public and private content, as Romina's Stay Secure trailmix does. A perk of myTrailhead is that Pure Aloe's Trailblazers can see all trailmixes on their myTrailhead site. They can see the trailmixes with private content, the ones with public content, and the ones that combine public and private content.
For example, Hemanth, the new Pure Aloe sales rep, is looking at Romina's Stay Secure trailmix. It begins with the module Security Basics, from Salesforce Trailhead. Next up is Security Fundamentals at Pure Aloe, from myTrailhead. 
When Hemanth clicks a module or trail in the trailmix, the site where he ends up depends on where the content is located. When he clicks the Security Basics module, he ends up on Salesforce Trailhead, because Security Basics is public content. When he clicks Security Fundamentals at Pure Aloe, he stays on myTrailhead, because this module is private content. 
It's always clear to Hemanth which site he's on, because Pure Aloe's myTrailhead site is branded with the company's logo.
Every myTrailhead user is also a Salesforce Trailhead user, and the profile for both accounts is the same. For example, when Hemanth created his myTrailhead account, a Salesforce Trailhead account was created for him. Both accounts are linked to his Salesforce login credentials, and they share a profile. The badges that Hemanth earns in the Stay Secure trailmix—whether they're for public or private content—appear on that shared profile.
Romina has been active on Salesforce Trailhead for years. She's earned enough badges to reach the rank of Ranger, the highest rank on Trailhead. Her Trailhead account has been linked to her Salesforce login credentials all along. So when Pure Aloe launched myTrailhead, Romina already had a myTrailhead account—she didn't have to create one. When she started earning myTrailhead badges, they appeared on her existing profile.
Linking Multiple Trailhead Accounts
Marisol, the Pure Aloe release manager, has been active on Salesforce Trailhead for a while, too, but her account is linked to her personal email address. Just like Hemanth, Marisol got a prompt to create a myTrailhead account the first time she clicked a link to myTrailhead content. And when she created her myTrailhead account, a new Trailhead account was created for her, linked to her Salesforce login credentials. 
But Marisol wants to keep accumulating her Salesforce Trailhead badges on one profile. She doesn't want to spread them between two Trailhead accounts. So Marisol links her two Salesforce Trailhead accounts.
She logs in to Trailhead using her Salesforce credentials, clicks her avatar, and selects Settings.
On the Settings page, she scrolls to Connected Accounts. Next to her personal email address, she clicks Connect. She can disconnect this email address anytime by selecting Disconnect.
Now Marisol can log in to Salesforce Trailhead using her personal email or her Salesforce login credentials. Either way, her profile shows all the Salesforce Trailhead badges she's earned. If she happened to earn the same badge on both of her Trailhead accounts, she gets points and a badge for only one of them.
Marisol encourages Romina and Hemanth to link their personal emails to their Salesforce Trailhead accounts, too. They can even link a social login to their Trailhead accounts from the same Settings page. That way, if any of them ever leaves Pure Aloe for new adventures, they can keep the badges and points they've earned on Salesforce Trailhead.
What You See on Your Profile Depends on How You Log In
Because myTrailhead content is private, the only way that Pure Aloe staffers can access it is by logging in with their Salesforce credentials. They can't use a personal email or social account to log in to myTrailhead.
Their profiles work in a similar way. When Marisol logs in to Salesforce Trailhead (or myTrailhead) using her Salesforce credentials, her profile shows all the badges and points that she's earned for both public and private content. When she logs in to Salesforce Trailhead with her personal email or social account, her profile shows only the badges and points that she earned for public content.