Build and Extend Your Practice Team
After completing this unit, you'll be able to:
Describe the key functional roles and responsibilities in a Marketing Cloud practice.
Associate functional roles with revenue streams.
Explain the value of Salesforce training and certification.
As a Salesforce partner, you understand the full value of Salesforce solutions. You apply them to real-world business cases so your customers can deliver great experiences to their customers. Your team's abilities make that possible.
Which abilities are critical for your team? Once you identify your growth paths, figuring this out is easy. Let's start by reviewing the list of the Marketing Cloud functional roles. The term "functional role" can be confusing, so first let's clarify that.
A functional role refers to the activities someone in that role typically performs. In other words, where "actor" is a job title, the role is the specific character an actor plays.
Functional Role
Responsibilities
Account manager

Manage sales channels and customer relationships

Project manager

Plan and manage projects to deliver them within budget and on time
Collaborate on project tasks, budgets, and status with team and customers

Regional practice lead

Oversee multiple practice teams
Provide insight and guidance to the teams
Define go-to-market strategy and measurable customer benefits

Business consultant

Assist customers with high-level strategic decisions, planning, and problem solving

Solution architect

Consult with customers on technical and business challenges related to their marketing initiatives
Lead the design and delivery of technical customer solutions
Ensure that solutions meet customers' business goals

Developer

Develop solutions based on Marketing Cloud

Designer

Produce high-quality digital designs, from concept to final production, across multiple communication channels

Campaign manager

Create and coordinate digital campaign plans with customers
Manage campaign quality, execution, and customer reports

Deployment specialist

Deploy campaign messages according to the campaign plan
Follow deployment quality checklists and ensure error-free execution

Success or training specialist

Help customers realize value from their Salesforce solutions through training and support
This list gives you insight into what a full team can do even if you're starting off smaller.
Your team's mission is to drive customer success. Of course, you need the right people to fulfill that mission. Let's see what that looks like for a new team.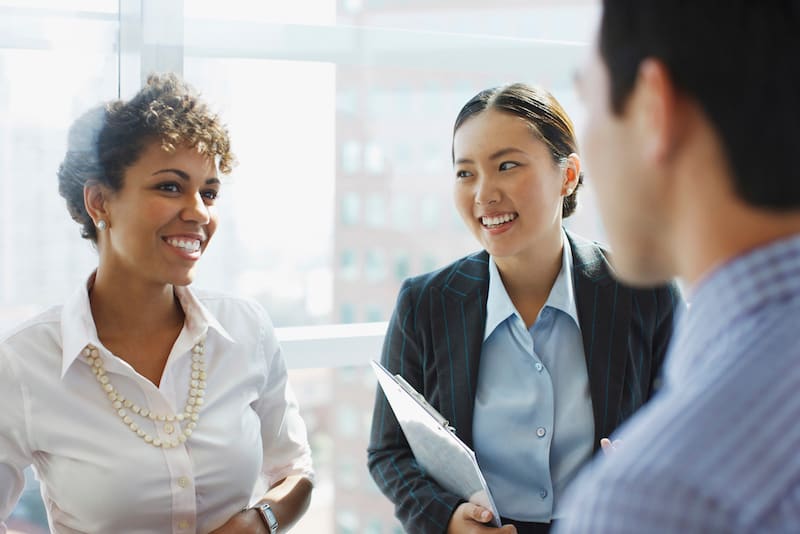 Every team must have an account manager and a project manager. They find deals and provide governance and communication on each customer engagement.
Align the rest of your team to the advisory, delivery, and support revenue streams.
The Advisory Team
This team helps develop the customer's long-term strategy for the solution they purchase, and a tactical plan for implementing it. In addition to your project and account managers, this team includes a business consultant, a solution architect, and a designer.
The Delivery Team
Your delivery team implements the solution designed by your advisory team or another vendor. A fully staffed delivery team has at least four members: an account manager, a project manager, a solution architect, and one or more developers. If you offer campaign deployment, include a campaign manager, too.
The Support Team
This team is really two collaborative subteams: customer support and customer success. Support focuses on metrics such as average response time and average resolution time. Success works to reduce customer attrition. Together they help customers learn the Salesforce platform and the capabilities of their solution. A fully staffed support team has at least four members: an account manager, a project manager, one or more developers, and a success or training specialist.
Over the life of a project, members roll on and off as tasks change. The following staffing recommendations illustrate this fluctuation.
| Functional Role | Advisory Stream | Delivery Stream | Support Stream |
| --- | --- | --- | --- |
| Account manager | √ | √ | √ |
| Project manager | √ | √ | √ |
| Business consultant | √ | √ | |
| Solution architect | √ | √ | |
| Developer | | √ | √ |
| Designer | √ | √ | √ |
| Campaign manager | | √ | |
| Deployment specialist | | √ | |
| Support or training specialist | | | √ |
Of course, on teams that don't have this many individuals, some roles can fill in for others. For example:
The solution architect can also fill the business consultant role.
The developer can also fill the designer role.
The campaign manager can also fill the deployment specialist role.
A new or developing practice typically has a leaner team and members commonly fill multiple functional roles. Flexibility is key. Take advantage of these multitasking efficiencies whenever project scope and timeline allow.
As your practice matures, regularly evaluate how closely your service offerings match customer needs and how well your team's skills fit your service offerings. Stay true to your mantra of matching skills to services.
Skill Specialization
With a mature practice, you've smoothed out the wrinkles and your team operates like a well-oiled machine. As a natural progression, team members take on more specialized roles.
A benefit of specialization is the task-specific expertise that team members develop over time. They can achieve higher-quality results at an accelerated pace. Your customers reap the benefits.
Here's some time-tested specialization guidance. For advisory work, split the business consultant role in two: business consultant and digital marketing consultant. Your business consultant works with clients on strategy, planning, and problem solving. Your digital marketing consultant executes digital communications strategies across multiple channels.
For delivery work, split the architect role into four: solution architect, sales engineer, technical architect, and data architect. The architects focus on solution design, data modeling, technical specifications, and delivery. The sales engineer works with customers to identify their needs and offer solutions.
For delivery and support work, split the developer role into four: email developer, web developer, data developer, and admin. Instead of having developers-of-all-trades, the email developer designs, develops, and deploys emails. The web developer customizes, develops, and supports landing pages and microsites on the Salesforce platform. And so forth.
| Functional Role | Advisory Stream | Delivery Stream | Support Stream |
| --- | --- | --- | --- |
| Account manager | √ | √ | √ |
| Project manager | √ | √ | √ |
| Business consultant | √ | √ | |
| Digital marketing consultant | √ | | |
| Solution architect | √ | | |
| Sales engineer | | √ | |
| Technical architect | | √ | |
| Data architect | | √ | |
| Email developer | | √ | √ |
| Web developer | | √ | √ |
| Data developer | | √ | √ |
| Admin | | √ | √ |
| Designer | √ | √ | |
| Campaign manager | | √ | |
| Digital media planner | | √ | |
| Deployment specialist | | √ | |
| Support or training specialist | | | √ |
Of course, on teams that don't have this many individuals, some roles can fill in for others. For example, the sales engineer can also fill the business consultant role.
Give Your Team a Tune-Up
Even a well-oiled machine can get a little squeaky. Those squeaks are a sign it's time for a team tune-up. By squeaks, we mean skill gaps, and by tune-up, we mean training.
Team members commonly have different skill levels. Some are just getting started. Others are comfortable applying the basics. And the people at the top are the experts. What does your team look like? Take a team skills inventory to uncover its variations and plan for success.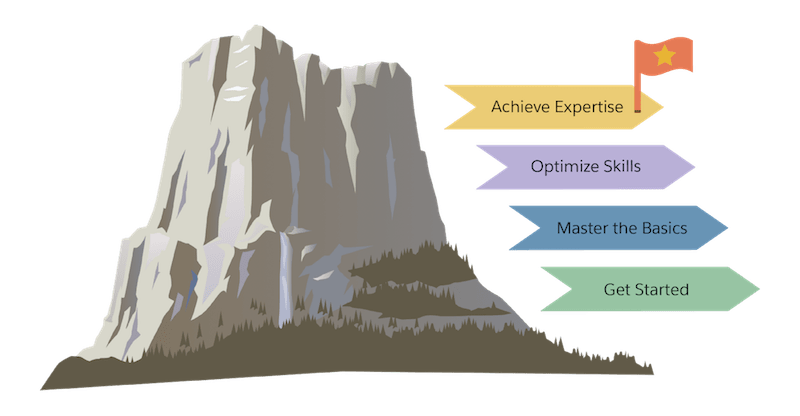 To quote Benjamin Franklin, "An investment in knowledge pays the best interest." When you invest in training, it shows your commitment to Salesforce. We, in turn, invest in your self-sufficiency by answering your questions and offering coaching. And that brings rich returns in the form of your enhanced revenue streams.
To become a top performing Marketing Cloud partner, elevate your team to expert level. The Salesforce way to improve is with training and certifications. There isn't a one-size-fits-all approach. Let's look at an example and lay out general guidelines.
Andreas is a deployment specialist at NTO transitioning from getting started to basics. He attended a few webinars and earned the Personalize Engagement with Marketing Cloud Trailhead badge. He followed that up by completing the Essentials for Marketing Cloud Email Marketers course.
To supplement what he's learned, Andreas dives in to the Marketing Cloud documentation on the Salesforce Partner Community. It's a gold mine of product information, free trials, and demos. Now he's ready to pass the Marketing Cloud Email Specialist certification exam.
Email specialist is one of many Salesforce certifications. Here's a guide to other trainings and certifications.
Functional Role
Training and Certification
Solution architect

Webinars
Documentation
Trailhead
Partner Development (PD) workshops

Business consultant

Webinars
Documentation
Trailhead

Developer

Webinars
Documentation
Trailhead

Designer

Documentation
Email Specialist certification

Campaign manager

Documentation
Email Specialist certification

Deployment specialist

Documentation
Email Specialist certification

Success or training specialist

Trailhead
Email Specialist certification
Social Specialist certification
How do you prioritize candidates for certification? Choose people who have implemented several solutions. Certification allows them to measure their skills and demonstrate their achievements.

Understand there's a bit of a ramp-up time—up to 6 months. Some teams are faster to ramp up, because they have expertise from other products. The good news is, the benefits are multifold. Your team gains in-depth knowledge, enjoys smoother deployments, and can optimize Salesforce implementations.
All of that boosts your team's confidence, and your customers can spot that from a mile away. They know that Salesforce certification standards are high, and they equate certification with expertise. Their demand for expertise is growing. Training and certification help you keep up with that demand. We look forward to reading your customer success stories on Storyforce.