Get Started with Loyalty Management
Learning Objectives 
After completing this unit, you'll be able to:
Describe the challenges that organizations face in creating and managing loyalty programs.
Explain how Salesforce Loyalty Management can help you overcome these pain points.
Outline the key features of Salesforce Loyalty Management.
List the user permission required for Loyalty Management.
Peek into the World of Customer Loyalty
In this day and age, it's easy for customers to compare prices at the push of a button and simply purchase from the business with the lowest price. So how do you retain your customers?
Loyalty programs encourage your customers to stay in business with you. When you reward customers with exclusive benefits and personalized rewards for their purchases or interactions with your business, they have an incentive to return and claim those rewards. Loyalty program members make additional purchases to get more rewards.
Loyalty programs are also an effective way to build a network of brand advocates—people who are willing to endorse your brand because of positive purchase experiences. These brand evangelists become part of your marketing squad, driving referral traffic and word-of-mouth marketing. After all, what's better than a customer spending money? A customer generating it. But setting up and managing a loyalty program can be challenging. Let's take a look at some common pain points.
Loyalty Program Pain Points
Separate systems: Organizations often use multiple solutions to track their loyalty members' activities and maintain their loyalty programs. It takes a lot of time to integrate these different solutions and seamlessly manage high volumes of data with real-time updates.
Program tracking: Separate systems make it hard, if not impossible, to track customer lifetime value. And it takes a lot of custom implementation to accurately track the amount that customers spend due to their engagement with the loyalty program.
Personalization: Loyalty programs are most effective when they provide the customer with personalized experiences that are based on the customer's interactions with the organization. Most organizations rely on tools that engage customers based on their purchases and don't consider customer experiences or preferences.
Audience targeting: Benefits, promotions, and discount vouchers are all time-tested strategies to keep the customer engaged. Modern methods like providing priority customer support or access to exclusive events are also effective. And satisfaction surveys let you learn from the voice of your customer. But most organizations don't have the tools to determine the target audience for a promotion, discount, or other loyalty reward to encourage repeat purchases.
Timeliness: Organizations also struggle to engage loyalty program members at the right time. A benefit or a promotion is only useful if the customer receives it when they need it. Today, organizations must become customer advocates, providing customers with the right solutions and services at the right time.
Points management: Also, organizations find it difficult to debit, credit, or expire points based on the millions of customer transactions every day. A lot of time is spent in automating points management.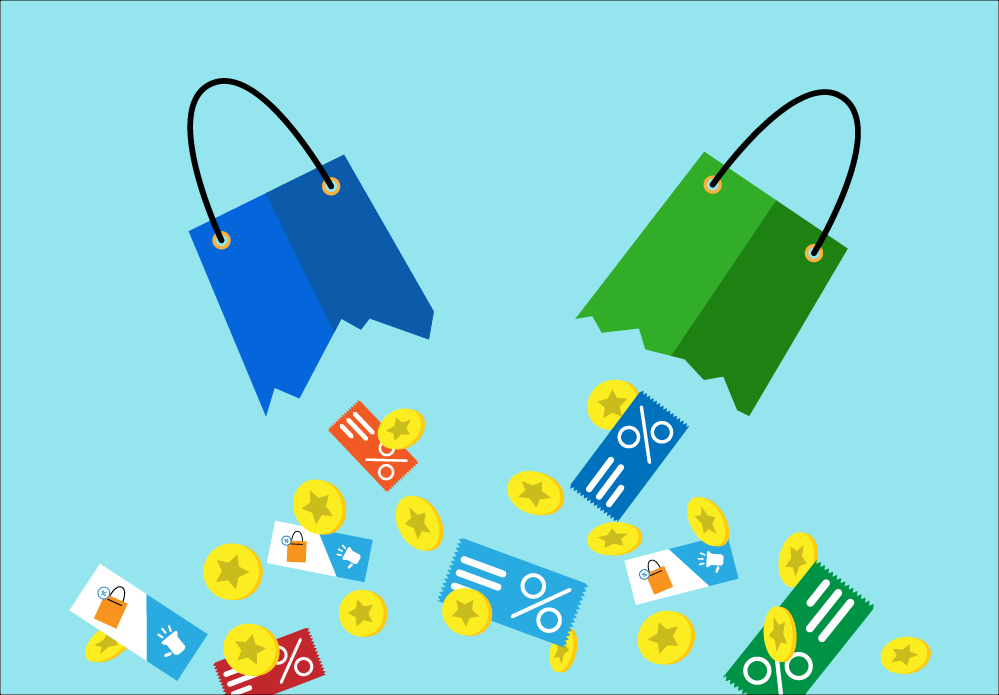 Wouldn't it be great if you could bring all these pieces of loyalty program management together and automate the repetitive processes? If you could consolidate a customer's entire journey and activities and customize the related engagement strategies, that would do the trick! We have just the solution.
Meet Salesforce Loyalty Management
Salesforce Loyalty Management enables you to use the power of the Salesforce Platform to create unified, cross-industry B2B and B2C loyalty programs that increase customer engagement and lifetime value.
Take a look at this short video to see what Salesforce Loyalty Management offers you.
Now, let's break down the features.
Loyalty Foundation
Create multiple loyalty programs, each with its own set of tier groups, tiers, and currencies. Associate loyalty program member records with existing Contact or Account records.
Record details of a member's activities and the points earned or burned from those activities in transaction journals. Associate the transaction journals with Order records.
Loyalty Experiences
Associate member benefits with a loyalty program tier to keep customers hooked to your program. When a loyalty program member reaches the tier, the benefits are automatically assigned to the member.
Create loyalty-specific promotions to keep your customers engaged. Use the market segmentation capabilities in Salesforce CDP to send promotions to the right program members at the right time. You can also send promotions using Journey Builder or integrate Loyalty Management with existing processes defined in Marketing Cloud or external systems.
Reward customers for their activities with vouchers that offer discounts on a product or service or a free product or service.
Partner Management
Give customers more choices by incorporating partners in your loyalty program ecosystem. With partners, customers can earn or redeem points when they purchase a partner's products or use their services.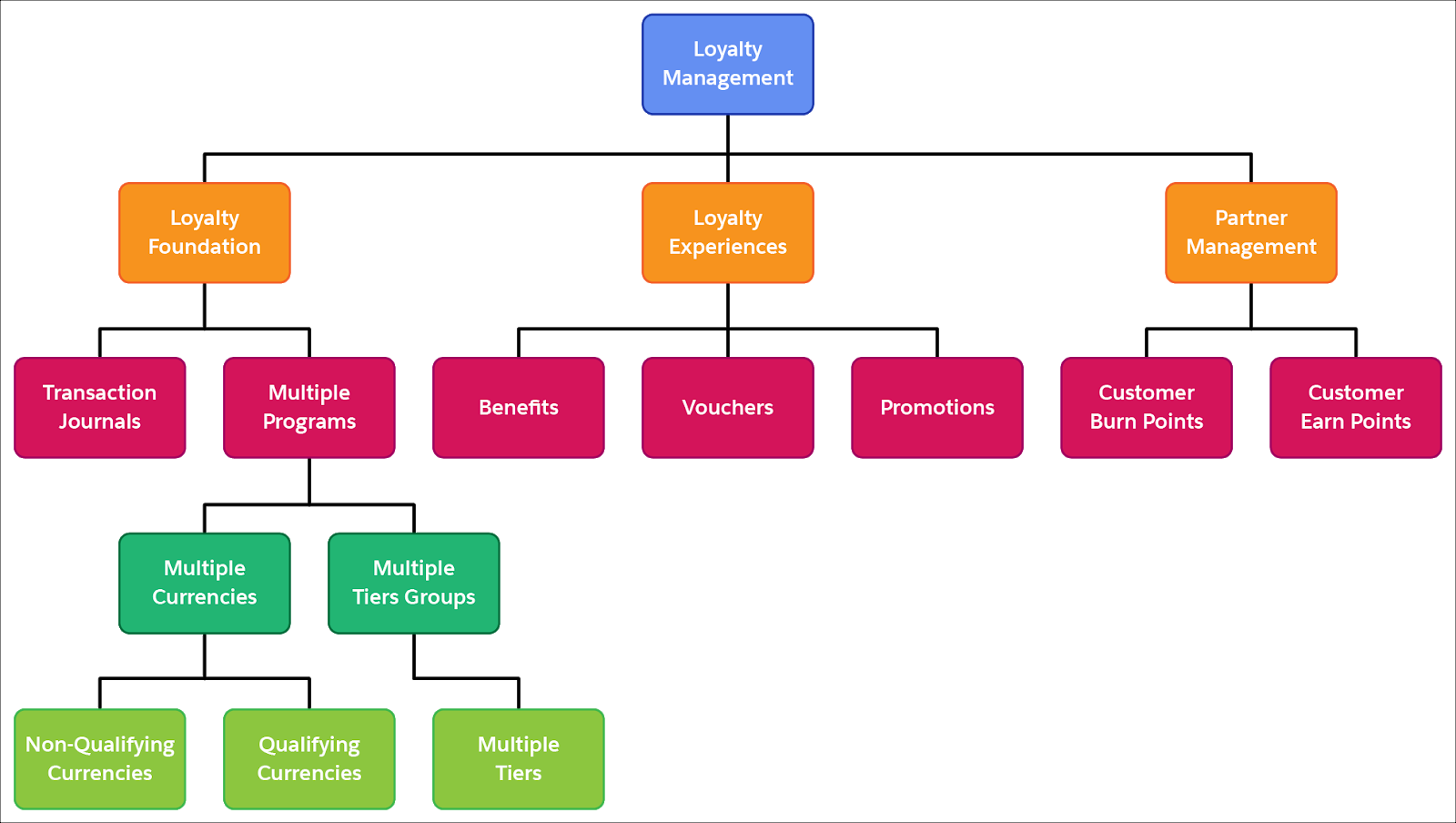 Next, let's see how to get up and running with these capabilities by following along with Cloud Kicks, a company that's eager to set up an integrated loyalty management program. 
Step Into the Shoes of Cloud Kicks
Cloud Kicks is the manufacturer of West Coast's most stylish and comfortable custom sneakers. It's currently producing a new line of sneakers and can't wait for those to sell out.
Meanwhile, the sales team at Cloud Kicks recently unveiled its much-awaited "Customer Retention and Sales" report. The report shows that it costs five times more for Cloud Kicks to acquire new customers than it does to retain them. And an existing customer is 30% more likely to purchase the new sneakers.
Mary Evans, who recently joined Cloud Kicks as its loyalty program manager, knows just what to do. She wants to build a great loyalty program by investing in a loyalty management solution. 
Cloud Kicks currently uses Salesforce to manage its sales process, and the company's Salesforce account executive shows her everything that Salesforce's Loyalty Management solution can do. Mary's amazed. She's also excited to use the products that ship along with Loyalty Management that help automate loyalty processes.
Mary works with Linda Rosenberg, the admin at Cloud Kicks, to add Loyalty Management to Cloud Kicks's org. It starts with a request to the account executive. Once the account executive adds the Loyalty Management license, Mary has all the capabilities she needs to create the loyalty program of her dreams for the customers of Cloud Kicks. Linda just needs to assign Mary the required permissions.
Get Your Permissions
As the loyalty program manager, Mary requires access to all the capabilities of Loyalty Management. Linda assigns Mary the following permission set.
| Name | Use |
| --- | --- |
| Loyalty Management | Provides edit access to Loyalty Management objects |
And just like that Mary's off and running with the Salesforce Loyalty Management app. She can't wait to get started.
Resources