Get Started With Lightning Apps
What Is a Lightning App?
An app is a collection of items that work together to serve a particular function. Salesforce apps come in two flavors: Classic apps and Lightning apps. Classic apps are created and managed in Salesforce Classic. Lightning apps are created and managed in Lightning Experience. You can customize both types of app to match the way your users work.
Similar to apps in Salesforce Classic, Lightning apps give your users access to sets of objects, tabs, and other items all in one convenient bundle in the navigation bar. However, Lightning apps take things to a level beyond Classic apps. Lightning apps let you brand your apps with a custom color and logo. You can even include a utility bar and Lightning page tabs in your Lightning app.
With apps in Lightning Experience, members of your org can work more efficiently by easily switching between apps. Users can open apps you've created from the App Launcher. What's most important to sales reps? Accounts, events, and organizations. How about sales managers? Reports and dashboards make the top of the list.
Let's jump into the details.
Find Items and Apps in the App Launcher
With the App Launcher, your users can switch between apps and access available items and features. The App Launcher is so central to navigating Lightning Experience and its apps, we've positioned it within easy reach on the left side of the navigation bar. It's available from any page.
The App Launcher displays all available apps in one place so your users can easily find what they're looking for—even apps they didn't know they had.
Apps show up in the App Launcher as large tiles under All Apps (1). Other items, such as custom objects, tasks, events, and the feed, show up under All Items (2). Don't see what you want? Search for it by name in the search box (3). Expand your search to find the latest cloud-computing apps and services available on the AppExchange (4). You can do it all with the click of a button without ever leaving Lightning Experience.
You can make various types of apps available to your users in the App Launcher, including:
Salesforce apps, which include custom apps and standard apps that come with Salesforce, like Sales and Service
Connected apps such as Gmail™ and Microsoft® Office 365™
Partner and ISV apps
As an admin, you can change which apps appear on the App Launcher and the default order in which they appear. You and your users can then drag the tiles around to create your own personal view of the App Launcher. Your users see only the apps you authorize for them to access through profiles or permission sets.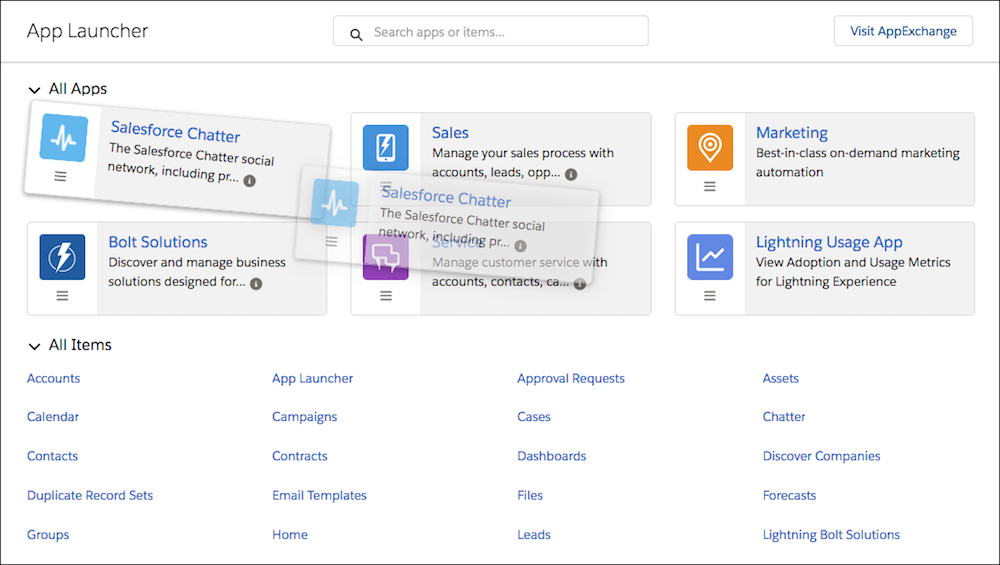 The App Launcher's great for finding an app or item even when it's not currently on the navigation bar. Just click the App Launcher icon (
) to search for it by name. For example, say you're looking for an item called Service. Enter Service in the search box to see items and apps that match your search as you type.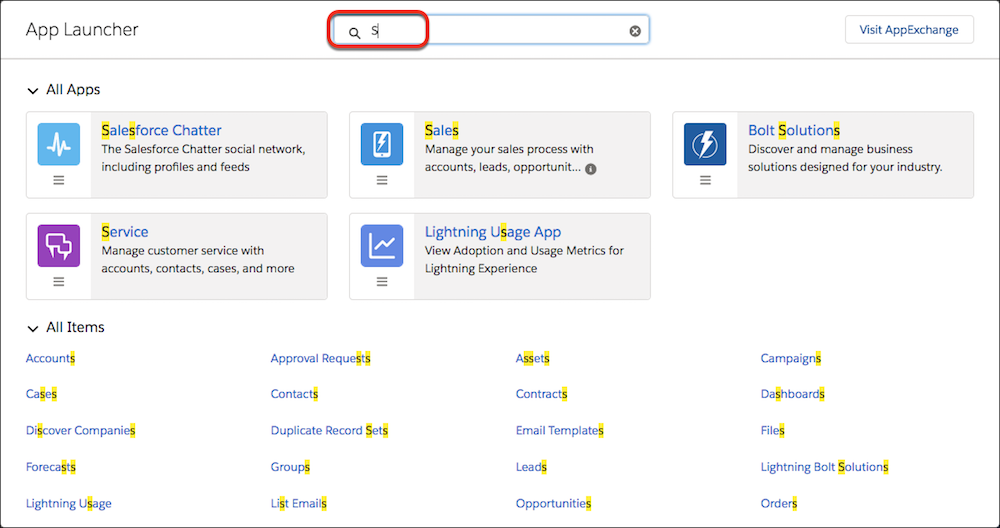 Meet the Lightning Experience App Manager
The App Manager in Setup is your go-to place for managing apps for Lightning Experience. It shows all your connected apps and Salesforce apps, both Classic and Lightning.
You can use the Lightning Experience App Manager to:
Create Lightning apps or connected apps (1)
See if your Classic apps are accessible to your users in Lightning Experience (2)
Edit, delete, or upgrade Classic apps to take advantage of all the benefits of apps in Lightning Experience (3)
What does that "Visible in Lightning Experience" column mean?
A checkmark in the Visible in Lightning Experience column means that the app is accessible in Lightning Experience via the App Launcher and is fully functional.
You can toggle the availability of your Classic apps in Lightning Experience by selecting or deselecting Show in Lightning Experience on the Classic app's detail page. Classic apps that have been upgraded to Lightning apps automatically have that setting disabled.
We've mentioned a couple of times now that you can upgrade your Classic apps. Why do that? So your apps can take advantage of all the perks of Lightning apps. We'll get there shortly. But first, let's get your org ready for it.
Install a Custom Classic App: The Warehouse Data Model
We want to walk you through upgrading a Classic app to Lightning. To do that, you need to have a clean custom Classic app in your org. So we're going to enlist an old friend for help: the enhanced Warehouse data model. You might be familiar with the Warehouse app if you've gone through the tutorials in the Lightning Platform Workbook. We took the Warehouse data from that guide and added a few extra things to it. If you've gone through the exercises in the Salesforce Mobile App Developer Guide, you probably already have the enhanced Warehouse app installed.
Go to

www.salesforce.com

and log in to Salesforce using your Developer Edition credentials.
Open a new browser tab or window, and navigate to

https://github.com/forcedotcom/Salesforce1-Dev-Guide-Setup-Package

.

Do this in the browser that you logged in to your Developer org with.

Open the README file.

Click the link in the README file.

This is the installation link for the enhanced Warehouse data package. You should be taken directly to the Package Installation Details page.

Click Install.
Wait for the installation to finish, then click Done.

If your DE org is set to Lightning Experience, switch to Salesforce Classic.

From the app menu, select Warehouse.
Click the Data tab.
Click Create Data.
Click your name in the upper-right corner, then select Switch to Lightning Experience.