Set Up Appointments with Salesforce Scheduler
Learning Objectives
After completing this unit, you'll be able to:
Add the Schedule Appointment Mobile & Lightning Action to the Account object's page layouts.
Schedule and modify appointments using Salesforce Scheduler.
Summarize the overall benefits of using Salesforce Scheduler for all stakeholders.
Simplify the User Experience and Amplify Adoption
Matt's all set to roll out Salesforce Scheduler to Fola's staff. Just before the final project review meeting, Sri, Matt, and Fola get talking in the hallway. Sri says she's excited about this new feature, and wonders if they can take it one step further: "Wouldn't it be nice if we could schedule appointments directly from an account?" Because that's exactly what a real-world workflow would look like. Ryan agrees—he and his wealth manager friends would love to be able to create appointments directly from their clients' account pages.
Matt tells them that this is indeed possible! To do this, the Schedule Appointment Mobile & Lightning Action must be available on the Account object's page layouts.
Here's how Matt sets it up.

From Setup, open Object Manager.
Click Person Account, and select Page Layouts.
Select a page layout that you want to add the Action to.
In the palette, select Mobile & Lightning Actions.
Drag Schedule Appointment to Salesforce Mobile and Lightning Experience Actions.
Click Save.
Repeat the steps to add the Schedule Appointment Mobile & Lightning Action to other Account, Lead, and Opportunity page layouts.
Schedule Appointments at Lightning Speed
Now that everything is set up, Fola's pumped about trying out the Salesforce Scheduler. At its heart, Salesforce Scheduler allows people like Ryan and Sri to provide personalized experiences to Cumulus Bank's customers. With Salesforce Scheduler, Ryan and Sri are empowered to precision-schedule appointments, and Fola can associate appointments with opportunities, leads, or accounts.
Follow along as Fola creates an appointment for Ryan called Wealth Management Review with Kiara Shah. Kiara, a valued, long-time customer, recently called the bank about Private Banking options. She's cashed in on her company stock and come into some pretty considerable surplus funds. Fola wants Ryan to convince Kiara to let Cumulus manage this money.
Navigate to the record that the appointment is associated with. Choose an account, lead, or opportunity. Fola selects Kiara Shah's Person Account record.
Click the Schedule Appointment Quick Action.
Select the attendee (service resource) for the appointment. (You can select an attendee by name or search for an attendee by specialty, appointment type, or location.) Fola knows she wants Ryan for this job, but she also wants to test-drive Salesforce Scheduler's groovier appointment scheduling capabilities. So, she selects By work type group, appointment type, or service territory.
Select an appointment topic. Fola selects Wealth Management, then Private Banking.
Select an appointment type, whether in person, by phone, or video. Fola selects At a Branch.
Select the appointment location. Enter an address, city, or ZIP code. Select the radius; the range is 5–100 miles. You see a list of all active service territories that are associated with the appointment topic, including the branch name, address, and operating hours. The Maps and Location Services permission is enabled in Enterprise editions by default. Fola selects Downtown Pittsburgh.
Select a service resource. Fola finds Ryan's name in the list of resources and picks him.
Select an appointment time. Fola wants to set this up at the earliest convenient time for Kiara. She goes for the Monday that's coming up, at 1:45 PM.
Review the appointment details.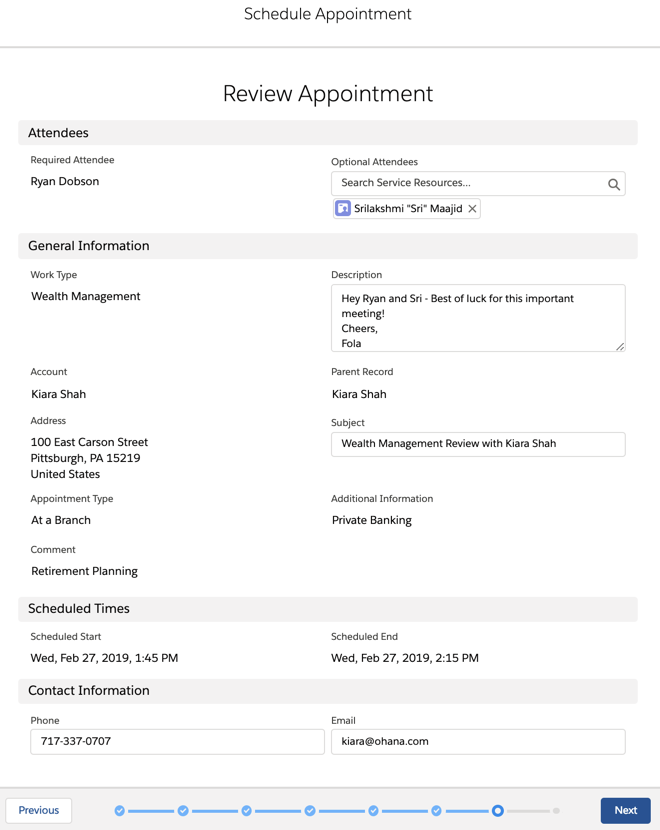 The Review Appointment page summarizes all the choices Fola made, and allows her to add a few additional details after she's set up the appointment. So Fola adds Sri as an optional attendee and adds a comment for Ryan in the Description field.
Winds of Change
In an ideal world, the food is always great when you eat out, you stay happily ever after with your better half, and your appointments stay on schedule. But in the real world… umm… you can expect to make changes (to appointments).

Just a few days prior to the appointment, Fola gets a call from Kiara asking for the appointment date to be scheduled the week after. For Fola to be able to modify the appointment, a Modify Service Appointment action must be available on the Service Appointment page layout.

Here's what Matt does to make it possible.
In Setup, click Object Manager, and select Service Appointment.
Select Page Layouts and select the page layout that you want to add the Modify Service Appointment action to.
Select Mobile & Lightning Actions in the palette. If you see a link to override the predefined actions in the Salesforce Mobile and Lightning Experience Actions section of the layout editor, click the link.
Drag the Modify Service Appointment action to the top of the Salesforce Mobile and Lightning Experience Actions section.
Save your changes.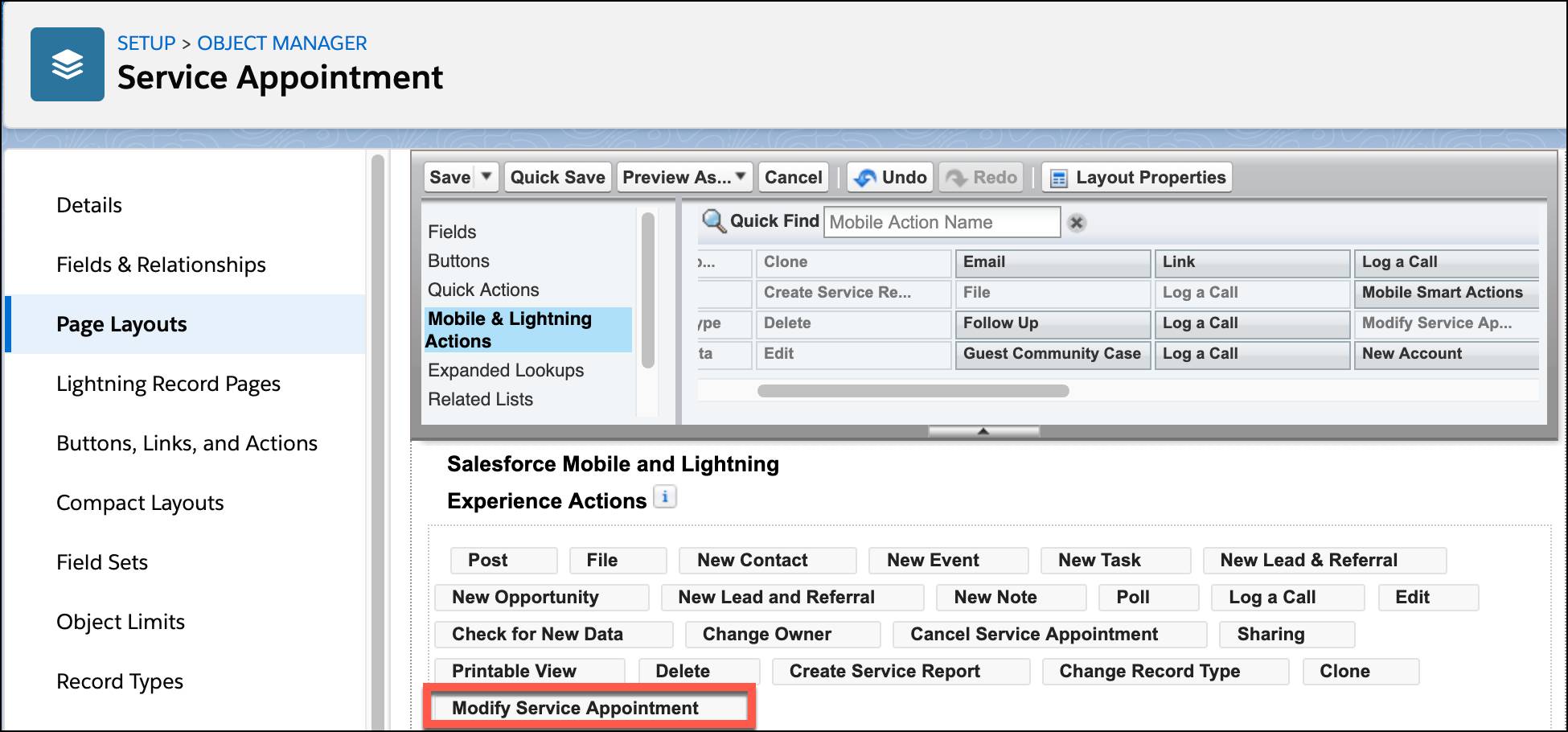 It's now time to modify the appointment. 
On the Service Appointments tab, click the service appointment that you want to modify.
On the record page, click Modify Service Appointment.
Select a new time slot.
Click Next.
Review your service appointment details, click Next, and then click Finish.
Conclusion
And just like that, Fola's done rescheduling a critical appointment between Kiara Shah, one of Cumulus Bank's most important high-net-worth customers, and Ryan, talented wealth manager and financial advisor extraordinaire, with Sri shadowing him. All this at lightning speed!
Fola sees how Salesforce Scheduler can bring a huge productivity boost to the bank, and help bring in even more business. Salesforce Scheduler helps Cumulus Bank provide personalized experiences to its customers by allowing bank employees to schedule appointments—ensuring customers meet with the right person at the right place and time.