Analyze Your Data with Reports and Dashboards
Learning Objectives
After completing this unit, you'll be able to:
Describe how Lightning Experience reports and dashboards differ from their Salesforce Classic peers.
Build and read reports and dashboards in Lightning Experience.
Collaborate on reports and dashboards.
Get to Know Reports and Dashboards in Lightning Experience
The reports and dashboards you use to track pipeline and cases are in Lightning Experience and ready to help you close deals, close cases, and open hearts and minds.
Whether you're building or reading, you can find that Lightning Experience reports and dashboards are more powerful, easier to use, and better looking. So go ahead. Plan your day's calls by building an opportunity report. Lead your next team meeting from a dashboard that tracks open cases. We help you get started... with a video!
Where Are My Reports and Dashboards?
First things first, finding your favorite reports and dashboards. The Reports and Dashboards tabs are both present in Lightning Experience, but they behave a little differently than they did in Salesforce Classic.
In Salesforce Classic, when you visit the Reports tab, you see a list of both reports and dashboards. From here, you can create, find, view, edit, or delete any report or dashboard. When you visit the Dashboards tab, you automatically view the last dashboard you worked with, and no list view is available.
In Lightning Experience, when you visit the Reports tab you see a list of your recent reports. When you visit the Dashboards tab, you see a list of your recent dashboards. Makes sense, doesn't it? And we've overhauled the Reports and Dashboards tabs to optimize common tasks like finding, creating, and viewing reports and dashboards. 
Here's how to find your way around the new Reports and Dashboards tabs.
Access your reports or dashboards from the Reports and Dashboards items in the navigation bar (1).
Create a new report by clicking New Report or create a new dashboard by clicking New Dashboard. Create a new folder by clicking New Folder (2).
Show or hide list view columns on the Reports and Dashboards tabs by clicking (3) and then selecting Select Fields to Display. Name and Folder are mandatory, but all other columns are optional.

View a report or dashboard by clicking its name or sort the list view by clicking a heading. Resize columns by dragging column dividers. Choose whether to wrap or clip long names, titles, and dates by clicking (4).

To perform other actions, like editing, subscribing, or deleting, click . To move a report or dashboard into a different folder, click Move (5).
To see other views of your reports or dashboards, click the links on the side menu. For example, if you're looking for a dashboard you created and don't see it in the current list view, click Created by Me to find it (6).
What About the Reports and Dashboards I Already Use in Salesforce Classic?
All the reports and dashboards you built in Salesforce Classic are fully compatible in Lightning Experience. Similarly, any report or dashboard you make in Lightning Experience is compatible in Salesforce Classic…
... except, and this is important…
There are just too many columns and interactive charts for the Salesforce Classic dashboard builder to handle. And if you use the Lightning Experience dashboard builder to edit and save a dashboard that you created in Salesforce Classic, then going forward, you won't be able to edit it in Salesforce Classic. That's important, too, so we're gonna say it again:
While reports are fully forward-and-backward compatible, creating a dashboard in Lightning Experience is a little bit like baking a cake. Once it bakes, you can't separate the ingredients again.
Build a Report
Now that you know how to find your favorite reports in Lightning Experience, let's build a new one. From the Reports tab, click New Report.  Choose a report type (How about Opportunities?) and then click Continue.
The report builder opens and you're ready to start grouping, filtering, and charting data. Here's a quick visual overview of how to analyze your data in the Lightning Experience report builder.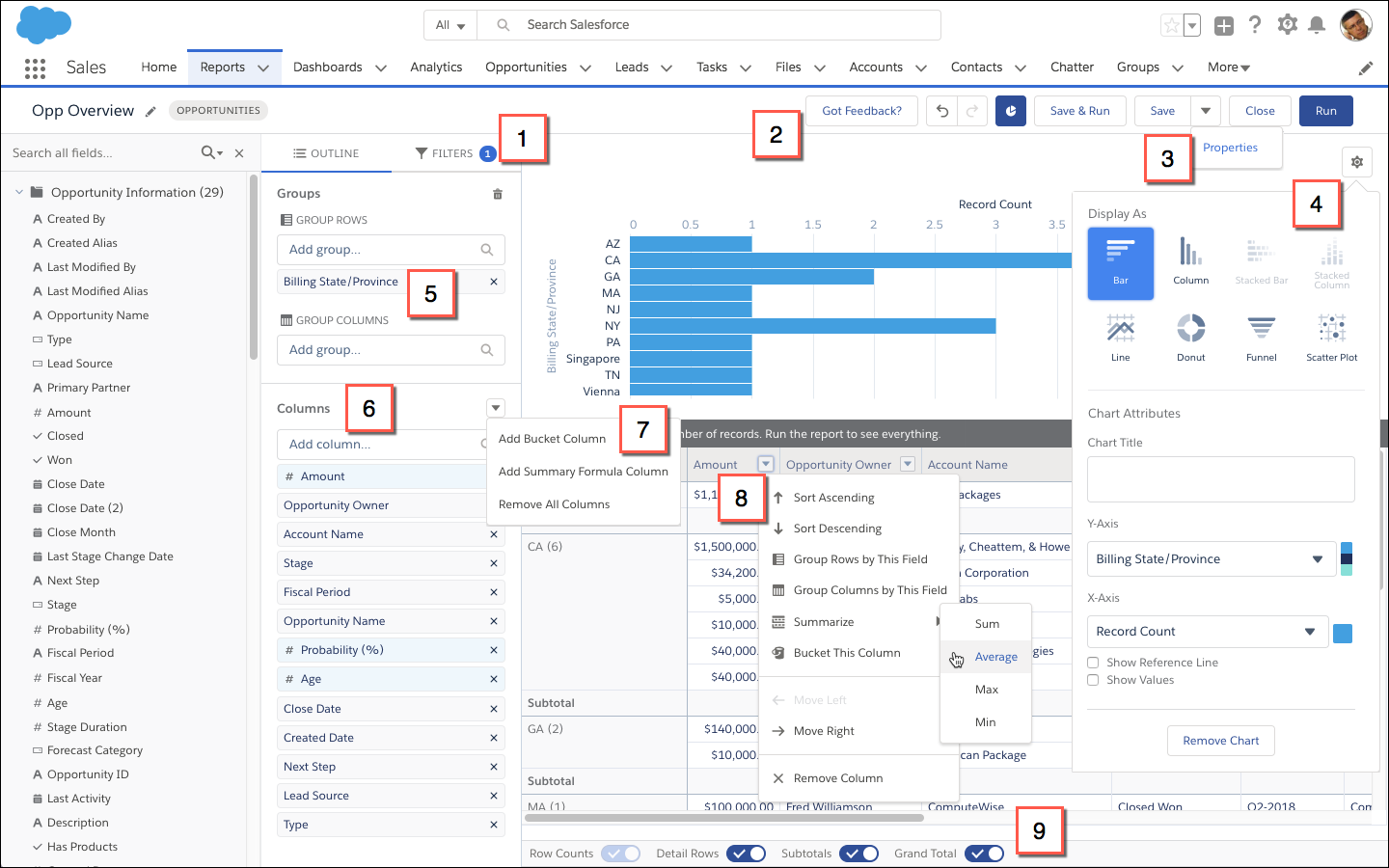 Filter records from your report until you get exactly what you want (1).
From the menu bar, undo or redo actions, show or hide a chart, save, and run the report (2). To rename a report, add a description, or change folders, click Properties (3).
Customize the report chart (4).
Group rows and columns (5). Grouping is required for charts and other important report features, so it's a good idea to add at least one grouping to all of your reports.
Add report columns or remove them. Search available fields from the fields pane on the left (6).
Add a bucket column to group records based on conditions you define. Evaluate report data logically and mathematically with a Summary Formula column (7).
Get quick access to sorting, grouping, summarizing, bucketing, and organization from the column menu (8).
Show or hide row counts, detail rows, subtotals, and the grand total with toggles (9).
Read a Report
Reading isn't quite the right word. Yes, you can read a report to learn, say, the value of closed opportunities over time. But really, you can do so much more than just read. After running a report, you see something like this:
Now you can begin working with your data. Edit filters, add a chart, show subtotals, all without opening the report builder. Here are some of the things you can do while reading a report.
Review individual records and sort them by clicking each column heading (1).
Get more details by hovering over the interactive chart (2).
Customize your workspace with toggles (3). Show or hide the chart () or filters panel (). Refresh the report to see the most up-to-date information ().
Click Edit to edit the report in the report builder (4). Or click the action menu dropdown icon () to copy, save, subscribe, export, or delete the report.
Filter the report differently (5). Click a filter to edit it. Except for standard filters, you can also remove a filter. After you edit a filter, be sure to click Apply.
Worried about permanently changing the report and confusing your coworkers? Worry not! Changes you make while reading a report aren't saved unless you click
then select Save.
What about printing? There are two ways to print a report in Lightning Experience. One way is to use your browser's print function. The other is to export the formatted report by clicking the action menu dropdown icon (
), then selecting Export | Formatted Report | Export. The report downloads as an .xlsx file. Open the file and then print it.
At this point, you may be asking yourself, "Is there anything that the Lightning Experience report run page can't do?" Well, it doesn't make french fries. And if you're used to reading reports in Salesforce Classic, you'll want to know about this Lightning Experience difference. These filters are available when building or editing a report, but aren't shown in the filter panel when viewing a report. Even though you don't see the filters, they still filter the report.
Row limit filters
Historical field filters
Cross filters
Standard filters (except for date, picklist, and string filters)
Build a Dashboard
After you've built a few reports, you'll want to bring them together in a dashboard. The Lightning Experience dashboard builder is much improved over the Salesforce Classic one. Get started from the Dashboards tab by clicking New Dashboard.
After you name and create your dashboard, the dashboard builder opens as a blank canvas that's ready for your analytic masterpiece.
Add components and filters, edit properties, save To fill in the blank canvas, start from the toolbar. To add a component, click + Component and choose a report from the much-improved Select Report menu. Easily find reports from the Recent view. Each component surfaces data from a source report as a chart, table, or metric. 
To add a new filter, click + Filter, then choose a field and filter values. In Lightning Experience, you can add up to 50 filter values, compared to 10 in Salesforce Classic.
Undo undesired edits (). Now, redo 'em (). To edit dashboard properties, click . From the properties menu, you can change dashboard name and description, move the dashboard into a different folder, and set "view as" options (which were known as the running user in Salesforce Classic).


Unique to Lightning Experience, you can also customize the dashboard theme (background colors) and chart colors.
Edit dashboard components or filters If you'd like to change the source report, switch component type, or change groupings and measures, click . To remove a component, click X.  To change how a filter affects a component, click . Then, choose a compatible field from the source report to filter by.
Dashboard Grid Size By default, Lightning dashboards use a 12-column layout with unlimited rows, but you can change to 9 columns if you like. To resize a component across multiple columns, drag its edge. Drag to move components around the dashboard. If another component is in the way, it automatically moves into a new position.
Lightning tables, a dashboard component A new dashboard component, available only in Lightning Experience, lets you put a better table on your dashboard. How much better? Here's what it offers.

Up to 10 columns and 200 rows.
Columns come from the source report's report type. That means that you don't need to add a field to the source report to show it in the table.
Show Chatter photos and conditional highlighting.
Lightning tables are dashboard filter compatible.
Group and measure records in Lightning tables. For example, show sum of amount and average probability by stage.

By the way, Lightning tables don't appear when you view the dashboard in Salesforce Classic. 
Read a Dashboard
Dashboards are the ideal way to keep track of important information. In Lightning Experience, we've preserved what made dashboards so useful, and added in a few new tools, too.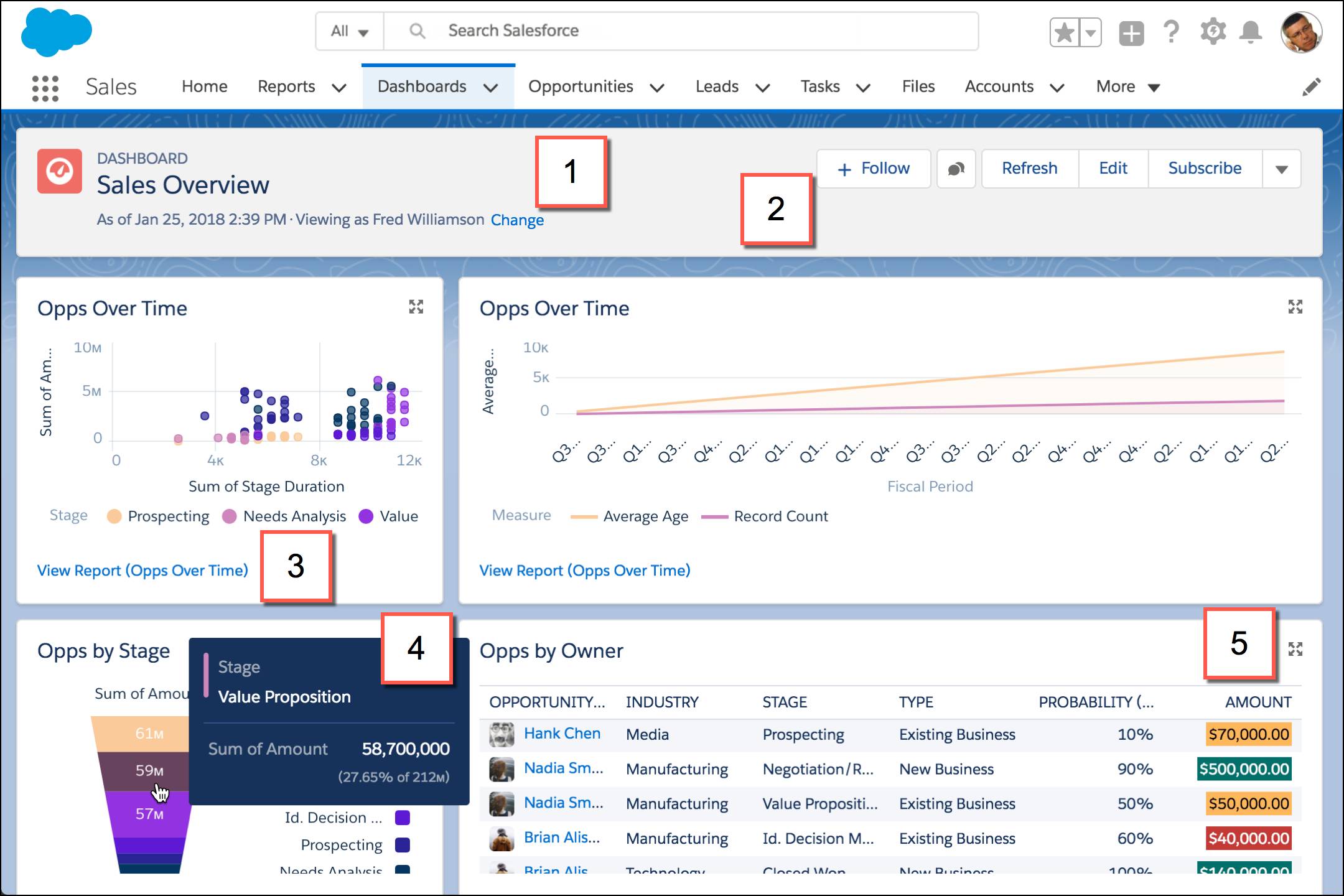 View dashboards as other people (1). If the dashboard builder configured the dashboard to display as the dashboard viewer and allowed viewers (that is, you) to change whom they view the dashboard as, then you can do just that. Click Change to see the dashboard as someone else.
Refresh, edit, collaborate (2). Perform common tasks, like refreshing dashboard data, from the toolbar.
View source reports (3). To view a component's source report, click View Report. Any filters applied to the dashboard, including chart filters, get applied to the source report.
Interact with charts (4). Hover over chart segments to see more details. Click a chart segment or data point to open the source report filtered by your selection. 
Expand a component (5). Want to get a bigger picture? Click to expand a component. Works great to present your data in meetings!
Keep Your Team Looped in with Feeds and Subscriptions
Reports and dashboards are ideal for collaborating on measured goals, like meeting a quota or closing cases. In Lightning Experience, it's easy to loop in your team with feeds and subscriptions.
Once your Salesforce admin turns on feed tracking for reports and dashboards, each report and dashboard features its own feed. Open it by clicking the collaborate button (

). In the feed, you can mention people and groups to ensure everyone stays aligned.
From a dashboard, to call attention to or ask a question about a specific component, you can also post a component snapshot to the feed.
To share a dashboard component, first expand it by clicking
. Then, click

, compose a post, and click Share.
Subscriptions let you refresh reports and dashboards, then automatically email them on a schedule that you set. Got a Monday morning Sales Ops meeting? Need to give an update about the opportunity pipeline? Subscribe to your Sales Pipeline dashboard and set it to refresh on Monday morning at 8:00am. The dashboard is ready and in your email inbox when you arrive in the office. Want your team to review it before the meeting? Subscribe them as well!
Charts Are Maps for Data
By this point, you may have noticed that Lightning Experience features different charts than Salesforce Classic. We've made the charts interactive and improved the look and feel. And there are a few other ways in which Lightning Experience charts are different from Salesforce Classic charts.
In Lightning reports, charts display up to 2,000 groups. In dashboard components, line and bar charts display up to 1,000 groups. All other charts display up to 200 groups.
In the chart editor, users can't:

Change measurement units (for example, from meters to centimeters)
Add more than four measures

Pie charts configured in Salesforce Classic appear as Donut charts in Lightning Experience.
We continue to work on improvements to our charts, so be sure to check the release notes for future chart enhancements and features.