Get Your Bearings
Learning Objectives
After completing this unit, you'll be able to:
Identify the icons in the Lightning Experience header and know what they do.
Access your Lightning Experience profile page.
Personalize your Lightning Experience profile page.
Get help from anywhere in Lightning Experience.
Welcome to Lightning Experience
Hi there! Welcome to Lightning Experience, the modern, productivity-enhancing experience from Salesforce. We reinvented the desktop environment to better support your sales and service business processes. The result is an intuitive, intelligent interface that helps you work more naturally, and more efficiently. We think you're going to like what you see here.
This module assumes that you're experienced working in Salesforce Classic, and that your company is making the switch to Lightning Experience real soon now. Perhaps you're the proactive type and excited to learn about what's coming your way. Perhaps your Salesforce admin asked you to complete this badge so you're prepared when the switch happens. Either way, we know that your time is valuable. And busy people rarely feel like they have time for change.
While Lightning Experience can look different, it's based on the Salesforce concepts and principles you already understand. And the interface was designed to be intuitive, to reduce clicks, to simplify your job. So don't worry, it won't be long before you're a Lightning Experience pro.
Let's Get Oriented
You can work in Salesforce Classic with your eyes closed. You know where everything is and exactly how to do your job. We understand that you may find the switch to Lightning Experience a bit disorienting at first. And it's frustrating to be slowed down because you don't know your way around. So let's start with a quick tour of the place to get you oriented.
At first glance, Lightning Experience may seem really different because of its fresh, modern design. But looking closer, you quickly see that many core Salesforce Classic features made the journey to Lightning Experience.
Here's where you can find basic Salesforce Classic features (bottom image) in Lightning Experience (top image).
The Salesforce header (1) provides persistent access to these familiar options:
Global search (2)—Find records, files, and groups.
Help (3)—Get help and training resources, including walkthroughs, videos, and Trailhead.
Setup (4)—Set up, maintain, and customize your org (assuming you have admin permissions).
Profile and personal settings (5)—Access your Chatter profile and view or update your personal settings.
App Launcher (6)—View and switch between Salesforce apps and connected apps.
The navigation bar (7)—Primary way to access your org's objects and features.
You've probably noticed some things that don't seem so familiar. It's true that Lightning Experience treats you to several new enhancements for upping your day-to-day efficiency. These options are always available, no matter where you are in Lightning Experience.
Favorites (8)—Create shortcuts to the records, lists, groups, and other pages that you work with regularly.
Global actions (9)—Multitask whenever important ideas hit you without needing to switch away from work in progress. Create tasks and events, jot down notes, log call details, and more, all from composer windows that stay put as you navigate around.
Notifications (10)—Keep track of your notifications, including task reminders, Chatter post mentions, and approval requests. The  icon informs you when you have unread notifications. And you can quickly jump to the details from the notifications list.
Utility bar (11)—Quickly access productivity tools from this persistent footer. Options are plentiful, including utilities for taking notes, displaying list views, accessing recent records, and running macros to complete repetitive tasks. (Not seeing a utility bar in your org? Ask your Salesforce admin to consider adding it to some or all of your Salesforce apps.)
There's obviously more to say to help you effectively integrate these new time-saving options into your daily routine. We get into more details later on in this module, and in the Lightning Experience Productivity module too.
A quick word about records before we move on. As you can see from our tour, record pages look pretty different now. We have a unit coming up whose sole purpose in life is to help you quickly feel at home working with your data in the reimagined, efficient workspaces of Lightning Experience.
Find Your Profile and Personal Settings
In Salesforce Classic, you get to your profile and personal settings from the menu with your name (1). Same concept in Lightning Experience, although now you're represented by an avatar (2).
From your profile menu, click Settings to update your personal information. Or click your name to get to your profile.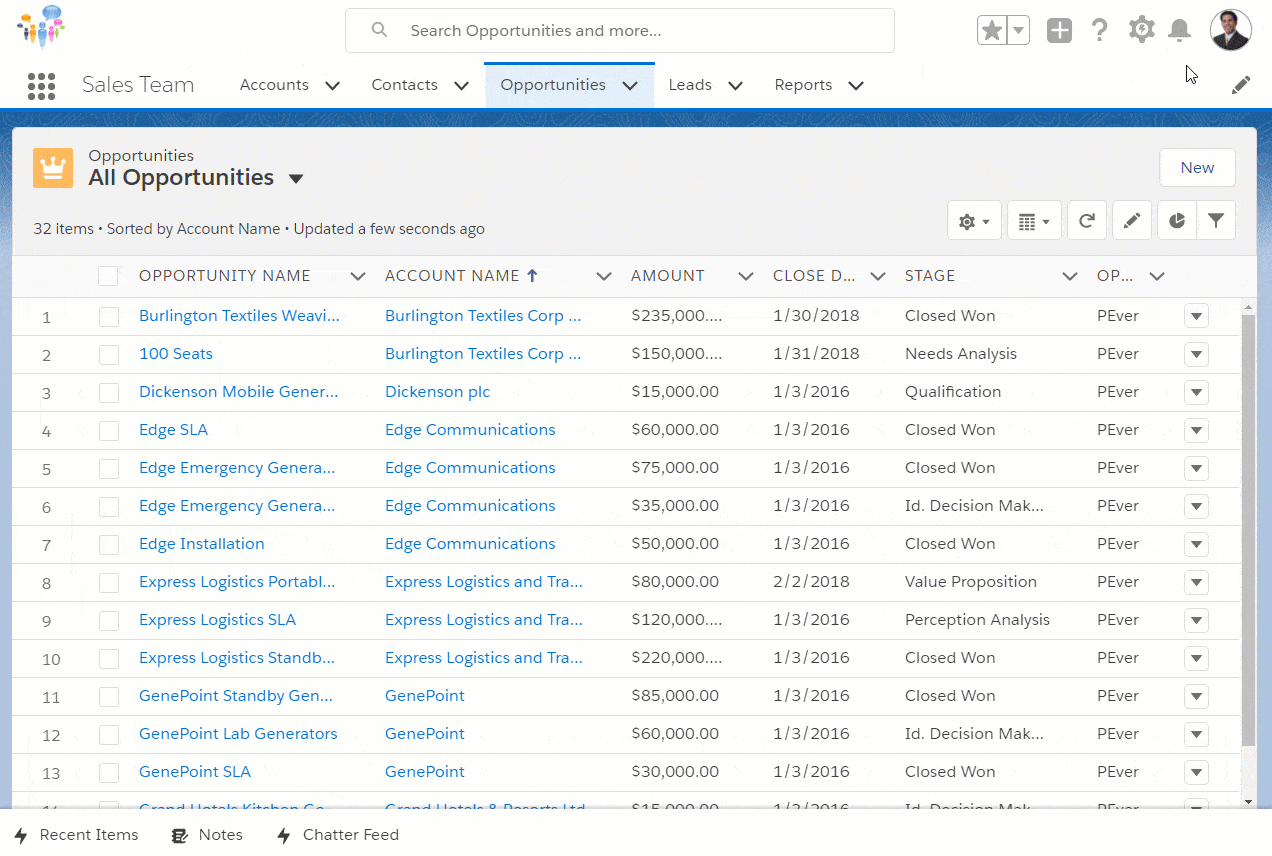 Personalize Yourself
By the way, if you haven't included a photo of yourself on your profile yet, this is how you look in Lightning Experience:
. As cute as Astro is, wouldn't you rather look like yourself? Take this opportunity to personalize yourself, so you and your colleagues can see who you are.
Upload a profile photo from your profile page. You remember how to get there, right?
Click the default Astro avatar (1), then select Update Photo.
You can also jazz up your profile page by adding a custom banner photo (2). Have fun with it—use an image that brightens up your day or shares something personally meaningful with your colleagues. You get best results with a panoramic image that's at least 1280 x 300 pixels.
And don't forget to say a little something about yourself, if you haven't already (3).
Here's how Diego personalized his profile. Nice, right?
Is It Time for a Vacation Yet?
Have you ever wished for a fast way to let colleagues know in advance that you'll be on vacation? Or wanted a way to communicate that you shouldn't be disturbed? The Out of Office feature on your Lightning Experience profile page is for you.
The default Out of Office message is "Out of Office" along with the start and end dates that you select. But you can customize the message to something more relevant... or fun. ("Off to the beach" anyone?)
Your message starts as soon as you save it. It displays prominently next to your name on your profile and in your Chatter posts and comments. And it expires on the end date, so you don't need to remember to turn it off.
Get Help Anywhere You Need It
Maybe we'll skip taking that vacation for now because there's still a lot of good stuff to discover about working in Lightning Experience. So what's one of the most important things to know when learning about a new environment? How to get help!
Behold, your new beacon of hope (beacon of help?). We've rolled up the Salesforce Help access point (formerly known as Help & Training) and the Help on this Page links from Salesforce Classic into a single Help Menu that's always there for you at the top of every page.
It's not just a generic help center, either. Instead of seeing a single help topic, you get a curated list of contextual, multimedia resources that are specific to the page you're on and the actions you can do there.
If your admin has added help resources that are specific to your org, you see those items first (1). The next sections and items may not be in your Help Menu, if your admin removed them.
When you're new to Lightning Experience or want some fresh tips, check out Getting Started (2) for helpful videos, informative topics, and Trailhead content. As you work through this list, more recommendations pop into place, so you can quickly become a Lightning Experience pro.
See help resources that are appropriate for the current page under Help for This page (3). Videos, walkthroughs, help topics, developer guides, and PDFs—you decide how and what to learn. This section is hidden if there aren't any page-specific resources.
Search through Salesforce Help and Trailhead and see the results inside your Help Menu (4). (Note that starting in Winter '21, the Search Documentation button text changed to Search Salesforce Help.) Click a help topic and read the article right inside the Help Menu. When you open a Trailhead link in the search results, a new browser tab opens.
Under More Resources, learn about keyboard shortcuts and send your thoughts about Lightning Experience directly to Salesforce (5). You can share your input anonymously or include your contact information. Your feedback helps us make Lightning Experience even better.
When you first open the Help Menu, you see the two-most relevant resources in each section. Click the section name or the arrow to view all resources in that section.
Contextual Help That Stays in Context
Great stuff, right? But we haven't gotten to the best part yet. The best part is that help topics and videos open in Lightning Experience instead of in separate browser tabs. This means you stay in context on the page where you need help while you get the help you need.
Help topics ( ) are displayed right in the Help Menu. Hmm, actually, that's not even the best part. The best part is that you can keep the topic open while you work—just click the docking icon at the top of the menu. The topic is "docked" at the bottom of your screen, where it stays put as you navigate to other pages. You can minimize the docked window to get it out of the way, expand it for easier reading, and close it when you're finished with the help topic.
Prefer to view a Help topic in Salesforce Help? Not a problem. Use the link at the bottom of the Help topic. The topic opens in a new browser tab for full-screen viewing.
Videos ( ) open in a video player in a layer above the page. When you're finished watching, close the player and you're right where you left off.
Other resources in the Help Menu open differently. Walkthroughs (
) take you to the first step of the walkthrough for your org, potentially on a different page. Developer guides, PDFs, and Trailhead links open in a new browser tab.