Drive Lightning Experience Adoption
Learning Objectives
After completing this unit, you'll be able to:
Measure your adoption rates and success metrics.
Use in-app tools to motivate users to adopt Lightning Experience.
Iterate on your rollout plan to improve your implementation and roll out to more users.
Turn off access to Salesforce Classic and call your transition a success.
Optimize Phase: Give Users an Experience They Love
Encores and repeat performances... Just like a Broadway production, your Lightning Experience transition keeps going after your launch. Whether you initially go live with a group of users or enable all your users at once, you want to make sure that everyone stays enthusiastic and committed to working in Lightning Experience.
The Optimize phase is also the time to rinse and repeat. Or rather, iterate on your rollout plan by adding new features and use cases, refining and improving your implementation, and launching to more users.
Measure Success So Far
It can be hard for people to make time for change. So keep an eye on Lightning Experience adoption rates and make sure you're getting traction with your users. Collect feedback to see what's working and what's not. Also monitor how your success metrics are looking and confirm that you're hitting your goals.
This analysis gives you a solid idea of what your next steps should be. You'll know which new use cases are priorities for fine-tuning your implementation, which features on the Lightning Experience roadmap are important, and when it makes sense to add another round of users to Lightning Experience.
Let's look at tactics you can use.
Collect and Evaluate Feedback
Check in with your Lightning Experience users periodically to see how things are going. Try to gauge overall satisfaction, as well as learn about specific pain points.
Here are some ideas for collecting feedback.
| | |
| --- | --- |
| Get feedback in the app | Turn on the Lightning Experience user feedback form to get input from users when they switch back to Salesforce Classic. This is a great tool for learning why users are leaving the new interface. To learn more, see Switch to Salesforce Classic Feedback Form in Salesforce Help. |
| Poll | Create an informal Chatter poll to gather quick insights. Users can also provide written feedback in the poll's comment thread. Use the Lightning Experience Transition Change Management Hub to get started. |
| Survey | Use a survey app to deliver a formal, written survey that measures satisfaction and problem areas. |
| Focus groups | Bring together a group of users and get input on your questions. |
Not sure what to ask when soliciting input? Use this list to spark ideas. We've included questions that are open-ended and appropriate for focus groups or similar forums, as well as questions that are more appropriate for a written survey.
Open-ended questions
Survey questions

How do you use Lightning Experience?

What do you like best about Lightning Experience?

What would you change about Lightning Experience?

What is most frustrating about Lightning Experience?

What information do you need that you can't find?

How long have you been using Salesforce?

How long have you been working in Lightning Experience?

Rate your overall productivity using Lightning Experience.

Rate your overall satisfaction with Lightning Experience.

I have the tools I need to do my job: Yes or No.

It's easy to work in Lightning Experience: Yes or No.
In addition to conducting surveys, cultivate an environment where feedback can flourish. Listening to your users boosts adoption. Here are some ideas for how to encourage your users to give regular feedback.
| | |
| --- | --- |
| Open forum | Host open "question and answer" sessions to get feedback and hear concerns. Use Chatter or do the sessions in person. |
| Chatter | Use a Chatter topic (such as "#feedback") to collect responses from your users over time. Review all the posts monthly or quarterly. |
When you're collecting feedback, it's important that your users feel heard, even if you can't address all of the input. Consider starting a "You Asked, We Listened" program where you address some employee feedback items every quarter.
Engage with Your Champions
Your Salesforce champions are an excellent source of feedback. Consider setting up a monthly or quarterly meeting with all your champions to talk about the roadmap, feedback, and overall adoption. Create a private Chatter group with your champions to facilitate conversation year-round. And work with your champions to host weekly office hours to answer user questions.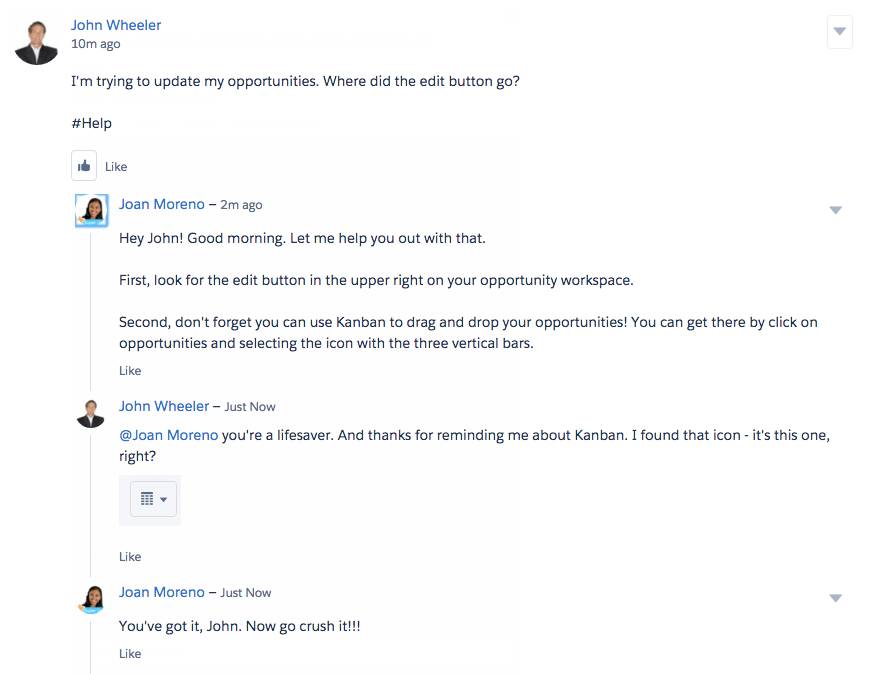 Here's a short list of some of the ways these incredible team members put the "champ" in champion.
Play the role of Salesforce evangelist in the field
Swarm on questions from users, in person and on Chatter
Help you boost Lightning Experience adoption
Train users
Share valuable insight from the field
Report bugs and issues
Weigh in on your Salesforce roadmap
Test new features before they go live
Provide feedback in forums, meetings, and focus groups
Track Adoption Rates
To keep tabs on how well users are adopting Lightning Experience, take advantage of the Lightning Usage App. This tool provides insights on details like who your active Lightning Experience users are, the number of users switching back to Salesforce Classic, and the most visited pages in Lightning Experience.
The Lightning Usage App is available in Lightning Experience only. From the App Launcher (
) in the Lightning Experience header, find and select Lightning Usage.
In the app, click a tab in the ACTIVITY or USAGE sections on the left side of the page to view the associated data. Some of the metrics you can monitor include:
Daily and monthly active users in Lightning Experience (and the Salesforce mobile app)
Daily and monthly switches to Salesforce Classic (total number of switches and the number of unique users that switched)
Profiles and users that switched to Salesforce Classic the most
Types of browsers used to access Lightning Experience (and the Salesforce mobile app)
Pages viewed most often in Lightning Experience
Number of active user, feature, and permission set licenses
Monitor Your Success Metrics
When you developed your change management plan, you worked with your executive sponsor and stakeholders to determine the success metrics for your transition project. Your metrics might be based on user satisfaction or goals like:
20% reduction in opportunities with no follow-up tasks
15% increase in calls logged
5% increase in lead conversion
To measure your results, compare how things are looking now versus the baseline that you took in the Discover phase.
Consider creating reports and dashboards in Lightning Experience to track your metrics. For example, this dashboard component shows closed deals, month over month.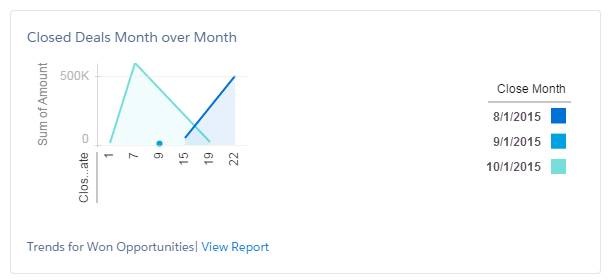 Reporting snapshots are a way to analyze trends over time, right in Salesforce. To learn more, see Report on Historical Data with Reporting Snapshots in Salesforce Help.
One of the benefits of using reports and dashboards is that they're all built within Salesforce, which makes it easy to share with your executive sponsor. And speaking of which...
Deliver an Executive Summary
Your executive sponsor has been your transition advocate from the start. Don't forget to keep your sponsor updated on overall project status and specific results or wins. Delivering an executive summary is important for showcasing the return on investment that your company has realized from moving to Lightning Experience.
When preparing an executive summary, use these best practices:
Keep it to 1-2 pages maximum
Showcase metrics and results
Highlight any noteworthy anecdotes
Share lessons learned
Note any next steps still planned
Looking for a sample Executive Summary document? Check the Optimize Phase folder in the enablement pack.
Motivate Users to Work in Lightning Experience
You may need to encourage your busy users to make Lightning Experience their home. You can automate some of this effort with out-of-the-box onboarding and guidance options that help users see how the new interface directly benefits them.
| Options | How it Helps |
| --- | --- |
| Try Lightning Experience Now prompt | This prompt appears in Salesforce Classic to remind users that they can work smarter and faster in Lightning Experience. |
| It's Better in Lightning prompts | When Lightning Experience-enabled users work with specific features in Salesforce Classic, such as Tasks and Events, learning prompts appear that encourage them to see firsthand how doing the same thing in Lightning Experience is faster and smarter. Use these prompts to accelerate user onboarding by teaching features in context, with the actual work a user is doing. |
| Lightning Experience welcome mat | The welcome mat displays when a user logs in to Lightning Experience the first time. Another welcome mat appears each time a user is automatically switched to Lightning Experience by the Scheduled Switcher. Customize the getting started resources in the welcome mat so you can onboard users with content that's specific to your business and your users' roles. |
| Custom in-app guidance prompts | Display your own in-app prompts to introduce features, highlight configuration changes, and otherwise onboard and train your users so they're comfortable working in Lightning Experience. |
| Custom Help menu content | The Help icon in the Lightning Experience header opens a menu of contextual help topics, Trailhead modules, videos, and more items chosen by Salesforce. Teach users about your business processes and your Lightning Experience implementation by augmenting the Help menu with your own resources. |
| Scheduled Switcher | Drive adoption of the new interface by automatically switching Lightning Experience-enabled users out of Salesforce Classic on a regular schedule. You can choose to switch users to Lightning Experience on a daily or weekly basis. |
| Remove the Switcher link | When you're ready for some of your users to go all in on Lightning Experience, assign them the Hide Option to Switch to Salesforce Classic user permission. This permission puts the user in Lightning Experience the next time they log in, and removes the Switch to Salesforce Classic link from the user's profile menu. |
See Motivate Users to Work in Lightning Experience in Salesforce Help to learn more about these options.
Iterate on Your Rollout Plan
Keep the show going! After rolling out Lightning Experience to your first group of users, and analyzing the insights gleaned from their feedback, it's time to repeat the process for the next group.
Start by reevaluating and updating your rollout and change management plans to build off everything you've learned. Some of the work you planned to tackle for the next group may not be as important as issues that are affecting current Lightning Experience users. If needed, tweak your change management programs to give users an even better transition experience.
We also recommend checking for new Lightning Experience features and innovations to see if there are other use cases to consider supporting. You can see what we're working on and what's on the horizon in the Lightning Experience Roadmap.
Finally, run Salesforce Optimizer to find opportunities for improving your org. Even if you aren't doing a phased rollout, this is a good time to look for ways to clean up and enhance your implementation. Let's take a closer look at this helpful tool.
Improve Your Implementation with Salesforce Optimizer
Your transition project is a bit like moving house. That comfy chair that worked so well in your old living room may not fit in anywhere at the new place. And as you're unpacking the kitchen boxes, maybe you have an epiphany that you don't need all 50 of those food storage containers. Same thing when you make the move to Lightning Experience. Some aspects of your Salesforce Classic implementation may not be necessary or desirable in Lightning Experience. Or maybe you've been wanting to tidy up your org and the transition to Lightning Experience is a good opportunity for some seasonal cleaning.
Introducing Salesforce Optimizer for the assist. This aptly named tool takes the guesswork out of how to optimize your org for better performance and a better user experience. Run it in sandbox or production environments to get a personalized report with recommendations for improving features, cleaning up customizations, reducing complexity, and driving feature adoption.
Some of the features that Optimizer evaluates include Apex triggers, fields, profiles, record types, and validation rules. For the complete skinny, check out Features Evaluated in Salesforce Optimizer in Salesforce Help.
Here are just a few examples of how Optimizer can help you improve your org as part of your Lightning Experience transition project.
Page layouts are displayed differently in Lightning Experience than they are in Salesforce Classic. The more page layouts you have to manage, the more work you have to make sure they all display properly in the new interface. The Optimizer report identifies page layouts that aren't being used in your implementation so you can delete them.
Complex pages with a large number of custom fields can be slower to display in Lightning Experience. Nor is it much fun for users to find what they need when they have to scroll through tons of fields. Optimizer identifies fields that aren't used so you know it's safe to remove them.
Hard-coded links in your implementation will likely break in Lightning Experience. The Optimizer report tracks down any hard-coded URLs that are lurking in your org and flags them for you. Replace them with My Domain links.
Older web browsers aren't supported by Lightning Experience. The Optimizer report lists users who access Salesforce from unsupported browsers so you can help them update to a supported version.
Lightning Experience includes many productivity-enhancing features that aren't available in Salesforce Classic. The Optimizer report recommends Lightning Experience-only features that your users may benefit from, such as the Lightning Sales or Service Consoles.
To run your Optimizer report, head to Setup. Enter Optimizer in the Quick Find box, then select Optimizer.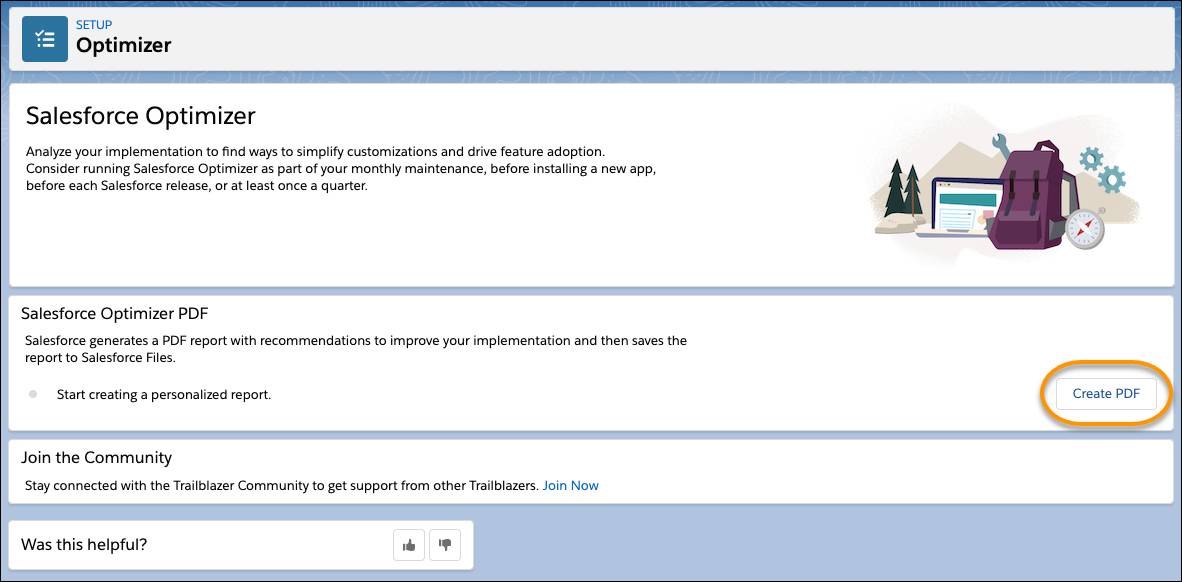 Depending on the size of your implementation, the Optimizer report takes from a few minutes to several hours to run. When it's ready, the report is saved as a PDF file to Salesforce Files.
Want to learn more about this useful tool? We've got a badge for that and it's called, not surprisingly, Salesforce Optimizer.
Turn Off Salesforce Classic for Your Org
When all your users are working in Lightning Experience and everyone has the features and functionality they need, you've reached the denouement of Lightning Experience: The Musical. There's just one last step to bring your transition project to a successful conclusion — turn off Salesforce Classic.
You do this by removing the Switcher for all users in your org.
From Setup in Lightning Experience, enter Lightning in the Quick Find box, then select Lightning Experience Transition Assistant.
Select the Optimize phase.
Click Turn Off Salesforce Classic for Your Org to expand the stage.
Turn on Make Lightning Experience your org's only experience.
The next time users log in to Salesforce, they land in Lightning Experience and are no longer able to switch to Salesforce Classic.
And now you can stop supporting two interfaces!
That's a Wrap!
Congratulations! You now have the tools and best practices to roll out Lightning Experience to your users. And hopefully you've also picked up some tips to help with future product launches.
Whether you're rolling out Lightning Experience in phases or launching to your entire company at once, this is your chance to go big. Good luck with your transition!