Go Live with Lightning Experience
Go Live
There comes a time in every successful project where you've planned everything, executed on all those plans, and then the launch date arrives. This means it's time to go big and go live with greatness. If this is your Broadway musical, then it's opening night, and Salesforce admin, this is your time to shine!
Depending on the project, the go-live step can be simple, complex, or somewhere in between. We make it easier with the Lightning Experience Transition Assistant, where you can access all the steps that need to be completed to move to Lightning Experience. Access this page from Setup in Salesforce Classic, by clicking Get Started in the Transition Assistant tile.
When it's time to turn on Lightning Experience and set your users free in the new interface, head to the Transition Assistant. But first, review the Enable Lightning Experience unit in the Lightning Experience Basics module for more details.
Drive Adoption by Optimizing Your Implementation
Encores and repeat performances... Just like a Broadway production, your Lightning Experience rollout keeps going after your launch. Whether you initially go live with a pilot group or you enable your entire org at once, you want to make sure that your users stay enthusiastic and committed to working in Lightning Experience.
This is the time to rinse and repeat. Or rather, optimize your rollout by measuring how things are going and iterating on all the good work you've done so far.
Monitor how your success metrics are looking. For example, collect feedback on how users are liking the new experience. And measure for things like productivity gains, business success, and adoption rates—including how many users are switching back to Salesforce Classic and why.
With this data in hand, you'll have a solid idea of what your next steps should be. You'll know which new use cases are priorities for fine-tuning your implementation, which features on the Lightning Experience roadmap are important, and when you'll be ready to add another round of users to Lightning Experience.
Engage with Super Users
Your super users are key to the success of your rollout. Leading up to your go-live, engage with your super users often. Depending on your training approach, you might be partnering with them as they lead user training in the field.
On the day of your go-live, super users play an essential role. Even with the most successful projects, your users are going to have questions. Those questions can come in the form of in-person conversations or questions asked on Chatter. Your super users can help you swarm on those questions, and escalate any bugs or critical issues that are discovered.
But your engagement with super users doesn't end with your go-live. That's just the beginning. Consider setting up a monthly or quarterly super user forum meeting where you gather all your super users together and talk about the roadmap, feedback, and overall adoption. Create a private Chatter group with your super users to facilitate conversation year-round. And work with your super users to host weekly office hours to answer user questions.
If you're not yet convinced, here's a short list of some of the ways these incredible team members put the "super" in super user:
Play the role of Salesforce evangelist in the field
Swarm on questions from users, in-person and on Chatter
Help you boost adoption
Train users
Share valuable insight from the field
Report bugs and issues
Weigh in on the roadmap
Test new features before they go live
Provide feedback in forums, meetings, and focus groups
As you'll see, super users provide tremendous value, especially when it comes to sharing feedback, which is critical for measuring the success of your project. Let's talk about that next.
Measure Results
When you were planning your rollout strategy, you worked with your executive sponsor and stakeholders to determine your success metrics. Those metrics might have included things like:
20% reduction in opportunities with no follow-up tasks
15% increase in calls logged
5% increase in lead conversion
Or, the metrics might have been based on employee or customer satisfaction, or even a mixture of both. For either approach, you need a baseline to work from to track changes in the numbers, so don't forget to take a snapshot or conduct a survey before you go live.
Let's discuss each approach in detail.
Survey Your Users
You can use several methods to survey your employees and customers.
| | |
| --- | --- |
| Survey | Use a survey app to conduct a formal written survey, measuring overall satisfaction and any pain points. |
| Focus Groups | Bring together a group of customers or employees and ask a set of specific questions. |
| Poll | Create an informal Chatter poll to gather quick insights. Users can also provide written feedback in the poll's comment thread. |
Using these methods, you can obtain metrics about overall satisfaction and any pain points. Following your go-live, after users are comfortably working with the new experience, you can survey again and report on any changes in the metrics.
Not sure what to ask? Here are some ideas. We're including questions that are open-ended and appropriate for focus groups, forums, and shadowing, and also questions more appropriate for a written survey:
Open-ended questions
Survey questions

How do you use Salesforce?

What do you like best about Salesforce?

What would you change about Salesforce?

What is most frustrating about Salesforce?

What information do you need that you can't find?

How long have you been using Salesforce?

Rate your overall productivity using Salesforce.

Rate your overall satisfaction with Salesforce.

I have the tools I need to do my job: Yes or No.

It's easy to work in Salesforce: Yes or No.
In addition to conducting surveys, cultivate an environment where feedback can flourish. Listening to your users boosts adoption. Here are some ideas for how to encourage your users to give regular feedback.
| | |
| --- | --- |
| Open Forum | Host an open question and answer session, online via Chatter or in-person, to get feedback and hear concerns. |
| Chatter | Use a Chatter Topic ("feedback") to collect responses from your users organically over time. Review all the posts monthly or quarterly. |
When you're receiving feedback, it's important that your users feel heard, even though you can't address all feedback. Consider starting a "You Asked, We Listened" program where you address some employee feedback items every quarter.
Whether you're doing a limited pilot or rolling out to your whole company at once, the goal is to go live, measure your results, and then iterate. Then repeat.
Use Reports and Dashboards in Salesforce
If you've decided to use Salesforce metrics for your success measures, then you can create reports and dashboards within Salesforce to track those metrics. For example, this dashboard component shows closed deals, month over month: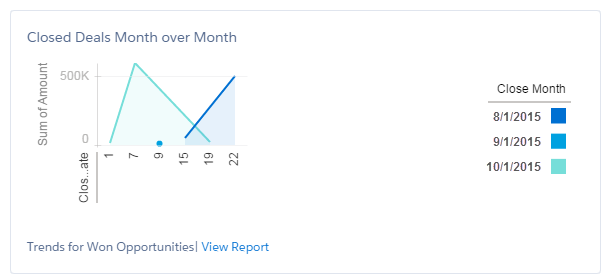 Reporting snapshots are a way to analyze trends over time, right in Salesforce. Search for "Reporting Snapshots" in the Salesforce Help to learn more.
One of the benefits of using reports and dashboards is that they're all built within Salesforce, which makes it easy to share with your executive sponsor. Speaking of which…
Deliver an Executive Summary
Your Executive Sponsor has been your project champion from the start. Now it's time to prepare a summary for your sponsor on the overall project status and any results you're able to share. This is important for your Executive Sponsor to be able to showcase Return on Investment (ROI) for the resources that were allocated to complete the project.
When you're preparing an executive summary, follow these best practices:
Keep it to 1-2 pages maximum.
Showcase metrics and results.
Highlight any noteworthy anecdotes.
Share lessons learned.
Note any next steps still planned.
Looking for a sample Executive Summary document? Sorry, we didn't make one. Just kidding! Check the enablement pack.
The Show Must Go On
Congratulations! You now have the tools you need to roll out Lightning Experience. Hopefully, you've also picked up some tips along the way to help you with other rollouts beyond Lightning Experience.
Whether you're piloting with a group of users or rolling out to your entire company at once, this is your chance to go big. Good luck with your rollout!