Add New Users
What is a user?
As a new administrator, you perform user management tasks like creating and editing users, resetting passwords, granting permissions, configuring data access, and much more. In this unit, you will learn about users and how you add users to your Salesforce org.
So what is a user? A user is anyone who logs in to Salesforce. Users are employees at your company, such as sales reps, managers, and IT specialists, who need access to the company's records.
Every user in Salesforce has a user account. The user account identifies the user, and the user account settings determine what features and records the user can access. Each user account contains at least the following:
Username
Email Address
User's First and Last Name
License
Profile
Role (optional)
Don't worry if all that sounds unfamiliar. We cover it in more detail later.
To view and manage the users in your organization, from Setup, enter Users in the
Quick Find
box, then select
Users
. The user list shows all the users in your organization. From the list, you can:
Create one or more users.
Reset passwords for selected users.
View a user's detail page by clicking the name, alias, or username.
Edit a user's details.
Log in as any user if the system permission is enabled or if the user has granted you system administrator login access.
Key Terms
We've thrown many terms at you as we've described the background information you need to get started adding            users. Here are some key terms you should know and their definitions.
Usernames
Each user has both a username and an email address. The username must be formatted like an email address and must be unique across all Salesforce organizations. It can be the user's        email address, so long as it is unique.
User Licenses
A user license determines which features the user can access in Salesforce. For example, you can allow users access to standard Salesforce features and Chatter with the standard Salesforce license. But, if you want to grant a user access to only some features in Salesforce, you have a host of licenses to choose from. For example, if you have to grant a user access to Chatter without allowing them to see any data in Salesforce, you can give them a Chatter Free license.
Profiles
Profiles determine what users can do in Salesforce. They come with a set of permissions which grant access to particular objects, fields, tabs, and records. Each user can have only one profile. Select profiles based on a user's job function (the Standard User profile is the best choice for most users). Don't give a user a profile with more access than the user needs to do their job. You can grant access to more items the user needs with a permission set.
Roles
Roles determine what users can see in Salesforce based on where they are located in the role hierarchy. Users at the top of the hierarchy can see all the data owned by users below them. Users at lower levels can't see data owned by users above them, or in other branches, unless sharing rules grant them access. Roles are optional but each user can have only one. If you have an org with many users, you may find it easier to assign roles when adding users. However, you can set up a role hierarchy and assign roles to users at any time. Roles are only available in Professional,        Enterprise, Unlimited, Performance, and Developer editions of Salesforce.
Alias
An alias is a short name to identify the user on list pages, reports, or other places where their entire name doesn't fit. By default, the alias is the first letter of the user's first name and the first four letters of their last name.
Guidelines for Adding Users
You have many options for adding users and many tools at your disposal in Salesforce. Here are some guidelines to help you get started.
Username: Each user must have a username that is unique across all Salesforce organizations (not just yours).
Username Format: Users must have a username in the format of an email address (that is, jdoe@domain.com), but they don't have to use a real email address. (They can use their email address if they wish as long as their email address is unique across all Salesforce orgs.)
Email: Users can have the same email address across organizations.
Passwords: Users must change their password the first time they log in.
Login Link: Users can only use the login link in the sign–up email once. If a user follows the link and does not set a password, you (the admin) have to reset their password before they can log in.
Add Users
You may have already added some users if you launched the Setup Wizard. However, you will probably need to add users in the future, especially as your company grows and you hire more employees.
Depending on the size of your organization or your new hire onboarding process, you may choose to add users one at a time or several at a time. You can do either in Salesforce. The maximum number of users you can add is determined by your Salesforce edition and the number of user licenses you purchase.
To add users:
From Setup, enter Users in the Quick Find box, then select Users.
Click New User to add a single user or click Add Multiple Users to add up to 10 users at a time.
Enter each user's name, email address, and a unique username in the form of an email address. By default, the username is the same as the email address, but you can overwrite this.
Select the user license you want to associate with the users you create (the license determines which profiles are available for each user).
Select a profile.
Select Generate passwords and notify user via email to email a login name and temporary password to each new user.
Click Save.
Now you've learned how to add users to your Salesforce org. In the next unit, we teach you how to keep your data safe by configuring what your users can access.
Take User Management on the Go
Access to user management and Setup isn't limited to the desktop. If you're not at your desk and you need to get your admin duties on, you can take Setup on the go with the Salesforce mobile app.
You can perform essential admin tasks like resetting passwords, freezing users, and viewing current system status from your mobile device.
You can get Salesforce for iOS and Android mobile devices. Download Salesforce from the App Store™ or Google Play™.
Logging In to the Salesforce Mobile App
Logging in to Salesforce Mobile App is as easy as pie. You need just a couple of key ingredients to log in to mobile app successfully.
Username
Super secret password
Correct instance
The last item is important. The instance can vary from production, sandbox, or a custom domain. By default, the Salesforce Mobile App connects to the production environment. You can connect to a sandbox environment for testing purposes, or a custom domain if configured for your org. When you have all the ingredients ready, you're ready to log in.
Open the Salesforce mobile app.
Tap Sign In.

To log in to sandbox or a custom domain, iOS users tap to select the correct environment. Android users tap  to select the correct environment.

Enter the username and password.
Tap Log In.
Monitor the Trust Status
After you log in to Salesforce, you see the Overview page which shows the recent system status and recently viewed users.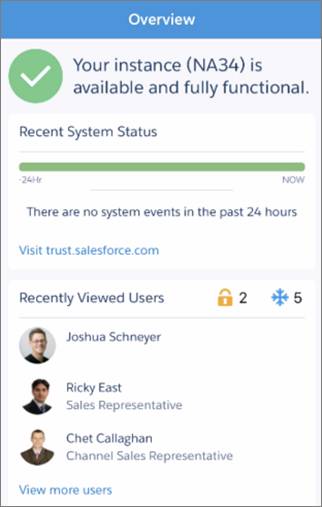 The Recent System Status section shows information from trust.salesforce.com about your instance's system performance over the last 24 hours. Trust.salesforce.com is Salesforce's website to provide transparency around service availability, performance, security, privacy, and compliance. Trust status gives you a quick and easy way to see if your org performance has been affected so you can let your users know of any changes.
Freeze a User from Anywhere
Pop quiz: You're away from your desk grabbing coffee and you get an email saying a user's Salesforce account may have been compromised. What do you do?
Well, because you have Salesforce installed, you can calmly sip your latte and take care of business from your mobile device.
Go to the compromised user's profile page, then tap and select Freeze.
Now the user's compromised account is frozen to prevent any trouble, and you can get back to enjoying your well-deserved coffee break.
You've seen what you can do by taking Setup on the go with Salesforce. You can monitor the trust status of your org or freeze a user whose account has been compromised. When you get back to your desk from your latte break, we'll dive deeper into what Setup on the desktop can do for you.