Get Started with Chatter
Introduction to Chatter
Hello! Either you're a new Chatter admin, Chatter is new in your Salesforce org, or you're curious. Welcome! And no worries, we've got you covered! We start you off with a high-level view of the things that make Chatter Chatter. Then we talk about feeds, profiles, and groups; and let you dip your trail-blazing toes into some initial setup.
So, in case you're wondering what Chatter is, here's a whirlwind tour.
Chatter is a Salesforce collaboration application that lets your users talk to each other and share information across diverse locations right now (or when you choose). Chatter connects, engages, and motivates everyone to work efficiently across the org, regardless of role or location. Chatter promotes collaboration on sales opportunities, service cases, campaigns, projects, and just about any other object or use-case you can imagine.
It's easy to get to Chatter features directly from the Chatter page. Click the Chatter tab (or the Chatter option on the overflow menu). If you don't see the tab or the option, click the App Launcher, search for Chatter, and click it.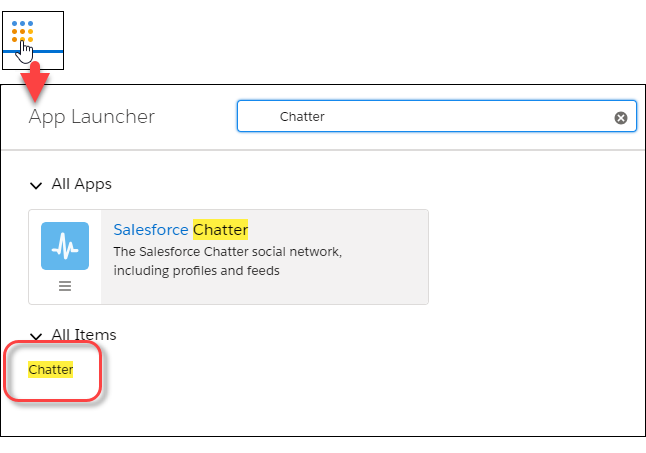 You can find Chatter feeds on the Chatter page and on profiles, groups, and records, like opportunities, cases, and accounts. You can get to Chatter and Chatter-related features, like profiles and groups, through the App Launcher, your Salesforce tabs, or the overflow menu.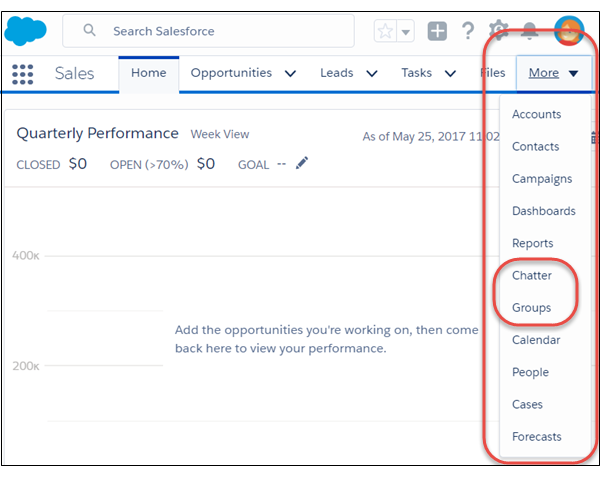 A Chatter feed combines the Chatter publisher and the posts, polls, questions, comments, and other objects added through the publisher. The publisher appears on the Home and Chatter pages, the user profile page, and group and record detail pages. Your users can use the publisher to write a post, ask a question, and create a poll. They can also perform other actions that you make available to them through Setup.
Depending on how you set up Chatter for your org, everyone with access to a post can comment on it, like it, and share it. They can also bookmark and mute it. The author and some permitted users can edit and delete the post.
People can delete their own posts, but they can't delete other people's posts nor generated posts. For example, they can't delete record updates, such as a post about a changed field on an account.
In the flurry of Chatter information, your users can make a useful post easier to find by adding a topic to it. Topics are search terms your users add to posts and comments. Topics take the form #topic, for example, #refactoring. When your users come across a topic in a feed, they can click it to navigate to all the posts where the topic is used. Users can also search for topics to get the same result.
With all this activity, how do you stay on top of what's going on? Another feature, in-app notifications, lets you know when the things you follow change.

The number on the in-app notifications icon tells you how many unread notifications you have. Click it to see where you're mentioned, who's commenting on your posts, and who's posting to your groups. Other types of actions can also trigger notifications, like approval requests and posts to your profile wall. Click an entry on your list of in-app notifications to navigate right to the discussion. In-app notifications show the 20 most recent notifications received in the last 90 days.
When you want to get to know Chatter, where do you start? Well, the Chatter tab gives your users access to many useful feeds.
What I Follow combines all the feeds from the people, records, and groups the user follows.
To Me combines all the feeds where the user is mentioned.
Bookmarked combines all the posts the user has bookmarked.
Company Highlights uses the Einstein artificial intelligence (AI) algorithm to pull out posts most likely to be interesting to the user.
My Drafts shows posts the user hasn't published yet.
Each user sees only the posts that they have access to, nice and secure.
Below these feeds is a list of streams that the user creates. Streams let your users combine all kinds of feeds into one stream for easy access. For example, add the profiles of everyone up your management chain to keep an eye on what they're up to. Add the record feeds from a current project to a stream to cut down on the bouncing around you must do to get the full picture.
The Recent Groups section provides quick navigation to the five groups you last visited and a fast way to create a group. A genuine convenience!
If you're on the go, the Salesforce app offers a rich and powerful mobile interface for collaboration. Your mobile device has its own native browser that you can use to access Salesforce. Apps that you can download to your iPhone or Android mobile devices are available from your Apps stores.
With Chatter, there are lots of ways to stay in touch. Following is a great way to get conversations flowing. It's one of the most useful communication tools in Chatter. With it, you and your users can follow people and get notified when they're active in Chatter. People can follow each other, independent of their teams, boosting collaboration across functional borders. People can follow groups and records, too. Following is a great way to get notified about the people and things you and your users are interested in.
When your users follow people and records, they see updates about them in their Chatter feeds. Typically, people see feed updates for:
Posts, comments, and files on Chatter groups they're a member of
Shared files and links
Tasks and events
Record field changes
With all these conversations, you need a quick way to find stuff. There are two types of searches available to Chatter users. Global search (1) searches the entire org and returns only the results the user has access to. With global search, users can limit their searches to the type of object they want to find. Feed search (2) lets users look for results from the current feed. Feed search offers a great way to find that vital bit of information buried in an active thread.
Chatter's advanced search engine lets people search for files, people, groups, teams, work records, and other information. Over time, Chatter becomes your company's corporate memory. It's searchable and accessible anywhere, anytime. It connects people across departments and geographies.
Chatter is also a great tool for bringing new hires on board. When new hires join Chatter, they get immediate access to historical and tribal knowledge from across the company.
Wait! Did we mention that Chatter's fun? It gets people talking, and makes them feel connected, powerful, and recognized.
Introduction to Profiles
In Chatter, everyone has a profile page that shows their photo and some useful information about them. Use profiles to easily discover which teams people are on, who their managers are, where people are located, and how to contact them.
Initially, a user's profile is a blank canvas. Encourage your users to personalize their profile page. For example, have them add a profile picture and some information about themselves. It helps your users to identify each other, connect, and collaborate.
In Chatter, you can click a user's name anywhere to jump to their profile page. You can also hover over a user's name or profile picture to see a partial profile on a hover card.

Click the person's name on the hover card to navigate to their full profile.
Here are some other ways to get to profiles:
Search the person's name using the global search field at the top of Salesforce.
Click the People tab and find the person in a list of everyone you can see in Chatter. If you don't see the People tab, try the overflow menu. If you don't see the People option there, you can use the App Launcher to get to the People tab.
In the App Launcher, search for People, click People in your results, and then click the person's name on the People list.
Introduction to Groups
Groups are the main collaboration space in Chatter. You can organize a group around a project and add all project participants to it. Members use the group feed to exchange information, process a decision, and ask and answer questions. Whether it's a project, a topic, a line of business, a what-have-you, you can create a group to support it. Groups help users build, preserve, and share knowledge that's vital to getting the job done and keeping everyone aligned.
Salesforce provides different group types for an array of purposes and audiences.
Public groups are visible and open to all employees. Anyone in the company can join a public group, and then post, comment, and add files to it.
Private groups are members-only. People must request to join a private group. Only the members of the group can post, comment, and add files. People who are not members can see the group's picture and description but not the group feed or files. If the group allows external users, like customers, the group owner or manager must invite them to join.
Unlisted groups are invitation-only and don't appear in list views and search results. An unlisted group is hidden from everyone except the members of the group. Only the group's owner or manager can invite people to join an unlisted group. As the admin, you must enable the option to create unlisted groups. We step through that process in a minute.
Broadcast Only groups are for making announcements. Only the owner and managers of a broadcast-only group can post to it. However, group members can comment on those posts. You can make any type of group broadcast-only.
All groups offer an Engagement tab for monitoring group membership and activity over time.
Use the Engagement tab to monitor the frequency of posts, the stability of group membership, and various count summaries. Counts include number of members, posts, questions, unanswered questions, likes, and comments.
Group Examples
When you set up Chatter for your company, create some starter groups that center around common interests and functional teams. For example, create product-related groups in research and development, sales, and marketing; set up groups for internal training, human resources, and facilities. Chatter groups make it easier to collaborate, manage projects, and stay current. Here are some groups that have been successful at other companies. Remember, groups can be either public for every employee or private for select people.
All Company (public)

Add all employees to this group, and use it to discuss company-wide topics and make announcements.

[Project Name] Team (private)

Add team members to this group so they can collaborate on a project; give feedback; and share presentations, spreadsheets, and documents.

Competitive (public)

Connect customer-facing employees with your company's competitive and product experts so that the right people are talking to each other and sharing information.

Product Feedback (public)

Sales and customer service teams can provide client feedback directly to R&D and engineering.

Marketing (private)

Share concepts for creative campaigns, event details, and marketing ideas with the whole team.

Sales (public)

Sales employees can share stories, strategies, and tips for winning.

[Customer Name] Meetings (private)

Create groups where all the key players on a deal can collaborate more easily on presentations, agendas, and products. For example, start a group for a customer visit called "Acme July Meeting" and invite sales, technical specialists, marketing, support, and engineering to align everyone.

[Department Name] Policies (broadcast)

Provide a forum for broadcasting division, department, or team policies and inviting feedback from members.
Create Groups
Let's create two groups that are useful for most orgs: a public group that any authenticated user can join and a private group that allows customers in its membership. For both groups, we want to be able to associate records, like opportunities, accounts, and cases, with the group.
One group is unlisted. By default, the creation of unlisted groups is disabled. So, before we start creating groups, let's go to Chatter Settings and enable unlisted groups.
In the Setup Quick Find box, enter Chatter Settings, click Chatter Settings, and then click Edit.

Allow Records in Groups (1) is likely selected by default; if it isn't, select it.
Select to enable unlisted groups (2).
Click Save (3).
Create a Public Group
Create a public group named Volunteer Central to share information about volunteer events.
In Salesforce, click the Groups tab. If you don't see it, open the App Launcher, search for Groups, and click your result.

On the Groups list page, click New to open the New Group modal.

Enter information about your group.

Name: Volunteer Central
Description: This is an open group for all employees to find information about volunteer opportunities, ask questions about volunteering, and share volunteer experiences.
Under Information, provide any group details you care to share, and format your details using rich text editor controls.

Owner—Assign someone to be group owner. Start entering a name and choose from the resulting list. You can always leave it as-is and own the group yourself.
Member Count populates after you create the group.
Record Type shows the type of feed you chose (Post or Question) in step 3.
Archive—With the right role or permission, you can edit a group and mark it for Archive here. By default, groups are archived after 90 inactive days. To prevent automatic archiving, select Disable automatic archiving.
Access Type: Public
Customers can't join this group, so leave Allow customers unchecked.
If the Broadcast Only check box is available, leave it unchecked, too.

Click Save & Next.
Click Upload Image, select an image for your volunteer group, and click Next.
On the Add Members page, you can search for and add people to your group. You can add members later, so, for now, click Done.
Congratulations! You've created your first group.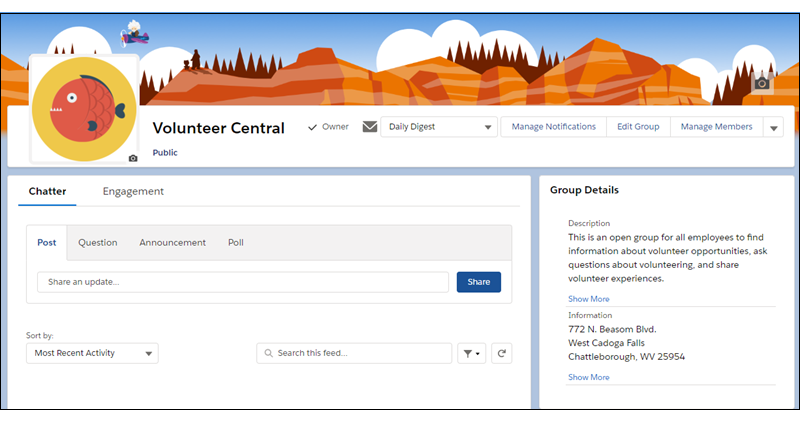 Add an Action to the Group Layout
The group layout is the place to adjust the types of actions and settings that are available with groups. Let's customize our group layout with an action that lets us create cases from the group.
In the Setup Quick Find box, enter Group, and then click Group Layouts.
On the Group Layout row, click Edit.
In the Group Layout panel at the top of the page, select Mobile & Lightning Actions. If it's not already there, drag New Case to the Salesforce Mobile and Lightning Experience Actions area.

Under Group Layout at the top of the page, click Save
Nice work! You customized a group layout by adding a New Case action.
Now let's go back for our results in Volunteer Central.
There's the New Case action on the group page.
You can also further customize the group by clicking Edit Group on the actions overflow menu. You can change a group's image, name, details, and owner. You can search for and add more members, too.
Create a Private Group with Customers
Private Chatter groups are a great way for project teams to collaborate and share confidential information. Private groups can also have external members. For example, create a private group to collaborate with customers or subject matter experts who are outside your company.
When you select to allow customers in a private group, it's clearly shown on the group page.
You create a private group the same way you create a public group, but you select a different group type.
To navigate to the Groups page, click the Groups tab or search for and click Groups in the App Launcher.
Click New.
Provide information about the group.

Name your group and describe what this group is all about.
Provide any group details you care to share, and format your details using rich text editor controls.
Assign someone to be group owner. Start typing a name and choose from the resulting list, or keep your own name as group owner
Select the Private access type, and check the Allow Customers box.

Click Save & Next, Next, then Done.
Add and Promote Members
After you create your group, it's easy to add more members. Go to the group, open the actions menu in the group banner, and select Manage Members. In the Add Members dialog, search for the people you want to add and click Add next to their names.
You can also search for existing members and promote them to manager. Group managers enjoy the same rights and privileges as the group owner. Managers can edit the group, manage its membership, and perform other actions that are available to group owners. It's a great way to share the responsibility of managing the group.
To promote a member to manager:
Open the Add Members dialog.
Search for an existing member.
Select Manager from the menu next to their name.
Enable Chatter Email Notifications
When you enable email notifications for Chatter, your users start receiving email notifications about new posts, comments, and other changes.
Your users can keep the default notifications that you set up, or they can override your settings with their own. Users can control whether they receive emails, the changes that trigger emails, and the frequency of delivery. It's important to let your users know how they can control the amount of email they receive. Too many email notifications is a pain point for Chatter users and a common barrier to adoption.
Enable email notifications for all users in Setup, on the Chatter Email Settings page.
In the Setup

Quick Find

box, enter Email Settings, and then click Email Settings.

Select

Allow Emails to turn on Chatter email notifications for all your users.
Allow Email Replies to allow users to post their replies to email notifications in Chatter.
Allow Posts via Email to allow users to post to groups through email.
Allow Attachments via Email to allow users to include attachments when they use email to post to a group.
Show mobile app download badges to add App Store and Google Play badges for the Salesforce app to all Chatter email notifications from your internal org.

Click Save.
Review Your Chatter Settings
We've set up Chatter defaults to give you the best experience right from the start. Let's review Chatter Settings so you know where they are and what's available to you.
Chatter settings let you add and remove features according to your users' needs. To get to Chatter Settings, from Setup enter Chatter in the Quick Find box, and click Chatter Settings.

This quick-reference table describes these settings and discusses what happens when you enable or disable them.
Table 1. Chatter Settings

Section
Description
Enable to …
Disable to …
Chatter Settings
Turns Chatter on or off for your org.
Make Chatter available in your org.
Remove Chatter from your org.

If you remove Chatter in Salesforce Classic, global search is also removed. If you remove Chatter in Lightning Experience, global search stays on.

Groups
Provides options for your Chatter groups. Controls whether archiving is enabled, whether you can associate records with groups, and whether unlisted groups are allowed in your org.
Allow Group Archiving: Make archiving available to Chatter groups.

Allow Records in Groups: Include add-record actions in groups and show records related to the group in a group's detail view.

Enable Unlisted Groups: Allow the creation of private groups that are not included on the group list page. Membership in unlisted groups is by invitation only.

Allow Group Archiving: Disable group archiving, and remove the Disable automatic archiving setting from the New Group dialog.

Allow Records in Groups: Prevent the creation of records and remove the Records section from a group detail page.

Enable Unlisted Groups: Prevent the creation of unlisted groups in your org.

Draft Posts
Adds the My Drafts feed to the Chatter tab. Every seven seconds, saves posts that users are drafting and makes them available in the My Drafts feed. When the user posts the entry, the draft is automatically removed from the My Drafts feed.
Automatically save users' draft posts every seven seconds.

Posts are saved as drafts. Questions and polls are not saved as drafts.

Prevent the appearance of the My Drafts feed on the Chatter tab and suppress saving of draft posts.
Rich Link Previews in Feed
Converts links in posts into embedded videos, images, and article previews. Larger images are truncated with a More link that lets your users see the full preview.
Show links as previews to give users a visual reference to the link's target and the ability to play videos in place.
Show links as links and require that users navigate to the link target to see what it's about.
Emoticons in Feed
Converts keyboard characters into emoticons, so these keyboard characters :) become this emoticon .
Allow the conversion of keyboard characters into emoticons.
Prevent the conversion of keyboard characters into emoticons.
Out of Office
Adds a control to user profile pages for setting a personal out-of-office message.
Add the out-of-office setting to user profile pages. Out-of-office messages appear anywhere the user's name appears in the org.
Omit the out-of-office setting from user profile pages.
Topics
Allows authenticated and guest users to view topics in Salesforce Sites and portals.
Let users inside and outside your org view topics in Salesforce Sites and Portals.

This setting is for increased security of topic names in your org. Salesforce turned off topics for guest and authenticated external users in Salesforce Sites and in portals created before Summer '13. If you want to enable topics for external users, go to Setup | ChatterSettings and select Allow topics in Salesforce Sites and Portals.

Prevent users from viewing topics in Salesforce Sites and portals.
Approval Posts
Allows requests for approval to appear in a user's feed as a post.
Post approval requests in a user's feed.
Prevent approval requests from appearing in a user's feed.
Coworker Invitations
Allows licensed Salesforce users to invite unlicensed coworkers to Chatter. Users who accept invitations see only profiles, files, and groups. They can't see any object details unless you grant them a full Salesforce license.
Let licensed users invite unlicensed coworkers to Chatter.
Prevent licensed users from inviting unlicensed coworkers to Chatter.
Customer Invitations
Allows licensed users to invite customers to private groups that the licensed user owns or manages. Licensed users can invite customers who are from outside your email domains. Invited customers can see information only in the groups they're invited to. They can interact only with members of those groups.
Let licensed users invite customers to the private groups the licensed user owns or manages.
Prevent licensed users from inviting customers to the private groups the licensed user owns or manages.
Actions in the Publisher
Actions in the Publisher is a legacy setting that has no application in Lightning Experience.
Doesn't apply.
Doesn't apply.
Recommendations in the Feed
Allows the posting of recommendations for using the Salesforce Today app in your users' feeds.
Automatically post recommendations for using the Salesforce Today app in your users' feeds.
Prevent automatic posting of recommendations for using the Salesforce Today app in your users' feeds.
Post and Comment Modification
Lets certain users edit feed posts and comments. Affected users include the author, the person who owns the record that was posted or commented on, and the Chatter or community moderator.
Allow certain users to edit posts and comments.
Prevent everyone from editing posts and comments.
Rich Text Posts
Makes the editor in the Chatter publisher a rich text editor. The rich text editor supports text formats, inline images, hyperlinks, and, when enabled for the org, code snippets.
Use the rich text editor in lieu of a plain text editor in the Chatter publisher.
Use a plain text editor in the Chatter publisher.
Pin Posts in Feeds
Make post pinning available to your communities and your internal org. First make the feature available through this setting, then assign permission to pin through profiles or permission sets. When the permission is assigned, users can pin up to three posts to the top of the topic and group feeds that they have access to.
Make a post pinning permission available for assignment through a profile or permission set.
Prevent people from pinning posts in topic and group feeds.
Resources
Help resources:
Copyright
Rights of ALBERT EINSTEIN are used with permission of The Hebrew University of Jerusalem. Represented exclusively by Greenlight.