Navigate Setup
Items and Apps for Efficient Navigation
Let's set sail on a quick navigation tour to see how you and your users can drill into a standard or custom object from the navigation bar. Just click on the item (for example, Opportunities) to view the item home screen.
If you don't see the item you're looking for in the navigation bar, or if you want to open a different app, click the App Launcher icon.
You can search for apps or items by name in the quick view menu. Or, click
View All
to go to the full App Launcher.
All Apps shows your custom, standard, Lightning Experience, and connected apps in one place. Your admin chooses which third-party apps to connect with Salesforce, such as Gmail, Google Drive, and Office 365. (1)
All Items shows the home page, the feed, tasks, events, objects, custom tab types, and more. These items are independent of the app that shows up on the navigation bar. (2)
You can search for apps, objects, and other resources by name in the Search apps and items box. (3)
Authorized users can go directly to the AppExchange in one click, without leaving Lightning Experience. (4)
As an admin, you can change which apps appear on the App Launcher and the default order in which they appear. You and your users can then drag the tiles around to create your own personal view of the App Launcher.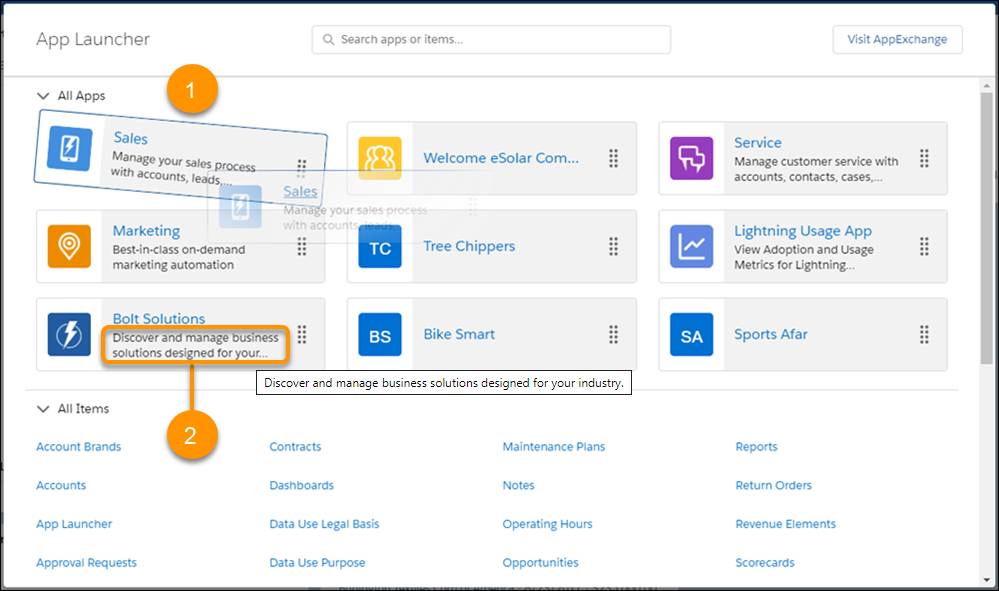 The App Launcher's great for finding an app or item even when it's not on the navigation bar. Just click the App Launcher icon (

) to search for it by name. For example, say you're looking for an item called Service. Enter Service in the search box to see items and apps that match your search as you type.
All About Setup
Setup is where you make the magic happen. It's where you'll customize and configure your org, support users, build functionality, and more. As you're getting familiar with the Setup area, it's important to note that it's not about memorizing click paths, it's about understanding what you're looking for in order to get to your destination.
But before you can start making the magic happen, you've got to find Setup. Let's take a quick tour:
You can navigate to Setup from any page by clicking

.
Quick Find in Setup (1) is your power tool for getting where you need to go. Type in the Quick Find box to search for pages in the Setup menu. You can also navigate through the Setup menu and find Setup tools based on logical categories. If you're looking for standard and custom objects, you can find those in the Object Manager (5).
The Create menu (2) in the upper right corner appears on every page in setup. It provides quick access to create items that are common in your organization. With the quick create button you can:

Create a new user
Create multiple users at once
Create a new custom object
Create a new custom tab
Create an email template
Create a workflow process

The carousel (3) on the Setup home page contains useful tools so you can quickly and easily do things like:

Open the Object Manager and customize records, fields, and layouts
Launch the Setup Salesforce tile to enable mobile data access for your organization
Instantly access release notes for quick reference
Download SalesforceA to set up administration from a mobile app
Quickly view the status of your organization's performance and usage data

The most recently used list (4) shows your most recently used records or customization features in setup. You can quickly link back to what you were working on with a single click.
Five Things You Shouldn't Miss in Setup
Setup (at the top level)

Your one stop for customizations
Learn best practices
Make magic happen in your organization

Object Manager

All standard and custom objects live in the Object Manager
All objects now have a standard detail page that stays visible while you drill into related lists
Infinite scroll on all objects' related lists

Create Menu

On every page in Setup
Quick access to perform common tasks
Quickly navigate to administrative creation pages without having to navigate the Setup tree

App Menu

Customization node in the Setup Tree
Use this to:

Reorder Apps in the App Launcher
Make apps visible or invisible in the App Launcher

View Release Notes

Links to the most recent version of the release notes
Great point of reference for new and existing features