Navigate K-12 Architecture Kit
Learning Objectives
After completing this unit, you'll be able to:
Describe how K-12 Architecture Kit helps educators and school personnel.
Set up K-12 Architecture Kit in your org.
Calling All Guardians of Goodness!
K-12 Architecture Kit is a single architecture that allows everyone—educators, staff, and families—to work better together by connecting people, processes, and data. And you, yes you, have been selected as the guardian of this goodness (congrats!). As your school's stupendous Salesforce administrator, you have accepted the great honor and responsibility for the installation, configuration, maintenance, and operation of Salesforce's suite of powerful technology and tools, and now you get to add K-12 Architecture Kit to your amazing skill set (you rock!).

Whether you're a full-time admin, part-time volunteer, or have taken on these administrative responsibilities in addition to another role, you are in the right place. In this module, we walk through a basic overview of what K-12 Architecture Kit is, including the setup process, the K-12 data model, and key customization tools and features. Let's get started.



What Is K-12 Architecture Kit?
First things first, let's dig a little deeper into what exactly K-12 Architecture Kit is. As we just learned, K-12 Architecture Kit is a single architecture that empowers schools and districts to collaborate around 360-degree views of students' needs and outcomes, engage families, and operationalize improvement efforts.

But how does K–12 Architecture Kit help educators and school personnel accomplish all of this? Great question. K-12 Architecture Kit is an open-source framework (this means that its source code, a list of easy-to-read programming instructions, is publicly accessible) built on top of Education Data Architecture (EDA).
EDA is a flexible data architecture that configures Salesforce for educational institutions. For a review of EDA basics, check out the Trailhead module on Education Data Architecture Basics in the Resources section. Because EDA is built on Salesforce technology, it has the powerful capability to create a complete, shared view of every learner, from day one. K-12 Architecture Kit taps into this powerful capability and makes it relevant for K-12 schools and districts. Pretty cool, right?
Now that we know what K-12 Architecture Kit is, let's take a look at the setup process.
Get Set Up
Before you install and configure K-12 Architecture Kit, it's important to complete these preparatory tasks.  
Consider best practices for initial installation.
Learn what's installed.
Review the managed and unmanaged package considerations.
In this module, we show you the steps for accessing, configuring and exploring K-12 Architecture Kit. We don't have any hands-on challenges in this module, but if you want to practice and try out the steps, you can register for a free K-12 Architecture Kit trial with sample data. (Installing into a Trailhead Playground will result in errors.) Here's how to get the trial version.
Go to the K-12 Architecture Kit Trial page.
Fill out the form completely.
a. For Email, enter an active email address that's unknown to Salesforce. The email address you provide becomes the username in this new trial org. Usernames must be globally unique across all instances of Salesforce, so you must use an email account that is unknown to Salesforce or your installation won't work.
After you fill out the form, click Submit. A confirmation message appears.
When you receive the activation email (this might take a few minutes), open it and click Verify Account.
Complete your registration by setting your password and challenge question. Tip: Write down your username, password, and login URL for easy access later.
Navigate K-12 Architecture Kit
Excellent! With K-12 Architecture Kit in hand, you can go on to configure it for your org—more on that in the next unit.

For now, review the definitions below to get to know the elements of K-12 Architecture Kit.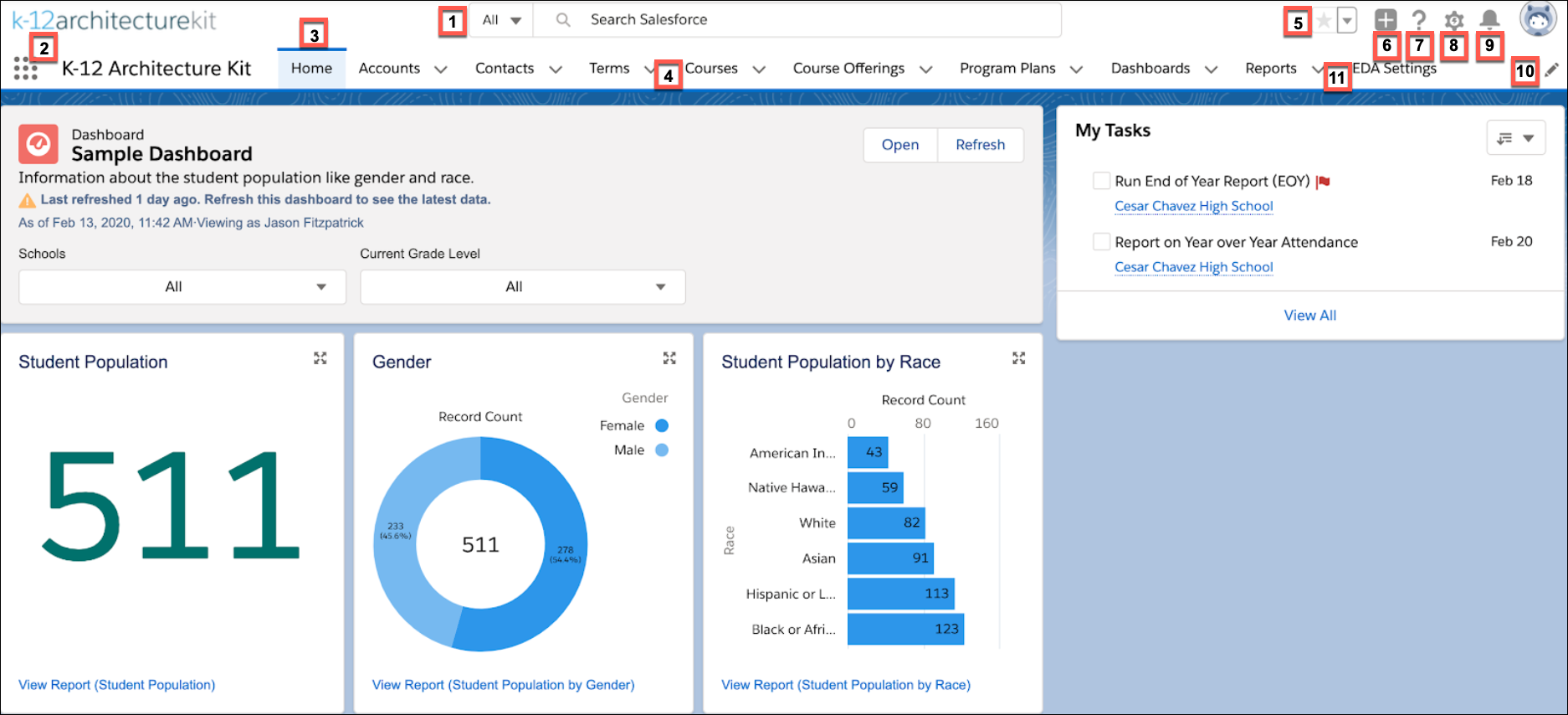 | | |
| --- | --- |
| 1. Global Search | This is the fastest way to find what you're looking for. Search for people, courses, files—anything that you might need, right at your fingertips. |
| 2. App Launcher | Search for specific apps, and move from one to the next with ease. |
| 3. Navigation Bar | Find the set of tabs, functionality, and objects that have been made specifically for K-12. The navigation bar can be customized and is unique to each app. |
| 4. Tabs | Find several object-specific tabs in K-12 Architecture Kit. Use the downward arrow icon to launch a menu to access lists, create new records, and more. |
| 5. Favorites | Create shortcuts for your favorite records, reports, groups, and other pages. To create a favorite, head over to the page you want to save and click the star. |
| 6. Global Actions | Create tasks, log a student call, or jot down notes without leaving your workspace. |
| 7. Help | The question mark icon will direct you to help and training, including walkthroughs, video tutorials, and other resources. |
| 8. Settings | Access administrative, platform, and general account settings. Depending on your permissions, many of the options will be read-only or unavailable. |
| 9. Notifications | A red circle will appear above this icon when there's a new notification that needs your attention. These are updates and changes, including task reminders and approval requests. |
| 10. Navigation Bar Editor | Personalize your navigation bar to include the tabs that will be most useful for you. Click the pencil icon to add more items. |
| 11. EDA Settings | Configure and enforce features and functionality of K-12 Architecture using the EDA Settings customization menu. |

That's it—all the basics you need to get started. Now on to the next unit to learn about configuration. Don't worry, we explain what that means and give you step-by-step instructions.
Resources