Get to Know Salesforce IoT
Learning Objectives
After completing this unit, you'll be able to:
Explain the benefits of Salesforce IoT.
Summarize how Salesforce IoT works.
Describe a simple use case.
What Is Salesforce IoT?
Imagine being able to quickly and easily explore and iterate your IoT strategies right within the Salesforce Platform, rapidly refining your solutions and connecting directly to your CRM data. Well, we have the solution to do just that. With Salesforce IoT, your company can use IoT to proactively serve and engage your customers. It's an easily accessible, clicks-not-code tool, built right into the Salesforce Platform.
Ready to get started? Put your aviator hat on, and start flying this plane. It's easier than you think.
Before you go speeding down the runway, make sure you've earned your IoT Basics badge. In the IoT Basics module, we explain how Salesforce fits into the world of IoT and how Salesforce IoT lets you take personalized actions based on the events coming from connected things. And we talk a little bit about how Salesforce IoT works. It's an important foundation for this module, so if you haven't completed it yet, there's no time like the present. We can wait for you on the tarmac.
Now that you've got a little background, we can talk more specifically about Salesforce IoT. Salesforce IoT is built right into the Salesforce Platform, giving admins and business strategists the opportunity to start exploring and implementing their IoT solutions with out-of-the-box access to all their Salesforce data. The clicks, not code, technology allows anyone to easily launch an IoT strategy in days, not months.
And because Salesforce IoT is built right into the platform, it's easy to bring the full context of your customer relationships into the business decisions and actions you implement. By connecting devices with this customer context, Salesforce IoT revolutionizes the way you sell, service, and market.
Let's see how you access it and how it works.
How Does Salesforce IoT Work?
Accessing Salesforce IoT is as easy as holding onto your hat during take off. Available on the Setup menu, and easily found by entering IoT in the Quick Find box, Salesforce IoT is just a couple of clicks away. Everything you require to create your first IoT solution is right at your fingertips.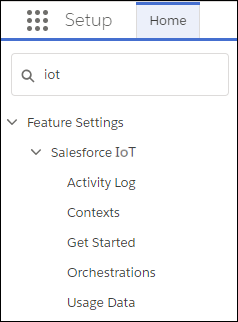 Salesforce IoT includes the sophisticated state machine that you learned about in the IoT Basics module. In Salesforce IoT, you create a context to identify which Salesforce object and platform events can feed data into orchestrations. The powerful Salesforce IoT orchestration engine uses those event messages, enriched with your org data, to trigger the appropriate actions, creating relevant, proactive service opportunities, and delightful experiences for your customers.
Because all this is built right into the Salesforce Platform, it makes it easy to bring IoT into your CRM strategy and take actions directly within Salesforce.
We can keep repeating these interesting facts about our flight path, but flying the plane yourself can really help you understand. Keep reading to learn how to build out a proactive service use case in Salesforce IoT.
Build a Simple Use Case for Flying Fridge
Flying Fridge is an existing Salesforce customer that builds and sells airplane refrigerators to commercial jet manufacturers. They have just started producing connected refrigerators and want to build a new service around their product. As a starting point, Flying Fridge wants to monitor the interior temperature of the refrigerators and open a service case if a refrigerator's interior temperature is above 50 degrees Fahrenheit.
In the following units, we walk you through the steps to set up this Flying Fridge use case, where Salesforce IoT automatically creates a service case when a refrigerator has an interior temperature above 50 degrees. All the tools you need are available in your Trailhead Playground (TP) or Developer Edition (DE) org (Spring '18 release or later). This exercise gives you just a small sample of the plethora of possibilities with Salesforce IoT, and builds your skills to get started implementing your own Salesforce IoT solutions.
In the next unit, we show you how to start building out the use case for Flying Fridge, but before we start, we suggest you do a little cabin preparation. Salesforce IoT uses platform events to accept streaming event data. Take a look at the Platform Events Basics module to learn how platform events work.
Also, when we get ready to send events to test our use case, we use Workbench. We walk you through the steps, but if you want to learn more about Workbench beforehand, check out the Use REST API unit in the Lightning Platform API Basics module.
The skies are blue and you're cleared for takeoff. In the next unit, you do the preliminary work of creating a platform event and modifying the Asset object to enable orchestrations to find records. These steps are required before you can create your Salesforce IoT solution.