Learn About Salesforce IoT
Learning Objectives
After completing this unit, you'll be able to:
Summarize what Salesforce IoT brings to the Salesforce Customer Success Platform.
Describe the benefits of transforming connected products into engaging experiences.
Identify the three parts of Salesforce IoT.
Explain the difference between an event, an action, and contextual data within Salesforce IoT.
What Is Salesforce IoT?
Salesforce IoT is the glue that connects the world of connected devices with the world of CRM. Salesforce IoT makes it easy to connect events from devices to contextual data in Salesforce and use all of this information to prompt the right action.
Events are the data that flows from the networked devices and objects we talked about in the previous unit. By connecting these events to the data and business applications in Salesforce, Salesforce IoT lets you trigger and automate personalized actions based on these events, which help you create more enriching and relevant customer experiences.
How does Salesforce IoT do this? Like a major travel hub, connecting airplanes to passengers, Salesforce IoT sits at the center of the Salesforce Customer Success Platform, enabling you to connect your "thing" data with the data you have in Salesforce about your customers who own, operate, or access those things. This makes it easier for you to take the right action, with the right customer, at the right time.
Let's check out the in-flight entertainment.
Wow! That's pretty cool.
Are you ready to start transforming connected products into engaging experiences? Then remain in your seat with your seatbelt fastened. We've just started on this part of our adventure.
Transforming Connected Products into Engaging Experiences
Salesforce IoT makes it easy for your company to turn data into action and compelling customer experiences. These actions can be human actions, like prompting sales teams with a hot new lead because data from your connected product indicates it's almost out of warranty. Or the product has an impending service issue, and there's a new and better product now available. Another example is proactively activating your customer service team by creating a new case or work order within Salesforce, or dispatching a field service technician for priority issues. Or the actions can be digital actions, like customized alerts, emails, or text messages.
Imagine a world where you can automatically react to real-time information, instantly creating the right interactions with your customers, so that the experiences feel personal, specific, and just in time.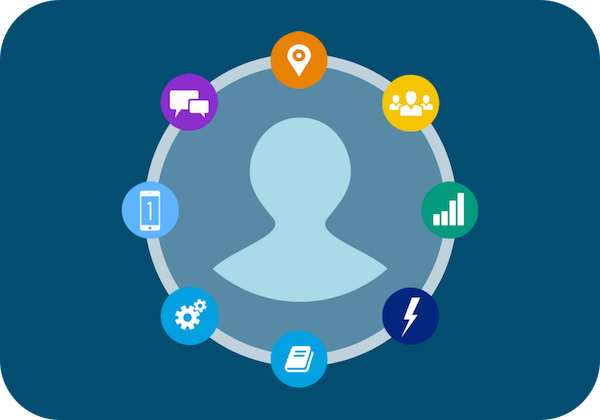 Let's take a closer look to see how Salesforce IoT does this. The three key components to Salesforce IoT are described below.
Salesforce IoT Orchestrations
One key challenge in driving customer engagement is that experiences are often designed as specific sequences of actions (do this, then do that, and so forth). But this isn't really how people engage with apps or devices. They jump around; they leave tasks unfinished; they get interrupted. Just like any traveler, they often don't stick to their original itinerary. And just like travelers straying from their itineraries, they don't always go back to the starting point. Also, products and event data that flows from devices and apps aren't necessarily linear. For example, a device like a router can alternate between healthy, low heartbeat, and offline states. The state of the device determines the appropriate set of actions and the customer engagement strategy.
In Salesforce IoT orchestrations, the actions and interactions triggered by events don't have to follow a specific, linear path. You can think of each point along the path as a state, where you can tailor the customer experience to what is occurring with the device at that moment in time. Customers and devices can move back and forth between these states. How? Salesforce IoT is a state machine: a nonlinear workflow engine that consists of states that reflect strategic groupings of objects or people. You define rules that trigger actions or outputs for each state. Incoming, real-time event data, combined with historical customer and contextual data, determines the state a product, or set of products, is in at any point in time. A product can transition from state to state as data flows in. An object or person is in only one of the defined states at any given time, and you can take any number of personalized actions on an object or person while they're in that state.
One thing that makes the Salesforce IoT orchestration engine super awesome is that it lets admins and business analysts use clicks, not code, in days, not months, to turn a business or customer problem into a set of defined rules that use state-based logic to create associated customer actions. This trusted, low-code technology lets any trailblazer rapidly experiment, launch, test, and refine their IoT strategy.
Salesforce IoT Customer Context
Adding even more power to the orchestration engine, Salesforce IoT lets its users bring together real-time events with customer context. You can think of customer context as all the data points about your customer that have happened historically and are captured in CRM. Examples include a customer's location, purchase order history, case history, and service level agreements.
Salesforce IoT lets you easily define which pieces of your streaming event data to combine with the contextual data that you already manage in Salesforce. This powerful combination of data informs the rules you define in the orchestration engine and can trigger the appropriate actions, creating relevant, proactive service opportunities, and delightful experiences for your customers.
Salesforce IoT Actions
Salesforce IoT turns data into action by automating outputs into any one of the Salesforce core business applications: Sales, Service, Field Service, Communities, and so on. Imagine if your products could talk directly to your CRM data, and then automatically trigger the right action to occur at just the right time. For example, automatically creating a case with details on the product issue and part replacement required to solve a customer issue before an actual failure occurs. Or automatically creating a new lead for your sales team for a customer whose product is about to fail and require significant repair, knowing that product is 10 years old, nearly out of warranty, and there's a better product now available. Salesforce IoT, in combination with the broader Salesforce intelligent customer success platform, enables our customers to do just that.
Let's take a detailed look at a use case to see Salesforce IoT in action. Here, we follow the story of Awhina Oahu, a customer of Sunshiney Day, and explore how Sunshiney Day uses Salesforce IoT to proactively monitor and maintain Awhina's newly installed solar panels.
Awhina and Her Sunshiney Day Solar Panels—Salesforce IoT in Action
Sunshiney Day, a solar panel manufacturer and installer, has implemented a Salesforce IoT solution that continuously monitors the power output of its customers' solar panels. The event data coming from the panels combines with the customers' data, managed in Salesforce. And orchestrations defined by Sunshiney Day trigger the appropriate actions like sending messages to the customer or automatically creating service cases in Salesforce.
Let's look at one of Sunshiney Day's customers, an awesome admin, Awhina Oahu. Awhina lives in Bristol, UK. She's a trailblazing admin and makes the trip across the pond every year to connect to her admin community at Dreamforce.
Last year, while Awhina was attending the amazing admins keynote, she got a text notification on her phone from Sunshiney Day, the company that installed the solar panels on her home in England. (Awhina is also an environmental trailblazer.) The text message explained to her that Sunshiney Day detected a power output reduction from her solar panels, which can indicate that there is debris on the panels. The message also included a link to a community article about how to keep solar panels free from debris.
Awhina is happy to be alerted to this problem. Since she's out of town, she clicks another link in the message to request a Sunshiney Day maintenance contractor, Clean Energy Cleaners, check her panels and remove any debris. The maintenance technician from Clean Energy Cleaners comes to Awhina's house and finds an excessive amount of leaves on Awhina's panels. He removes the leaves for her and lets her know he's completed the job.
Awhina then gets another text message from Sunshiney Day that says that her power output has returned to normal. The text message also includes an offer to upgrade her solar panel insurance policy to a Clean Energy Cleaners new premier warranty which provides 24/7 proactive monitoring and maintenance.
Awhina is pleasantly surprised and delighted. She's not used to product companies delivering this level of proactive customer service.
Not only can Salesforce IoT provide these types of simple solutions, but Salesforce IoT can go far beyond these types of interactions. Let's keep reading to find out more.
Because Salesforce IoT is a state machine, it can handle reacting to events in ways that go beyond linear workflows. And the actions don't have to restart at the beginning. They can happen simultaneously or repeat, depending on the rules you define. Rules can also move people and objects back and forth between the states.
For example, say Awhina's panels don't resume normal power output after she gets the text message and cleans off the debris. When the panels stay in a "Degraded Power" state for a certain period of time, and an automated reboot doesn't resolve the issue, the case automatically gets escalated within Service Cloud. This triggers the dispatch of a local field service technician who is sent to inspect the panels. All this happens automatically without Awhina having to call Sunshiney Day and without somebody at Sunshiney Day having to manually create a service case or triage that case to Field Service. Awhina is happy because Sunshiney Day is taking care of her panels in way that feels personal and attentive. And Sunshiney Day is not only benefitting by creating brand loyalty, but also from automating actions and services.
In Salesforce IoT you can add any amount of complexity to the customer experiences you orchestrate. Looking at the previous example, you can create additional customized messages or actions based on various types of events and customer preferences. Just like the skies, your customer experience possibilities are limitless.
Salesforce IoT can transform the way you interact with your customers and the way you do business. Salesforce IoT lets you rapidly experiment—build, launch, test, learn—in this age of IoT that requires rapid and agile innovation for those who want to get ahead and monetize their IoT investments.
Awhina's story brings to life the possibilities of Salesforce IoT, but there's more to learn. Please remain in your seat with your seatbelt fastened. More in-flight entertainment is on its way. Our next showing tells you more about how Salesforce IoT works and how to plan your Salesforce IoT workflows.