Meet Interaction Studio
Learning Objectives
After completing this unit, you'll be able to:
Describe how Interaction Studio works.
Identify the key components of the Interaction Studio dashboard.
Define key terms related to Interaction Studio.
It Starts with a Hypothesis
As a marketer, you might wonder how to balance personalized content with the effort and time it takes to create that content. You might already ask questions like, "Will this personalized offer truly impact ecommerce numbers?" or "Will this article lead to higher clicks?"
By asking those types of questions, you are already creating marketing hypotheses. As you likely know, a hypothesis is a proposed end goal that requires further investigation and testing. It is the key element of the scientific method, which allows scientists to ask questions, suggest a theory, and then test that theory in order to solve a problem. This same method can be used to improve and measure the success of your marketing efforts. 
And we have just the tool to conduct experiments that improve your marketing efforts and provide a better user experience for your customers. Salesforce Interaction Studio is the leading real-time personalization and interaction management solution. 
In this module, we cover the what, the why, and the how behind Interaction Studio. Finally, we prep you for implementation so you can begin testing your own hypotheses in Interaction Studio. 
Why Use Interaction Studio?
Testing marketing theories is great when you have control of the channel, like email marketing. However, customer experience isn't limited to one channel or one interaction. It can be a big challenge when a company's marketing, sales, and service departments interact with the same customer, but aren't aligned to provide a consistent experience across touchpoints. Using Interaction Studio, you can connect data and create a personalized experience across every touchpoint, including your company's website, mobile app, emails, onsite locations, call center, and more. 
Follow a banking customer on her journey—powered by Interaction Studio—in this video:
In short, Interaction Studio helps you:
Listen to how customers interact with your brand across channels.
Understand what to do next based on rules set by the business.
Act on insights gathered to provide customers with the best experience.
Not only does this make your customer feel valued, your internal teams are kept informed about all the details of a customer's experience, whether they work in customer support or sales.  
How Does Interaction Studio Work?
So what exactly powers Interaction Studio? Magic? Not quite. Interaction Studio is powered by data. Combining data-based behavioral analytics and advanced machine learning, Interaction Studio helps you gain a comprehensive view of each and every customer and prospect. You can then use that data to deliver relevant, individualized experiences that test and ultimately improve a customer's journey with your brand. 
Let's take a peek at Interaction Studio. Once logged into Marketing Cloud, Interaction Studio appears in the main navigation bar.

Once in Interaction Studio, the first screen you see is your dashboard, which includes various views of your account activity. Let's break it down.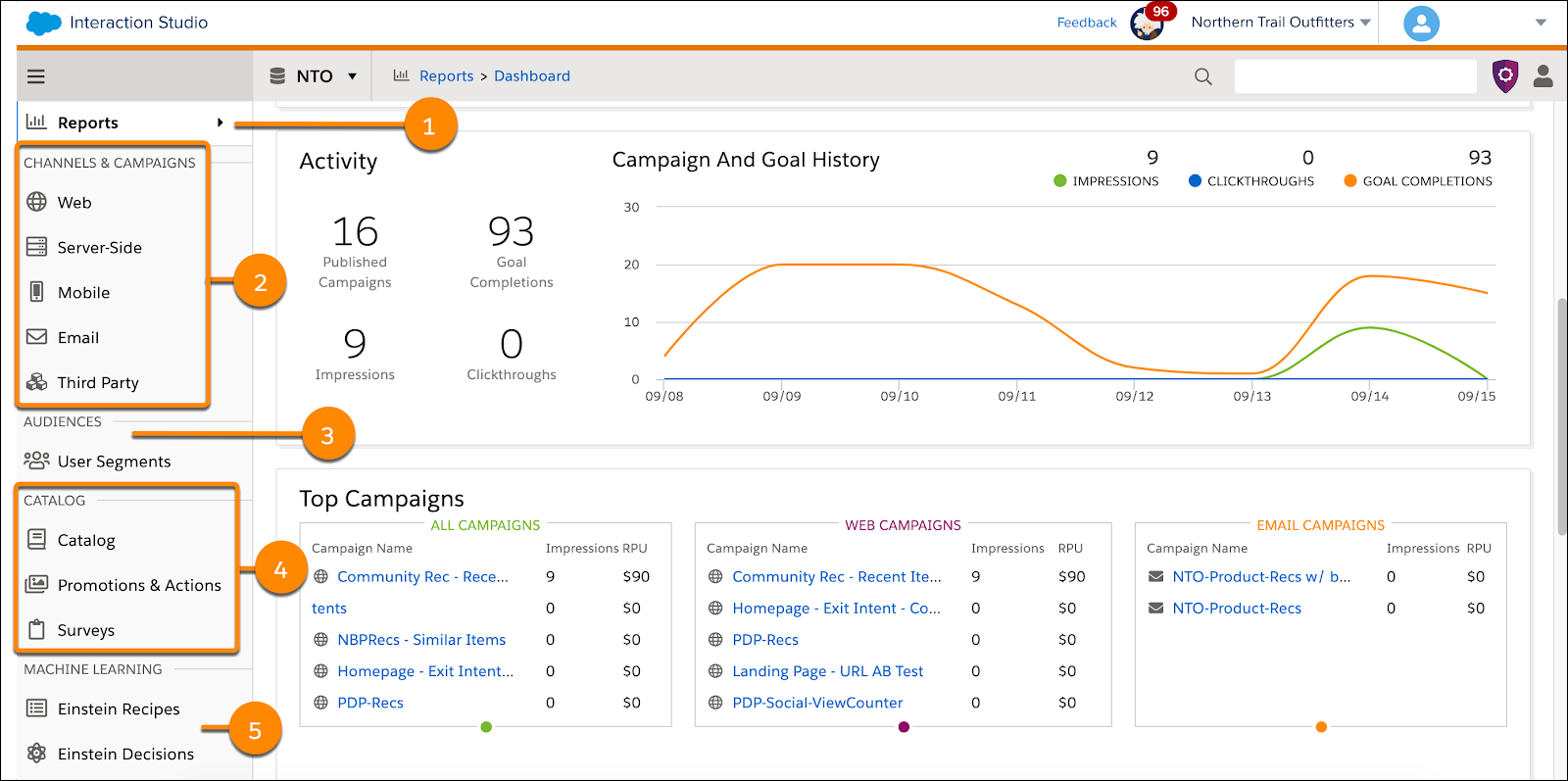 Reports (1)
See how your marketing tests perform by viewing a variety of reports based on your activity, results, and visits. 
Channels & Campaigns (2)
This is where your channels (like web or mobile) appear. This is also where you select specific campaigns to view statistical data on campaign results.
Audiences (3)
Find the users and segments that you are targeting with personalized campaigns. Here is a sample screen of user Rachel Morris. You can drill down to user-level detail in Interaction Studio to see Rachel's lifetime value to NTO, along with her product affinities or preferences.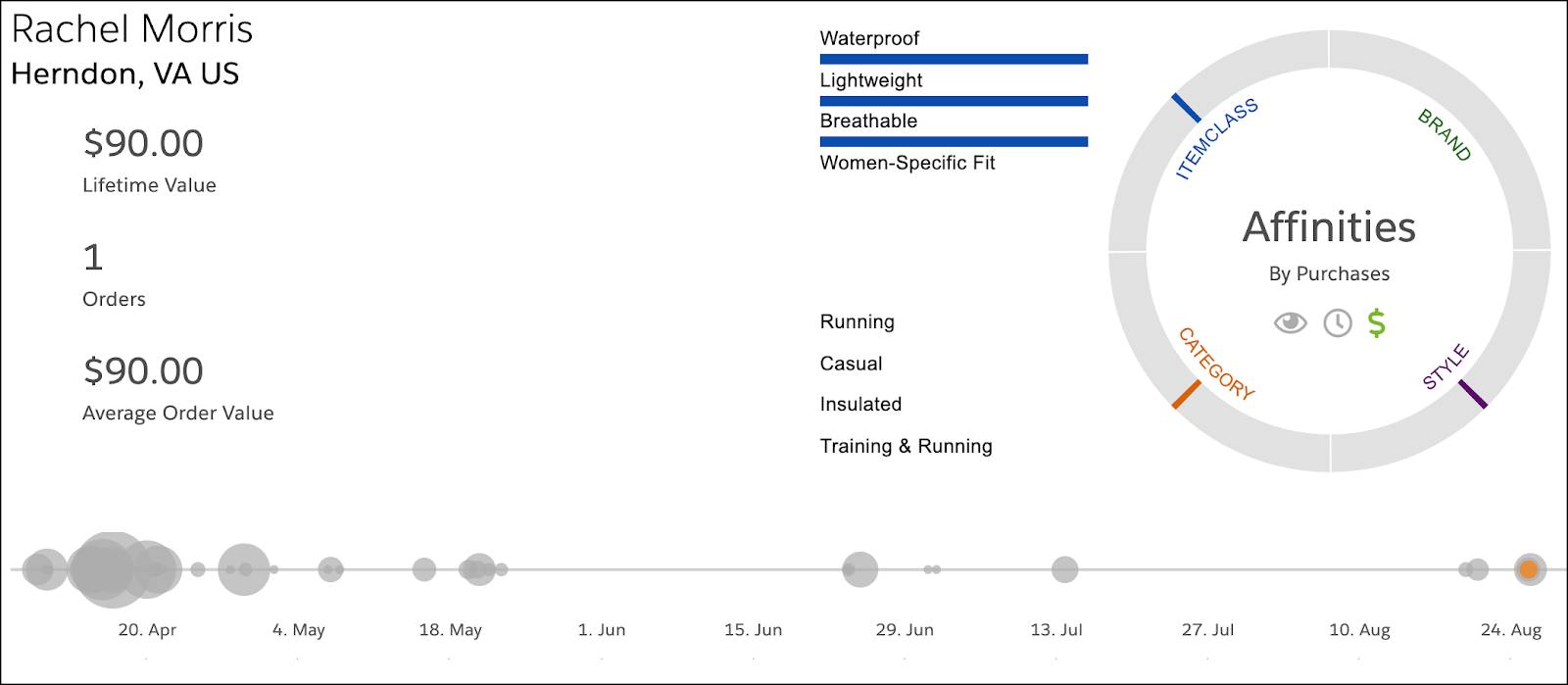 Catalog (4)
This section includes your catalog, promotions, and surveys.
Machine Learning (5)
With Einstein Personalization Recipes and Einstein Personalization Decisions you can create advanced machine learning algorithms to track customer behaviors, evaluate which experiences have the highest likelihood of engagement, and ultimately make recommendations. 
Always a great idea to get some help from a super smart scientist. And if you are feeling inspired, you can build your own algorithm using Einstein Personalization Recipes and ingredients. Like recipes used for baking, a personalization recipe includes ingredients and steps. Unlike in baking, you can simulate and evaluate the results of your recipe before you make a dozen failed batches of macarons.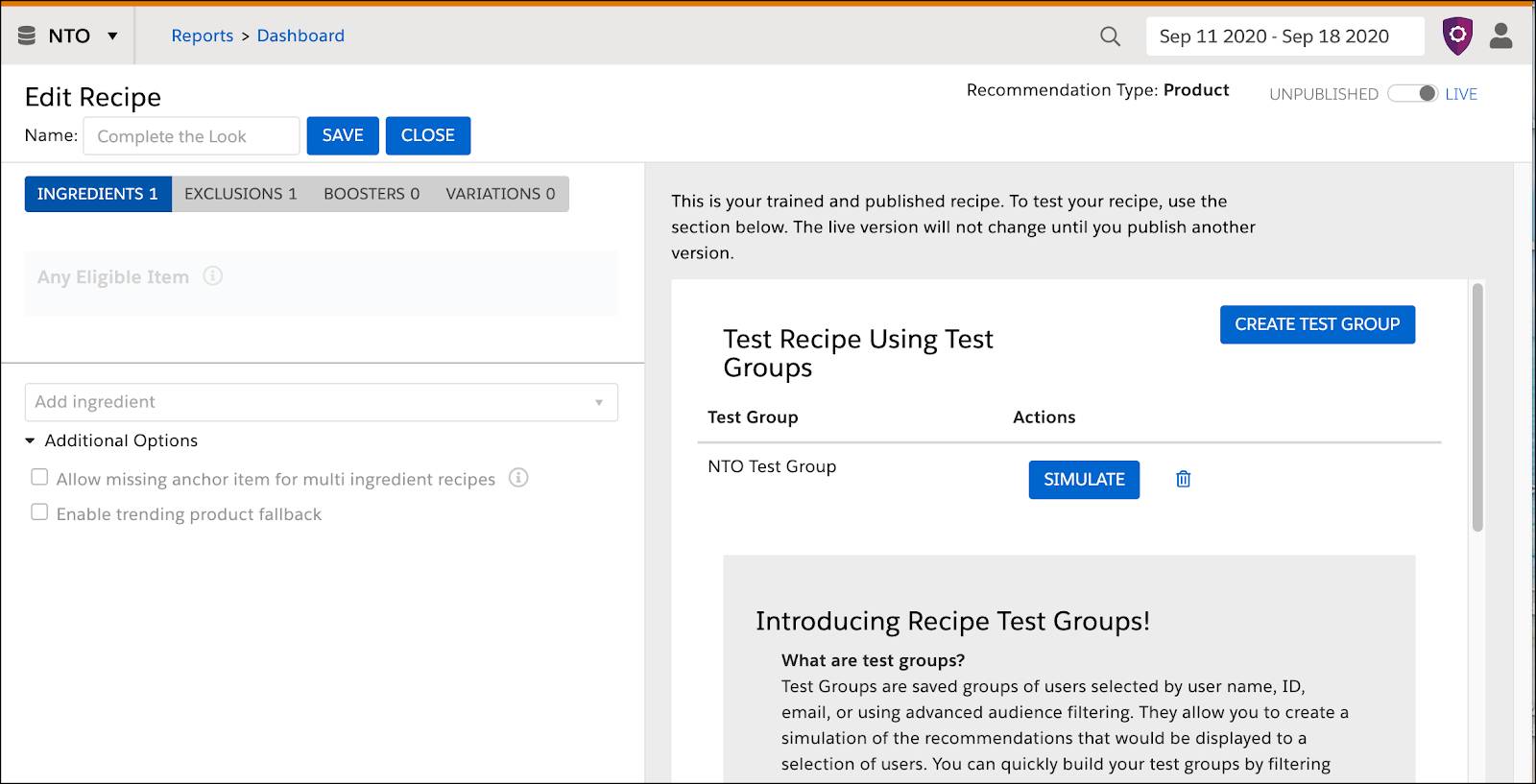 Talk the Talk
Ready to review some key terms and concepts of Interaction Studio? Use these interactive flashcards. Read the term on each card, then click or tap on the card to reveal the definition. Click or tap the right-facing arrow to move to the next card, and the left facing arrow to return to the previous card.
What Can Interaction Studio Do for You?
Let's review how the key features of Interaction Studio work for you. 
Capture individual insights with data. Marketers know that capturing data is key to personalization. Whether known or unknown, Interaction Studio tracks data from multiple sources to gather information about every customer, prospect, and website visitor. By tracking customer behaviors, and through data from a wide variety of sources, you can start to get to know each individual customer's interests and affinities. 
Personalize the experience. With the help of marketer-friendly, customizable algorithms, you can interpret all of that data and make decisions in real time so that every interaction is relevant at the 1-to-1 level. Einstein Personalization Decisions help you select the next-best action (or promotion) based on machine learning. Einstein Personalization Recipes use AI to recommend products, content, categories, brands, and more.
Coordinate engagement everywhere. Everything you learn about someone by their interaction on one channel can be immediately factored into the next interaction in any other channel, whether online or offline. You can use your findings to generate the next-best action for that individual. This might be sending a triggered email offering a promotion that the visitor will love or it might mean adding them to a journey in Journey Builder.
Test and analyze experiences. To complete the scientific method, you need to test your hypothesis. Optimize your personalization campaigns and customer engagement efforts through testing and analysis. To do this you can utilize native reports or tools like Tableau or Datorama to help review the performance of your campaigns.
Now that you have a basic understanding of Interaction Studio, in the next unit we review use cases and how to prepare to implement Interaction Studio.  
Resources