Get Started with Industry Blueprints
After completing this unit, you'll be able to:
Explain what blueprints are.
Describe how blueprints align with Salesforce industry strategy.
Where would we be without blueprints? Whether you're building a boat, a business, a skyscraper, or a spaceship, blueprints give you the details you need to be successful.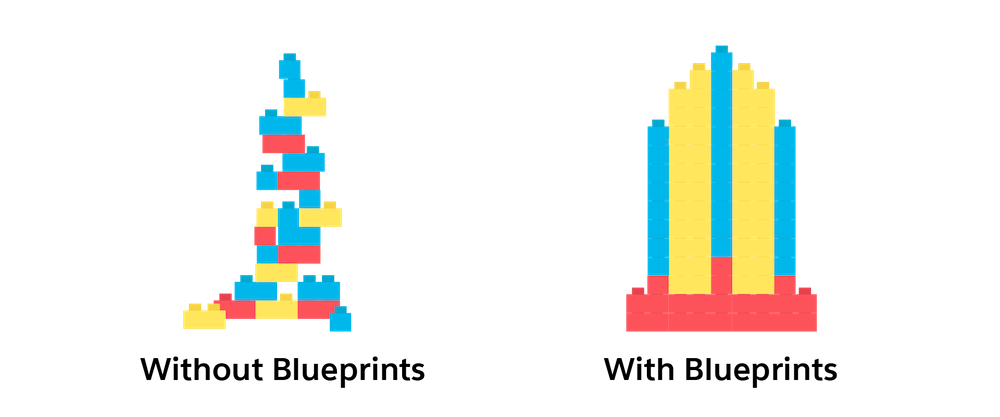 As a Salesforce partner, you're a builder too. You build solutions, commercial applications, customer relationships, and a partner practice. Salesforce is part of your extended team, here to support you. That's why we created Salesforce industry blueprints. Our blueprints give you key product and industry information you can use to build solid industry solutions and uncover opportunities.
In this module, you learn what Salesforce industry blueprints are and how they can help you understand your customer's business. 
We offer blueprints for our core for-profit industries. These include:
Communications and media
Financial services
Healthcare and life sciences
Manufacturing
Retail and consumer goods
Travel, transportation, and hospitality
All of our blueprints follow a standard framework so you have a consistent way to learn about each industry. Learn to interpret one blueprint, and you can interpret them all. When you have a deeper knowledge of our industries, you can accurately position your message with customers.
If you're an AppExchange partner, our blueprints help you define the specific areas of focus for your commercial apps and solutions. Blueprints also identify Salesforce product gaps that you can fill with your AppExchange solutions.
If you're a consulting partner, blueprints help you define the specific areas of focus for your consulting practice and uncover opportunities for system integration projects. 
We designed blueprints to help all partners build an industry practice and increase deal size. When you use blueprints, you:
Gain insight into the challenges the vertical faces.
Accelerate the sales cycle by finding opportunities faster.
Uncover cross-selling and upselling opportunities.
Gain a full picture of your customer's front office operations.
Connect how Salesforce and partner products map to various customer requirements.
Before we continue, let's make sure we're clear on a few definitions.
Industry—a group of businesses that create particular kinds of products, goods, or services, such as financial services.
Verticals—businesses that offer products, goods, or services specific to a group of customers with specialized needs, such as banking.
Subverticals—business segments with highly specialized products, goods, or services, such as retail banking.
Our industry blueprints represent the Salesforce point of view (POV). We develop this POV based on industry trend information, customer insights, and input from partners like you. Blueprints don't happen overnight. We use a thorough and thoughtful process to create them, taking the following steps.
Framework design
Process and capability scoping
Product assessment
Partner assessment
Final review
Let's see how Salesforce teams collaborate to make the blueprints happen. 
Framework Design
It starts with our Industry Strategy team. This team creates a template to visually represent the blueprint. Then, they use the Gartner TAM model to determine the total addressable market (TAM) for the vertical, and ultimately the solutions. The team uses this third-party validated model created by Gartner to estimate the addressable market of Salesforce products by region, segment, vertical, and product category.
Process and Capability Scoping
Next, the Industry Go-to-Market team springs into action. They immerse themselves in the verticals of the for-profit industries that Salesforce focuses on. They learn the language of the vertical. They uncover the processes that make the vertical successful. They determine what capabilities the vertical needs at each stage of each business process. Using all this, they determine the business challenges the vertical faces. 
Product Assessment
With vertical business processes and challenges in hand, the industry solution architects and product teams get to work. They identify where Salesforce has products to help and, just as importantly, where we don't. Their activity identifies Salesforce's core competencies and finds where opportunities exist. This leads us to you, our partners.
Partner Assessment
Our Salesforce partner industry alliance managers, account managers, and partner sales teams identify partners who can provide products and expertise to complete the industry solutions identified in the blueprint. When you study a blueprint, it's entirely possible that you can find an opportunity we didn't see, or know about, and then develop a solution. 
Final Review
Once we collect all this information, we group market opportunity, industry vertical processes, and product strengths into blueprint solutions that solve unique, industry-specific business challenges. 
Before we publish a blueprint, our line-of-business leadership gives it a final review. They make sure it's accurate and complete. Only then do we share it with you, our partners.
Blueprints are tightly connected to our industry strategy. They influence all six stages of the Salesforce industries business model.
Stage
How Blueprints Influence It
Create industry blueprints

We organize teams and resources around each vertical strategy.

Draw product roadmaps

Solution architects and product teams focus on the business challenges that the blueprints uncover. They determine where Salesforce products are strong and when to incorporate new product features into our three release roadmaps.

Engage partners

AppExchange partners create solutions that fill in any product capability gaps identified in the blueprint.

Consulting partners gain insight into the challenges the vertical faces and discover system integration project opportunities.

Launch sales plays

We design sales plays based on market opportunities and trends. On the blueprint, we connect the sales play to individual solutions.

Bring solutions to market

Marketing teams coordinate launches and promote solutions based on the vertical's defined priorities.

Enable the field

Sales people use blueprints to understand their vertical customer's front-office and to determine where they can sell solutions.

In this unit, you learned what blueprints are all about. Next, we look at an actual blueprint so you can see how to interpret and use them.