Build Your Industry Expertise
After completing this unit, you'll be able to:
Interpret a blueprint.
Identify how to uncover additional opportunities using blueprints.
Describe how partner solutions fit into blueprints.
Now that you understand what blueprints are and how we create them, it's time to take a close look at a real blueprint. Put on your virtual hard hat, and roll up your sleeves. 
Blueprints contain several sections. Each section helps you understand a different aspect of the industry. That includes the business processes of an industry vertical, the capabilities that customers in the vertical need to run their business, and how you can deliver meaningful solutions. 
The sections are:
Blueprint header
Processes
Capabilities
Platform enablers
APIs and data sources
Solutions
Solution offerings and value proposition
Partners
Put it all together and the transportation blueprint looks like this.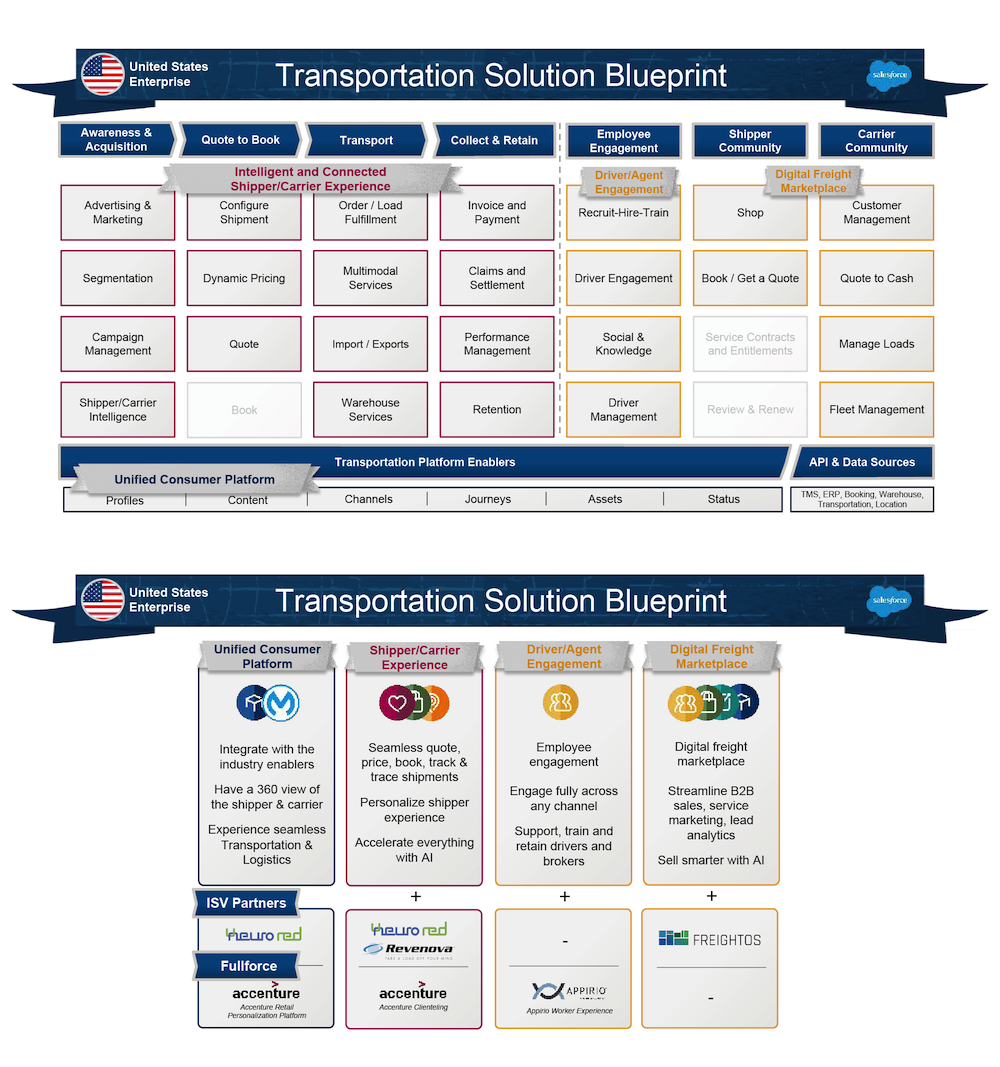 Now let's take a close look at the retail banking blueprint for the financial services industry.
Blueprint Header
Yep, it's just what you expect. The header across the top identifies the industry vertical. 

Processes
Directly below the header are the primary front-office processes, or customer life cycle, for the vertical. These are what the Salesforce Go-to-Market Industry team uncovered during their scoping phase. 
In the retail banking vertical, the processes life cycle looks like this.
Market to prospect
Lead to sale
Prospect to customer
Sale to new deposit account
Sale to new credit account
Account to transact and service
Customer to renew and grow
If you have a checking or savings account of your own, you're on the receiving end of at least half of these processes.

Capabilities
Next are the capabilities. Capabilities outline what a business must be able to do at each stage of the process, or customer life cycle. Let's look at the customer loan application process. A bank needs the following capabilities to complete this process. 
Apply: Establish credit need.
Underwrite and approve: Verify application and applicant income.
Compliance and securitization: Issue closing documents and secure collateral.
Setup, book, and advance: Establish account and setup payments.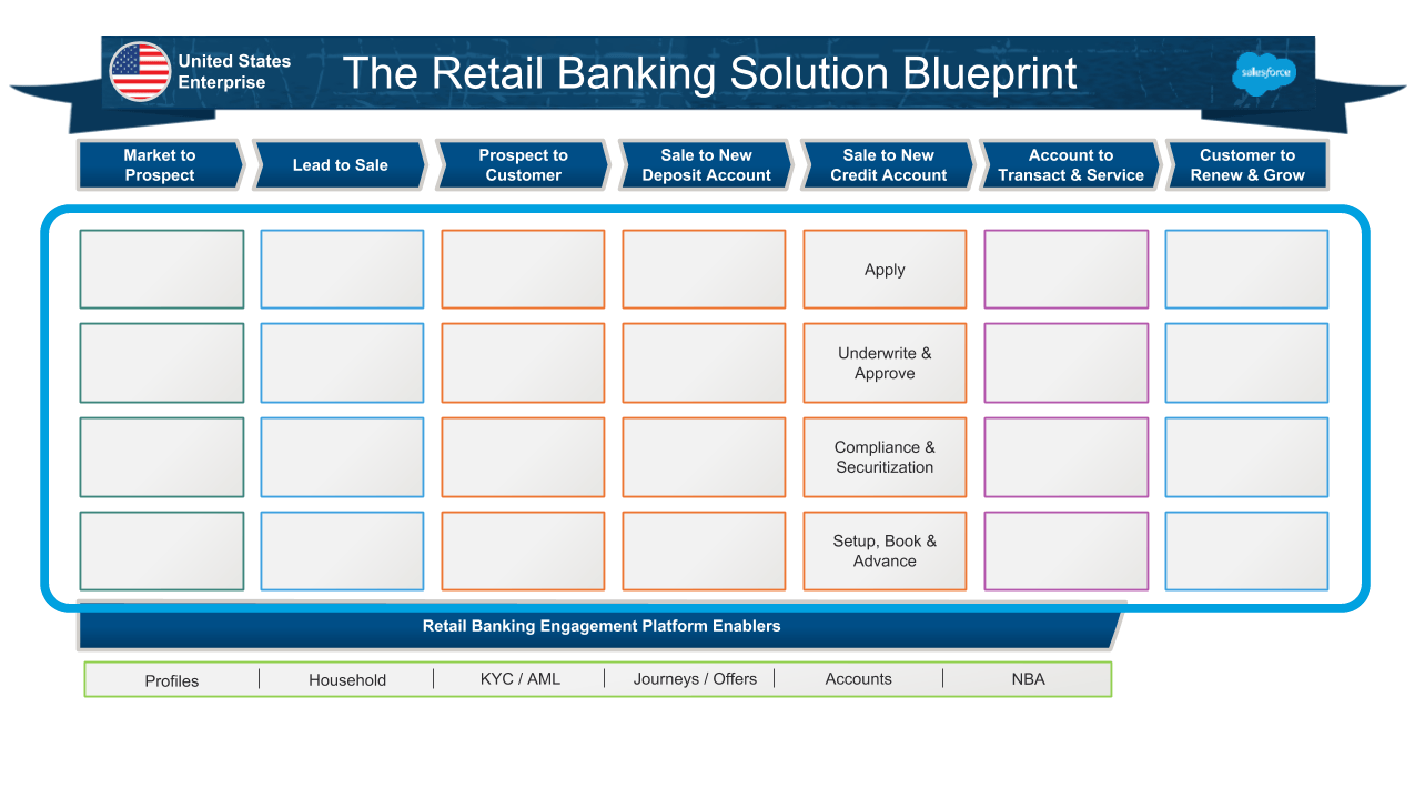 Platform Enablers
Across the bottom of the blueprint are the platform enablers. These are capabilities that the vertical uses in all its processes. For many businesses, the platform enablers are a great baseline of functionality to include when you tailor a new solution. 
For retail banking, they include:
Profiles
Household
Know your customer (KYC)/Anti-money laundering (AML)
Journeys/Offers
Accounts
Next-best action (NBA)
APIs and Data Sources
Like platform enablers, API and data sources are common across all processes. This is third-party information sourced from other applications or customer data sets. This information is crucial to the solution. Using our example of the loan application process, the bank uses third-party services to check a customer's credit and verify other information on the application.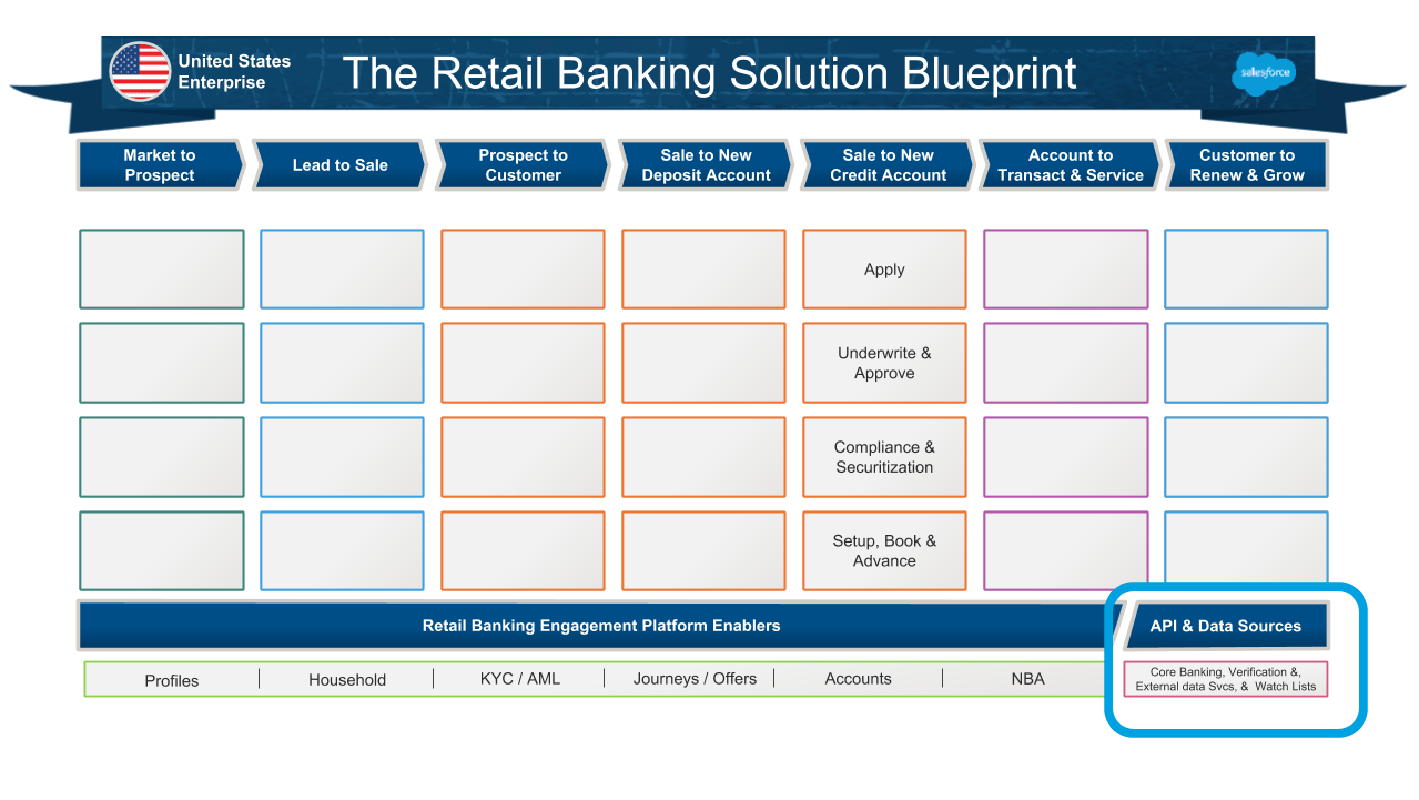 Solutions
Solutions are groups of capabilities. We base the groupings on how customers typically purchase the industry's products and services. You can see an example in the retail banking blueprint. The Customer Onboarding & Account Originations solution is made up of capabilities from three of the seven processes.
Prospect to customer
Sales to new deposit account
Sales to new credit account
Let's pause to spell out the difference between products and solutions.
Products are Salesforce intellectual property with dedicated development teams and SKUs. We commonly refer to them as clouds.
Solutions are groupings of multiple clouds and possibly partner products that address a specific customer use case.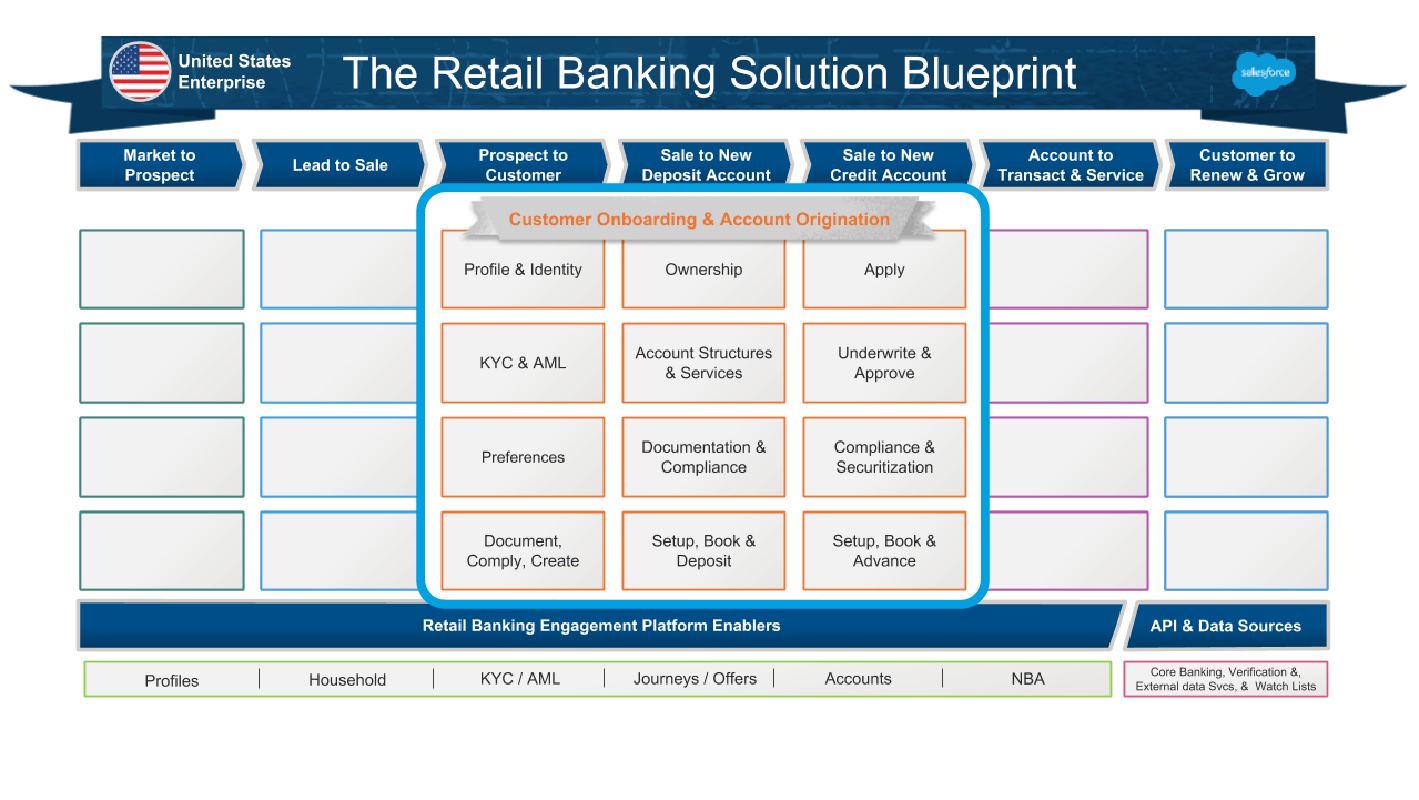 You can expect to see Solutions on the first page of each vertical's blueprint. But we're not finished yet. 
Solution Offerings and Value Proposition
On the second page of the blueprint, you can see how Salesforce products map to solutions. For example, in the Customer Onboarding & Account Originations solution, the Salesforce products are:
Financial Services Cloud
Einstein Analytics
Communities
Platform
You can also see each solution's value proposition here. The value proposition is a list of two or three key points that describe how the solution stands out from your competitors' offerings.

AppExchange Partners
Last, but by no means least, we map our AppExchange partners to solutions. Let's look at the retail banking blueprint again. A complete Onboarding & Account Originations solution needs identity management, underwriting, and compliance capabilities. Currently Salesforce doesn't offer a product that meets these needs. No problem! In this section, we list our AppExchange partners that provide products and expertise to complete the industry solution.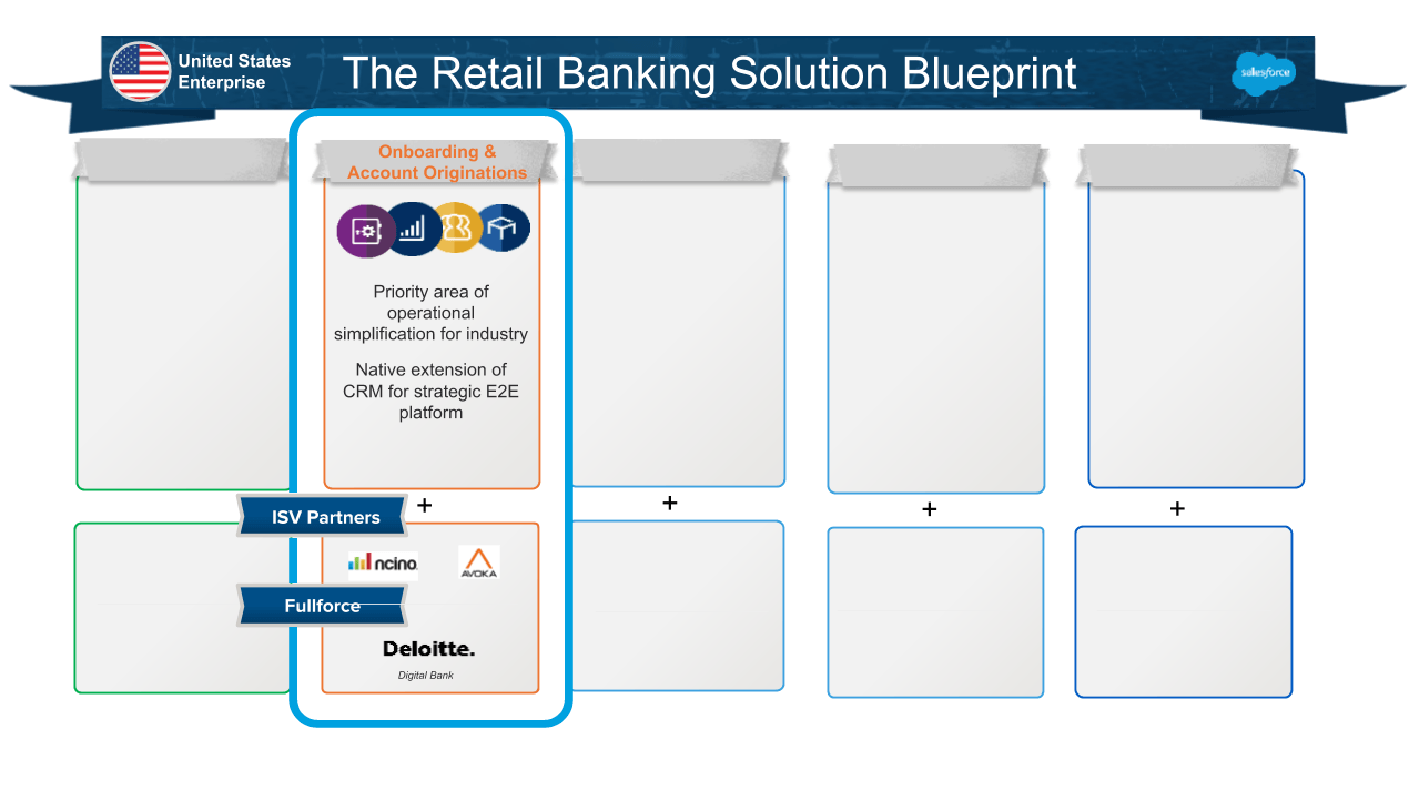 With that, the retail banking blueprint is complete.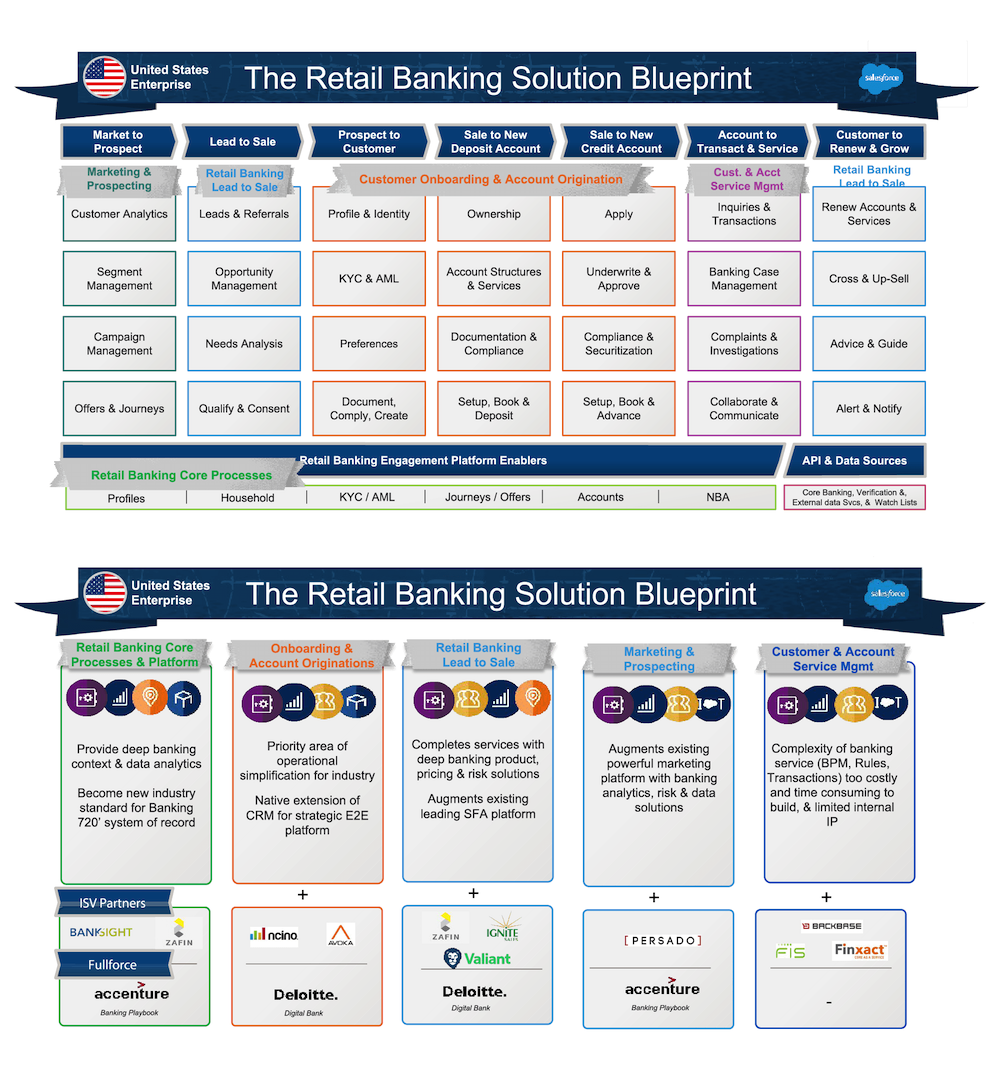 The industry blueprints are starting to look like a good set of tools for building your business. They contain essential product and industry information that you can use to create solutions that meet the industry-specific needs of your customer.
Blueprints help you uncover opportunities for future expansion. Learn one blueprint, then another, then another after that. Today your customer needs help with onboarding and account originations. Perhaps tomorrow they'll need your help with account service management. Your deal size begins to grow. Once you understand the industry's business, the solution possibilities are endless. Well, maybe not endless—but it feels like we're building something pretty exciting here.