Understand the Business Impact of Inclusive Leadership
Learning Objectives
After completing this unit, you'll be able to:
Explain the power of inclusion.
Describe the importance of inclusive leadership.
The Power of Inclusion
What does inclusion feel like? It feels like when you enter a room and you don't have to check any part of yourself at the door. When your unique characteristics are celebrated. When you can raise your voice and be unequivocally heard. When you are surrounded by allies and advocates who use their platforms to lift you up. When opportunities are accessible and there are no boundaries to performing the best work of your career. That is the power of inclusion.
Unfortunately, many people never get to experience the power of inclusion. Underrepresented groups, for example women and racial/ethnic minorities, often describe feeling like "the only" in their workplaces and conference rooms, which can be isolating and demotivating. But it's not just underrepresented groups—almost anyone can probably recall a time when they felt like "the only" and, as a result, self-conscious or apprehensive about speaking up.
Each of us has the ability to help every single person feel included in our work cultures. We all have the power to position our companies to become destination workplaces for a wider pool of top talent. People want to work for companies that understand, welcome, and support their authentic selves. At Salesforce, we describe the power of inclusion as feeling "proudly you." 
The Employee Engagement Impact of Inclusion
Research actually shows that the ability to show up as who you are and feel a sense of belonging has a profound impact on your quality of work and the pride you have for your company.
According to Salesforce Research's Impact of Equality and Values Driven Business report:
Employees who feel they can be their authentic selves at work are nearly three times (2.8x) more likely to be proud to work there.
Employees who say their company fosters an inclusive workplace are 2.4 times more likely to be proud to work there.
Employees who feel their voice is heard at work are nearly five times (4.6x) more likely to feel empowered to perform their best work.
Employees who feel a sense of belonging at work are 5.3 times more likely to feel empowered to perform their best work.
The Retention Impact of Inclusion
Beyond engagement, inclusion is arguably the most effective retention tool a company can have. A study by the Human Rights Campaign of LGBT workers reveals what happens when companies don't prioritize inclusion. The research found that one-fifth of LGBT workers report looking for another job specifically because the environment they worked in wasn't accepting of LGBT identities, and close to one in 10 actually left a job for the same reasons.
On the other hand, as we've seen in this module, there is incredible power in building community and cultivating inclusion at work. As an example, one of our employees talks about how Outforce, our Employee Resource Group for the LGBTQ communities, helps her feel both included and celebrated in the workplace.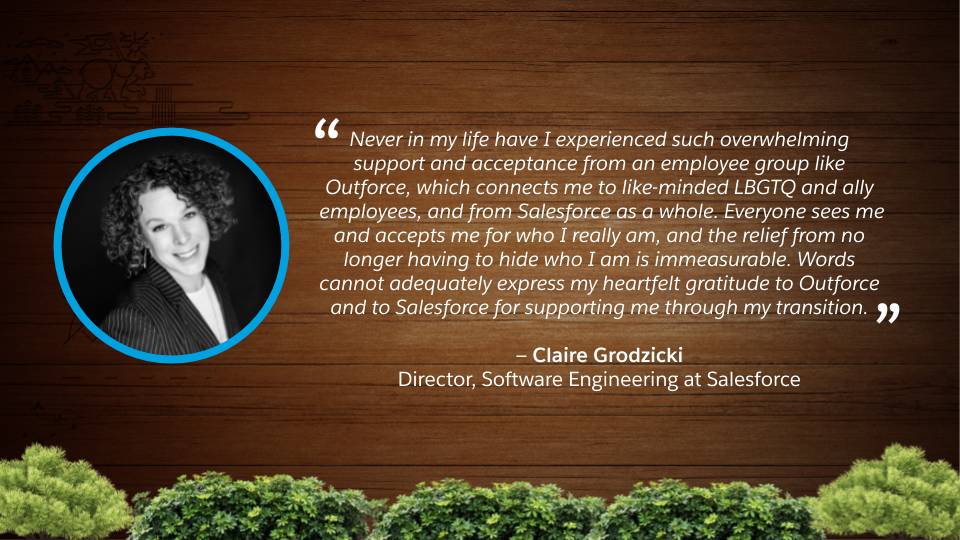 "Never in my life have I experienced such overwhelming support and acceptance from an employee group like Outforce, which connects me to like-minded LBGTQ and ally employees, and from Salesforce as a whole. Everyone sees me and accepts me for who I really am, and the relief from no longer having to hide who I am is immeasurable. Words cannot adequately express my heartfelt gratitude to Outforce and to Salesforce for supporting me through my transition." —Claire Grodzicki, Director, Software Engineering at Salesforce
The Bottom-Line Impact
Beyond the employee engagement and retention impact, a report in the Deloitte Review finds that an inclusive culture helps drive the bottom line. In a recent study, they found that companies with an inclusive culture are more likely to exceed financial targets, be innovative and agile, and have better business outcomes. The study determined that organizations with inclusive cultures are:
Two times as likely to meet or exceed financial targets
Three times as likely to be high-performing
Six times more likely to be innovative and agile
Eight times more likely to achieve better business outcomes

Creating an inclusive workplace isn't just the right thing to do, it's also the smart thing. When we commit to making our employees feel valued, heard, and recognized — we foster stronger company cultures, become destination workplaces, innovate faster, and outperform our peers. As you enter your day to day at work, keep in mind the immense power of inclusion on us all.
Resources