Put Impact Management into Practice
Learning Objectives
After completing this unit, you'll be able to:
Develop a Theory of Change.
Choose appropriate metrics for your organization.
Develop a Learning Agenda that builds on your Theory of Change.
Develop a Theory of Change
Ready to put Impact Management into practice? We recommend starting with an organization-wide Theory of Change that's unique to the goals you determined during the evidence-building process. A Theory of Change identifies a problem or an opportunity for change, sets target outcomes, and maps out a pathway to reach those solutions. A Learning Agenda—more on that in a second—will build on the Theory of Change, and can exist at different levels within an organization.
Check out a sample Theory of Change below:
Choose Appropriate Metrics
Choosing the best metrics will be important, too. A comprehensive and clear set of metrics will track inputs (what goes into a program), activities (events that collect evidence), outputs (what the program does to achieve its goals), and outcomes (how program participants and the world are expected to change as a result).
These metrics should directly flow from your Theory of Change, measuring what really matters (rather than simply what's easiest to track). When done well, choosing metrics sets up an organization to focus its resources where they are most effective, improve its offerings, and measure the effectiveness of program activities.
Develop Your Learning Agenda
A Learning Agenda is a set of questions that guides an organization's evidence building strategy and activities. It builds on your Theory of Change by prioritizing questions that stem from gaps in knowledge and evidence to support the Theory of Change, and it identifies activities that can answer those questions. An organization can have Learning Agendas at different levels—initiative vs. program, for example—and the agenda(s) should be refined over time to reflect the evolution of strategic priorities and objectives.
First, prioritize which learning goals your organization has, which should align with strategic goals. Next, develop the learning questions you hope to answer. Then, you'll want to identify strategies for gaining the evidence and data you need to answer those questions.
Below is an example of how a Learning Agenda might look: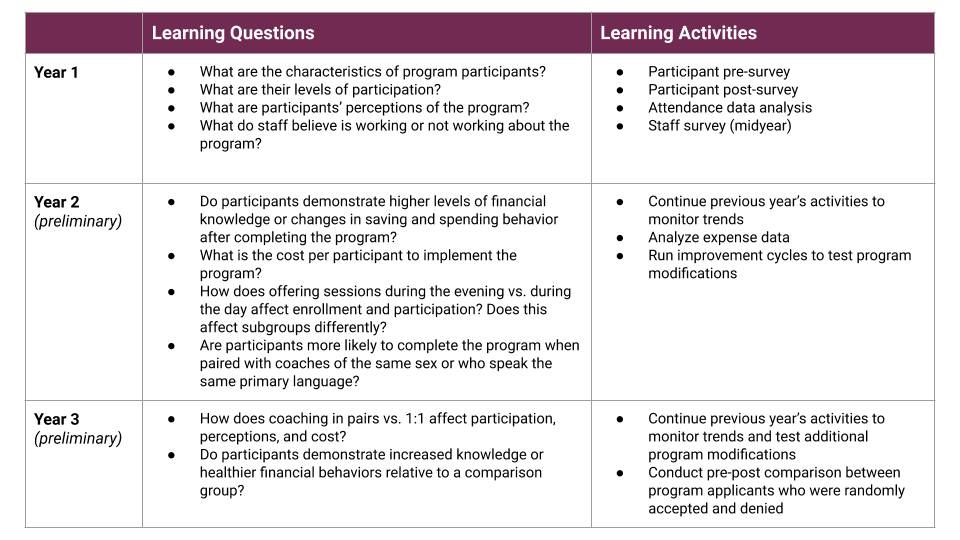 Clarify Roles for Data Collection
Once the metrics are defined, the first step in data collection is to clearly establish responsibility and ownership for each metric: who will collect the data for the metric, where the data will come from, how frequently it will be collected, and where it will be stored. Be clear about who is responsible for collecting and analyzing each metric, what the data source is for each metric, and where the data and results are stored.
Impact Management in Practice
Let's take a look at how the Impact Management Services team at Salesforce.org has collaborated in the past with an organization as part of its broader engagement with Salesforce.
Organizational model
A major operational restructuring was underway, due to exponential growth.
Identified need
As part of the operational restructuring, they needed help refining their Impact Management to capture key information around core mission pillars.
Solution
Due to the complexity of the organization's model and operations, Impact Services delivered two tailored workshops.
The first workshop collected information regarding systems management and Impact Measurement. It defined the organization's operational team and identified its challenges and competencies, and considered several templates developed to describe their high-level impact goals.
The second workshop focused on "Guiding Principles" to track the progress and impact for each goal, especially for the qualitative goals around clients' needs.
Potential impact
Salesforce.org then built an integrated solution for the organization, focusing on the challenges they face as growth continues. Identified impact areas like Community Resilience might be laid out with goals and identified indicators.
This is just one example of the many ways that Impact Management can empower organizations around the world to reassess their services—and to do so much more.
Summing It Up
We began this module with a belief that social impact organization leaders and practitioners—those who lead and fund organizations in the social sector—are looking for ways to use data and evidence to better achieve their missions. We know that social sector leaders want to learn about the people they seek to help, understand the impacts of the services they deliver, make smart choices about how to allocate resources, and figure out how to innovate to have a greater positive impact on more people.
Now, with an understanding of Impact Management Core Competencies and the Pillars of Continuous Evidence Building, you can put the data you gather to use for much greater impact.
Resources