Adopt Impact Management Competencies
Learning Objectives
After completing this unit, you'll be able to:
List the five core competencies of Impact Management.
Explain why each competency is important.
Identify tools for data collection and analysis to support Impact Management.
Core Competencies of Impact Management
Impact Management can be easily put into practice when five key competencies are at the top of your agenda. Let's consider each one of these key competencies.
Competency 1: Impact as Core to Strategy
Every social service organization exists to realize a positive social impact—it's what drives collaborators to be their best and to see the successful delivery of initiatives.
Because working toward that positive social impact is so important, a 360-degree understanding of impact should be a priority, at the core of organizational strategy. Impact as Core to Strategy means that organizations optimize for impact rather than for secondary measures (like revenue, longevity, or reputation in the community).
Great things happen when everyone's on the same page, right? When considering Impact as Core to Strategy, transparency matters. A shared understanding of goals, and clear communication of strategy and outcomes, is an important component of Impact Management.
No More Homelessness Case Study
In the case of No More Homelessness (NMH), our fictional nonprofit organization, making impact core to their strategy involves prioritizing at all levels the primary goal of getting the homeless population off the streets and into long-term, stable housing. From the start, the leadership team communicated to program staff that while other activities—such as frequent collaborations with other regional nonprofits—do add value, delivering on impact is absolutely at the core of NMH's strategy. What this means in practice is that when weighing prioritization of resources (usually time, money, or both), NMH's Executive Director and program leads use impact as a yardstick to measure success and weigh priorities. In the example about prioritizing outreach from Unit 1, the client services lead worked with her staff to identify time each week to repurpose in order to focus on outreach.
Competency 2: Evidence-Based Decision-Making
A successful organization makes smart, evidence-based decisions. While it's not possible to remove all risk, you can use data to weigh the course of action that is most likely to result in your intended outcome.
While Competency 1 stresses the importance of understanding that impact is why you exist, Competency 2 is all about using collected data to inform your organization's decision-making process.
Routine data review enables everyone within your organization to make the best use of their time with efficient, evaluated paths toward greater success. For example, a performance-monitoring dashboard based on data pulled from underlying reports provides an overview of trends—either historical based on past data, or future based on projections—to assist staff and Board members in making data-driven decisions. A tool like Tableau can add layers of external data to put your organization's data in context—overlaying zip code boundaries or other demographic information with client services data, for example. For more on creating reports and dashboards in Nonprofit Success Pack (NPSP) and Tableau, see the Resources section below.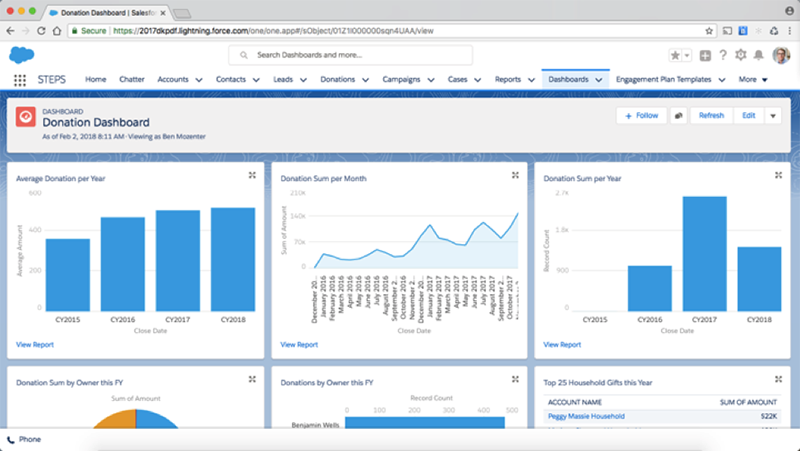 No More Homelessness Case Study
At NMH, high-stakes external decisions are approached with care and deliberation. Before eliminating a long-standing program that affected hundreds of clients weekly, NMH leadership used a Continuous Evidence Building mindset to evaluate the decision as thoroughly as possible. They reviewed data that had been collected over time using the Program Management Module, and identified trends of under-delivering on the quantity and quality of services. By contrast, decisions that are more clear-cut and incremental are made quickly based on the evidence on hand. For example, the decision to adapt a training program for volunteers was put into practice quickly after evaluating feedback from program participants.
Competency 3: Continuous Evidence Building
Evidence building is an ongoing practice that takes place at all levels of an organization. Continuous Evidence Building is a mindset. It's a set of approaches encouraged and leveraged by leaders, and practiced across all levels of an organization for continuous improvement and learning. The Development Director, fundraising committee members, marketing manager, Board of Directors, trustees, and department chairs will all make use of Continuous Evidence Building.
Your organization's unique Theory of Change—essentially, an understanding of how and why changes will be taking place—provides the foundation for other organization-specific Impact Management concepts, such as Measurement Framework, Learning Agenda, and Strategic Evidence Plan. All of those concepts contribute to Competency 3. If you're not familiar with what a Theory of Change is, or if your organization could use a tune-up, be sure to read on to Unit 4 of this module where we cover this topic in more detail.
For best results, treat your Theory of Change as a living document, one that requires routine reflection and updates as your local community and the world at large both change over time. Continued learning will affect how you think about and manage your programs. It's a close-knit relationship between the data observed and the decisions that are being made.
No More Homelessness Case Study
NMH developed a Theory of Change prior to launching their now-popular Food Pantry program. They carefully and rigorously identified the desired outcomes of the program, and then designed the activities and designated corresponding resources. They continue to monitor outcomes and adjust based on feedback, resulting in a program that efficiently distributes food and dry goods directly to people in need.
Competency 4: Integrated Financial Management
Every social service organization is painfully aware that funding is directly tied to delivering on their mission. After all: No money equals no services or programs. Impact Management calls for Integrated Financial Management so that organizations can focus on optimization rather than cost-cutting measures. It also helps them obtain additional funding by sharing with donors a proven approach, product, or service.
No More Homelessness Case Study
The Board of Directors at NMH asked staff to consider whether increasing the geographic service area would enable them to serve more people within their current funding. An organization without an Impact Management focus might have focused solely on analyzing the financial implications of this move, modeling how they could scale services and decrease expenses and cost per client. Sounds good, right? 
Not so fast! As an organization with an Impact Management focus, NMH added an analysis of the probable implications of this change on those it serves. They looked at what existing evidence could tell them about how increasing group sizes would affect participants' experiences and outcomes. In the end, the staff recommended not to expand the service area until additional funding could be secured, because the impact analysis showed that most services would not retain the same level of individual impact at scale.
Competency 5: Participant-Centered Program Management
Last but not least, it's important to create a culture of encouragement, one in which all stakeholders can easily share feedback about what's working well—and what needs to be tweaked. The main reason to encourage a participant-centered organizational culture is that it enables suggestions to be offered in a timely way and increases the chance that they will be applied without delay, and with appropriate solutions.
No More Homelessness Case Study
NMH designed its programs to meet the needs of the chronically homeless. Programming is informed by client input, sometimes bringing less-obvious insights into view. For example, after a series of client interviews, NMH determined that asking all clients to physically come to a food pantry location was a barrier to service for some. So, they extended their Food Pantry program to include a delivery program to take food and supplies directly to clients with mobility issues.
The Full Picture: A Comprehensive Impact Management Framework
Check out the table below for a summary of the competencies, as well as corresponding practices and technologies.
Comprehensive Impact Management Framework
COMPETENCIES
DESCRIPTION
PRACTICES
TECHNOLOGIES
Impact as Core to Strategy

Prioritizing evidence generation and use in establishing and delivering organizational strategy and the enabling culture to ensure success


Data-informed storytelling
Hiring and talent management
Knowledge management
Market analysis
Scenario planning
Strategic evidence planning
Strategic planning
Diversity, Equity, Inclusion (DEI) evidence building assessment

Knowledge management


Community collaboration sites (Salesforce Experience Cloud)
Wiki-style team sites
Intranets (SharePoint, Microsoft Teams, Google Sites)
Collaboration tools (Slack)

Strategic planning


Strategy analyses and canvases (Strategyzer, GroupMap)

Evidence-Based Decision Making

Considering data and evidence as part of every decision


Application of decision-making frameworks
Using systems/technology to deliver relevant, timely data to decision-makers

Rapid-cycle testing (APT, RCE coach, ArcGIS)

Continuous Evidence Building 

Blending performance management, program development and improvement, and impact measurement over time to answer key questions


Cost analysis
Data analysis
Data visualization
Evaluation design
Knowledge management
Program codification
Report/dashboard design
Strategic evidence planning
Theory of Change development

Cost analysis (Excel)
Data analysis/visualization


Statistical software (R, SPSS, Stata, SAS)
Data prep (Tableau Data Prep, Alteryx, Trifacta)
Data lakes and databases (Amazon Web Services, Microsoft Azure, Google Cloud)
Data visualization tools (Tableau, Excel/PowerBI, Qlik, Datawrapper, R visualization packages)

Impact Management


CRM and Client Records Systems (Salesforce, Social Solutions/Apricot)
Impact Management (Amp Impact by Vera Solutions, SocialSuite, SoPact)
Mapping (ArcGIS, Tableau, Carto, etc.)

Theory of Change


Tools (SoPact, Upmetrics)

Qualitative Data Analysis

Integrated Financial Management

Using data and evidence to align performance outcomes and financial management practices, and make financial and impact tradeoffs


Integrated performance management
Evidence-based budgeting tied to strategy
Results-based funding

Financial management (Netsuite)
Integrated Portfolio management (Amp Impact by Vera Solutions)

Participant-Centered Program Management 

Prioritizing accountability to those served in designing and managing programs


Feedback loops
Incorporating constituent voice
User design and testing as part of program development

Feedback loops


Surveying (Google Forms, Qualtrics, SurveyMonkey)
Communications (Twilio, Mogli)

Constituent voice


Tools (Feedback Commons, 60 Decibels)

User design & testing


User-centered design (GroupMap, Miro)
Product development (Strategyzer, Aha!)
Product management (Trello, Airtable)
User testing (Lookback.io)
Now that you have a sense of the breadth of Impact Management, it's time to do a deeper dive into a key area: evidence building.
Resources