Create and Update Client Case Plans
Learning Objectives
After completing this unit, you'll be able to:
Create a case plan using both template and custom goals and action items.
Update a client's case plan to reflect their progress.
Create a Client Case Plan
Tim Hill, a client at No More Homelessness (NMH), has been using the organization's services for a few days, and he's decided to enroll in the transitional housing and career counseling programs.
He needs a comprehensive plan to show how his efforts and NMH's services work together to meet his goals. Let's follow along with NMH Case Manager Rosa Sanchez and Tim as they create his case plan using Case Management.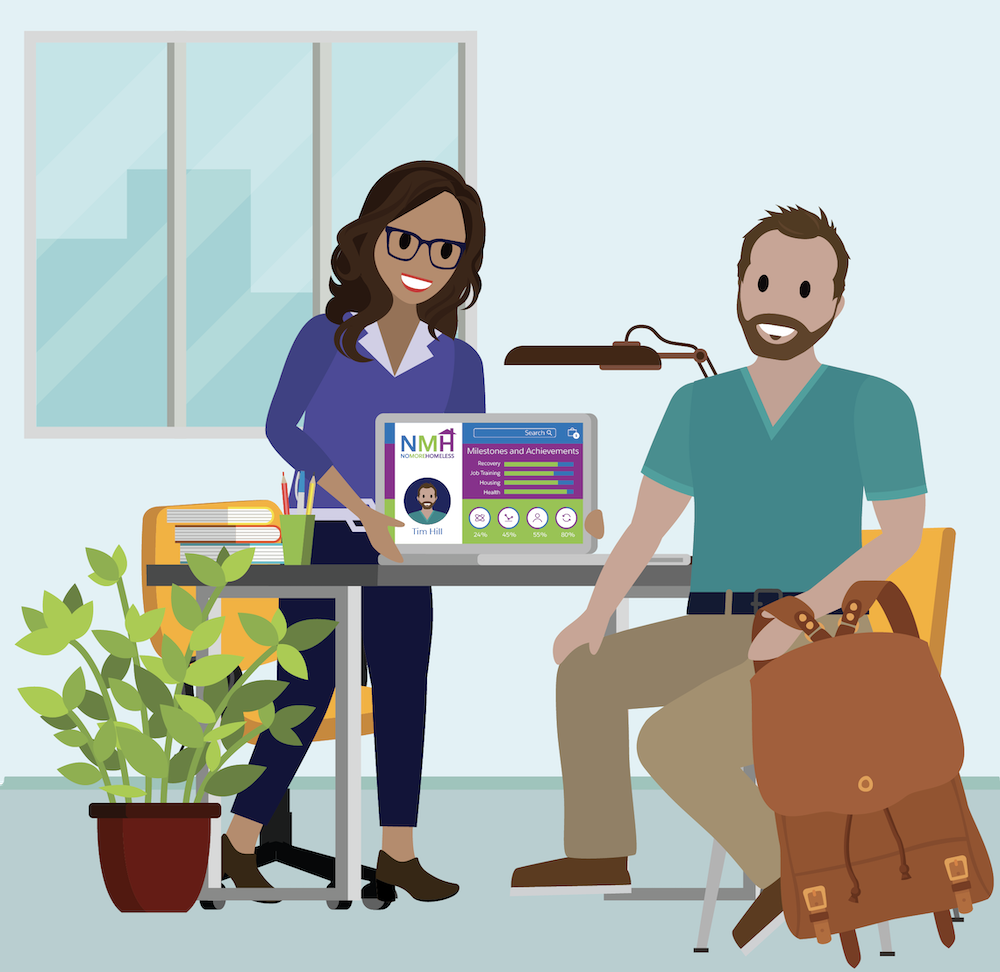 What Makes a Good Case Plan?
First, let's talk about what goes into a case plan.
Case plans in Case Management consist of two elements: goals and action items. Think of goals as what you want to accomplish and action items as what you'll do to get there. You can have any number of goals and any number of supporting action items under each goal. Together, they make up a holistic plan to help a client improve their life or overcome a challenge.
Case Management can save you time by creating goals and action items based on templates that your admin can customize with input from program staff. These templates standardize elements that would contribute to many clients' goals. If you want to add unique custom goals and action items for a particular client, you can do that too.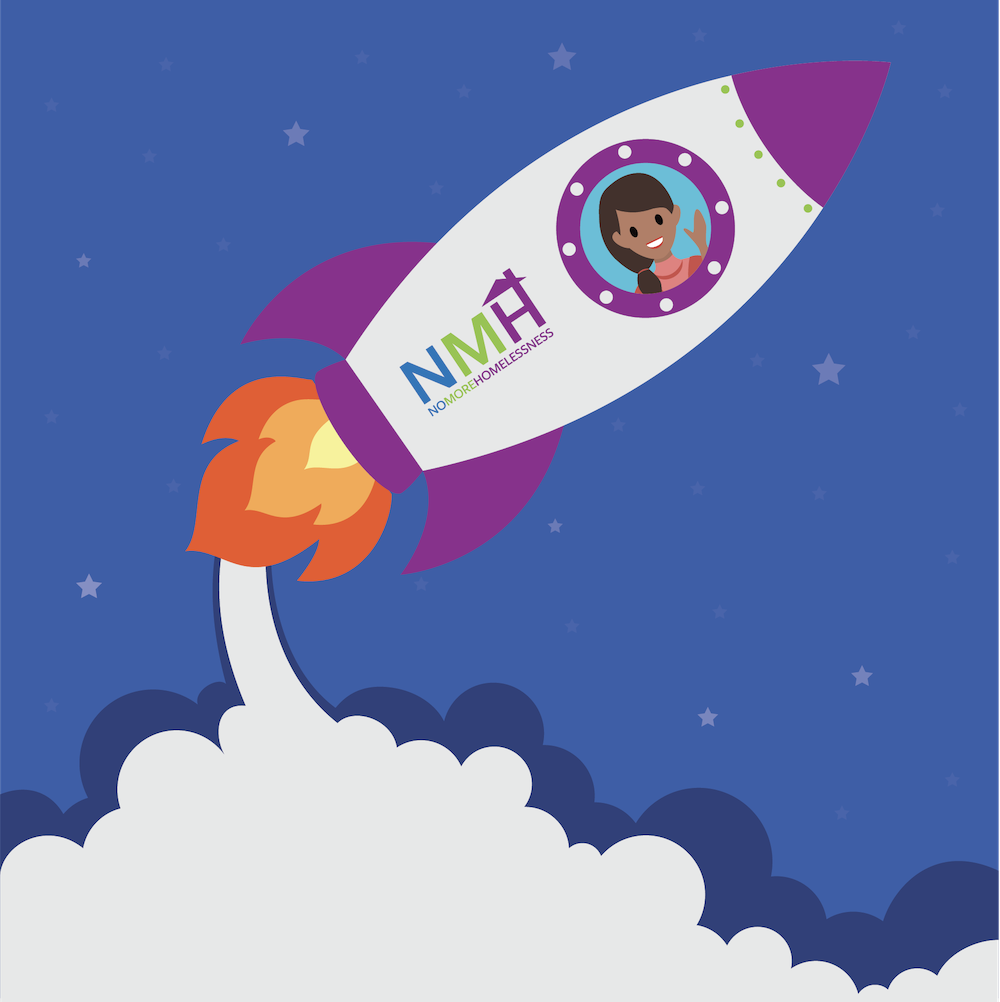 Let's look at an example from a different context: We want to go to the moon. We need to build a rocket and lunar lander—those would be our goals because each is achieved by many smaller steps (designing, building, fueling, etc.). Each of those steps would be our action items.
Moon landings have been done before, so we know that there's a proven set of steps we could use to achieve our goal. Why recreate the wheel (or, in this case, rocket)? We could use template goals and action items to get started.
But what if we're trying a different way to get to the moon—like a teleporter!—or we want to create a new goal and land on Mars? Those goals and related action items aren't standardized, so we would set up custom goals with action items.
Remember that a case plan can use a combination of template and custom goals and action items. In our rocket example, you could build a rocket (template goal) and follow the basic plans (template action items) but decide you want to paint it green-and-pink zebra stripes (custom action item).
Now, let's consider something more down-to-earth and follow Rosa as she uses template and custom goals and action items for Tim's case.
Create a Case Plan from Template Goals and Action Items
From their intake discussions, Rosa sees that many of Tim's goals are the same as other participants in NMH's programs. 
NMH set up these common goals and action items as templates in Case Management, so the case plan creation wizard can help create most of Tim's case plan. Because he's gone through the intake process and has existing program engagements, Rosa can pull in template goals related to his programs.
Rosa clicks on the Case Plans tab on Tim's contact record and clicks New Case Plan to get started.
Enter a plan name and description. In the first prompt, Rosa enters a case plan name following the standard naming convention NMH has agreed to use to easily track case plans for clients that may have several over time: Client Name - Month - Year. Tim's name is already in the contact field, but she adds a brief description to explain his goals. She then clicks Next.




Select programs. On the next prompt, Rosa selects all of the programs related to the case plan and clicks Next. Tim's plan spans two programs, so she selects Career Counseling and Transitional Housing. There are some programs here that she won't select, like Emergency Services, which aren't part of this plan. Some programs and program engagements may also not use template goals and action items, like NMH's food pantry, because they don't apply to that type of program.




Identify goals. On the next prompt in the wizard, Rosa sees only the goals associated with the selected programs. She selects Secure Full-Time Employment (Construction) and Secure Long-Term Housing and clicks Next.




Select action items. On the next prompt, Rosa sees all of the action items associated with the programs and goals that she selected for Tim. Some of these action items are preselected, which means they're required. For example, clients need to go through budgeting and financial literacy training as part of the long-term housing program. Rosa selects the rest of the action items that apply—Tim is going to apply to jobs in person and not online, for example, so she only selects one of those options—and clicks Next.




Review your work. The last screen in the wizard gives Rosa a chance to review everything she selected. If something doesn't look right, she can go back by clicking Previous. Everything looks good here, though, so she clicks Save.



All of the pieces come together to create a case plan for Tim! Let's take a look at the plan so far.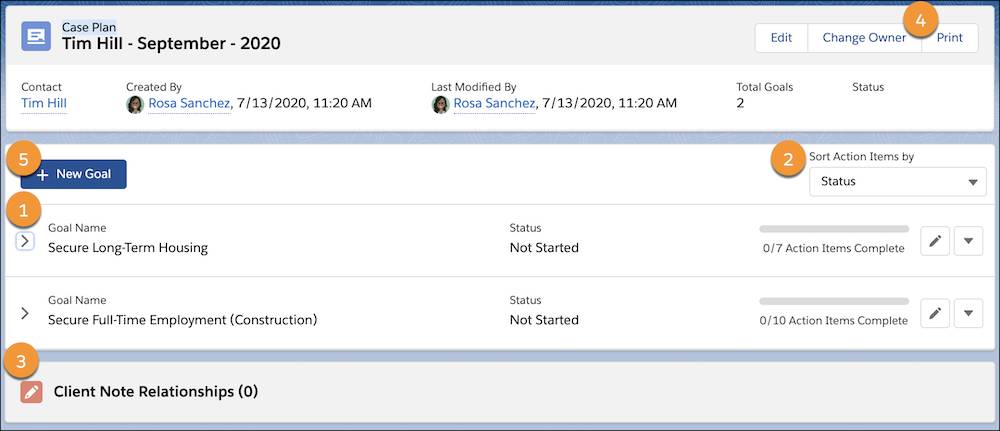 The goals component (1) shows each goal, its status, and the progress toward completing action items. These goals can expand or collapse, so it's easier to get a high-level view of a goal or dig down into action items. Clicking the edit pencil icon () allows Rosa to edit or add the goals and action items right from this page to update progress, set due dates, or assign tasks to herself, Tim, or another service provider.
The Sort Action Items by (2) selector allows Rosa to sort the action items within goals by either Status or Due Date.
The Client Note Relationships (3) related area displays links to notes connected to this case plan. There aren't any yet on this new case plan, but Rosa is diligent about relating notes to case plans when they are underway. (More on notes in the next unit.)
Print (4) creates a printer-friendly version of the case plan so Rosa can give Tim a copy to keep.
Clicking + New Goal (5) allows Rosa to quickly add custom goals and the associated action items to Tim's plan. Let's follow along as she does that.
Create Custom Goals and Action Items on a Case Plan
Tim's also working on unique, personal goals that don't appear in the templates. Rosa wants to make sure that he's following through on those goals, too—remember, this is a holistic plan—so she adds goals and action items on his case plan with NMH.
Click + New Goal.
Enter a Goal Name. Rosa enters Continue attending 12-step program. Tim is already working with the program, so she marks the status as In Progress.




Click + Add Action Item.
Enter an Action Item Name. Rosa enters Select a sponsor and sets the due date to two weeks from today, leaves the status as Not Started, and assigns the task to Tim.




Click + Add Action Item again. Rosa adds two more action items—talking with his sponsor at least once a week for 12 weeks in a row and attending meetings for 12 weeks in a row.
Click Save.



Everything is set for Rosa's discussion with Tim. 
They have a good conversation, and Tim asks Rosa to add another goal to the plan—he has some relationships to mend with his family, and he'd like to make that part of his plan. She adds the new goal and action items as they talk, and then she prints the plan (remember that handy print button?) to give to Tim.
Now, the hard work begins...
Update a Case Plan with Client Progress
… but Tim is up for it. 
When Tim and Rosa meet later, they review what he's done so far: completed a financial literacy course, stayed in regular contact with his 12-step sponsor, reconnected with a few family members, and started work with his career coach.
His case plan now looks like this.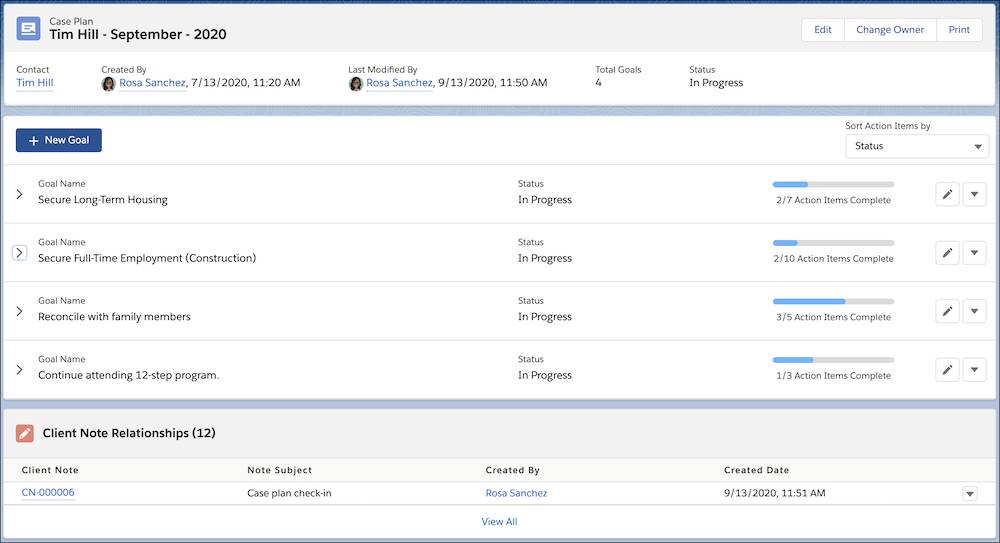 It looks like Rosa needs to mark another action item as complete, too, since Tim met with his job-readiness coach. To do that, she clicks the edit pencil icon (

) in the same row as the employment training program. Because the action items are sorted by due date, it's easy to see which action item is due next. She changes the status to Completed and clicks Save.
Between each of the milestones in Case Management, there's a lot of work to do for both Tim and Rosa. In the next unit, we'll follow Rosa in her day-to-day routine as she records notes, creates incidents, adds watchlist designations, and creates tasks.
Resources