Get to Know High Velocity Sales
Learning Objectives
After completing this unit, you'll be able to:
Describe virtual sales.
Describe how Sales Cloud helps inside sales, virtual sellers, and hybrid sellers.
Welcome to the World of Virtual Sales
Inside sales rep, sales development rep, business development rep, virtual sales rep, remote sales rep, hybrid sales rep… the list goes on. It seems, these days, everyone has a term for what they think virtual sales is. But for the purposes of this Trailhead module, let's define each sales role.
Inside sales rep (ISR): These are reps who focus on selling to prospects and customers from a desk (whether that's in a physical headquarters, home office, or other workspace). Some companies have these reps focus on certain tasks or specific parts of the sales cycle.
Sales development rep (SDR): They focus on handling inbound leads and qualifying opportunities. They likely handle large volumes of leads. For each lead, they have a specific set of actions to handle.
Business development rep (BDR): This team is a little more seasoned than SDRs. They generate net-new opportunities and focus on new business and cross-sell business. Sometimes, they have specific actions they need to take with leads, but the volume is lower, and they have more autonomy to make decisions on what they believe is the best next step.
Field sales rep: These reps are typically working out in the world whether physically in offices, hospitals, or other onsite locations to close deals. They do work from home from time to time and, with a continually evolving virtual landscape, they are constantly navigating new demands for their time and juggling priorities and to-do lists.
Why Is Virtual Selling Important?
Sales engagement has moved from traditional channels to digital channels. And while traditional sales force automation solutions still value face-to-face interactions, today's reps are using technology like email, messaging, video conferencing chat, and voice over IP (VoIP) as part of their sales process. In fact, reps today spend 6x more time selling in front of a screen than they do in person.
And it's a business model that's gaining in popularity. Research shows that virtual sales roles are growing 15x faster than field sales roles. As of 2021, Gartner estimated 33% of field sales have moved inside or to a virtual setting permanently. That means it's important for companies to stay ahead of the curve with their teams and their technology.
What Can Sales Cloud Do for Virtual Sales?
According to the State of Sales report from Salesforce, on average, a sales rep working primarily from a desk spends only 32% of their day selling. The rest of the time they're looking up information, deciding which lead to call next, preparing for the call by looking up opportunity info, or logging notes. All of that is split between different systems—in general, inside, virtual sales reps have to navigate six tools to do their jobs. That can cost a company.
Those reps need a streamlined solution that can help them spend time on what they do best: engaging with their customers in compelling ways.
Sales Cloud High Velocity Sales is a streamlined solution tailored to virtual sales teams (including sales development and business development reps) and designed to speed up and scale up the sales process. Bringing together many of Sales Cloud's core technologies with new features, High Velocity Sales gives virtual sales teams:
Insights on how to prospect smarter and faster
Integrated tools to eliminate busywork and multiple logins
New levels of best-practice automation for scalable, repeatable success
The features included in this product are:
Lightning Sales Console
Sales Cadences
Work Queue
Einstein Lead Score
Email integration
Einstein Conversation Insights
Sales Dialer (optional, additional SKU)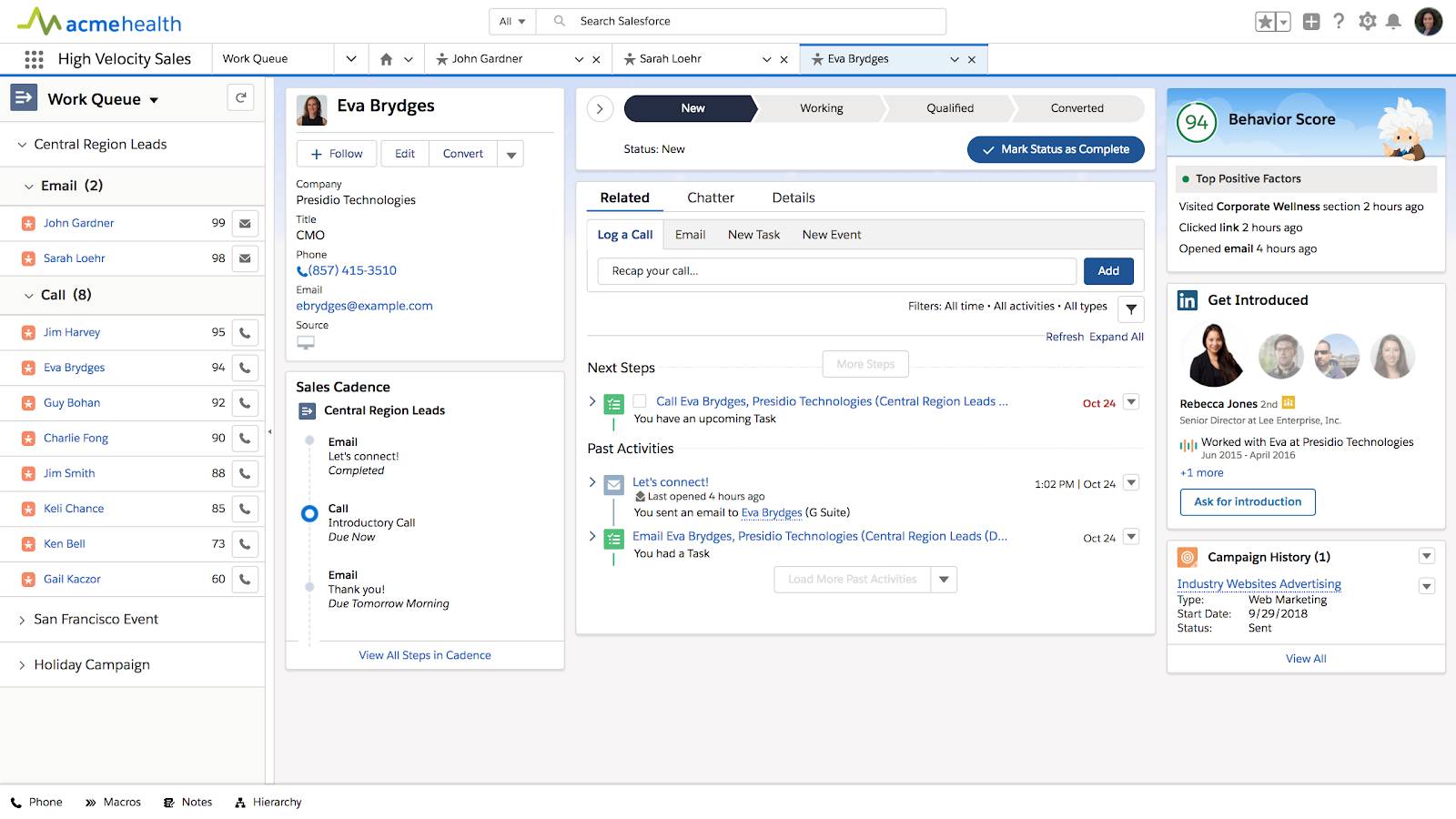 We dive into the benefits of these features in the next unit. So come with us on this Trailhead journey, and learn how these features can help sales reps in every role boost their productivity and help managers establish and drive repeatable success with the new Sales Cloud High Velocity Sales!
Resources