Customize Your Org and Install Health Cloud
Learning Objectives
After completing this unit, you'll be able to:
Prepare for setting up Health Cloud.
Customize and deploy your org with My Domain.
Install the Health Cloud managed package.
Configure the managed package to use person accounts.
So What Exactly Is Health Cloud?
Health Cloud is built on the Salesforce platform and extends the core capabilities of Sales Cloud and Service Cloud. That means that with Health Cloud you have access to all the foundational capabilities that are part of these features.
While most Health Cloud objects, APIs, and other capabilities are built on Salesforce, you must install the Health Cloud managed package to access and use additional Health Cloud objects and capabilities such as flow templates, Lightning components, Apex triggers, and more.
This module takes you through the initial steps of configuring Health Cloud for your organization. The steps are the same whether you are a provider, payer, or a medical devices company.
Once set up, different sub-verticals of the industry can use Health Cloud in different ways.
Provider organizations can integrate clinical data that comes from electronic health records (EHR) or other clinical systems with Salesforce, using any of the standard APIs, to map messages from EHR systems to Health Cloud objects and fields.
Payer organizations can use the objects and record types in the health insurance data model to manage insurance data such as plan benefit details for members and treatment preauthorization requests made by members or providers.
Medical device companies can improve business predictability and sales performance by creating account-level forecasts for multiple products in their portfolio.
Meet Harryette, Salesforce Admin at Bloomington Caregivers
Harryette Randall is the office manager and Salesforce admin for Bloomington Caregivers, a home healthcare agency. In this module you follow along as Harryette goes through the process of installing the managed package, activating person accounts, assigning permission set licenses, and configuring the Health Cloud Lightning console to set up Health Cloud for her organization.
Before we catch up with Harryette, note that we assume you are a Salesforce admin with the proper permissions to take these actions. If you're not a Salesforce admin, that's OK. Read along to learn how your admin would take the steps in a production org. Don't try to follow these steps in your Trailhead Playground. The Health Cloud managed package isn't available in the Trailhead Playground.
Enable Person Accounts, Shared Contacts, and Chatter
At Bloomington Caregivers, Harryette supports several salespeople and customer service agents. She's customized some of their apps to increase productivity. Harryette likes helping people do their work faster and better, and she's excited about adding Health Cloud to her toolkit.
Before she can install the Health Cloud managed package, she must put some prerequisites in place.
Here's her plan of action.
Allow person accounts.
Allow shared contacts.
Enable Chatter.
Register My Domain.
Install the Health Cloud package.
Then she can:
Use person accounts.
Assign Health Cloud permissions.
Assign Health Cloud profiles.
Set org-wide defaults.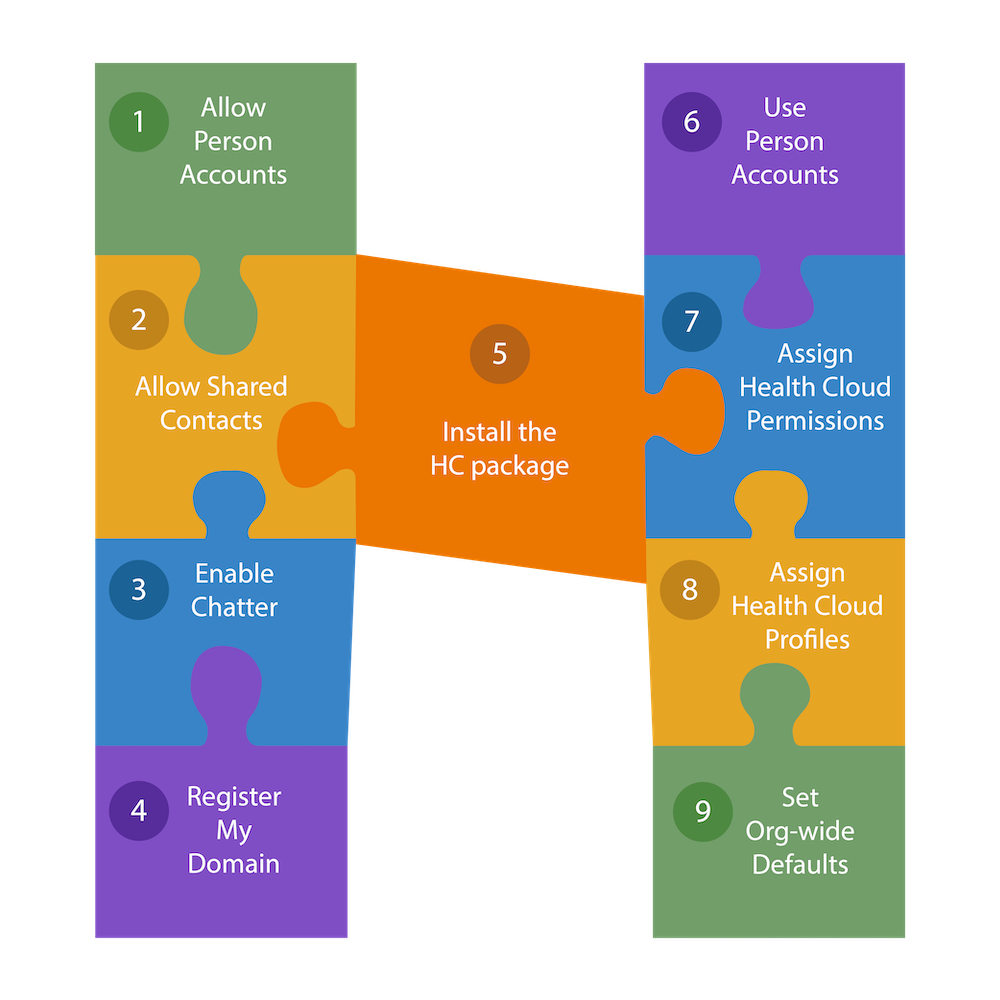 Person Accounts
The first thing Harryette must do is enable person accounts.
While the traditional account-contact model is good for modeling people and organizations, it's not a great way to represent a healthcare patient or member. That's because most healthcare organizations don't consider their patients or members in the context of the organization to which they belong.
Enter person accounts, which are the preferred method for representing an individual as a patient or a member. A person account is two records that present as one. This type of account appears on the screen as one consolidated record, but on the database side a person account is both an account and a contact in a 1:1 ratio, linked in both directions.
To enable person accounts, Harryette first needs to ask the Salesforce representative to make person accounts available in her org. Here's how she does it.
From Setup, enter Account Settings in the Quick Find box and select Account Settings.
Click Edit.
In the Person Accounts section, select the Allow Customer Support to enable Person Accounts checkbox.
Click Save.
Salesforce verifies that the org meets the prerequisites and sends an email with additional information.
Once Harryette enables person accounts, Salesforce creates a person account record type. Harryette can always create additional record types for different kinds of person accounts if needed. See the Person Account Record Types documentation in the Resources section for more information.
Shared Contacts
Health Cloud users must be able to relate to multiple accounts. So while Harryette is in the Account Settings page, she also sets up that capability.
On the Account Settings page, in the Contacts to Multiple Accounts Settings section, select the Allow users to relate a contact to multiple accounts checkbox.
Click Save.
Chatter
Users at Bloomington Caregivers plan to use Chatter in Health Cloud to collaborate on patient care. Harryette goes to Setup again and checks the Chatter Settings. Yup, Enable is selected.
Make It Your Own with My Domain
Harryette decides to add the company name to the Salesforce login URL for Bloomington Caregivers. My Domain is just the tool she needs. Salesforce My Domain lets admins like Harryette create subdomains within the Salesforce domain. To set one up, Harryette first chooses a unique subdomain name for her organization and registers it with the Salesforce domain registries worldwide.
Here are the steps she takes.
From Setup, enter My Domain in the Quick Find box, then select My Domain.
Enter a unique My Domain subdomain name. Salesforce adds the rest of the domain name.
Once you zoom in on a name that's unique and available, click Register Domain.
Once Salesforce registers her subdomain, Harryette gets an email confirming that it's ready for testing. It's a good practice to test that the org's URLs work with the new subdomain name before you make it available to all users. So that's Harryette's next task.
The easiest way that Harryette can return to the My Domain Setup page is by clicking the login link in the activation email that she received. She tests the new subdomain by clicking tabs and links. In the browser address bar, she checks that the URLs to all the pages display the new subdomain.
Once she's satisfied that everything is in order, it's time to roll out the new My Domain subdomain to the org. This is a must do. Users can't access the org with the subdomain URLs until Harryette deploys it. It takes just a few steps.
From Setup, enter My Domain in the Quick Find box, then select My Domain.
Click Deploy to Users, and then OK.
That's it! She's now ready to install the managed package.
Install the Health Cloud Package
Harryette knows that the managed package is what enables all the special Health Cloud capabilities. She must install it so that the team she supports can start to use Health Cloud. She starts by getting out the Bloomington Caregivers Salesforce contract and copying the URL for the Health Cloud package. With that in hand, she can take the following steps.
Paste the URL for the Health Cloud package into your browser.
Log in and click Install.
When the installation is complete, you get an email confirming that the installation was successful.
Verify that the package is installed:

From Setup, enter Installed Packages in the Quick Find box and select Installed Packages.
Look for the Health Cloud package.
It's that easy.
Use Person Accounts
Harryette enabled person accounts in her org earlier, and now she takes a few steps so that the team can begin using this account type in Health Cloud.
From Setup, enter Custom Settings in the Quick Find box and select Custom Settings.
In the list of custom settings, click Manage next to Use Person Accounts.
Click Edit next to Use Person Account, and select Enable.

In this unit you learned the basic steps to set up Salesforce for Health Cloud and how to install the managed package. Next, you explore how to control access to patient and member information in Health Cloud.
Resources