Get Started with Health Cloud
Learning Objectives
After completing this unit, you'll be able to:
Describe what Health Cloud helps a Care Coordinator do.
Describe the contents of a patient record in Health Cloud.
Explain how patient records offer a complete view of the patient.
Bring It All Together with Health Cloud
April Guthman is the care coordinator for Bloomington Caregivers, a home healthcare agency in Bloomington, MN, providing full-spectrum care for the elderly. The agency has about 3,000 clients living in their own homes throughout the Minneapolis–St. Paul region. 
Bloomington Caregivers delivers outstanding patient care by developing strong, collaborative relationships with patients and caregivers. But it's a lot of work! April has her hands full keeping track of critical patient records, care providers, insurance providers, and her clients' health outcomes. The agency is adopting Salesforce Health Cloud to try to get a handle on the increasing complexity of care coordination as its client base grows.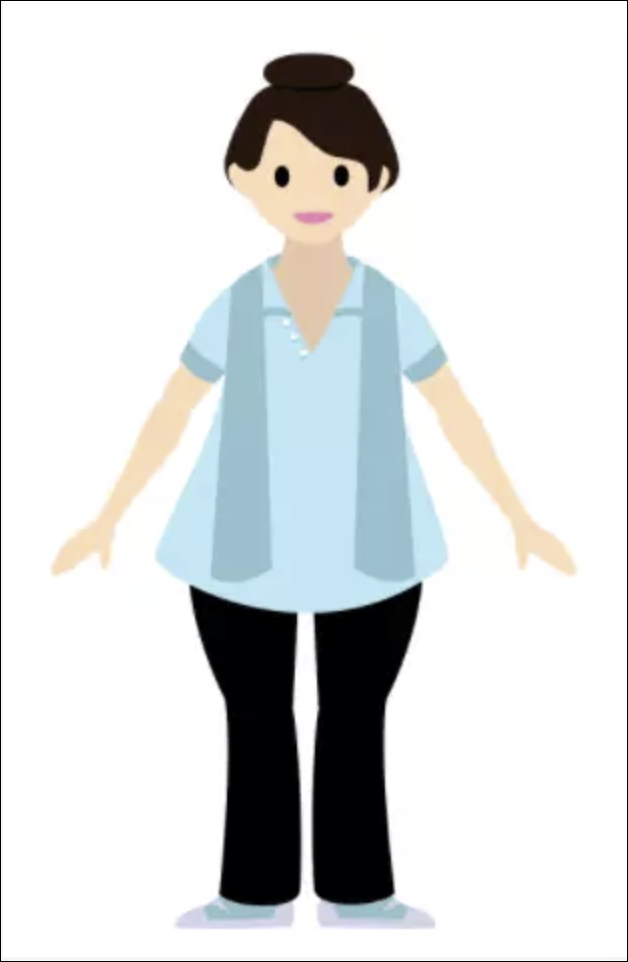 April's caseload includes tasks that need attention, new patients who need onboarding, and communications with everyone surrounding her patients. It can be a fire hose of information, but Health Cloud provides a central console that brings it all together so she can work sensibly and efficiently. April has separate tabs in the console for individual patients and their related care plans, health history, and care teams, so she can work on multiple cases at the same time.
April knows that a rich store of information about her clients is in their electronic health records (EHRs). Each of the doctors' groups Bloomington Caregivers works with uses a different EHR provider, but that doesn't slow April down, because Health Cloud shows her all the data from disparate sources in one easy-to-understand display.
Using the Health Cloud console, April can view the big picture of her caseload, including tasks that need attention, new patients, and communication about it all. She can care for multiple patients at the same time using separate tabs for care plans, care teams, and health history.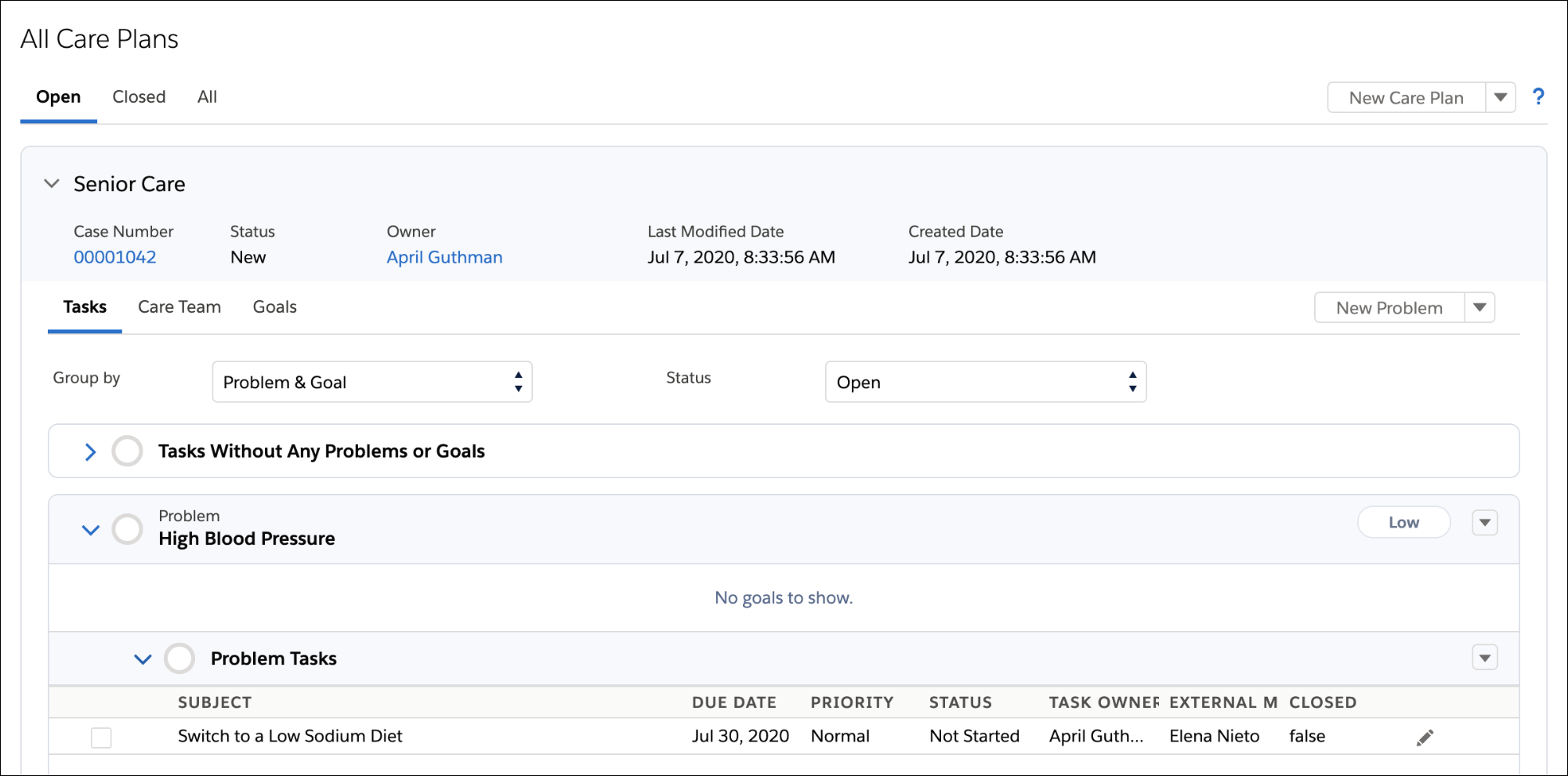 April finds it handy to divide Bloomington Caregivers patients into groups with similar conditions or criteria and then work with them in parallel. For example, she has 38 patients who need patient managers with special training in memory issues. This week, she's going to send reminders to all 38 of those patients to get out for a brisk walk, because research shows that physical activity is a big contributor to quality of life for patients with dementia.
Set Up Patient Records
Harryette Randall is the office manager and Salesforce admin for Bloomington Caregivers. Elena Nieto was referred to Bloomington Caregivers. Harryette reaches out to Elena and confirms that she is a fit for the clinic. Next, Harryette goes to the Salesforce console and selects Leads to search for Elena's Lead record. She finds it and clicks Convert to Patient. Elena's Lead record disappears from the Open Leads list. Salesforce creates a patient record for Elena using the information in Elena's Lead record. Patient records are always Person Accounts in Health Cloud.
Note: Some Patient records have no corresponding Lead record. For example, some EHR system integrations create a Person Account directly. You can get detailed instructions about bringing in EHR data in the Salesforce Help.

It's a few simple clicks for Harryette, but a lot is going on behind the scenes. First, Health Cloud checks the leads to verify that the values in the System ID, Source System, and Medical Record Number fields do not have duplicates and are not associated with an existing Account record. If there are duplicate values, you can merge the records by choosing a Lead record as master and selecting the fields you want to keep. For more information on merging duplicate values, see Salesforce Help. After Health Cloud verifies that there are no duplicate values, you can assign a care coordinator for the patient. This is optional. You can also choose to assign a care coordinator in the Case Team section of the Care Plan case record.
When Harryette clicks Convert on the next screen, Health Cloud does all this to set up patient records.
Converts the lead record into a person account record.
Note: If a Lead has a value in the Company field, it is converted to a business account. Otherwise, the lead is converted to a person account.
Combines certain account and contact fields into one record in the person account. Person accounts can also be used as contacts in many situations.
Populates the Care Plan fields.
If your admin assigned a care coordinator during the lead conversion process, they are added to the care plan.
Harryette sets the case owner to the assigned care coordinator, April Guthman. She also enables Multiple Care Plans so that April can add other plans in the future. To learn more, see the Salesforce Admin guide.
Use Patient Records
Now that Elena is in the system as a patient, April can open the Patients tab to find all of Elena's data in one view. Elena's patient card provides an overview of her medications, immunizations, and allergies. In the Patient tab, subtabs show Elena's care plans, assessments, household, and timeline. April can assess and plan the next best steps for Elena from one glance at her patient card.
Resources