Dive Into Some Use Cases and Examples
Learning Objectives
After completing this unit, you'll be able to:
Describe several use cases for the Sales Cloud and Analytics 360 integration.
Understand how data from Sales Cloud and Google Marketing Platform in Google Cloud can be used for advanced marketers.
Now that you've learned the basics about the Sales Cloud and Analytics 360 integration, let's dive deeper into use cases and examples of how our platforms can work together to empower your sales and marketing teams to work better together.
Visualize the Full Sales Funnel from Online to Offline
Use Online Events from Analytics 360 and Offline Events Imported from Sales Cloud 
One of the simplest but most effective ways to get value from this integration is to explore your offline Sales Cloud data directly in Analytics 360.
First, ensure that you are tracking the relevant steps of the online funnel with events. For example, if you want to look at the funnel of users who visited your product page then submitted a lead and finally converted, you should set up an event in Analytics 360 for when a user visits your product page.
From there, create a custom report that looks at each of those events, the online events measured by Analytics 360 (e.g., the product page visit and the lead form submission) and the offline events imported from Sales Cloud (e.g., lead and opportunity milestones). Then analyze your full online to offline funnel to understand the performance of your different marketing channels.
Use Custom Funnels and Build Targeted Audiences
Using the Custom Funnels feature in Analytics 360, you can visualize the steps your users are taking to complete a purchase on your website and take action where there is drop off. Now with your Sales Cloud data integrated into Analytics 360, you can use Custom Funnels to see how successful your business is at turning online leads measured in Analytics 360 into offline sales measured in Sales Cloud.
Imagine you are a solar panel company, and your website has a lead form potential customers can use to get in touch with a member of your sales team. Now, you can use Custom Funnels to visualize what percentage of leads submitted online were converted to in-person consult, and then which of those went on to purchase the solar panels. These visual reports help you identify drop-off points so that you can fine-tune the customer experience and improve marketing performance.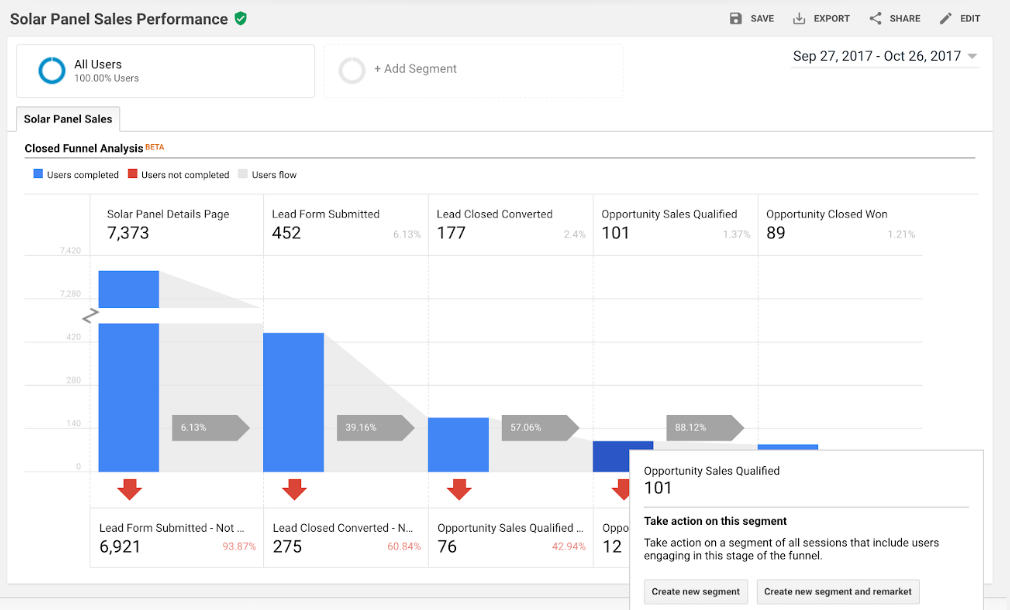 To take immediate action from Custom Funnels, you can simply click Create new segment to build an audience of people who have dropped off from a particular stage. Once you have that audience segment built, you can use it for media targeting, site personalization, or qualitative research. For example, you could build a segment of customers who have filled out the online lead form but have not scheduled a call with a sales agent. You could use digital ads or custom site messaging to encourage this group to follow up. You learn more about this in the sections below.


Then, with advanced attribution tools in Analytics 360, such as Data-driven Attribution, you can create more accurate cross-channel attribution models so you can better understand what channels drive offline sales. For example, after you apply a data-driven statistical model, you may uncover that paid search and email drives more offline solar panel installations than social. You can use this information to adjust your investment for paid search and email—improving your return on ad spend (ROAS) in the process.
Optimize Your Marketing Investment to Offline Goals
Going one step further, you can also create Goals in Analytics 360 based on your Sales Cloud events and optimize your digital marketing campaigns for sales that occur offline, instead of just optimizing for form submissions on your site. 
How? Simply share these goals (triggered by offline events imported from Sales Cloud) to Google Ads and Search Ads 360, then adapt your search bidding strategy to account for these goals.
Intelligently Build Audiences with Sales Cloud Data
In addition to more insightful reporting and smarter media optimization from offline data, the connection between Analytics 360 and Sales Cloud gives you even more audience attributes to work with, helping you improve the specificity of your audiences.
For example, if you're an insurance company that generates leads online but sells policies in person via an agent, you could build an audience in Analytics 360 of all customers who have purchased an auto insurance policy offline. You could use that audience to either deliver relevant display ads (like new insurance products shown to those who browsed that page online) using Display & Video 360, or customize your website (like a customer service showcase) using Optimize 360.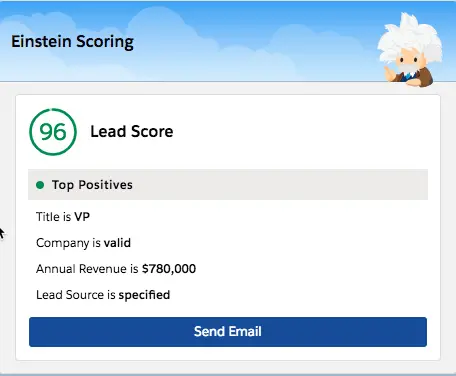 You can even use Einstein Lead Scoring to build these audiences in the above use cases. For example, the solar company could build an Analytics 360 audience of users who filled out a lead form online and then were assigned an Einstein Lead Score of 80 or higher. Then, they can share that audience with Optimize 360 to ensure those qualified users have a unique site experience or to Display & Video 360 to deliver more relevant ads to keep them engaged.
Learn How You Can Delight Your Customers Even More
Once you have built valuable audiences using Sales Cloud and Analytics 360, there are even more opportunities to learn about them and help you discover new, similar customers.
Similar Audiences. Similar Audiences is a powerful—but simple—way to reach a much larger audience and drive sales by algorithmically expanding the reach of your existing audiences. For example, you can import into Analytics 360 an audience of highly qualified leads from Sales Cloud, then send that list to Display & Video 360 to build a similar audience that looks like your prospects. You can show tailored ads to this list to try to grow new business.
Surveys. Google Surveys 360 gives you the ability to ask questions directly to your audiences, allowing you to learn more qualitative information from your users after you've engaged with them. For instance, you could ask your customers how they feel about your brand or your category, helping you to learn valuable and first-hand insights.
Google Cloud for deeper analysis. The integration between Sales Cloud and Analytics 360 also allows users to take advantage of Google Cloud. All your Analytics 360 data, including your imported Sales Cloud data, can be sent directly to Google Cloud's BigQuery—a fast, highly scalable, cost-effective, and fully managed cloud data warehouse for analytics, with built-in machine learning. Learn more.
As you can see, by using the full capabilities of Salesforce Sales Cloud, Analytics 360 and Google Marketing Platform, you can deliver exceptional experiences for your customers and grow your business.
Resources