Get Started with GEM and Accounting Subledger
Learning Objectives
After completing this unit, you'll be able to:
Explain the benefits of using GEM and Accounting Subledger.
Define GEM and Accounting Subledger terminology.
The higher education world is changing rapidly; perhaps faster now than it ever has before. As these shifts are happening all around us, one thing is becoming abundantly clear: advancement work is more important than ever. The needs of institutions are many and growing. Donors who have historically helped fill the gaps look different than they have in the past. Today's donors expect more from the institutions they donate to; they want increased care and transparency, and they can be quick to donate elsewhere if their expectations aren't met.

In this module we introduce you to Salesforce solutions that help your advancement team provide the care and transparency that translate to donor satisfaction. These tools create results that make your constituents happy and support your staff as they work harder than ever to nurture your institution through giving.

To see the tools in action we follow along with the Cloudy College advancement team as they navigate the gift entry and management process. Virginia Cook is the Vice President of Advancement at Cloudy. Virginia and her staff process and manage gifts that arrive in various shapes, sizes, and complexities. Gift officers make sure that pledges are on track to be received, and kept up to date. Virginia partners closely with the accounting team to ensure that donations are received, tracked, and accurately sorted into the appropriate funds. Let's see how they work together and leverage tools like Gift Entry Manager (GEM) and Accounting Subledger to make the process more efficient.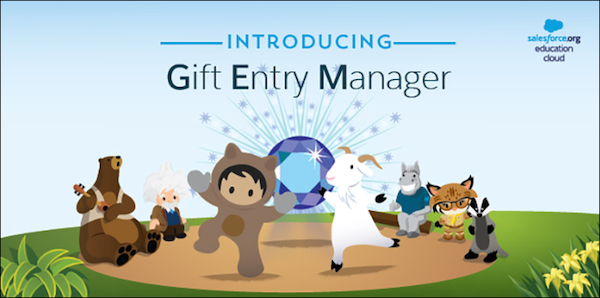 What Does Gift Entry Look Like?
On busy days, it's not uncommon for Virginia to assist clerks with gift entry. It's happening more often lately. Gift giving is becoming more complex, and recent Cloudy graduates are interested in giving in new ways: stocks, cryptocurrencies, charitable gift annuities, and so on. These kinds of gifts take more time and discretion to record accurately.

One of the biggest obstacles Virginia's team encounters is the outdated gift entry technology in the office. Shared spreadsheets are limited to one editor at a time, slowing down the whole team. Virginia and her staff did try out a few newer tools but they only provided one way of entering data.  It worked well for some gifts some of the time, but was not a good fit for all the others. And none of these solutions worked well for both the accounting and advancement teams, whose own tools and systems were either incompatible or required daily manual effort to stay in sync.
Luckily, Cloudy College has recently installed Gift Entry Manager (GEM). This solution offers:
Multiple ways to enter gifts, which affords choices that streamline data entry for simple gifts, and can also handle complex gifts.
Configuration options that help Salesforce admins show only relevant fields and customize their display order, for faster data entry.
Structured gift records that allow for multiple designations on each individual payment.
With the addition of GEM, Virginia and her team now have a 360-degree view of their gifts and all related gift data. They also have access to the right tools for each gift entry job. Virginia has collaborated with Cloudy's Salesforce admin, Nina Brown, who helps the advancement team customize the tool to show only relevant fields, saving the team valuable time and effort each gift time a gift is entered. Right now, Virginia is in talks with Cloudy IT about setting up an API to automatically retrieve gift records directly from the advancement team's Salesforce org.

Virginia's team is now able to handle daily gift entry work without her help, freeing her up to engage in the leadership and strategy work that's so valuable to her team and the institution.
So what exactly is GEM? Allow us to formally introduce you to the tool that's been so impactful at Cloudy College.
Meet Gift Entry Manager (GEM)
GEM is a managed package that helps you streamline the most complicated parts of tracking and entering gifts—complex reconciliations, varying gift amounts, multiple fund allocations, and multi-year pledges. With Education Data Architecture (EDA) as its base, GEM is designed to support fundraising operations advancement. GEM also includes functionality from Nonprofit Success Pack (NPSP), so that EDA-based orgs can adopt a suite of fundraising features, including:
Fundraising architecture—Use custom fields and objects from NPSP, specifically designed for tracking donors and their gifts.
Gift Entry—Add large batches of data, on the order of tens of thousands of records, at once. Use NPSP Data Importer to enter groups of contacts and organizations, and use Gift Entry to enter collections of gifts and payments.
Customizable Rollups—Get visibility into important statistics such as a donor's total lifetime giving, the total allocated to a specific fund, or a contact's total influence via soft credits.
Collaborate with the Accounting Subledger
As we mentioned above, one of the keys to success for Virginia's team is her close collaboration with the institution's accounting department. The accounting team helps Virginia ensure that donations are tracked and allocated correctly. Allocations is a GEM feature that supports this cross-team collaboration.
Allocations (often referred to as designations) track the funds (known as General Accounting Units, or GAUs) that the gift should be assigned to. GEM allows allocations to be set at a more granular level than just the gift itself.
For example, a donor might designate 70% of her donation to a scholarship in the academic program she studied while a student at Cloudy College. The other 30% is given to support construction of a new visual arts facility. GEM applies 70/30 Allocations to the entire gift but they can be individualized for specific Payment records. Opportunity-level allocations are known as GAU Allocations, and the payment-level allocations are known as Payment Allocations. They both share a single object, GAU Allocation.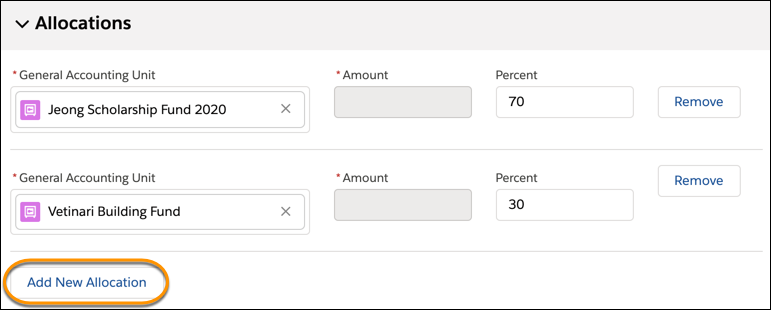 Salesforce offers another solution to support the work between advancement teams and accounting teams: Accounting Subledger. Accounting Subledger is a finance product inside of Salesforce that connects to your organization's finance products outside of Salesforce.

At Cloudy, the accounting team doesn't use Salesforce in its day-to-day work because they have their own system. Accounting Subledger allows the accounting team to work the way they prefer while translating advancement data from the advancement Salesforce org in a permanent, transparent format easily transferable to the accounting team's existing system.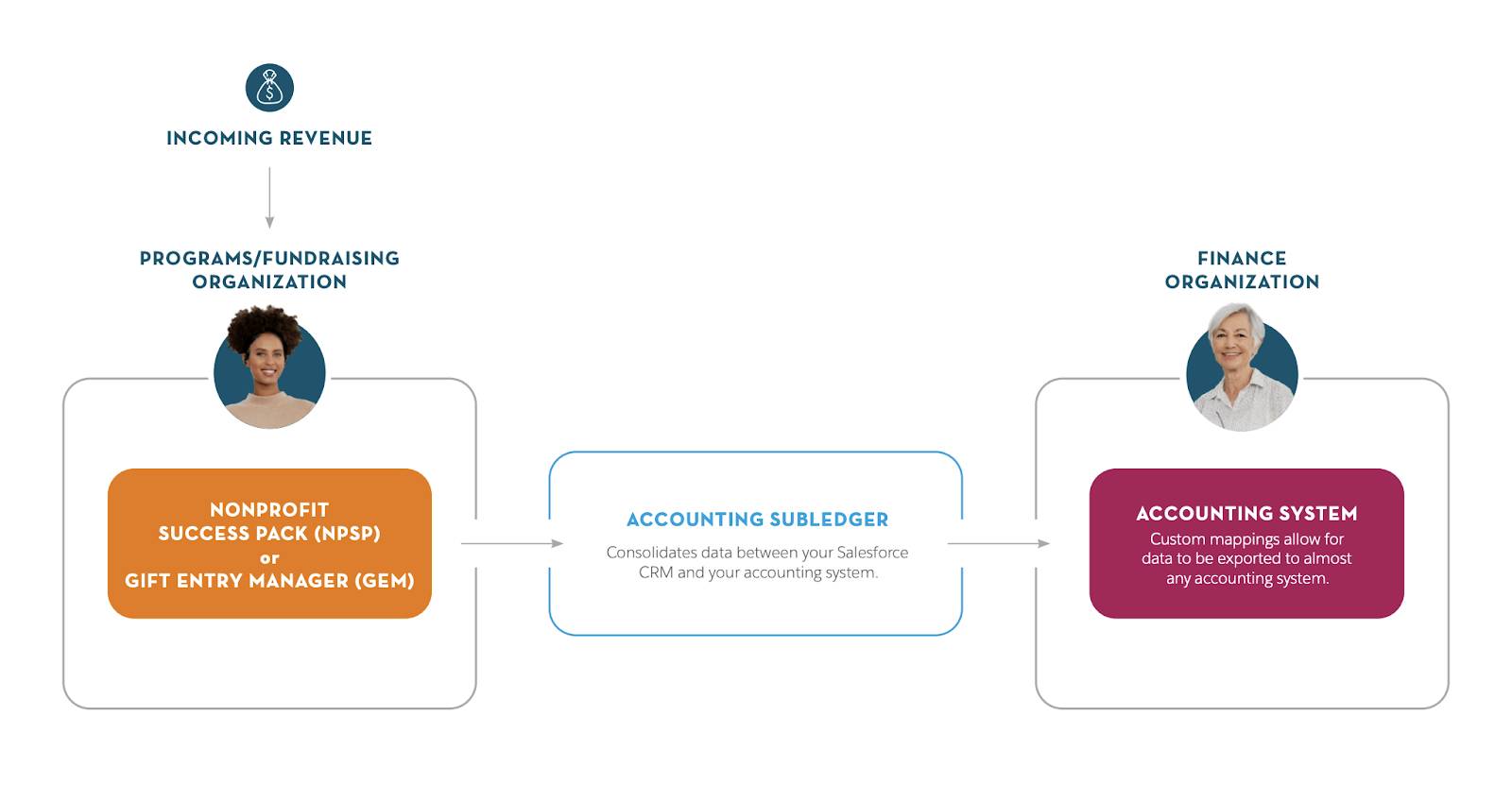 How does it work? Accounting Subledger does this by recording data to a subledger as the Cloudy advancement team works. What's a subledger? It's a detailed list of transactions that rolls up into the Cloudy accounting system's general ledger, which is the institution's main accounting record.

Now that you have an understanding of what GEM and Accounting Subledger are and how they've been introduced at Cloudy College, move on to the next unit to take a more detailed look at the gift cycle and how each tool helps the advancement team complete the cycle seamlessly.
Resources