Completing the Gift Cycle
Learning Objectives
After completing this unit, you'll be able to:
Navigate the gift cycle.
Understand how GEM and Accounting Subledger simplify the gift cycle.
With Salesforce gift management solutions, the gift cycle has four major steps:
Gift Identification: Identify and record incoming donations in detail.
Receiving Gifts: Confirm a donation when it arrives.
Adjustment: Adjust as needed.
Reconciliation: Close out the transaction.
We continue to follow the Cloudy College advancement team to see how the gift cycle plays out when a team combines the power of GEM and Accounting Subledger.
Gift Identification
Once the Cloudy advancement team's hard work pays off and a donation is secured, it's time to log it in Salesforce. The tools and data that the gifts team uses are in the Gift Entry Manager (GEM) app. From here, advancement staff can access accounts, contacts, opportunities, reports, and the GEM gift entry tools.

To access this app, click the App Launcher (

), then find and select Gift Entry Manager.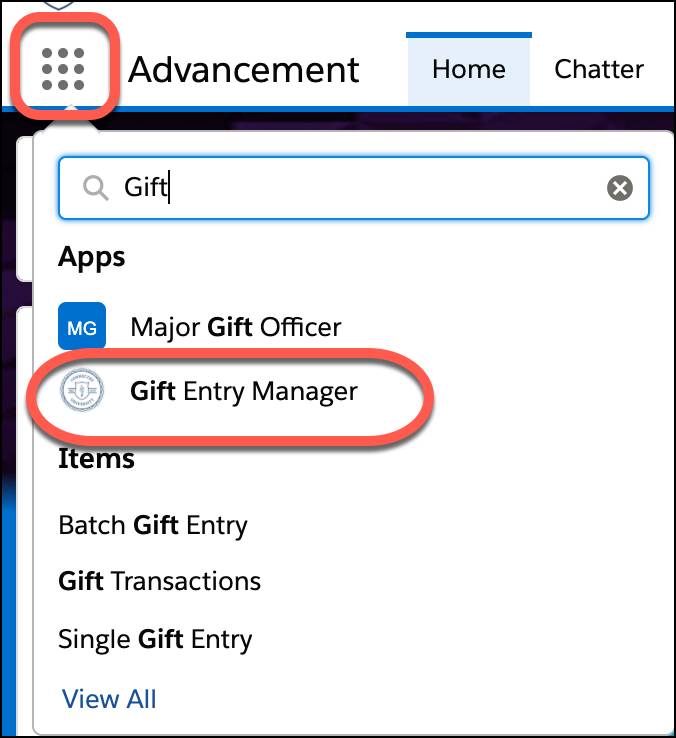 In GEM each gift is entered as a single opportunity, with one payment record for each payment received. There are a number of methods for entering gifts, such as gift entry, batch gift entry, and manual data entry.

For example, a Cloudy College donor wishes to make a $240,000 donation, delivered in $20,000 chunks every month for a year. A gift officer has a few options for how to enter this gift in GEM. They can use batch entry to create a single $240,000 opportunity record with twelve related $20,000 payment records. Or they can manually create the opportunity, then schedule payments from the Payments related list to create the twelve $20,000 Payment records.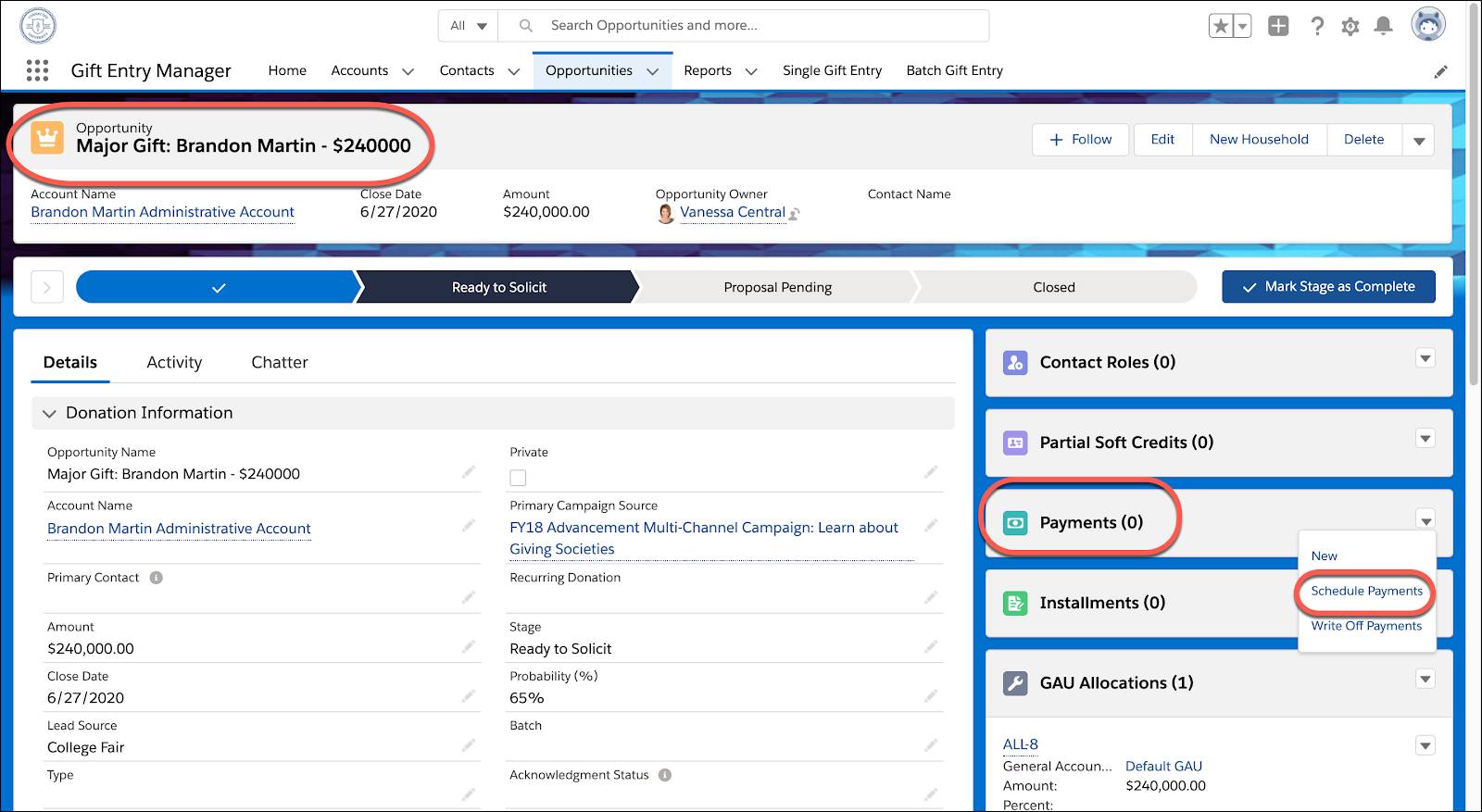 In an earlier module we mentioned the Cloudy advancement team uses Giving Pages, a solution in the Salesforce Elevate suite. Donations received through the giving page for the Cloudy College Annual Day of Giving that was mentioned in that example integrate with GEM and an opportunity record is automatically generated.
Ledger Entry Accounting Records
When the team marks an opportunity in GEM as committed or a payment as paid, Accounting Subledger automatically creates accounting records on the gift and its payments.
The Ledger Entry custom object serves as a snapshot of incoming and outgoing revenue. Ledger entries provide the information to generate journal entries for your accounting systems. You can't edit them and they aren't updated to reflect changes to the revenue they represent.
Ledger entries come in three types, each serving a distinct, important function:
Allocation
Transaction
Payment
You can learn more about these ledger entry options by exploring the resources included at the end of this unit. At this point in the gift cycle, only allocation ledger entries are created, one for each GAU allocation record on the opportunity.
Receiving Gifts
When all or a portion of the gift arrives, your team will log its arrival in Salesforce. For example, when the first monthly payment of $20,000 of the total gift of $240,000 is received by Cloudy College, a gift officer marks the first payment as paid in GEM and a payment ledger entry is automatically created for each allocation on the payment in Accounting Subledger.
Adjustment
Gifts sometimes evolve and change as time goes on. Your team can easily modify payments that aren't yet paid, and should try to do so before they become paid. But it's also possible to modify them afterwards. Regardless of when modifications occur, Accounting Subledger detects changes made to the original records (including those resulting from overpayments, underpayments, or incorrectly entered data), and automatically creates reversal or correction ledger entry records. So your team can, at any time, correct payment information already sent to accounting, without altering the original ledger entry records that keep your accounting system synchronized.

Accounting Subledger also automatically makes adjustments when you update allocations. If modified, GAU allocations sync to unpaid payment allocations, and payment allocation changes cause GAU allocations to recalculate.
Reconciliation
When adjustments are complete and all payments are received, it's time to finalize the gift. When the twelfth and final payment of the $240,000 gift is received by Cloudy College, marking the final payment record as paid also automatically finalizes the gift opportunity, setting it its status to Closed Won.

If a gift officer needs to finalize a gift because its remaining promised payments are no longer expected, they can do so manually and all open payment records are automatically written off.

And with that, the gift cycle is complete. GEM and Accounting Subledger are the powerful duo that make the cycle run smoothly at Cloudy College. And as soon as one gift cycle completes, it's time to start another. The fun never stops in advancement work!

If you'd like to keep learning about creating and managing gifts with Salesforce solutions, check out the resources list just below.
Resources