Get to Know the Dreamforce Campus
After completing this unit, you'll be able to:
Describe the most efficient ways to get around the Dreamforce campus.
Explain what you can find in the Customer Success Expo and Salesforce Campground.
Describe the Dreamfest.
Our campus has over 85 rooms in nine different locations, all located in downtown San Francisco.
It might seem like a daunting task to find your way, but don't worry. We have a strategy behind how we design and use our campus.
| | |
| --- | --- |
| Focus of Event, Session, or Area | Location |
| Trailhead - IT, Developer, Admin | Moscone West - First Floor |
| Einstein Ridge | Moscone West - 2nd Floor |
| Lightning Rapids | Moscone West - 3rd Floor |
| Integration Peak - Mulesoft | Moscone West - 3rd Floor |
| Success Lodge - CSG | City View |
| Marketing, Commerce, Retail & Consumer Goods Lodges | Palace Hotel |
| Customer Success Expo & Campground | Moscone South - Halls A, B, C |
| Keynotes and Dreamtalks | Moscone North, Moscone West, and Yerba Buena Theater |
| Sales, Service, and SMB Lodges | Marriott Marquis Hotel |
| Trailhead Academy, Hands-on Training, Certification | Hilton Hotel |
| Salesforce.org, Non-profit, and Higher Ed | Westin St. Francis Hotel |
| Financial Services, Manufacturing, Health & Life Sciences Lodges, Media & Comms, Travel, Transportation and Hospitality Lounges | InterContinental Hotel |
| Partner Lodge | Park Central Hotel |
Most venues and hotels in downtown San Francisco are close together, but what if you're staying outside of the city? We have shuttles from all official Dreamforce hotels to get you to Dreamforce. Public transportation is another great option. From any East Bay hotels, BART is the best way to get into the city. Once you're there, both BART and Muni can take you to most areas of the city.
In the city, one of the best ways to get around the Dreamforce campus is under your own steam—it's only 20 minutes from one end of the campus to the other. We've also made it easy to get around by shuttle. Free shuttles take you to and from major locations.
We're big fans of biking as well. We provide a bike valet in Jessie Square; plus, all around the city, pedi-cabs are available for you to jump in the back of for a ride. (Oh, and did we mention they are free for you during Dreamforce?)
And of course, there are cars. In this case, we recommend services like Uber and Lyft, because parking is challenging and expensive.
The Dreamforce Campground: Bringing It All Together
"If everyone is moving forward together, then success takes care of itself." – Henry Ford
Henry Ford was not only a passionate industry evangelist but, more importantly, he understood what his customers wanted. We're taking a page out of Ford's playbook and bringing the best of Salesforce—products, industry solutions, and customer Trailblazers—under one roof in the Dreamforce Campground. It will be truly epic!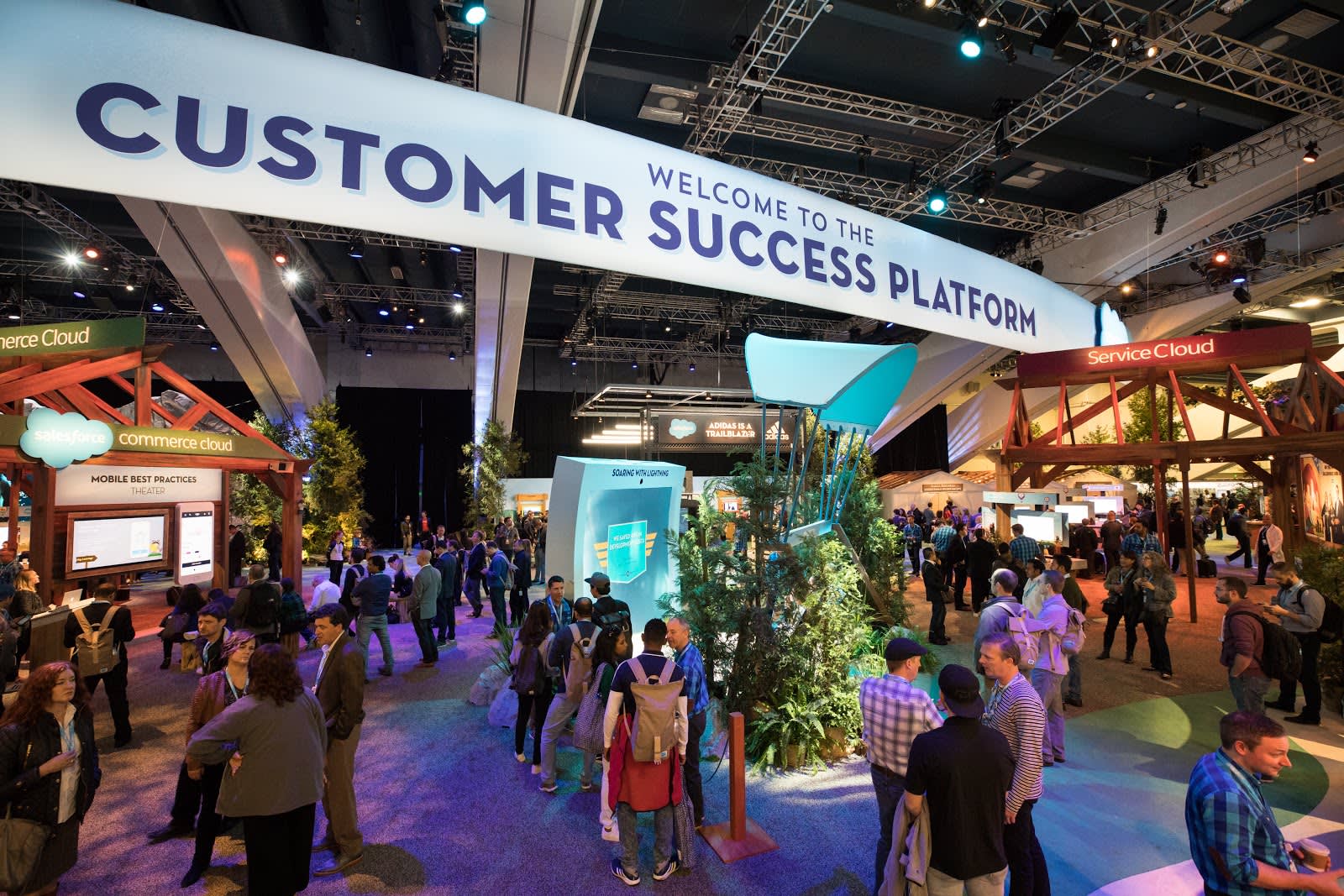 In the Campground, you can experience how customers like Unilever and Marriott use Salesforce to connect to their customers in a whole new way. You can also learn how Salesforce will help your business in a theater presentation or at one of many demo stations.
Whether you have a spare 30 minutes between sessions or specific questions you'd like to explore with a Salesforce expert, your time is sure to be well spent at the Dreamforce Campground.
Customer Success Expo: One Location, Thousands of Solutions
OK, people, time to put on your networking face on and bring your A game.
Imagine a room packed with 400 partners and thousands of solutions, all designed to help you succeed with Salesforce in ways you never imagined. Welcome to the Customer Success Expo, the world's largest cloud ecosystem under one roof, where you can talk about the future of technology with some of the best and brightest minds in the business. Head to Moscone South throughout the week of Dreamforce to connect with the Salesforce ecosystem in a whole new way.
Staying fed and hydrated is super key to a happy Dreamforce experience. Lunch is provided during the event for full conference attendees. Food is also available at official Dreamforce evening events. You also get a reusable water bottle in your Dreamforce backpack, and you can fill it up at convenient locations throughout the campus.
One of the many amazing things about Dreamforce is our incredible host city, San Francisco. With more restaurants per capita than any other city in the United States, San Francisco is a culinary wonderland and "foodie" paradise. In between the incredible keynotes, the awesome sessions, and the multitude of planned activities, feel free to venture off-campus to explore the many bars, restaurants, cafes, and lounges that San Francisco has to offer. 
Partner-sponsored parties and events take place all week long but Dreamfest is the must-attend party of the conference! Featuring incredible live music, food, and drinks, this year, Dreamfest is at Civic Center Plaza and Bill Graham Civic Auditorium. Be sure you're there when the stars come out! Stay tuned for more details.
Now that you're almost a San Francisco native, let's check out some tips for making the most of your time at Dreamforce.