Extend Your Dreamforce Experience
After completing this unit, you'll be able to:
Effectively share your Dreamforce experience within your company.
Find session presentation recordings.
Use Dreamforce as a springboard for continuous learning.
Congratulations, you just attended Dreamforce! Four fantastic days of learning, inspiration, and networking. Your company just invested in your attendance, and as the saying goes, there's no such thing as a free lunch. They want you to bring back what you learned and share that wealth of knowledge with the rest of your team.
Not only that, you had such a great time you want to make sure you're in the budget for next year's Dreamforce. You learned some amazing stuff, and you can't wait to share it!
So let's talk about the all-important company debrief. We know that you're not all extroverts just waiting for a chance to take the mic. Don't worry if you'd rather wrestle alligators than speak in front of an audience. You can share your Dreamforce takeaways in many different ways.
Take a step back. If you were lucky enough to attend with others, contribute to the summary but suggest that another teammate be the mouthpiece. Or be brave and take on one section.
Take it to Chatter. Start a Dreamforce Chatter group within your Salesforce org, and answer questions though that. Better yet, post to it during Dreamforce and update people as you attend those fabulous sessions.
Become a blogger. Write a blog post on your company or personal website. Don't have one of those? Use one of the many free online blogging services. Who knows where this might lead (the next bestseller novel?).
Go virtual. Hold the session via web conference—sometimes it's easier to talk without the audience actually in front of you. Plus, you can include any offsite staff (everyone loves to feel included).
Go old-school. Curate a great email with a summary of what you learned. Include a list of the sessions you recommend with links to the recorded videos.
Use Quip!

Get all of your teammates on one document – Co-editing, built in chat, inline comments. Get everyone on one screen to experience the unique living document experience in Quip.
Download the mobile app – make use of the push notifications. Quip is all about speed and the mobile app makes it easy to give a meaningful response in two seconds.
@mentions – Type the @ symbol to mention other teammates, link to other documents, or add collaboration tools to documents.
Start small, start with a meeting – create an agenda for a meeting in a Quip document. Share it with the team. Ask for input beforehand. During the meeting, have everyone collaboratively take notes. Assign action items at the end with a checklist, assignees, and due dates. You'll be off and running in no time.
Have some fun with /giphy – Quip is all about simple, natural interactions. Type /giphy and then a search time to pull a randomly generated GIF from the internet. Add some color and fun to your work interactions.
How to Structure Your Post-Dreamforce Debrief
So you decided that you do want to talk to your adoring corporate fans. That's great! You might already even know how you want to tell your story. Awesome! If you don't, here are some ideas.
Use your pre-Dreamforce game plan as a structure for your presentation. What were the 3–4 things that you absolutely needed to learn during Dreamforce? What did you learn about those topics?
Think about the story you want to tell. Focus on your company's pain points and how what you learned will help solve them. Include next steps for acting on this knowledge.
Prepare a handout that summarizes the key points (this can also help you plan your presentation).
Increase attendance and active participation with some of the swag you collected. Use them as giveaways to lure people to your presentation and prizes for people who ask questions.
Post your presentation on Chatter for those who couldn't attend.
Awesome! We can't wait to hear how this goes. Post on the Dreamforce Trailblazer Community group with lessons learned or tips for others giving debriefing presentations.
You've just come from four amazing days of learning. No reason why it has to end there! Take advantage of your momentum to make this your year of professional development.
Catch Up on Sessions You Missed
If this isn't your first Dreamforce, you know that there will be must-see sessions you have to miss, simply because they take place when you're at another must-see session. Or maybe you attended a session but the dog ate your Dreamforce notes. What's a Dreamforce attendee to do? Shake your fists in the air? Nope! We've got your back!
The great thing about Dreamforce is that all sessions are recorded. Yep, you heard right. They're all recorded. This makes it easier to be flexible and kind to yourself during Dreamforce. You can always catch up later.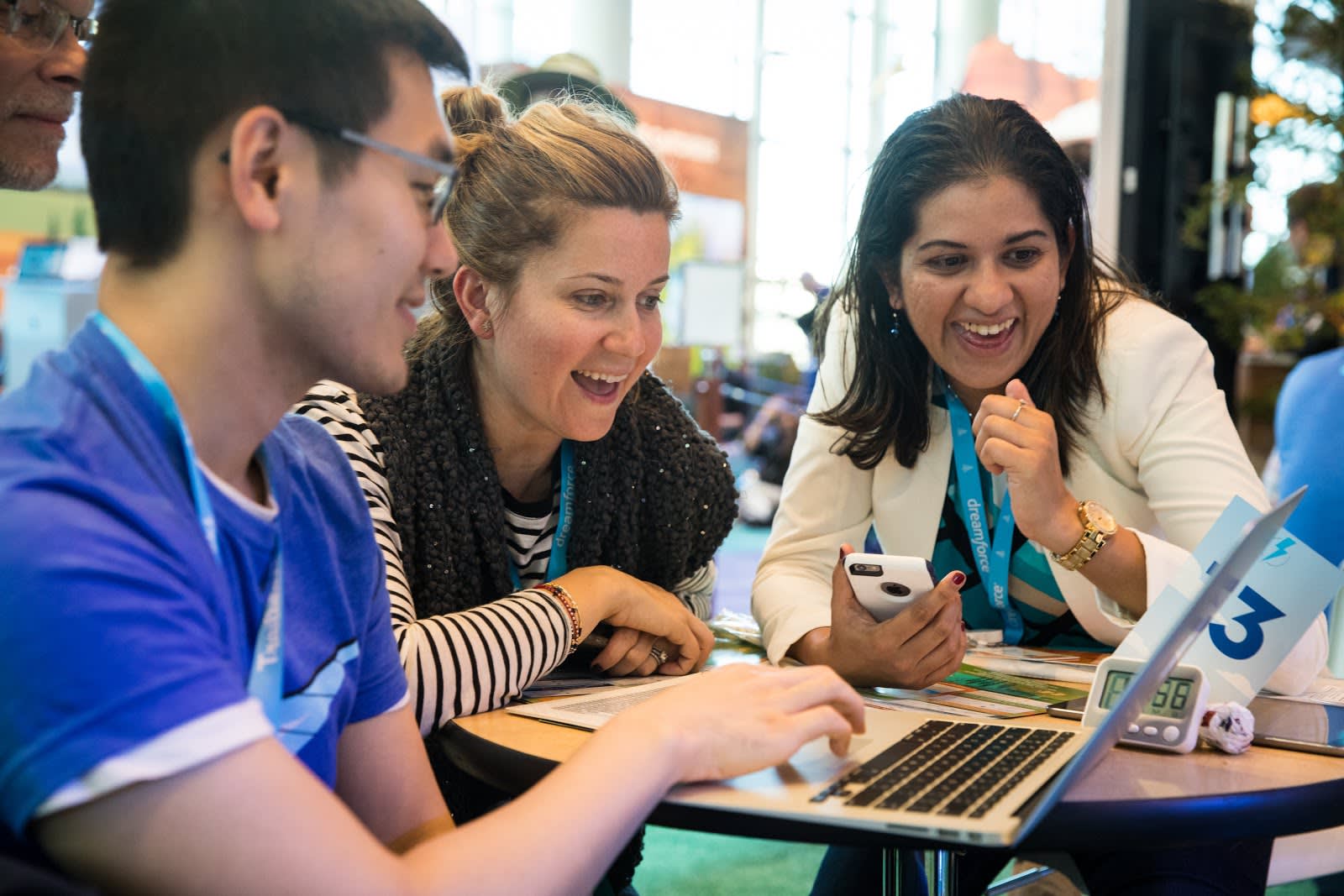 The trick is not to just say that. You actually need to plan to do it. Set aside an hour a week (or more if you have it) to watch a Dreamforce session video. It's worth it!
But where do you find these great videos? Why, they're right in the Agenda Builder with the session information. Cool, right? The majority of the recordings are up within a week of Dreamforce.
Take Advantage of Trailhead
Don't stop at session videos. Every Dreamforce session is connected to at least one Trailhead module. This is a great way to continue your year of learning. Treat Trailhead as your personal development coach, and check out modules for developers, admins, and business users.
Can't Stop, Won't Stop?
Have a case of Dreamforce Withdrawal Syndrome (DWS)? We feel you! Watch for regional events in your area. Salesforce events are all over the globe throughout the year, sponsored by Salesforce partners, or even community organized and led. The best way to stay on top of events is to check our official event calendar, attend your local user group meetings, or stay connected on the Trailblazer Community.
Virtual Communities
With thousands of attendees, it's almost impossible not to meet some amazing people. Keep in touch with them by following them on social media, the Trailblazer Community groups, and Developer forums.
If you haven't already, meet other Salesforce customers by joining groups within the Trailblazer Community (which has over 2 million members). There are groups for everyone, including:
Industries
Roles
Salesforce products and features
Affinity groups
If you don't see a group, you can start one and ask people to join!
In-Person Meetups
But you don't have to settle for meeting people only in virtual communities. Local groups abound: There are over 250 Salesforce user groups and over 150 Salesforce developer groups around the world. These groups are run by community members and meet to share knowledge about programming on the Salesforce Platform, learn new skills via Trailhead, and build community.
Not only do you meet great people and learn from them, but you get frequently invited to take part in exclusive activities, receive unique swag, and enjoy a close relationship with Salesforce. What's not to love!