Engage Your Audience and Promote Your Session
Learning Objectives
After completing this unit, you'll be able to:
Promote your presentation.
Solicit audience questions over social channels.
Memorialize your presentation with video recording.
Promote Your Presentation on Social Channels
It feels great to present in front of a packed room. Not so much in front of a room with lots of empty chairs. The good news is, a lot of this is under your control. There are many things you can do to ensure your presentation is standing room only.
One of the great things about presenting in the social era is that we have supportive communities to connect with. This is especially true with the Salesforce community (#BestPeepsEver). Whether it's through social media or the Salesforce Power of Us Hub, Partner and Success Communities, and Developer Forums, you have many options to promote your presentation.

Before we dive into all things social, we want to talk about the power of blogs. One way to get others to promote your session is to promote theirs first. Write a blog post that summarizes a few sessions, along with your own. Be sure to indicate up front which sessions are yours. As you promote your blog post on social media and the Trailblazer Community, @mention the other session presenters; they'll likely use your post to send out their own promotions. Great for your blog, and great for your session.
Don't have a blog? Connect with someone who does and ask if you can write a guest post.
Promote on Social Media
Search the web for "scheduling social media" and you'll find a number of free tools to help you set and forget your marketing. Your posts will go out without any more work from you.
Enlist your work buddies to help you promote your session. Ask them to post on social media for you (you can even send them the text and images to use). Ask them to comment on and share your posts.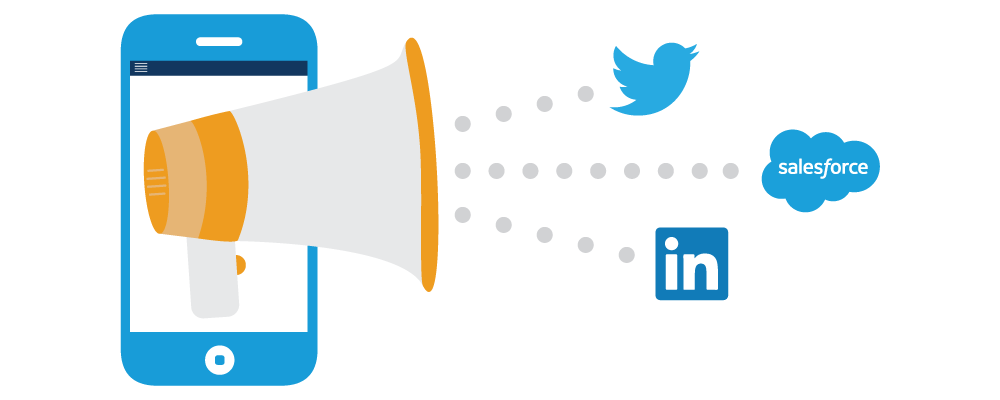 We've gathered some tips for increasing engagement on social media.
Ask a question to engage your followers in a discussion on your session's topic.
Conduct a poll or survey to get people invested in your session.
Use images or animated GIFs to increase the likelihood that people will pay attention to your post.
Use @mentions for key people and groups.
Wherever possible, promote both your session and the event.
Use hashtags for both your topic and the conference.
Keep your posts short and show your enthusiasm (positive energy is infectious!).
Respond quickly to replies and reposts.
Use a personal and conversational tone of voice.
Use social media tools to find the best times to post.
Space out your posts during the week and the day; you'll catch more people that way.

"Create a teaser video to start building up some excitement for your presentation and share on all your relevant social channels."
Maria Belli (Radio Frequency Systems, Salesforce MVP)
Promote on the Salesforce Online Communities
What could be better than a community devoted to all things Salesforce? That's exactly what you have in the Salesforce Power of Us Hub, and Partner and Success Communities. These are great places to promote your session and start a conversion that'll draw people to your session like a magnet.
Many of the tips for social media also work for the Salesforce online communities, but some need a little tweaking.
Post some details about your session. Tell people why you're passionate about your topic.
Post to different groups, with a message tailored specifically for that group. A word of caution: Don't post to too many groups, as this can look like spam.
Ask your work buddies to join the conversation and @mention groups or people for you. #PositivePeerPressure
Promote related sessions along with your own (and @mention the speakers in the post).

Promotion for Dreamforce Sessions
Dreamforce offers even more opportunities for interaction and promotion, through the Dreamforce Agenda Builder. The Agenda Builder promotes your session for you, within the Dreamforce website and app. Along with the expected information (date, time, location, abstract), all Dreamforce sessions have their own Chatter feed in Agenda Builder. This is a great place to start a conversation and solicit feedback on your session. It's one of the best ways to engage with attendees who have either bookmarked or reserved the session.
Use Social Channels for Interactive Q&A
Social channels aren't just for promoting your event. You can also use them for Q&A before, during, and after your presentation. Not only is this an opportunity to discover what people would like you to talk about, but you can also use it for your session Q&A. Use a social channel to choose between questions and prepare the perfect answer. Just be sure to reward people who turned up in person by taking at least some questions from your live audience.
Run out of time for Q&A? Encourage attendees to post questions in the Trailblazer Community (or the session feed), and keep the conversation going after your presentation is over.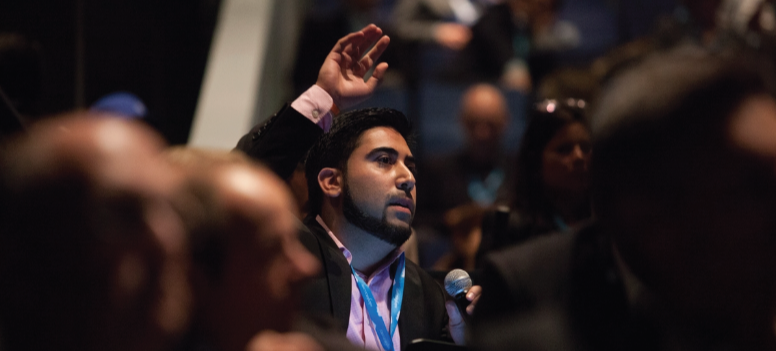 Memorialize Your Presentation
Not all conferences are like Dreamforce, where every session is recorded. But don't worry, social media gives you the ability to preserve a memory of your presentation.
Search the web for "live video streaming app" and you'll find some free services that let you record your session, right from your smart phone.
Here are a few things to keep in mind about live streaming video.
Use a tripod to avoid any distracting handheld shaking.
Get someone else to set up and record your session. You'll want to concentrate on your main job—presenting.
Check your app settings to ensure that you save your video to your phone.
Close other apps, turn off phone notifications, and make sure that your phone doesn't go to sleep in the middle of your presentation.
Ensure that you have enough battery life to last your entire presentation.
Test your network connection. Sometimes WiFi isn't the best option during a conference, and your best bet may be your cellular network.
Once you're back in the office, upload the video to a social video platform, then post the link to the Trailblazer Community and reference it in your blog post.
So what's next? You've prepared your slides, written your script, and promoted your session. Our last unit will cover the run-up to the main event and how to present like you were born on stage.
Resources