Share Your Experience with the Community
After completing this unit, you'll be able to:
Know where to get support from other trailblazers running the challenge.
Share your experience with the community.
This module doesn't cover every detail about running the Future Trailblazer Challenge. As such, you might have questions or suggestions while running your program. To enable you to collaborate with other champions around the world who are running their own versions of this program, we created the Future Trailblazer Challenge group. (You can also access this group by searching for the group name in the Trailblazer Community.)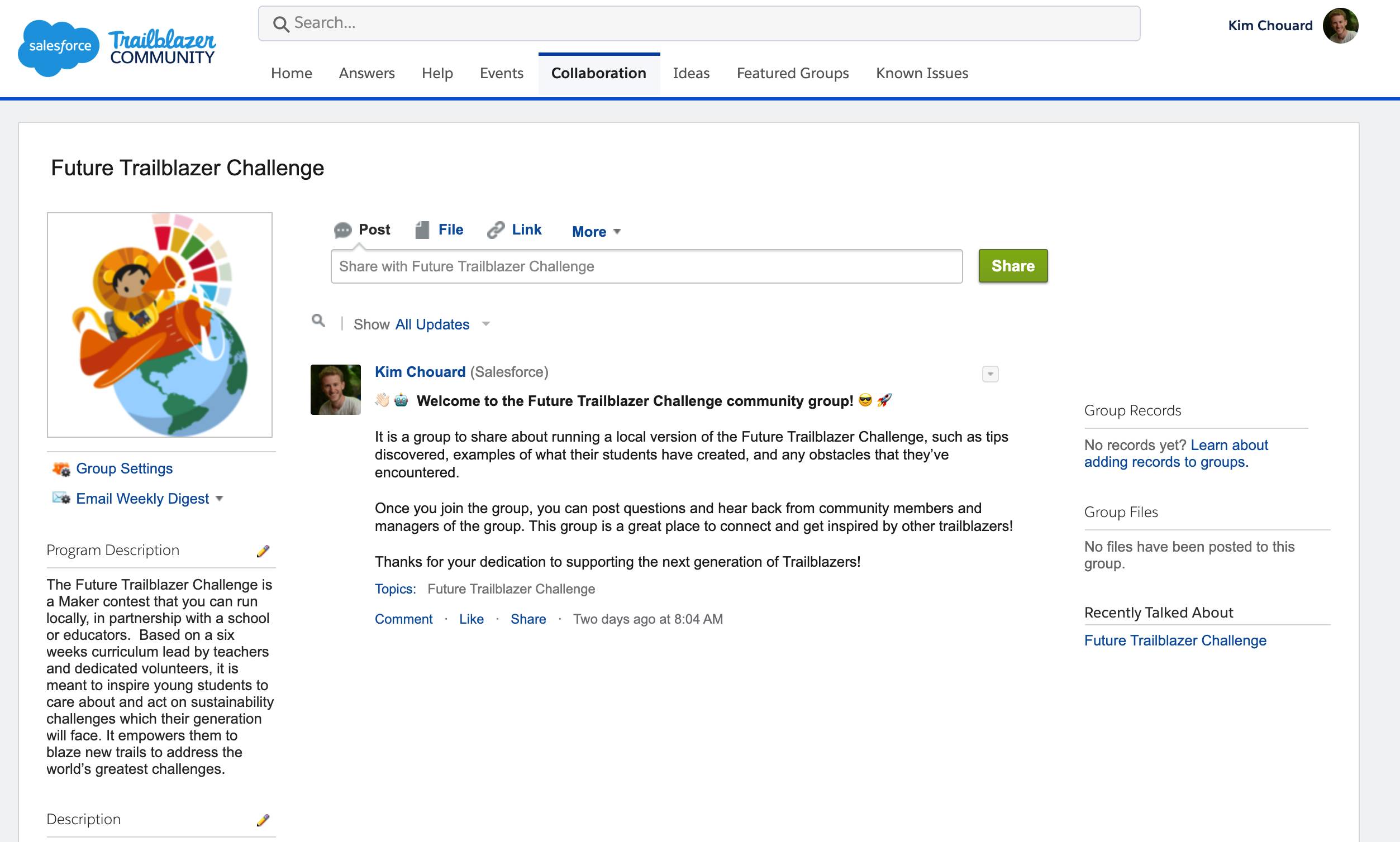 This group is a public Chatter group where members can share information about the Future Trailblazer Challenge, such as tips they've discovered, examples of what their students have created, and any obstacles that they've encountered. Once you join the group, you can post questions and hear back from community members and managers of the group. This group is a great place to connect and get inspired by other trailblazers!
Consider the following tips when using this group:
Share your students' projects to highlight the world-wide issues that young trailblazers care about. Also, these projects can serve as inspiration for other challenge participants. Here's an example of how you can share the results of your challenge.
"I've just run a local version of the Future Trailblazer Challenge in [City], [Country] with [school(s) name(s)]! We've inspired [XX] students to find creative solutions to the Sustainable Development Goals, and here's what they came up with:

[Project Name], solving for SDG [X]: [project description and maybe an image of the prototype]

[list the students projects that won, your favorite ones, or all of them]

Students really liked [one or two things] and their biggest takeaways are [one or two takeaways]."
While sharing, don't post any pictures or names of students without their parents' permission. You can talk about their projects and how awesome they are though!
Please send us some feedback by posting it in the group. What did you do differently? What do you, the educators, or volunteers think we can add to the curriculum to make it even better for the students? We thank you in advance for your contribution and can't wait to hear more about your students' incredible creations!