Run Your Future Trailblazer Challenge
Learning Objectives
After completing this unit, you'll be able to:
Identify the necessary components to run your Future Trailblazer Challenge.
Plan the budget for your program.
Describe the program curriculum.
List techniques for recruiting a team of committed volunteers.
In this unit we'll list the ingredients for a Future Trailblazer Challenge program, provide a suggested timeline, and point you to the resources you need to set yourself, your team, and the students up for success.
The Key Ingredients for a Future Trailblazer Challenge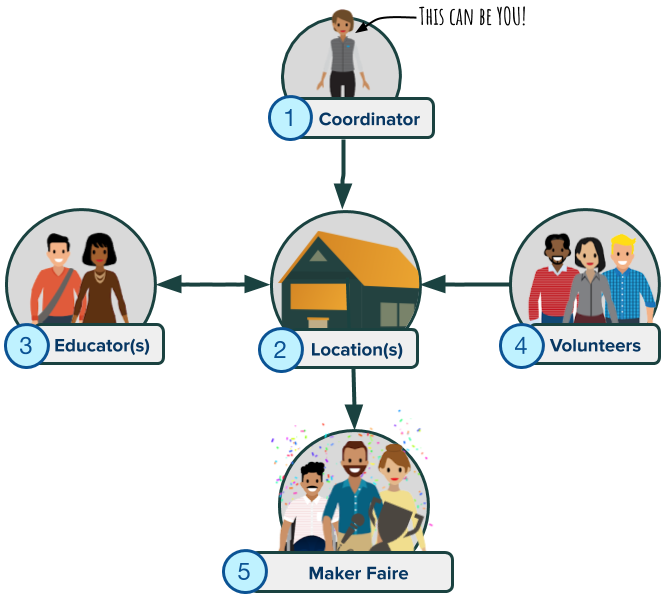 1. Coordinator
Should you choose to accept it, your mission as the coordinator is to plan and manage the logistics for your Future Trailblazer Challenge. Your role includes these responsibilities.
Serve as the main point of contact for the educator(s) and volunteers.
Oversee the entire program and address obstacles that arise.
Coordinate teacher and volunteer trainings and periodic check-ins.
Organize the Maker Faire.
2. Location(s)
Identify one or more locations that can host this program. Typically, the location is a school or an education institution like an after-school program. For example, Salesforce's partnership with San Francisco's middle schools serves students ranging from 11 - 14 years old. The current curriculum targets this age group. However, feel free to adapt the curriculum for another age group and let us know how it goes by posting in the Age of Makers community group! You'll learn more about how to do so in the last unit of this module.
3. Educator(s)
As important as the location, if not more, is a partner who will recruit students for the program and teach the curriculum at the site. The educator can be a teacher, parent, or administrator. For example, partner with Computer Science and Maker teachers. The educator for Salesforce's first Maker club was a school librarian. The most important thing is for both you and the educator to be willing to go the extra mile to make it worthwhile for the students.
4. Volunteers
Volunteers are the hands-on facilitators and main support system throughout this program. They work side-by-side with the students and educators for at least one hour per week to help get the students to the finish line. We'll cover how to recruit volunteers in a bit.
5. Maker Faire
This event is the culmination of all of the hard work that the students, educators, volunteers, and you have done over the past weeks. At the Faire, each team of students pitches their project to attendees in a science fair style competition. The attendees vote on their favorites. The winners receive awesome prizes! We'll tell you how to get ready for the Maker Faire in a later unit.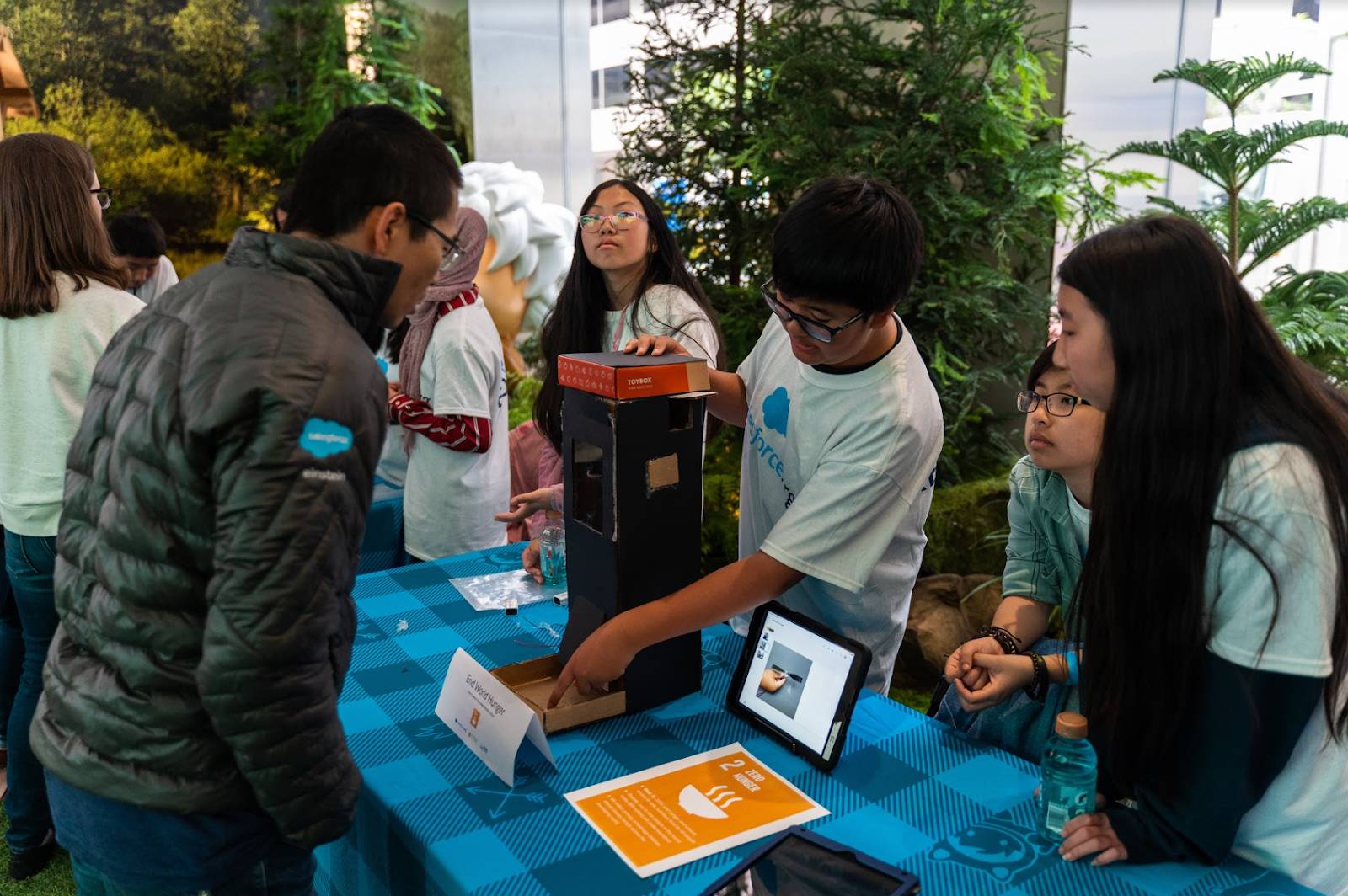 What Happens During Those Thirty Hours?
During the thirty hours in the classroom, the educator and volunteers introduce the subject matter and challenge to the students, break the students into groups, engage the students to come up with a solution to a sustainability challenge, and prepare and rehearse their final presentation at the Maker Faire.
Typically, students meet for six weeks, five hours per week, to cover the thirty hours worth of curriculum. If the educator can't commit to five hours per week, the program can be extended to more than six weeks. For example, if students only meet three hours per week, the program will span over ten weeks to cover the whole thirty hours.
By now you're probably asking yourself, "How can we inspire the students to think about a sustainable future? What content should educators and volunteers cover with the students?" Well, we've got you covered! We've created these great resources for you (see links in Resources below):
Future Trailblazers Challenge deck. Use this handy slide deck to present during the classes. The deck includes speaker notes to equip you to lead engaging sessions.
Future Trailblazers Challenge Student Handbook. A comprehensive handbook for the students to follow. You can download the handbook as a PDF and print it out.
The Age of Makers game. Age of Makers is a gamified tool for students to navigate learning at their own pace. Learn more about the game and how it works by scrolling down to the Resources section at the end of this unit, specifically the dedicated Trailhead module and the link to download the free Chrome extension.
This Future Trailblazer Trailhead module. Yes, this module that you're in right now! Make sure to follow until the end to benefit from all of the tips and tricks we have to share with you.
How Will You Pay for This Program?
There are multiple ways to raise money to fund your project. You can hold a fundraiser or go through a donation platform, which allows individuals to donate directly to public school classroom projects. You can also check your organization's grant policy to see if it's OK to request a grant to cover the program costs.
Here's an example budget.
Item

Cost

Recommended Quantity

Notes

3D printer

$349

1 per classroom

A 3D printer can print 3-dimensional designs from a computer. This capability unleashes students' creativity and allows them to quickly create advanced prototypes.
Can't afford a 3D printer? Be creative with the mock-ups and use cardboard, paint, LEGO®, and other crafting materials.

Micro:bits

$450

1 micro:bit per
3-4 students

Micro:bits are small electronic devices that are very easy to code. For example, you can use them to control a motor or lights, send messages to each other, or detect light and movement. You can even control them from a laptop.
Don't have micro:bits? Maybe you have some Arduinos or other electronic devices. If not, you can also use Scratch on a computer.

LEGO® kit

$48

1 per classroom

A LEGO® kit allows students to go where a 3D printer can't, mainly for big items.

Crafting kit

$20

1-4 per classroom

Crafting kits are meant to inspire students' creativity and spark their imagination by providing engaging materials to work with.

Transportation

$50 - $1000



Attendees will need transportation to the Maker Faire, as we'll see in a later unit.
The cost depends on the mode of transportation that works best for your school, such as train, rideshare, or private shuttle.

Prizes

$1000 - $2000



We've given out prizes like Kano computer kits and Kano motion sensors.

Food

$1000 - $2000



We strongly recommend that you provide lunch for the students at the Maker Faire. Although optional, it's always a nice touch to provide food during the educator and volunteer trainings.

Why Volunteers Are So Important and How to Recruit Them
Along with the students and educators, volunteers are an essential component to ensuring a successful program. Volunteers lighten the workload for educators. They also serve as positive role models to whom students feel connected. They can help teach skills and illustrate behaviors that can increase each student's abilities, self-esteem, and confidence. 
To recruit volunteers, consider these techniques.
Look to your coworkers with whom you are close. You'd be surprised how easy it is to engage people in team-bonding volunteer activities!
Advertise this unique opportunity on your company's collaboration hub, such as Slack.
Host an information session, where prospective volunteers can learn more about the program and why they should get involved. If you have the technology available, you could even set it up as a 3D printing introduction class to trigger their interest.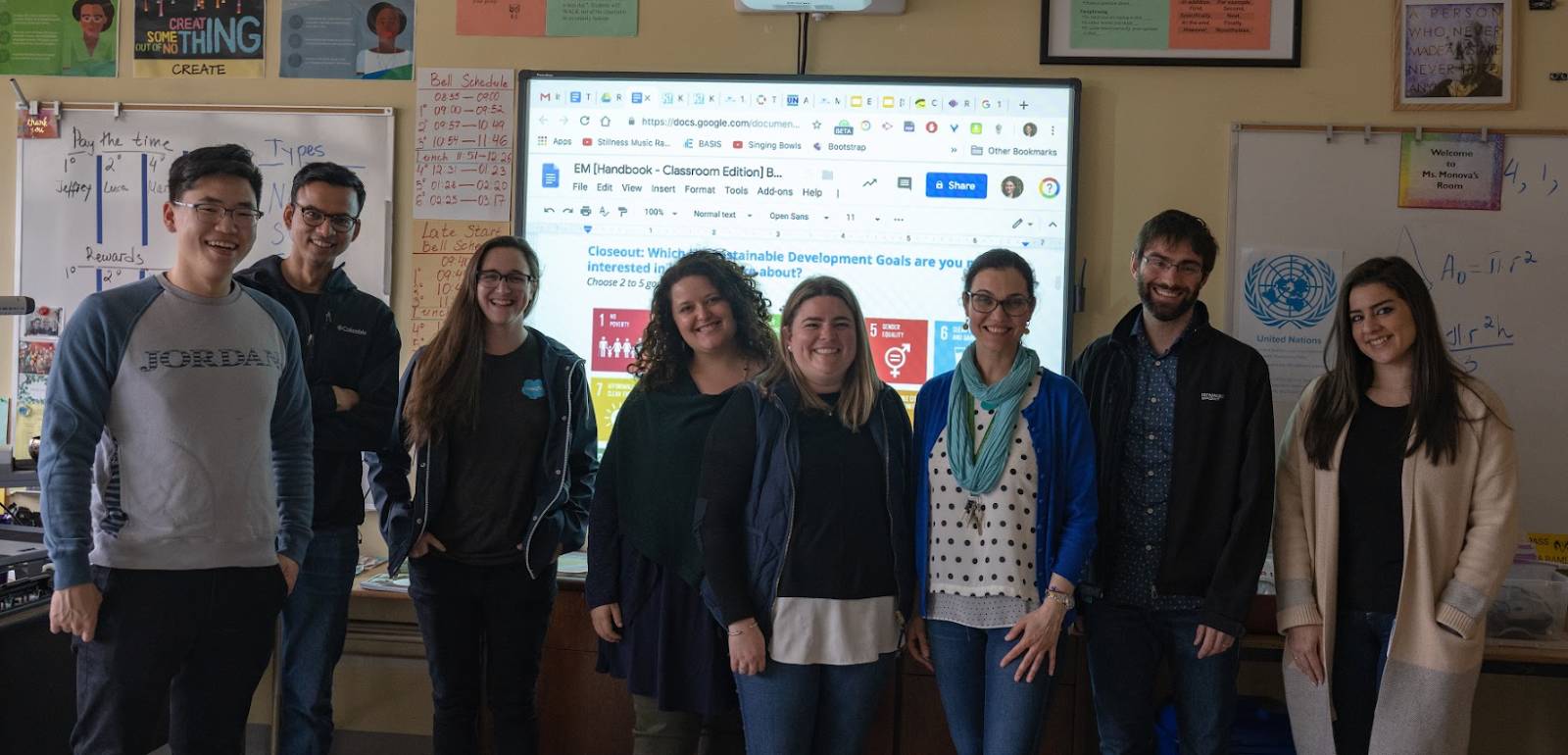 Time It All Out
The complete program, including all of the preplanning, can take anywhere from 9 to 20 weeks. It may seem like a long time, but trust us, it will fly by once the ball starts rolling. 
This timeline maps out the process.

The very first step is what you're doing now: training yourself on Trailhead! Once you've earned your badge for this module, you'll have the right information to then identify a school or educational institution, and recruit your volunteer team. After you and your educator select a date to begin the program, set the Maker Faire date about six to fifteen weeks after the instruction start date, depending on how many hours the students meet each week. Of course, the exact date depends on the venue availability. Stay tuned for more details about the Maker Faire coming up in a later unit. It's a good idea to also host a training with the educator and volunteers before the curriculum starts. The training allows them to get to know each other and feel confident about the adventure they are embarking on together.
Resources