Meet the Future Trailblazer Challenge
Learning Objectives
After completing this unit, you'll be able to:
Describe the purpose and history of the Future Trailblazer Challenge.
Get involved with the Future Trailblazer Challenge!
What Is the Future Trailblazer Challenge?
The Future Trailblazer Challenge is a Maker contest that you can run locally, in partnership with a school or educators. Makers are independent inventors, designers, and tinkerers who produce new, creative solutions, instead of simply consuming what's currently available. In this program, Makers are young students blazing trails to solve real-world problems.
The goal of the Future Trailblazer Challenge is for students to come up with a proposal to solve one of the Sustainable Development Goals (SDGs). The program's curriculum teaches students about the 17 SDGs, which seek to combat poverty, mitigate climate change, and secure a more equal and peaceful future for all. It also introduces them to cutting-edge technologies, like 3D printing or micro:bits (small programmable electronic devices), that they can use as part of their solution.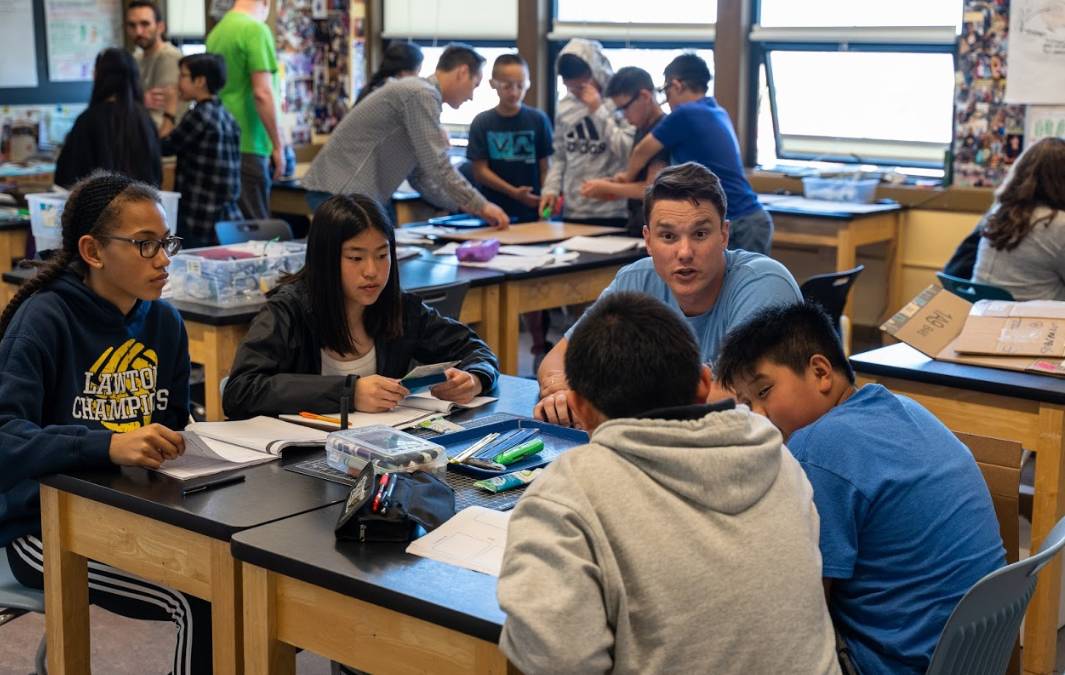 During the multiple weeks of the challenge and with the help of their teachers and dedicated volunteers, students use Age of Makers, our gamified curriculum, and work in teams to create their vision of a sustainable future. To close out the challenge, teams from one or multiple schools pitch their projects at a Maker Faire showcase, where each team is hoping to be voted as the best project!  
Overall, the Future Trailblazer Challenge is meant to inspire young students to care about and act on sustainability challenges which their generation will face. It empowers them to blaze new trails to address the world's greatest challenges.
History of the Program
The Future Trailblazer Challenge grew out of a deep public-private partnership between San Francisco Unified School District (SFUSD) and Salesforce. The partnership started with Salesforce employees volunteering in classrooms and the company offering annual grants to schools. (See the 2019 grants here.) 
This partnership went to the next level in early 2019, when Salesforce and SFUSD came together to create the Future Trailblazer Challenge program. The program included a thirty-hour curriculum that was piloted worldwide, engaging over 500 students from London, New York, Paris, Sydney, San Francisco, and Oakland.
The San Francisco pilot took place in local computer science and Maker classrooms. Seven middle schools competed at a signature Salesforce event for developers, TrailheaDX 2019. The finalist teams pitched their projects and solutions in front of a very prestigious jury shown in the video below. 
Students presented projects ranging from the highly complex, like a portable water filtration system, to the elegantly simple, like a gamified recycling kiosk. Denman Middle School from SFUSD came in first place with their autonomous boat that removes ocean pollution—addressing SDG 14: Life Below Water. They won a $5,000 donation toward the creation of a Maker space at their school, and they each took home a Kano computer kit.
You can hear more from the program creators and the students themselves in the video below.
Why Should I Get Involved?
The Future Trailblazer Challenge is a unique volunteer opportunity where you connect with local students and educators, to support the next generation of trailblazers. Benefits include:
Heartwarming interactions with students
The thrill of seeing creativity at work
An opportunity to play a part in addressing the world's toughest problems
Check out these testimonials from some of our rockstar volunteers and teachers.
Does this challenge have you on the edge of your seat, wondering how you can get involved? Good! We fill in the details in the next unit. Actually, stay with us for the entire module and you'll leave with the knowledge and resources you need to imagine, design, implement, and celebrate a successful Future Trailblazer Challenge and Maker Faire event.
Resources