Define Ethics By Design
Learning Objectives
After completing this unit, you'll be able to:
Define the concept of Ethics by Design.
Explain how Ethics by Design affects society.
Answer the Call to a Higher Purpose
At Salesforce, we are guided by our values and the belief that businesses are powerful platforms for social change. We recognize that we have a responsibility to society, and we aspire to create technology that is a force for good in the world.
For technology to be a positive force, it has to be designed, developed, and used in an ethical and humane way. From the start, its intent must be to maximize positive impact and minimize any potential negative effects. This idea is at the heart of product ethics, or what we at Salesforce call Ethics by Design.
In this module, you explore this concept, how Salesforce practices Ethics by Design, and ways you can incorporate these values into your business. Let's start with what the ethical and humane use of technology really means and why it's important.
Create Good Business with Good Ethics
In 2018, the Salesforce Research team surveyed more than 2,400 consumers in the United States to better understand sentiment around responsible business in the Fourth Industrial Revolution. The results were summarized in the Ethical Leadership and Business Report. And they highlighted how consumers define and view responsible businesses. For example, the study found that 90% of consumers believe companies have a responsibility to improve the state of the world, and 86% of consumers are more loyal to ethical companies.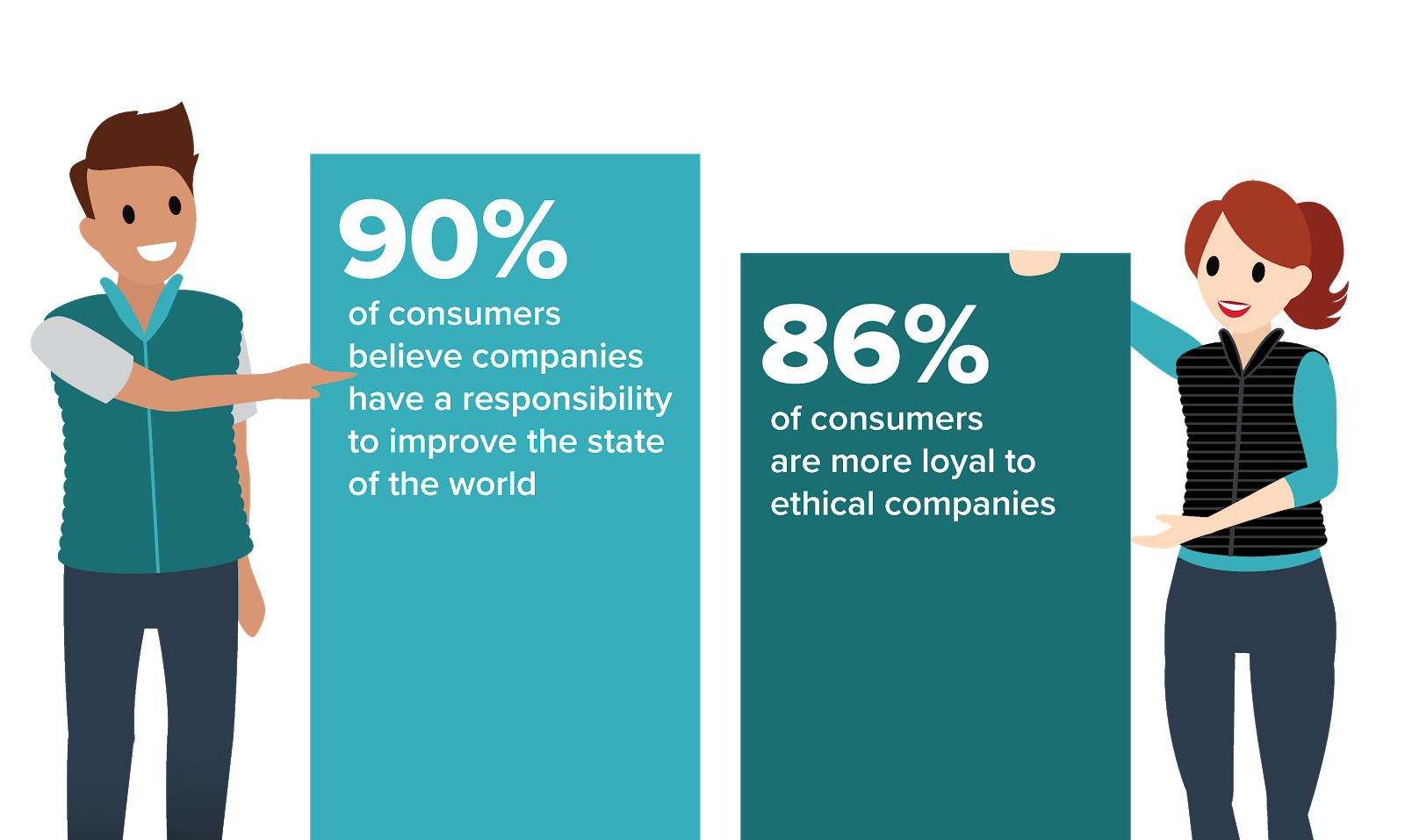 In the same report, employees are increasingly using their voices to inspire their employers to act ethically and responsibly. 79% of the workforce said they would consider leaving an employer that demonstrates poor ethics, and 72% of the workforce want their companies to advocate for human rights.
The research also showed that consumers have concerns around emerging developments in technology. Technology is changing quickly, and consumers can't help but wonder whether it's helping or hurting society. Customers and employees alike want to engage with organizations that align with their values. In order to foster strong customer and employee relationships, companies need to prioritize ethics throughout their business.
Explore Tech Ethics Then and Now
More and more, the tech industry is facing complex questions from employees, customers, community members, and the media around issues including bias, privacy, and the ethical use of technology.
While the Salesforce Office of Ethical and Humane Use of Technology was founded in recent years, tech ethics is not a new issue. There are many examples from history we can learn from in order to move forward. 
For example, in the 1980s, technology companies suddenly had to figure out how to deal with computer viruses and worms. Now it's standard protocol to conduct security reviews before software is released.  
Another example is digital accessibility. The disability rights movement in the US started in the 1960s and continues today. Part of this movement includes striving to establish that it is a basic human right to access information and contribute to the digital environment. Since the advent of this movement, several accessibility laws and guidelines have been put into place worldwide, including those for technology. (Learn more in Accessibility Basics.) 
More recently, we've also seen thought leadership coming from academia, civil society, and other multi-stakeholder groups guiding tech companies on best practices. For instance, the EthicalOS Toolkit identifies eight major risk zones that technology companies should be mindful of when developing their products.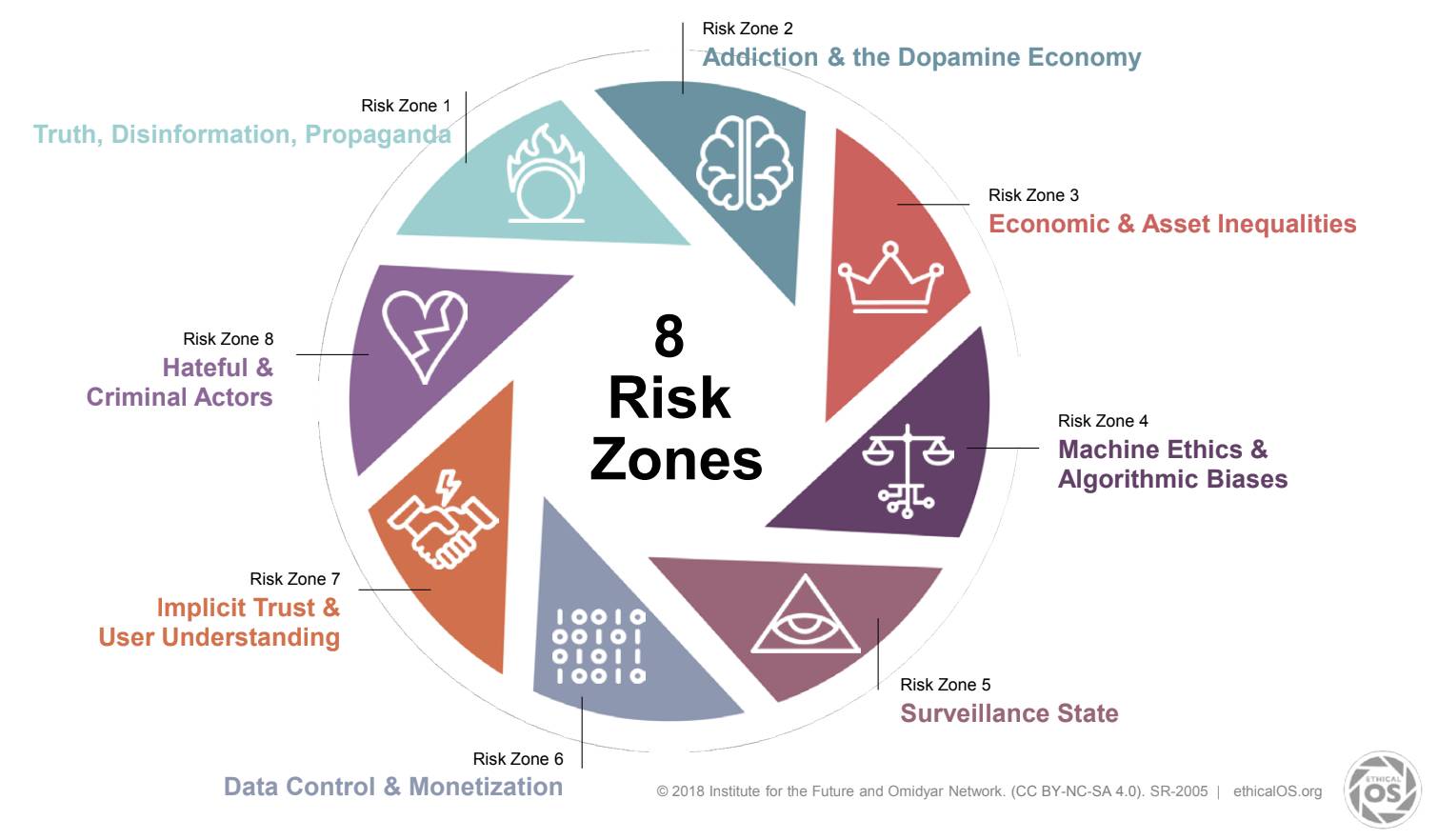 Truth, Disinformation, Propaganda
Addiction & the Dopamine Economy
Economic & Asset Inequalities
Machine Ethics & Algorithmic Biases
Surveillance State
Data Control & Monetization
Implicit Trust & User Understanding
Hateful & Criminal Actors
Focusing on these risk categories sparks important dialogue within companies. They encourage us to take a closer look at how products are designed, developed, and used. 
For example, Risk Zone 2: Addiction & the Dopamine Economy challenges tech companies to think beyond traditional metrics for success, such as numbers of new users and engagement levels. It encourages them to consider the impact their product is having on the user. In some cases, the push for more users and engagement can negatively contribute to the addiction economy, and the onus is on tech companies to make sure their impact remains positive.
Where Do We Go from Here?
At Salesforce, we aim to build ethics into our products and processes just as we've built security and accessibility into them: as part of our standard operating procedure. Our goal is to create technology that drives not only the success of our customers, but also maintains trusted relationships with our communities and fosters positive social change.
In the next unit, we look at how Salesforce has embarked on this journey and implemented its own ethical and humane use of technology practices.
Resources