Foster Connection and Build Camaraderie
Learning Objectives
After completing this unit, you'll be able to:
Design just-for-fun activities that draw your team together.
Inspire your team to plan their own events.
Look for Ways for Your Team to Connect
Social distancing guidelines help us minimize the spread of COVID-19, but keeping apart from others can leave people feeling lonely and isolated. Team members working from home may spend long stretches of time focused on solitary work, with limited human interaction. So it's especially important now to create opportunities for your team to connect with each other during the day.
Here are some ideas for building camaraderie on your team. Pick one or two that look like fun, and remember that you don't have to do all the planning and setup work. You may have some team members who love organizing group activities, so create space for them to take the lead.
Pick a theme
Establish theme days, such as Taco Tuesdays or Wellness Wednesdays. Each day, people can share pictures or stories related to the theme in your team Chatter group or other channel.
Start a Photo Friday, with a different theme each week, chosen by team members.
Create pet-themed Chatter groups for people to discuss their furry friends.
Explore together
Take your team on a virtual tour: many museums, zoos, national parks, and other destinations offer online tours.
Choose an inspiring movie to watch as a team (put it on the calendar) and meet to talk about it after the show.
Host a virtual brown bag series where team members give short, informal presentations about a hobby or personal passion. Try a 20x20 storytelling format, sometimes called PechaKucha, where you create 20 slides and spend only 20 seconds on each one.
Share some downtime
Schedule virtual stretch breaks or simple 5-minute yoga sessions, led by someone on the team.
Set aside some time in your next virtual meeting for casual conversation, and ask a team member to share an icebreaker activity or a conversation starter.
Get creative
Is there someone artistic on your team? Invite them to design a short coloring book for kids, and send it out to the group as a PDF.
Gather for a virtual crafting session or volunteer activity you can do online as a group.
Try to sponsor a range of activity types, so there's something for everyone. And make attendance optional—the point is to make space for people to be together, not to add extra obligations. 
Host Just-for-Fun Meetings
Not every meeting needs to be all business, all the time. And you don't need to have a theme, activity, or reason to meet. Put some time on the calendar for casual gatherings with no agenda, where people just socialize, like they would if they bumped into each other at the water cooler in the office.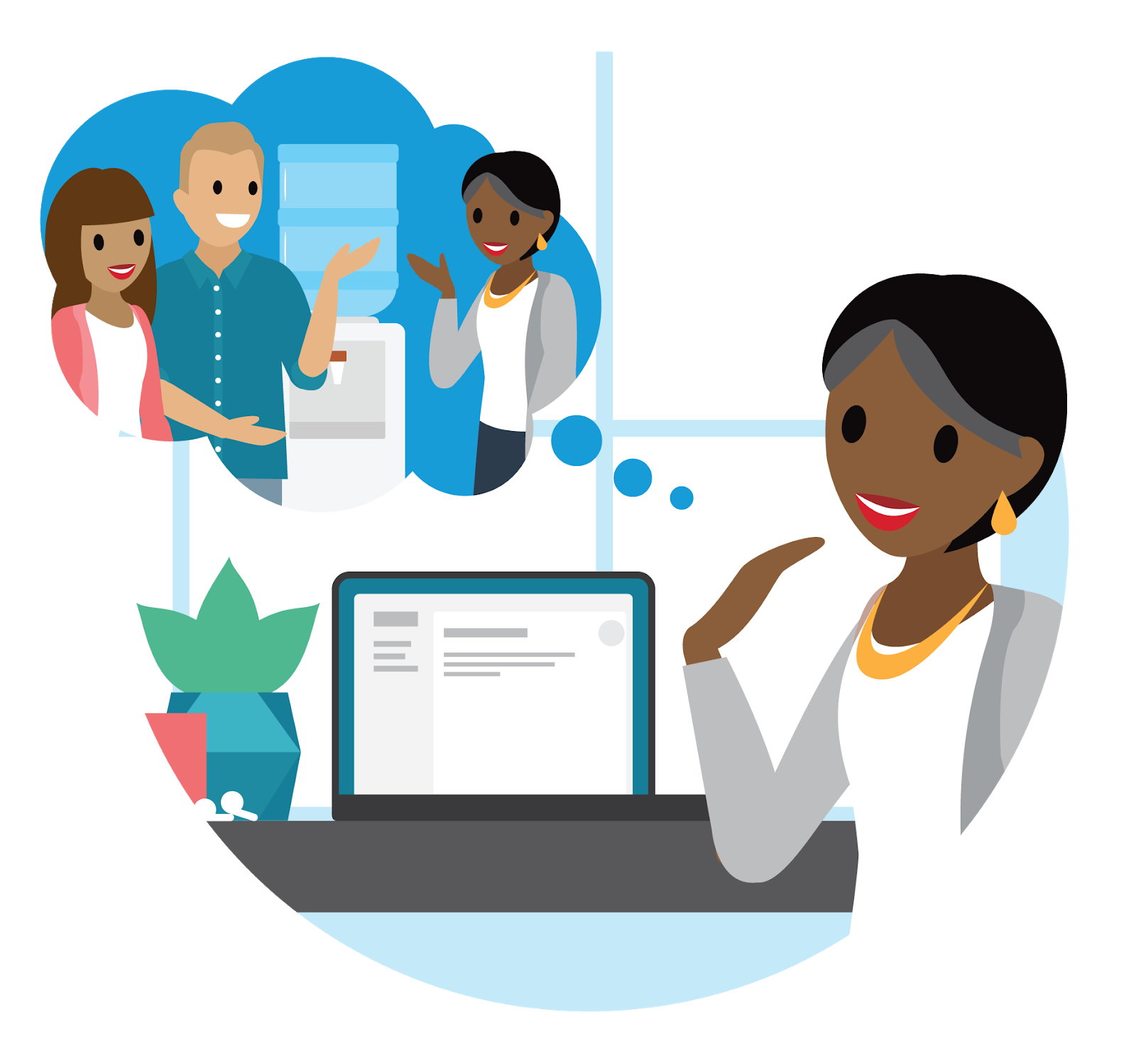 Socializing helps your team members build stronger bonds, deepen trust, and improve collaboration. Not only that, but it helps support mental and physical health as well. 
Encourage Your Team to Dream and Act
These ideas are just a small sample of things you can do to bring people together. Your team probably has ideas of their own, too. Actively encourage them to dream up activities and then make them happen. Someone might organize a virtual game night or talent show. Someone else might host a weekly story hour where they read picture books to their teammates' kids. Another person might bring their webcam into the kitchen and teach the team how to make a favorite recipe. All ideas are welcome.
Whenever someone steps up to host a virtual gathering or help out a colleague who needs some extra assistance right now, thank them for their efforts. Whether you do it publicly or privately, acknowledge the many ways you see your team expressing care for one another. Viewed through the lens of empathy, even the silliest or most trivial activities look like your team giving each other valuable gifts of laughter, learning, or inspiration.
Resources