Communicate Empathetically with Your Team
Learning Objectives
After completing this unit, you'll be able to:
Lead meetings that keep your team engaged and informed.
Redesign your team communications.
Make yourself available to your team.
Transform the Way You Communicate
Effective leadership requires clear, consistent communication. That's especially true now. In these challenging times, when in-person meetings are on hold, be imaginative and resourceful as you plan your team meetings and other communications. 
Experiment with communication channels and formats, but stay focused on these objectives. 
Reassuring your team and keeping them informed
Making everyone feel safe and connected
Encouraging team members to come to you with concerns
This unit gives tips to help you communicate with empathy.
How, When, and How Often
Think about the communications schedule you established before this crisis began. You might need to connect with your team more or less frequently now. Send a survey to ask your team how often they'd like to meet and get updates from you. Or use the set of slides from the Empathetic Leadership Pack you downloaded from the Resources section in the previous unit. Invite your team to plot information about their communication preferences and work styles on a graph.
What type of meetings they like
What tool to use for quick check-ins
What time of day they're most productive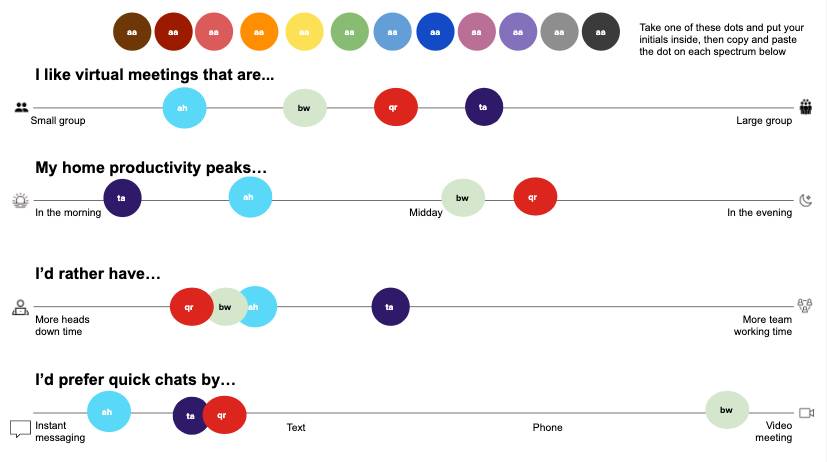 Reimagine Your Team Meetings 
Even though you can't gather in a conference room now, you still need to meet with your team regularly. While you're rethinking the frequency of meetings, think about the agenda too. Consider opening each meeting with one of these centering practices, which can help your team reduce stress and build resilience.
Practice
What to do
Benefits
Red/yellow/green

Invite each team member to rate how they're feeling in the moment


Red: I'm feeling stressed, anxious, or sad
Yellow: I'm feeling mixed, not all bad or all good
Green: I'm feeling happy or optimistic

Helps build trust and understanding within the team
Helps you and your team know who needs extra care and assistance now

Moment of gratitude

Take a few minutes to visualize something you're grateful for (do this exercise silently, or invite volunteers to share what they're grateful for)


Helps team focus on what's going well in their lives
Helps strengthen relationships

Moment of mindfulness

Take a minute or two to return to the breath, simply noticing how the air flows in and out of the body


Invites team members to pause and relax
Helps team let go of anxieties they may bring into the meeting
Increases focus and attention
Invite Your Team to Ask Questions
As you plan your agenda, make sure you leave plenty of time for questions and answers, or Q&A. Depending on what's going on at the time—for example, major changes in your company or geographical area—you may want to dedicate the whole meeting to Q&A. Let your team know they can ask you about what's on their mind, and that you'll answer questions transparently and authentically. Sometimes you won't know all the answers, and that's OK. Be open about what you know, what you don't know, and what you and other leaders are doing to find out more.
Finally, think about how technology can impact your meetings. If you have visuals to present, make sure you can share your screen and still see attendees' faces or the comments that they post in the chat. Otherwise, you might find yourself speaking to a silent, unresponsive screen without any way to get feedback. This can be disorienting, because when you deliver a difficult or heartfelt message, you depend on seeing or hearing how people respond. If you don't have an extra monitor or other way to see your team's facial expressions and read whatever they post in the chat, send your presentation to a colleague and ask them to share their screen while you speak.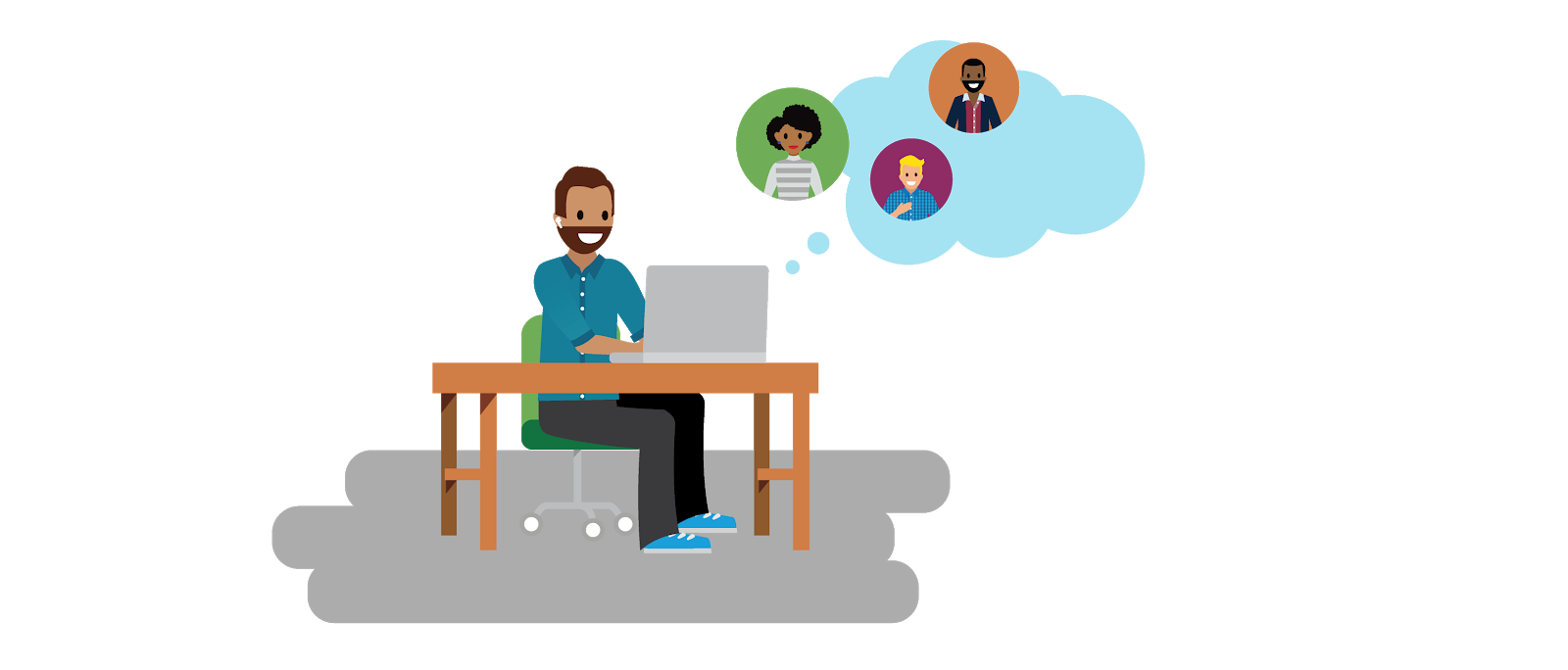 Communicate Regularly—and Inclusively—to Your Team
In these confusing times, the messages you send to your team can help them make sense of things and feel supported. You're showing them that you're thinking about them, and that you understand what they're going through (because you're going through it too).
Look for ways to make everyone feel included, heard, and seen. Send a personal note to team members you don't interact with on a daily basis. Call out support staff and other unsung heroes in your team meeting, email, or newsletter. 
Video messages can be especially powerful now. Set up a webcam and record a message to your team. Here are some ways to personalize your video message and increase its impact.
Show yourself in your own home—remember, real is better than perfect.
Share what time it is and describe the usual routine for your household at that hour.
Share a tip you learned or something new you tried that helped.
Speak from the heart and in your own words.
Explain how recent developments impact your team.
Thank the team for all that they do, and assure them that you see their work.
If you're not comfortable recording a video, don't worry. You can adapt these tips to your regular email updates, Chatter posts, or other communications. The important thing is to keep reaching out to your team, in whatever channels work best for you. 
Keep Your Door Open
Let your team know that you're available to listen to their concerns. Invite them to come to you whenever something is on their mind. 
One way to keep your virtual door open is to set up office hours. Follow these simple steps.
Put a recurring event on your shared team calendar (daily, weekly, or monthly, depending on what your team needs).
Make sure the event details include a videoconferencing link.
Announce to your team that anyone is welcome to drop in with questions or concerns, or just to say hello.
If you lead a team of managers, think about setting up skip-level meetings with their direct reports, so you can touch base with everyone in your group. You don't need a formal agenda for these meetings—just invite your team members to tell you how they're doing and feeling.
Now that you have some empathetic communication practices to try, next learn to build lasting connections within your team.
Resources